Week 2 College Football Odds, Picks: Stuckey's Top 7 Betting Spots, Including Texas vs Alabama & More (Sept. 9)
Credit:
Getty Images. Design by Matt Roembke/Action Network. Pictured (clockwise from top-left): Arizona's Jacob Cowing, Texas' Jordan Whittington, Texas Tech's Tyler Shough and NC State's Brennan Armstrong.
Just like I did throughout last college football season, I will share my favorite spots for each week's games in 2023.
For reference, last year's spots finished a ridiculously unsustainable 45-20-1 (69.2%). I don't think I'll ever repeat that level of success in a season, but hopefully we can avoid the regression monster and have another profitable season.
Although, there will always be rough weeks in this gig, so please wager responsibly. Plus, my primary goal is to simply share a few key angles, notable matchups and injury situations for each particular game that hopefully make you a better bettor.
Keep in mind the actual spread value still reigns supreme. No matter how great a situational spot appears on paper, I still have to factor in how much value the number holds compared to my projections. A good or bad spot may sway me one way or the other on a bet I'm on the fence for, but it's certainly more art than science.
For Week 2, I have highlighted my seven favorite betting spots for Saturday's college football slate, starting with a noon kick followed by six others in prime time.
All lines referenced are current as of the time of writing, so I also included what I'd play each down to for your convenience.
2022: 45-20-1 +22.82 units (69.2%)
2023:

0-0-0 +0.00 units
---
I had questions on both sides of the ball for Notre Dame — wide receiver, pass rush, etc. — coming into the season. Well, the Irish haven't really answered any due to no fault of their own. They just haven't faced a team with a pulse, having waxed Tennessee State and Navy by a combined score of 98-6.
The victory over Navy was certainly impressive, but the Mids looked completely out of sorts under new head coach Brian Newberry. They also failed to top seven points in their season-opener for the fourth straight season, which included a game against FCS Delaware last season.
Therefore, I didn't bump Notre Dame as much as maybe others did and see value in the home dog catching over a touchdown against a team that remains unproven in a few areas.
This game has even more intrigue due to the familiarity between Notre Dame quarterback Sam Hartman and NC State defensive coordinator Tony Gibson, who went head-to-head with Hartman three times when the signal-caller played at Wake Forest.
Overall, Gibson has had a leg up in those previous matchups with Hartman, who threw an equal number of touchdowns to interceptions (6:6) and got sacked 13 times on 156 dropbacks (8.3%). In comparison, the sixth-year senior has 110 touchdowns to just 35 interceptions (over a 3:1 ratio) and a 5.8% sack rate against all other opponents.
Gibson has certainly demonstrated an ability to confuse Hartman, who wouldn't be the first signal-caller to struggle against a Gibson stop unit. Even Patrick Mahomes had his lowest passing output against Gibson, then at West Virginia, of any game he started and finished while at Texas Tech.
NC State did have to replace a few key defensive starters, but I think it fared pretty well overall last week in its road victory at UConn. If you remove a 71-yard broken touchdown run by Victor Rosa, the Huskies amassed only 202 total yards at an average clip of 3.8 yards per play.
The offense had its ups and downs in the debut reunion of quarterback Brennan Armstrong and offensive coordinator Robert Anae, but I don't think they showed much of the playbook in anticipation of this week's matchup with Notre Dame.
I believe the Pack knew they could hold off UConn with their defense and simply wanted to get out of dodge with an opening-season win on the road against a tricky opponent — similar to last year against East Carolina.
Running Armstrong 19 times isn't a very sustainable model, but I expect the offense to open it up a bit more this week.
Situationally, the Pack will also benefit from two extra days of preparation and rest after playing on Thursday. They also have two games of film on Notre Dame — although I'm not sure how much they can actually take away from two blowouts against overmatched opponents.
In fairness, Notre Dame could certainly be much better than I have it rated right now, but I'll make the Irish prove it to me on the road here.
I didn't expect to get over a touchdown before the season started, especially after not learning that much about either team yet.
---
---
---
I've talked many times in the offseason about how I'm looking to fade this New Mexico State team, which I did with its season win total under and in Week 0 against UMass.
I truly believed the Aggies came into the year with an artificially high market rating due to a mostly fraudulent late-season run to get to a bowl, which they won against an awful Bowling Green squad.
Look no further than the seven opponents they defeated:
Hawaii
New Mexico
UMass
Lamar
Liberty
Valparaiso
Bowling Green
That has to be the saddest group of wins I've ever seen for a bowl team. To boot, they played a Liberty team that quit on the season the week after the Hugh Freeze rumors broke. As a result, the Aggies added a game with lowly Valpo to reach bowl eligibility.
Additionally, over the past two seasons against FCS teams and the corpse of Liberty, NMSU quarterback Diego Pavia has totaled 11 touchdowns and no interceptions.
Against all other opponents, those numbers drop to seven touchdowns and eight interceptions.
This offense remains extremely limited, especially from a passing perspective. Meanwhile, the defense should take a step back after losing key pieces on the back end, which UMass fully exploited during a 41-point outburst in Las Cruces two weeks ago.
As I previously mentioned, one of New Mexico State's victories last year came on the road against the Flames, who simply never bothered to get off the bus with all of the off-the-field rumors swirling. As a result, they were humiliated, 49-14, in Lynchburg as 24-point favorites.
Well, not only has Liberty had this game circled all offseason as a potential revenge spot, but it's now favored by 14 fewer points against a roster that I don't think has improved since that matchup.
Lastly, I expect a crisper Liberty offense in Week 2 of a new scheme under head coach Jamey Chadwell, who I highly respect. Chadwell and his staff also have one extra game of film to reference for preparation since New Mexico State has already played two.
I haven't placed this wager yet since I'm waiting to see if a -10 pops in the market but will play it at -11 or better if not.
---
---
---
I cannot wait for this one, as I think it could live up to last year's thriller in Austin — a game that Alabama pulled out by one point.
Last week, I actually faded Texas and bet Alabama. However, I came away much more impressed with the Longhorns.
Yes, Alabama did cover and dominate statistically, as you would expect it to do against a significantly inferior opponent in Middle Tennessee. But the Blue Raiders — who I'm super low on compared to market — made countless early mental mistakes (turnovers, penalties, missed field goals) that contributed to that game getting away fast.
Then they actually showed the ability to move the ball a bit (before penalties brought them back) despite a completely overhauled offensive depth chart.
On paper, this is the weakest Tide team Saban has had in quite some time. There are questions all across the roster, starting with quarterback.
Jalen Milroe performed well with five total touchdowns, but the real test will come this weekend against a loaded Texas defense that now finally has the depth and size on both sides of the ball to compete with the top-tier SEC teams.
My only concern with the Horns here is the same one I had coming into their season when contemplating their ceiling. They have a top-five overall roster in terms of talent, but I still need to see quarterback Quinn Ewers improve his deep-ball passing, which basically boils down to his footwork on those attempts.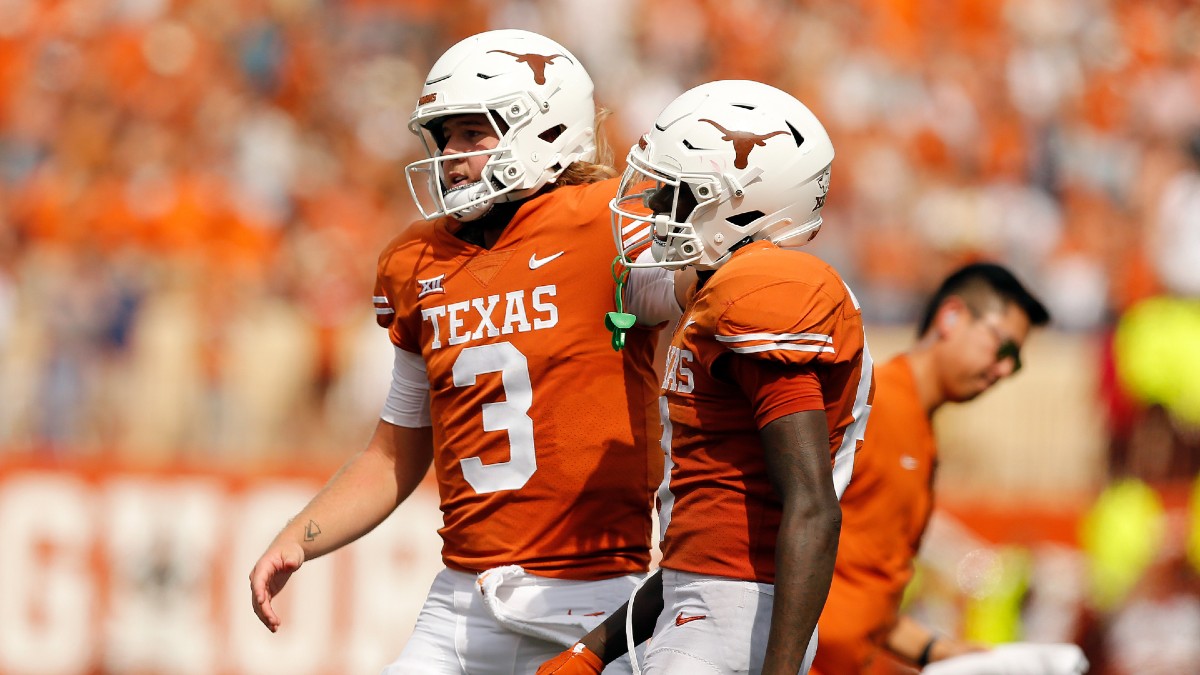 In 2022, he completed only 29-of-74 passes (39%) that traveled 15-plus yards. That was supposed to be a point of emphasis in his offseason work, but he went 0-of-7 in that department last Saturday against Rice. It's a tiny sample size and he doesn't get the blame for all of the incompletions, but he missed a wide-open Xavier Worthy a couple of times when his mechanics looked a bit wonky.
His ability to hit a few downfield shots will not only lead to explosive plays but also open up the short-to-intermediate routes. That could very well decide the outcome of this game.
There certainly will be opportunities against an Alabama secondary that lost three starters to the NFL and had another two suffer injuries last week, especially if the Tide dare him to beat them deep — which I expect early — as TCU successfully did last year.
There isn't really a situational angle in this particular game, as you should get both teams' best shot in one of the most high-profile games of the season.
However, even with my lingering concerns over Ewers' footwork, I simply couldn't pass up taking over a touchdown in a matchup of two teams I currently have power-rated very close to even.
---
---
---
Weird things happen in Laramie, as Texas Tech found out in a heartbreaking loss to Wyoming in double overtime after leading 17-0 early in the first half.
It's not an ideal start to the season for a Red Raiders team that many respected pundits (and Brett McMurphy) picked to win the Big 12.
However, I'm not in a total panic yet.
That was a brutal situational spot to open up a season with Oregon on deck. Meanwhile, the Ducks absolutely rolled in their season opener, 81-7, over Portland State, but that isn't the first time nor will it be the last that the Vikings get absolutely steamrolled.
While it may have caused some to get overly excited about Bo Nix season, I don't really put too much weight into the result from a game with a staggering on-field talent mismatch against an FCS opponent.
I'm buying low on Tech at home now that a generous 7 (at -115) has popped in the market in what some are calling a Tyler Shough revenge game. The former Oregon signal-caller should have success against a secondary that still must show me something against quality competition before I buy into significant improvement in Year 2 under Dan Lanning.
Finally, for what it's worth, I prefer to back these Red Raiders as an underdog (and avoid them as a favorite) due to head coach Joey McGuire's proclivity for going for it on fourth down, which increases variance and can serve as a potential equalizer both ways.
Texas Tech bounced back just fine the last time it lost to a Group of Five team, which came way back in 2009 under Mike Leach (RIP GOAT).
I expect it to do the same this season.
---
---
---
Yes, Houston won outright as an underdog against UTSA last weekend. But I actually downgraded the Cougars, who only had a 22% postgame win expectancy after getting outgained by almost 100 yards and a 1.5 yards-per-play margin.
They benefited from a 3-0 turnover margin and other Roadrunner miscues on special teams and in the penalty department, which essentially led to all three scores.
Meanwhile, Rice didn't look great last week, but the Owls were completely overmatched on the road against an elite Texas team. That won't be the case this Saturday. Despite the mismatch, the Owls still stayed within the number for those of us who backed them.
Don't forget that Houston had to replace the dynamic duo of quarterback Clayton Tune and wide receiver Tank Dell on offense — both of whom may contribute in the NFL in their rookie seasons.
Plus, the defense lost its top five tacklers, including both top pass-rushers and a pair of defensive backs who now also reside on NFL rosters.
Judging by last week's 2.7 yards-per-carry output, Houston will really struggle on the ground again in 2023. That could play into the hands of the very veteran back end of Rice's defense.
On the other side of the ball, new transfer quarterback JT Daniels should play better in his second game against easier competition. Seeing him struggle a bit in his first game with his fourth different school wasn't too surprising, especially when you account for the quality of opponent.
Daniels certainly provides a significant talent upgrade at quarterback for Rice. Even without him last season, Rice almost won at Houston in a game it led midway through the fourth quarter before ultimately falling, 34-27, after the Cougars returned a fumble for a touchdown with under four minutes remaining.
The Owls still had two more chances but threw an interception in Houston territory and then saw the clock hit zeros after driving inside the 10-yard line.
They can draw a lot of confidence from that matchup in which the two teams were only separated by one yard and 10 seconds of time.
Lastly, Houston has really struggled as a favorite under head coach Dana Holgorsen. The Cougars have often come out flat in these spots and fall behind early. Well, this certainly sets up as a potential super sleepy spot.
After surviving against UTSA last week, Houston will have to remain focused and avoid looking ahead to its Big 12 debut on deck when it hosts national runner-up TCU. Meanwhile, I'm sure Rice will come out with its hair on fire in its home opener against its intra-city big brother.
---
---
---
You couldn't really take much from either team's Week 1 win over an inferior FCS team — although Mississippi State certainly struggled a bit more early in its opener against Southeastern Louisiana.
The Bulldogs are a team I had circled as a potential fade candidate early in the season as they transition to a new offensive scheme. They'll have a much more balanced attack compared to the Air Raid system quarterback Will Rogers mastered under the late, legendary Mike Leach.
One of the wrinkles that jump-started the offense last week was the utilization of Vanderbilt transfer QB Mike Wright's mobility. He finished with 95 yards rushing on just five carries, but Arizona now knows to prepare for those packages, removing the element of surprise the home team benefited from in its season opener.
Mississippi State also has to replace a number of key defenders, including first-round cornerback Emmanuel Forbes.
It may really feel the effects of losing first-round cornerbacks in back-to-back seasons against a potent Arizona passing attack, led by quarterback Jayden de Laura and a very talented wide receiver room.
I expect Arizona to find success attacking downfield against this secondary.
While I had the Bulldogs highlighted as a potential fade candidate, the opposite is true with Arizona — a program I believe is on the rise in head coach Jedd Fisch's second year.
Therefore, this matchup presents the perfect "buy" opportunity on a road dog that could potentially catch Mississippi State looking ahead to a showdown with LSU next week.
---
---
---
I would like to apologize in advance to anybody who ends up tailing this bet. The Kats did get to the window for us as 20-point dogs at BYU, but it felt like pulling teeth in one of the ugliest college football games I've ever watched — and I've watched plenty.
Coming into the season, I thought I'd be backing Sam Houston a few times early in the season after it sat a number of its best players for most or all of last year in preparation for its inaugural FBS season. You basically had to discard a lot of what we saw last year, which certainly creates an abundance of uncertainty when you're already dealing with a former FCS team making the jump.
Well, the defense lived up to my higher-than-market expectations, holding BYU to 4.4 yards per pass and 3.3 yards per rush. That's outstanding.
However, while the defense did its job, holding the Cougars to just 14 points in the Provo altitude, the offense vomited all over the field.
That side of the ball definitely had more concerns coming into the season, and quarterback Keegan Shoemaker did nothing to alleviate those concerns. The senior signal-caller finished an abysmal 18-of-33 for 147 yards with zero touchdowns and three picks. Yikes.
I'm not sure why legendary head coach K.C. Keeler never gave former North Texas and Arizona transfer Grant Gunnell a shot under center, especially after getting an "OR" designation on the depth chart for that game. Maybe that's an ominous sign that Gunnell has looked awful in camp, but the competition was reportedly neck-and-neck.
I can't imagine how he could play much worse than Shoemaker, so there's some upside this week with Shoemaker either playing better or Gunnell — who has more raw talent — getting reps.
Regardless, I don't have much confidence in the offense, but I still didn't hesitate to bet the Bearkats at +14.5 in a game I project right around 10.
This is still an Air Force team that runs a triple-option offense, which makes covering over two touchdowns a laborious chore since possessions will be limited. That's even more true this season with the new clock rules, which have the largest impact on run-heavy offenses that grind their way down the field on the ground.
I'll gladly take over two touchdowns with the dog making its FBS home debut in a game with a total of 37.5.
---
How would you rate this article?
This site contains commercial content. We may be compensated for the links provided on this page. The content on this page is for informational purposes only. Action Network makes no representation or warranty as to the accuracy of the information given or the outcome of any game or event.