Wilson: Week 5 Havoc Ratings and an Early Bet in the Sun Belt
Credit:
Joe Robbins/Getty Images. Pictured: Pitt head coach Pat Narduzzi.
Throughout his time as defensive coordinator at Michigan State, Pat Narduzzi produced dominating defenses. Although there was not a statistical way to describe what the Spartans did on weekly basis, no team in the Big Ten could escape without a haywire offensive experience. When Pitt hired Narduzzi as head coach, duplicating Michigan State's defensive success was the primary goal.
Havoc is a college football term defined as a play where there's an unexpected outcome. Saturdays are filled with forced fumbles, sacks, pass breakups and the occasional scoop and score. This also works on the offensive side of the ball, as teams attempt to limit interceptions, fumbles and tackles for loss. Narduzzi may be in for a raise, as the Pitt defense leads the Havoc Ratings through Week 5.
Our Havoc column will look at the defensive Havoc and offensive Havoc allowed each week. The calculation is simply a cumulative number of tackles for loss, interceptions, fumbles and passes defensed divided by the number of plays on both sides of the ball.
Don't forget to check out the updated Power Ratings and follow me in The Action Network App to see when I bet on games that have the biggest Havoc discrepancies.
---
Check out our new NCAAF PRO Report, where we highlight factors that provide betting edges — like large wagers, historically profitable betting systems, model projections and expert picks — that when combined with sharp money can powerfully detail the smartest bets on a given slate.
---
Week 5 Havoc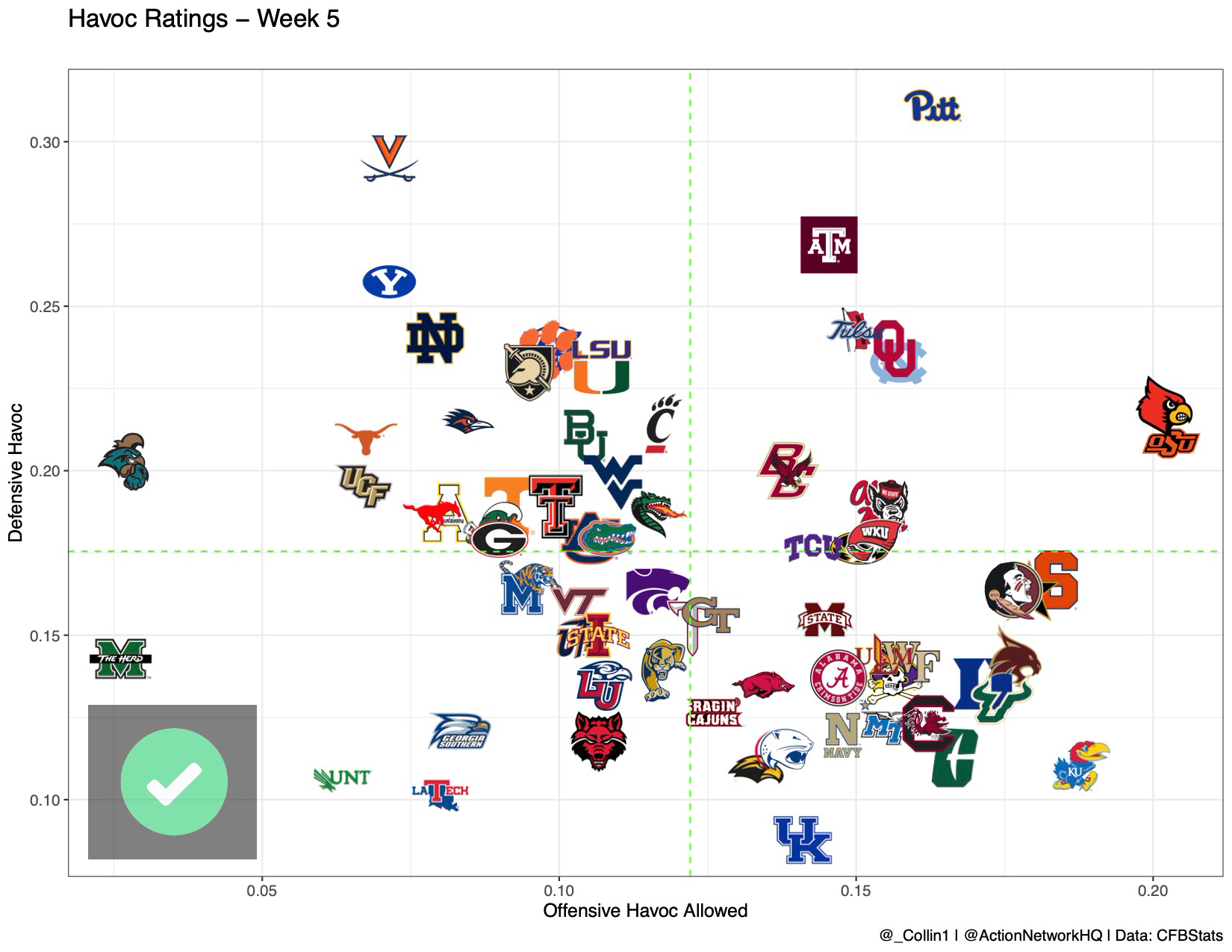 Teams strive to be as far to the top left of the chart as possible. A high level of offensive interceptions, fumbles and tackles for loss allowed results in a high mark of Offensive Havoc. Louisville takes a dive on Havoc allowed thanks to their game with Pitt. The Panthers lead the nation in defensive Havoc. One team to keep an eye on is Georgia. The Bulldogs compiled just four tackles for loss and did not force any fumbles against Arkansas. Georgia's defensive Havoc rating is one key statistic that matters most in their quest to make the College Football Playoff.
These ratings are in the infantile stages and generally don't paint a picture of a team's havoc tendencies until a handful of games are in the books. Here are a few notes as we enter Week 5:
Do not expect Coastal Carolina to lose a game because of mistakes. The Chanticleers rank second in Havoc allowed and face an Arkansas State team that ranks in the bottom 10 in defensive havoc. With 8 passes defended in a handful of passing attempts, the Chants are worth a bet at +3.5 or better against the Red Wolves.
Sample size is small, but Tulsa gave Oklahoma State all they could handle from a defensive Havoc standpoint. The Golden Hurricane racked up 14 tackles for loss and now face a Central Florida team that has allowed just 9 tackles for loss in 179 snaps.
Keep an eye on the turnovers when UTSA visits Birmingham. UAB has forced 5 fumbles this season, while the heavy rush attack of the Roadrunners has 4 offensive fumbles on the season
Auburn had new faces in the trench on both sides of the ball during a successful game against Kentucky. The Tigers allowed just four tackles for loss as Bo Nix had a clean sheet in the interception department. Georgia had a sterile defensive day against the Razorbacks from a Havoc perspective. The Bulldogs must improve on their four tackles for loss in Athens against Auburn.
Terms to Know
Postgame Win Expectancy is a calculation of all variables in a box score that dictate who would win the game if it was played a high number of times. Turnover luck, success rate and yards per play are notable components of this calculation and can influence a single game. But over a large sample, the team that moved the ball better would win more often than not.
There have been plenty of box scores in which a team wins as an underdog, but a negative value is applied to that team's power rating because the result was fluky rather than systematic.
Coach scheme changes can adjust a power rating quickly. For example, Oregon will undergo a change from Marcus Arroyo's conservative play-calling to new offensive coordinator Joe Moorhead's system. Moorhead's offense features a heavy dose of 11 personnel, west coast spread concepts and modern RPOs.
That offensive philosophy has led to more explosiveness and higher rates of success on standard downs at each of Moorhead's previous stops at Penn State and Mississippi State. In a situation like this, a power rating can be useful to quickly adjust a team's forecast for future games. In the case of Mike Leach, an adjustment of totals is coming with an increase in plays per game.
Success Rate and Explosiveness were first defined in Bill Connelly's Five Factors and are strong indicators for future box scores. While EPA (Expected Points Added) and IsoPPP (Isolated Points Per Play) can be highly variable from season to season, Success Rate is a stable data point for handicappers to use for projections.
Simply put, if a team consistently achieves the desired amount of yards — determined by down and distance — then this is a "play-on" team with your bankroll. Texas A&M ranked 17th in offensive success rate last season and returns 80% of its offensive production for 2020; that combination makes the Aggies a play-on team.
As Week 5 approaches, we'll be keeping track of all these variables in and out of the box score. Be sure to bookmark our power ratings for the latest update on all FBS and FCS teams playing this fall.
How would you rate this article?