4 Popular Strategies to Dominate Your Dynasty Fantasy Football Draft
Credit:
Dec 31, 2017; Denver, CO, USA; Kansas City Chiefs quarterback Patrick Mahomes (15) drops back to pass in the first quarter against the Denver Broncos at Sports Authority Field at Mile High. Mandatory Credit: Isaiah J. Downing-USA TODAY Sports
Instead of drafting a new team each season, dynasty leagues require you to manage the same team on a yearly basis and supplement it with a rookie draft in the offseason.
I'll run through four popular dynasty strategies -- Zero RB, Best Player Available, All Youth and Undervalued Veterans -- and players to target in each format.
My favorite strategy personally is the "Undervalued Veterans" strategy, as I think it's the most underrated by the public currently.
For most of us, fantasy football is the closest we'll ever get to running an NFL team. Even though we sit in our recliners on Sunday and believe we can do a better job than most GMs can, our only recourse is to put our knowledge on display against friends, relatives and any random stranger foolish enough to take us on in public fantasy leagues.
While you can get your GM fix from a traditional fantasy league, the dynasty format really takes things to the next level. Instead of drafting a new team each season, dynasty leagues require you to manage the same team on a yearly basis and supplement it with a rookie draft in the offseason.
This adds a whole extra layer of strategy to managing your team and opens up a lot of different avenues for owners. You would never consider playing for next season in a traditional fantasy league, but it could make a lot of sense if you don't think you can win in a dynasty setting.
The dynasty format also makes crushing the draft even more important than usual. Nailing it can set you up for a long run of success, while botching it could put you in a hole that might take years to dig out.
With that in mind, let's take a look at some of the most popular dynasty drafting strategies, potential strengths and weaknesses for each method and some players to target in each format.
1. Zero RB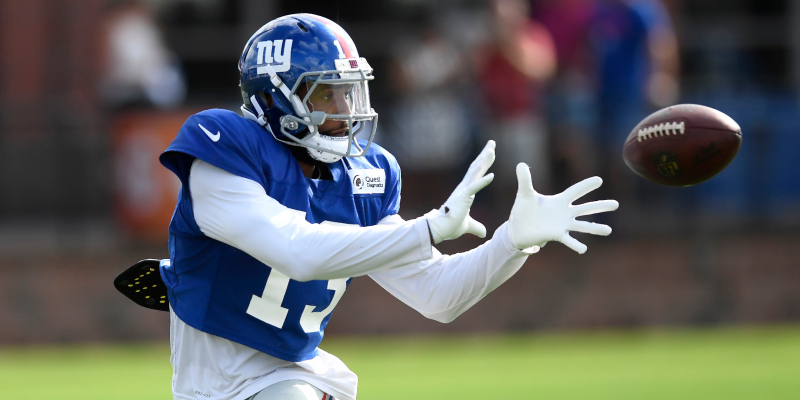 This style of drafting was pioneered by RotoViz's Shawn Siegele, who used it to take home north of $250,000 in high-stakes leagues in 2013. The premise is simple on the surface — avoid RBs like the plague during the crucial early rounds of the draft — and it operates on three core tenets:
Win the race to fill the flex
Almost every league employs a flex spot in 2018, but for a lot of people it remains a bit of an afterthought. Don't be one of those people. If you can compile a wealth of elite WRs, it allows you to turn your flex spot into a weapon designed to destroy your opponent on a weekly basis. If you're starting a stud at the flex each week while your opponent is just struggling to fill it, that's a recipe for success.
Early-round WRs are safer than early-round RBs
Last year was a bit of an anomaly for running backs, when 16 of the first 24 players drafted at the position (per MyFantasyLeague) finished as top-24 options in PPR leagues. From 2013-2016, only 51% of top-24 options finished as an RB2 or better, which makes drafting one in the early rounds a risky proposition. Top-24 wide receivers have been slightly more predictable (59.4%), and WRs drafted inside the top 12 of the position have finished as at least a WR2 at close to a 70% clip.
This is a concept crafted by Nicholas Nassim Taleb – we're big fans of Taleb – and applies to something that gets stronger amid chaos. Zero RB teams benefit from antifragility through the exceptionally high injury rate for running backs. The people at Sports Injury Predictor have calculated that 47.4% of all RBs and 52.7% of RBs drafted within the top 12 at the position have missed at least one game since 2012.
When one of those high-profile RBs inevitably goes down, Zero RB teams can benefit in two ways. First, whichever team spent an early-round pick on said running back will obviously become weaker. Second, you can improve your team by claiming the new starting RB off of waivers. If you can find a few RBs who are getting a large workload, Zero RB teams have the potential to become juggernauts as the season progresses.
Zero RB has lost some steam in redrafts recently — nine of the first 12 players off the board in 2018 are running backs — but the concept remains viable in dynasty leagues. Wide receivers tend to have longer careers than running backs, who are typically on the decline by the time they hit 30. With WRs coming off the board later than they have in years, the conditions might actually be perfect to zig when everyone else is zagging.
---
>> Sign up for The Action Network's daily newsletter to get the smartest NFL conversation delivered into your inbox each morning.
---
The perfect Zero RB squads for dynasty leagues would start with Odell Beckham Jr., who is arguably the best WR in the league outside of Antonio Brown and is still young at just 25 years old. If you can't get him, DeAndre Hopkins, Brown and even Michael Thomas all make for excellent first selections.
After that, you'll want to continue hammering receivers, and potentially sprinkle in a QB or TE as well. Some guys who get a bump in the dynasty format are Amari Cooper, Stefon Diggs, and Corey Davis, but ideally you'll want to land as many of our top WRs as possible.
After you've built up a solid core of pass catchers, it's time to shift your focus to RBs. The ideal targets here are guys who play in a committee but have the potential to be big producers if one of their teammates gets injured. For PPR leagues especially, you'll want to focus on guys who can provide value with their receiving ability as well. Guys such as Dion Lewis, Tevin Coleman, and Rex Burkhead all fit the bill.
2. Best Player Available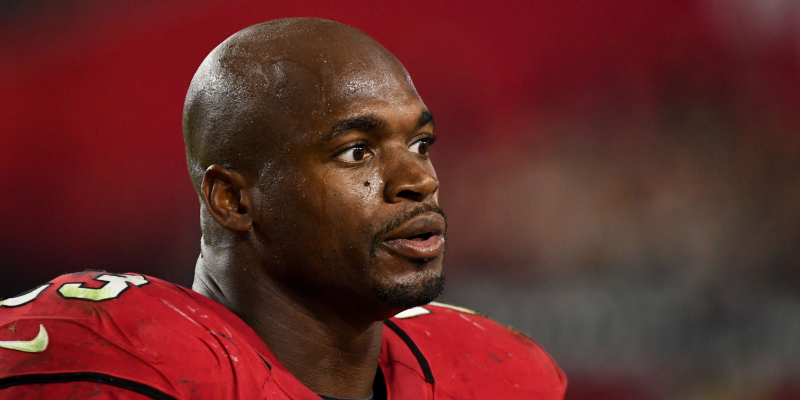 For those who don't enter the draft with a particular strategy in mind, "best player available" will likely be their default. It makes sense in principle: Just draft the best player regardless of position, then wash, rinse and repeat.
The problem with the BPA approach is that we're not nearly as good at evaluating talent as we think we are. Let me give you an example. My friends and I started a dynasty league in 2013, and eight running backs went within the first 12 picks. Two of them were Adrian Peterson and Jamaal Charles, who have both put together excellent careers but are well past their primes and are currently looking for new employers. Of the remaining six, only two are still active NFL players, and I don't think anyone is excited at the thought of owning Doug Martin or Alfred Morris at this point.
The other four — Ray Rice, Trent Richardson, C.J. Spiller and Arian Foster — all seemed primed to provide elite production for years to come, but Father Time, injuries or just general ineffectiveness plagued them to failure in the long term. Some of those picks may seem stupid now, but there was a time when people were actually excited to draft Richardson and Spiller. The bottom line is this: Determining the best player available for each selection is hard — unless you're Sean Koerner.
If you are going to give BPA a shot, you're going to need a ranking sheet you really trust. If you can identify a handful of players you like significantly more than the rest of the fantasy community does, you can successfully pick these players off at what you perceive to be a value. This strategy is much easier to execute when you're picking in the middle of the draft, since you'll often have to reach for players at the turns or risk losing them before you get back on the clock.
To help you with your rankings, Koerner, Matt Freedman and Chris Raybon have compiled their top-200 players for the 2018 season. I would recommend comparing these players with their current dynasty ADP and seeing who stands out.
These rankings are specifically intended for redraft leagues, however, so you might want to bump players up or down a few spots depending on their age. Even though the guys collectively like Larry Fitzgerald this season, you probably don't want to make him the 13th receiver off the board especially since he could retire in the offseason.
3. All Youth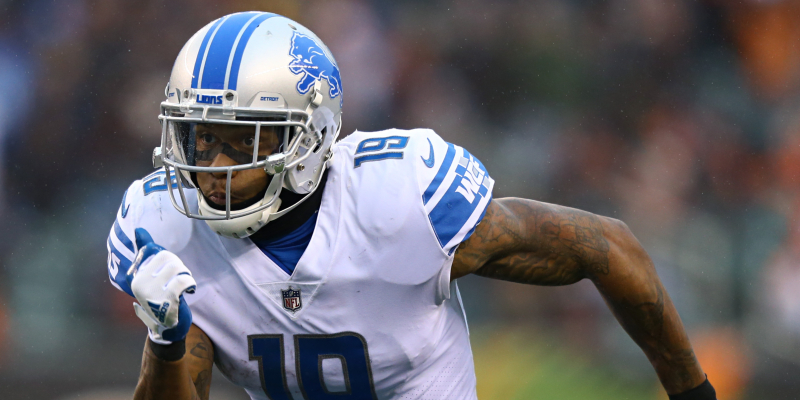 In my opinion, this might be the most overused strategy in dynasty leagues. People often get too focused on the future and forget the fact that winning in Year 1 is just as lucrative as winning in Year 5 is.
Still, the thought of compiling a team chock full of young studs is obviously appealing. After all, it's called a dynasty league for a reason, and building a dynasty that will dominate your league for years to come is the optimal outcome.
The big problem with this strategy is that youth is often overpriced in dynasty leagues — sometimes to a drastic degree. Take the 49ers' starting WRs. We currently have Pierre Garcon ranked 29th among receivers and Marquise Goodwin ranked 39th, yet Goodwin went 80 picks earlier than Garcon in a dynasty draft I just completed.
Is it possible that Goodwin becomes a star playing with Jimmy Garoppolo under offensive guru Kyle Shanahan? Sure. But it seems more likely that the receiver who managed just 105 catches and 1,742 yards through his first five NFL seasons was overvalued because he's 27, while the typically reliable Garcon was undervalued because he's 32.
This isn't a stand-alone example, either. The jury is still out on whether Jared Goff will live up to his billing as the first pick of the 2016 draft, but you're going to need to draft him before Ben Roethlisberger and Drew Brees if you want him on your dynasty squad.
---
>> Download The Action Network App to get real-time odds, track your bets and follow all of our experts' picks.
---
Corey Davis routinely comes off the board before T.Y. Hilton, Alshon Jeffery and Golden Tate. And there are currently eight rookie RBs coming off the board earlier than Jay Ajayi, Lamar Miller and Mark Ingram. If you want the opportunity to build a true dynasty, you're going to have to pay for it.
If you are bold enough to put this strategy to the test, targeting second-year players instead of rookies might be the ideal arbitrage play. They don't have the same shine as some of the first-year players — especially if they struggled a bit in their rookie seasons — but offer the same combination of youth and upside.
A few guys who fit this description and are generating significant buzz at the moment are Kenny Golladay, Chris Godwin and John Ross. Golladay dominated the preseason last year, earning the nickname "Babytron," and caught two TD passes in Week 1 before missing a bunch of time with injuries. He has the potential to be a legit WR star.
Godwin has impressed in Bucs camp and seems like a lock to operate as the No. 2 option next to Mike Evans. He didn't play much as a rookie but ended last year on a high note, recording seven catches, 111 yards and one TD in Week 17.
Finally, Ross was the No. 9 pick of the 2017 draft and has impressed enough this offseason that the Bengals felt comfortable enough to release veteran WR Brandon LaFell. He's a legit burner, blazing a 4.22 40-yard dash at the combine, and could be a big part of a Bengals offense that seems primed for some progression this season.
4. Undervalued Veterans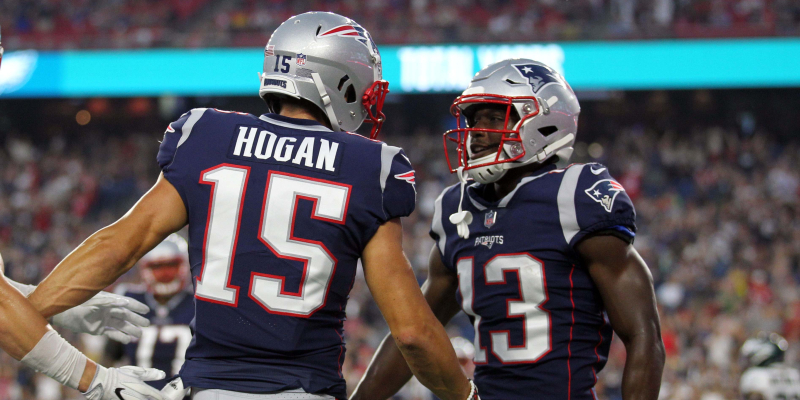 This is the opposite of the above strategy and one of my personal favorites for dynasty leagues. The downside is pretty obvious — you could be rebuilding your squad after just a handful of seasons — but these rosters also have significant upside for the first few years. That's a huge plus, especially considering that many of the young players who are being selected early in start-up drafts are ultimately going to be busts anyway.
It's important to remember that "veteran" does not always equate with "old." Just because a player isn't 22 anymore doesn't mean he is past his prime. There's definitely a sweet spot — typically for players who are between 26 and 30 years old — where they see a slight decrease in dynasty value despite still being in their primes.
Julio Jones is being drafted as the WR5 in redraft leagues but the WR8 in dynasty leagues. Hilton is coming off the board as WR19 in dynasty leagues, but we currently have him ranked as WR13. Chris Hogan is being drafted as just WR35 in dynasties, although his ADP has been steadily rising throughout the offseason.
Of course, you also don't have to avoid all young players. Dynasty leagues typically feature deeper rosters than those in traditional redraft leagues, so you'll have plenty of opportunities to stash some upside players late in the draft. The middle rounds are the perfect area where the rest of your league will typically ignore players who can help you build a really strong team for Year 1.
It's also worth noting that the one area where paying for youth is probably not undervalued is at running back. Most RBs typically see a sharp decline in production once they turn 30, so drafting a young back or two in the early rounds makes a lot of sense.
If you do miss out, however, don't panic: You can still grab a couple of vets later in the draft and then supplement your team in the following years through the rookie draft.
The bottom line: I'd much rather have a team that I know will be a contender in Year 1 than a team that might be a contender in Year 3. If you're a savvy enough GM, you should be able to retool your roster in the future anyway.
How would you rate this article?