Raybon: All the Ways I'm Fading Aaron Rodgers When Betting the NFC Championship Game
Credit:
Dylan Buell/Getty Images. Pictured: Aaron Rodgers
It started out subtly at first. Five years later, it's an undeniable reality: Aaron Rodgers is no longer Aaron Rodgers.
From 2008 through 2014, Rodgers led the NFL with 8.27 yards per pass attempt and threw 2.18 touchdowns per game, third-best.
But every time I look at his post-2014 numbers, I can't stop that early-2010s art-pop song "Somebody That I Used to Know" from playing in my head.
First, the YPA dipped…
2015: 6.7 YPA, 1.9 TDs/game
2016: 7.3 YPA, 2.2 TDs/game
2017: 7.0 YPA, 2.3 TDs/game
But you didn't have to cut me off
Make out like it never happened and that we were nothing
…but the touchdowns were still there, at least…
And I don't even need your love
But you treat me like a stranger and that feels so rough
…then those started dropping…
2018: 7.4 YPA, 1.6 TDs/game
2019: 7.0 YPA, 1.6 TDs/game
No, you didn't have to stoop so low
Have your friends collect your records and then change your number
…and it all completely bottomed out over the second half of this season.
2019, Weeks 9-17: 5.9 YPA, 1.3 TDs/game
I guess that I don't need that though
Now you're just somebody that I used to know
Rodgers still never throws picks, and I'd argue much of the 36-year-old's decline is due to a bare cupboard of receiving weapons aside from Davante Adams — Jimmy Graham is washed while Allen Lazard, Geronimo Allison and Co. were never really dirty to begin with — rather than age, but whatever the cause, the end result has been middling-to-below-average quarterback play: Rodgers ranks 14th in Passer Rating Under Pressure (74.0 per Pro Football Focus) and 28th in Completion Percentage Over Expectation (-1.7, per Next Gen Stats) while the Packers rank 23rd in third-down conversion rate (36.0%) this season.
Last week, I backed the Packers against Seattle because I didn't think they needed a cameo from the Rodgers That We Used to Know in order to cover.
But this week against a vaunted San Francisco defense that allowed a league-low 4.8 net yards per pass attempt, I'm fading Rodgers in almost every way imaginable.
49ers -7.5 & Moneyline
The 49ers opened at -7, and big bettors quickly pounced — as did I. A variety of factors went into it, but Rodgers is at the forefront. I provide an in-depth breakdown in our early bets piece.
I'd bet the spread up to -8 and moneyline to -375.
Under 238.5 Passing Yards
Much like it was against the Vikings last week, when they held Kirk Cousins to a listless 172 yards through the air — despite allowing a 41-yard touchdown by Stefon Diggs against subsequently-benched cornerback Akhello Witherspoon — the 49ers' ability to get pressure without blitzing will be the key to limiting Rodgers' passing yardage.
Rodgers vs. blitz: 148 att, 8.3 YPA
Rodgers vs. normal rush: 448 att, 6.7 YPA
According to Pro Football Reference, San Francisco blitzed at the fourth-lowest rate in the NFL (20.9%) during the regular season, while still generating pressure at the second-highest clip (28.7%).
Another key is the 49ers' ability to slow down Adams.
Despite a monster 160-yard performance from Adams in the Divisional Round that accounted for a ridiculous 66% of Rodgers' passing yardage, Rodgers would have cleared this prop by only 4.5 yards. Adams was also responsible for 36% of Rodgers' yardage in the 12 games the wide receiver was active during the regular season. But San Francisco allowed the fewest schedule-adjusted yards per game to No. 1 wide receivers (54.7), and held Adams to seven catches for 43 yards on 12 targets when these two teams met in Week 12. Rodgers managed only 104 yards on 33 attempts in that game, the lowest yardage total of his career in a game in which he attempted at least 23 passes.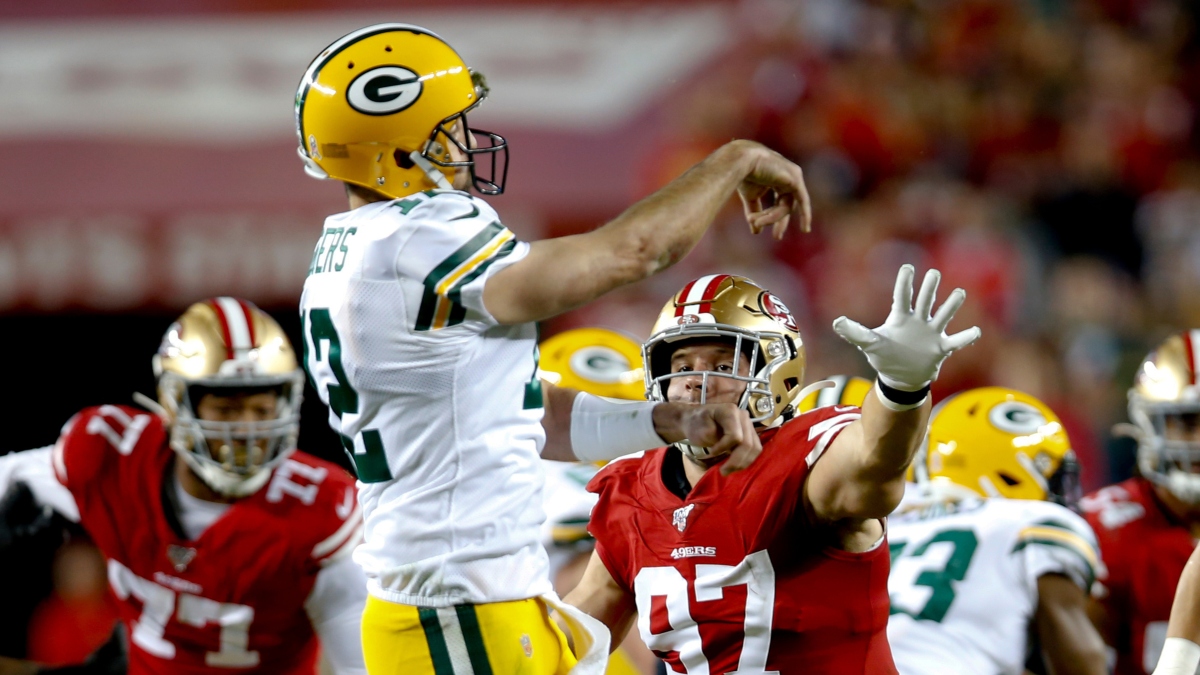 Rodgers' efficiency also tends to dip on the road: He's averaging only 6.1 YPA on the road this season compared to 8.0 at home, and his career mark in away games (7.5) sits a half-yard lower than when at Lambeau (8.0).
Only four of 17 quarterbacks have gone over their passing yardage prop against San Francisco, including only two of nine when the now-healthy trio of pass-rusher Dee Ford, linebacker Kwon Alexander and safety Jaquiski Tartt are all in the lineup together.
[In New Jersey, Pennsylvania, Indiana or West Virginia? Bet now at FanDuel]
Under 1.5 Passing Touchdowns
Rodgers has gone under 1.5 passing touchdowns in nine of 17 starts this season, and the 49ers have held opposing passers to one or fewer passing scores in nine of 17 as well. But with Ford, Alexander and Tartt all on the field, that rate drops to three of nine.
[In New Jersey, Pennsylvania, Indiana or West Virginia? Bet now at FanDuel]
Over 12.5 Rushing Yards
Hey, I did say I'm fading him in almost every way imaginable — I do like him to get over his rushing prop.
Most of the 49ers' worst games on defense came against quarterbacks with scrambling ability, and they allowed the third-most yards per game on the ground to the position (23.8). Though Rodgers' rush attempts have been down slightly over the past couple years — likely in the name of self-preservation — I'm betting that head coach Matt LaFleur will give Rodgers the green light with the season on the line, especially after Rodgers took a pounding with five sacks in his first matchup.
Defensive coordinator Robert Saleh's unit allowed more than 12.5 rushing yards to opposing quarterbacks in nine of 17 games, including 13 to Rodgers in the teams' first meeting. And though Rodgers cleared 12.5 in only eight of 17 games overall, five have come his last seven.
[In New Jersey, Pennsylvania, Indiana or West Virginia? Bet now at FanDuel]
Fantasy & DFS
I have Rodgers ranked last among quarterbacks in our conference championship fantasy football rankings. And he's the second-most expensive QB in DFS, which means I won't be touching him in cash games and will barely have any of him in tournaments, either.
In our FantasyLabs NFL Player Models, Rodgers ranks last among QBs in Projected Plus/Minus on DraftKings, FanDuel, DRAFT and Yahoo.
---
Raybon is 230-177-15 (56.5%) betting on the NFL overall. Follow his picks in our free app.
How would you rate this article?