Chicago Bettor Hits Pair of 5-Figure Parlays: 'I Literally Never Recommend That Anyone Does It'
Credit:
Jim Davis/The Boston Globe via Getty Images. Pictured: Nick Folk
When Nick Folk made contact with a 56-yard field goal attempt on Sunday Night Football to potentially put the New England Patriots ahead of the Tampa Bay Buccaneers with 59 seconds left, Blair Montgomery felt his heart stop.
Montgomery, a 31-year-old Chicago resident, spent the day sweating out nine legs of an 11-team parlay. Needing just a Tampa Bay win to guarantee himself nearly $80,000 with the potential for almost $125,000, Montgomery let his $100 parlay ride.
It was just a week earlier he was in the same situation, needing a Dallas Cowboys win on Monday Night Football to earn $42K off a 12-team parlay. He hedged, ultimately costing himself nearly half of his potential profit.
He didn't want to make the same mistake this time. Not with Tom Brady motivated to beat his former team.
"I told myself no matter what I'd let it ride," Montgomery said.
On 4th-and-3 with the game on the line, Bill Belichick decided to try for the field goal instead of sending out Mac Jones and the offense to pick up a first down. It's what Montgomery wanted.
With Cris Collinsworth discussing Folk's plant leg issues, with the rain pouring down in Foxboro, Folk sent the ball into the air.
"Oh my god," Montgomery's wife said as the ball hit the air. "He drilled it."
Montgomery is a self-described gambler. He says the quiet part out loud: He doesn't always win. He loses and loses often. He's not grinding like Joey Knish to feed his family. He's got a day job for that. But like many gamblers, he's had his Mike McDermott story.
He's been gambling his entire adult life and most of his teens. On his own since graduating high school at 18, money was a driving in factor in most of his decisions. Finding that stability was hard, especially going about it the way he did.
He went the poker route, traveling across the midwest for tournaments trying to beat the odds of 2,000-person entries filled with professionals to hit a big score. He went broke "many times" in his 20's.
One week, he took the six-hour drive from East Lansing to Columbus, Ohio, for a poker tournament. He took a few days off work, grinded cash games during the to pay for his food, hotel and travel and carried with him the $4,000 he had to his name. A few winning sessions later he entered the weekend with about $6,000, but after a bad beat sent him out of the tournament early, he took his tilt and frustration to table games where he lost it all.
He returned to East Lansing after the six-hour, dark, lonely drive back on a Sunday night and took over a month off from gambling so he could focus on bills and build his bankroll back up.
After graduating from Michigan State, he moved to Chicago to begin his low-paying job right out of school. Saddled with "a ton" of students loans, he turned to Uber to build a gambling bankroll in hopes of earning money on the side to expedite the process and get out of debt. His alarm went off every morning at 5 a.m. to take people to the airport before heading to the suburbs for his day job.
That Uber money went toward sports betting and poker. Sometimes it worked. A lot of times it didn't.
Meanwhile, he was fighting a seemingly insurmountable battle against high-interest loans after paying for his final year of college with credit cards.
"I took some irresponsible risks," he admits. "It was a really hard period of my life to learn how to balance this and do it the appropriate way."
It's been about three years since Montgomery reached that point of gambling the "appropriate way". That means something different for each person. Not many would call filling out parlays every weekend appropriate or responsible.
It's what Montgomery does, though. Since sports betting was legalized in his neighboring state of Indiana but not in Illinois at the time, Montgomery drove across state lines to the Horseshoe Casino in Hammond, Ind. to place his parlays on Sunday mornings. Game by game at a kiosk, the tedious task left him with a handful of tickets and no hedging opportunities.
It also helped him through what he believes is one of the most important lessons he learned in his early gambling years. When the fun money is gone, when the bets lose, leave it be.
"Let a $2,000 loss be a $2,000 loss," he says. "Because if you don't, it turns into a $5,000 loss and now you're trying to figure out rent on Monday. You don't want to live that way."
Just like his poker tournaments, Montgomery knows he's going to lose more than we wins with the way he bets. His biggest score previously was an 8-team parlay for about $20,000. But this comes with plenty of losses, too.
He didn't wake up last week and decide to bet a single 12-team parlay and follow it up with two more 11-teamers a week later. Each Sunday, he says he has up to $3,000 in play on parlays. Professional bettors and the gatekeepers of gambling Twitter cringe reading that. Yet, he understands the odds and what he's getting himself into each week — something he couldn't admit or handle five or 10 years ago.
"I'm 100% gambling.  It is what it is. I know statistically the odds are nowhere remotely in my favor, but straight up games are not as fun to me. I'm crazy enough to believe I'm good enough and know enough about sports to do it. You have to be crazy enough to believe you can actually do this while understanding you have to be disciplined and responsible."
Not all of Montgomery's parlays are 12-team longshots. Most are four-to-six team plays. But he makes sure each week to play what he calls his "home run" play. The one that if it hits or has a chance late, it could be life changing money.
"You see people hit that and obviously want a piece," he said. "I can't even tell you how many times I said if I could just get $50K, some sort of lump some, how it could change your life."
***
In Week 3, Montgomery put $100 on a 12-team parlay that survived Sunday and needed just the Cowboys to win outright. They were favored by 3.5-points at home against the Philadelphia Eagles. A win paid out $42,854.37.
Montgomery hedged in an attempt to both middle the bet and guarantee himself a nice profit. He put $20,000 on the Eagles +3.5 (-115) to pay out a profit of $17,391.30.
Dallas won 41-21. Montgomery walked away with over $22,000, but regret immediately set in.
"At the time, the possibility of middling and taking home an extra $20K and netting $62K was too good to pass up for a situation where I actually did think the game would be close," he said. "When it ends up being a three-touchdown blowout and I'm not even close, it definitely stung sitting there with friends watching the game. Didn't have a whole lot to cheer about, honestly.
"Five or 10 years ago I would've been pissed, not happy, not satisfied, really upset and basically finding ways to make up that $20k. Now I'm a little bit more mature. I've been through a lot of experiences in my life."
He went with his usual plan, using the same amount of money in his allotted bankroll to fill out his parlays. He played more of his 'home run' plays than he did in Week 3, but he didn't risk more money.
He played 12 parlays with a variety of combinations. He found a handful of core plays then scoured the board for underdogs in situational spots or opportunities to buy low.
The Colts, Packers, Chiefs, Bears and Cowboys won without much of a worry. The Browns held a lead most of the game against the Vikings, but Montgomery was actually pulling for a different parlay with the Vikings. However, once it looked like both the New York Jets and Giants — the two biggest underdogs on his card — were in positions to win, he turned his attention to Cleveland. The Browns won 14-7.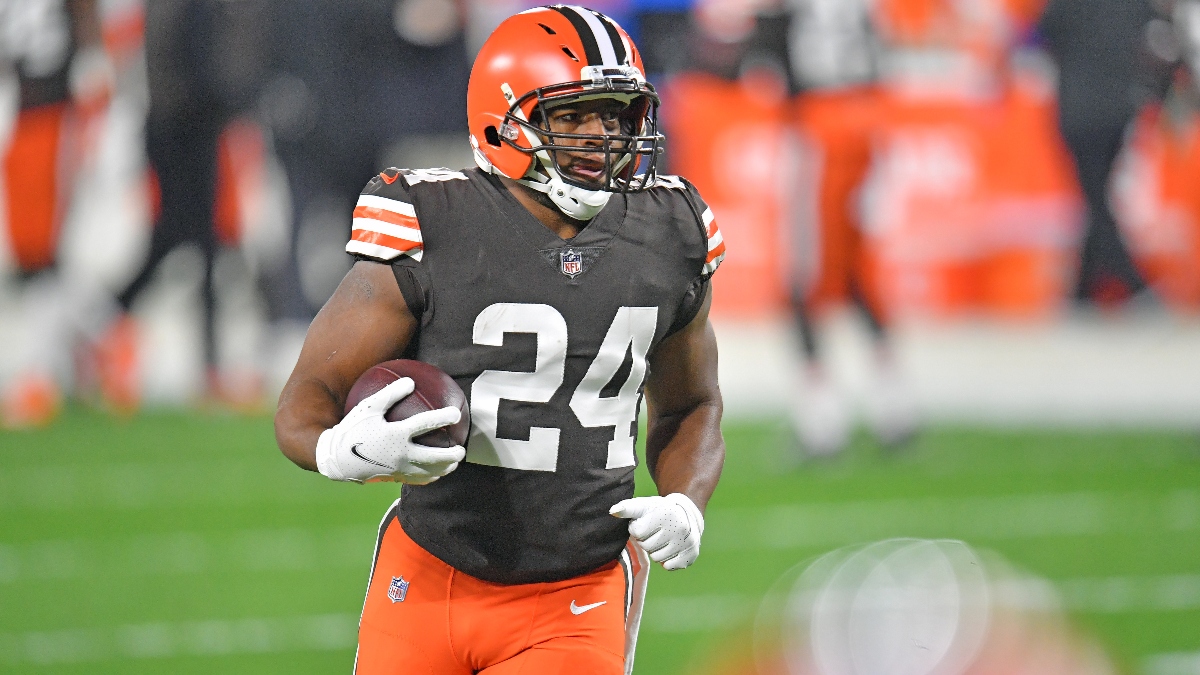 Then there was Washington. Montgomery remembers Washington costing him another big parlay two years ago and thought to himself, "I can't believe they're doing it again." Trailing 30-28 with 33 seconds remaining, J.D. McKissic took a pass from Taylor Heinicke for 30 yards into the end-zone to go ahead 34-30 and win.
Montgomery had two parlays left standing heading into Sunday Night Football. Both had the Bucs winning over the Pats. One had the Chargers on Monday Night. One had the Raiders on Monday night.
11-team Parlay
Confirmed by FanDuel
| Team | Odds |
| --- | --- |
| Chicago Bears | -146 |
| Cleveland Browns | -116 |
| Dallas Cowboys | -210 |
| Kansas City Chiefs | -355 |
| Washington Football Team | -126 |
| New York Jets | +210 |
| New York Giants | +270 |
| Indianapolis Colts | +124 |
| Green Bay Packers | -270 |
| Tampa Bay Buccaneers | -290 |
| Los Angeles Chargers | -176 |
It all came down to Brady. It was one time the Michigan State grad didn't mind pulling for a Wolverine.
Montgomery saw the tickets lining up on Tampa Bay, knowing no one wanted a any piece of New England. Across the major sportsbooks, all reported more than 90% of bets coming in on Tampa Bay to cover the spread.
"That's horrifying," Montgomery said.
He debated hedging. He thought about putting $20,000 on either the Patriots moneyline or going for another middle at +6.5. A moneyline bet would've guaranteed him $47,000.
This time, he let it ride.
In what was a tight game throughout, the Patriots had a chance to go ahead with under a minute left. Montgomery believes if Belichick goes for it on fourth down against a depleted Tampa Bay secondary, New England gets it and wins the game. Instead, on came Folk.
The early trajectory had Montgomery's wife convinced it was in. "He made it," she said. Yet, as the kick approached the uprights with a slight draw to the left, a clank off the left upright sent the ball to the ground without going in.
"Best feeling ever," Montgomery said. "And absolutely miserable to watch.
"When that kick hit the post, I cried. I was so emotional. It was a really cool moment. It felt like the last 12 years of my life coming full circle."
When the Chargers beat the Raiders on Monday Night Football, it cashed the parlay for $79,059.45. That made his two-week parlay streak worth just over $121,913. With the Eagles hedge factored in but not counting any of the other $100 parlay losses, it was just over $101,000.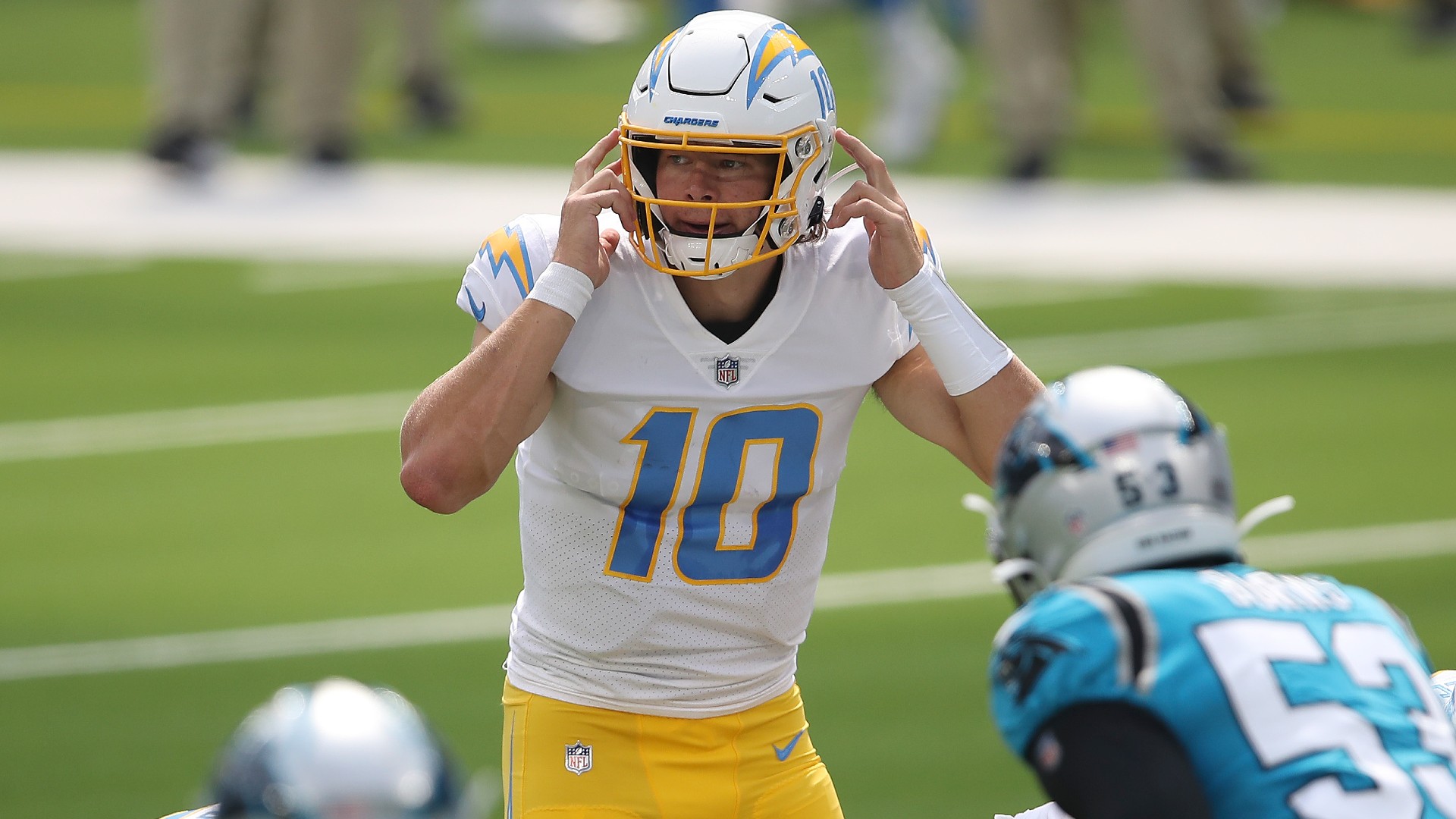 It's been a whirlwind ever since. His Twitter following saw an increase and his DMs are always full. Some people are asking him for winners, others are asking  for his address.
He'd love to help people, he says, but wants anyone ever asking for his advice to know he loses. He believes he knows football and sports well and believes he's overall a winning bettor even before this score.
But the way he gambles, he loses many more times than he wins. The 11-team parlay had an implied probability of 0.13% of winning. His 12-teamer in Week 3 had a 0.23% implied probability. Combined those don't even add up to a 1% chance.
"It's one of those things that people ask how do you do this and I literally never recommend that anyone does it. Not to the extent I did it."
His life has changed quite a bit in two weeks. Financially, this will accomplish his goal of being debt free. He and his wife are taking a pre-planned vacation to Hawaii. "This will make that even more fun," he said. He has his eyes set on future goals, but will continue his method no matter the odds.
"I've learned to actually enjoy this a little bit so you aren't putting pressure on yourself to hit 12-team parlays."
For him, the 12-teamers are entertaining. They're not a way to pay his rent. In his words, he's crazy enough to believe he can make some money every once in a while doing it. And then there's always the hope for a life-changing amount.
He finally did. But filling out the next parlay has to wait until the weekend. It was time to go back to his day job to pay the bills. His fun money will be waiting for him at home.
How would you rate this article?
This site contains commercial content. We may be compensated for the links provided on this page. The content on this page is for informational purposes only. Action Network makes no representation or warranty as to the accuracy of the information given or the outcome of any game or event.