Christi Walsh: 7 Fantasy Football Tips for Women to Prevail in Male-Dominated Leagues
Credit:
Matthew Emmons-USA TODAY Sports Pictured: Dallas Cowboys fan holds up a sign
As an experienced fantasy football player, Christi Walsh offers seven easy tips for women playing male-dominated season-long leagues.
Walsh tackles how women are often underestimated when playing fantasy football, and how that can be an advantage.
She also includes a handful of players she's targeting in drafts this year at the key quarterback, running back and wide receiver positions.
Not loving football was never an option for me. For as long as I can remember, the game has been a part of my life. I grew up in a household with two avid football fans as parents and quickly grew to love the sport myself. As a kid, I would spend Thanksgiving weekends at Wing House, watching some of the best college football rivalries with my father, uncle and cousins.
I remember countless years of NFL playoff games and Super Bowls spent at our neighbor's house, being carried home asleep because I couldn't make it through the games. My mom still talks about the Redskins' "good ole days" when Joe Theisman, John Riggins and "The Hogs" pummeled their way through the NFL in the 80s. There's even a picture of my mom and dad floating around from the 1988 Vikings-Redskins Divisional Round playoff game where they are sporting impressive "F— Minnesota" t-shirts. My mom keeps telling me she lost the picture. I think she's a liar.
It only made sense that my natural progression of fandom would eventually lead me to fantasy sports. In 2008, after years of harassing my friend for a spot in their league, I finally got my in.
---
According to the Fantasy Sports Trade Association, only 29% of fantasy sports players are female, so it's not hyperbole when I say fantasy football is a male-dominated game. And let's face it, there are enough men who will underestimate us for simply being female that we can use this to our advantage.
Because I've been playing for so long, I often have female friends contact me for tips and advice regarding how to compete with, and ultimately beat, the boys. The list below offers my favorite tips, strategies and players to target in your fantasy football league. This is especially geared toward new or inexperienced players.
DISCLAIMER: The specific strategies below should be used in standard scoring leagues. Standard scoring means a fantasy football scoring system in which players are not awarded points for every catch they make, referred to as points per reception (PPR) leagues. Some of the high-level strategies can be applied to any league format.
1. They're going to underestimate you … and that's good
Every league has those owners who want to tell you how smart they are. I can guarantee your league is going to have a few of those as well, so let them feel like experts while mansplaining to you, a female, the nuances of successful fantasy football.
By reading this, you're already on the path to becoming just as prepared as you need to be. You don't need to know nuggets about every single player in the draft. By understanding simple fantasy football strategy and sticking to player rankings from the real experts, like these from The Action Network's team of fantasy football analysts, you'll be in great shape.
If other owners want to underestimate you, then let them do just that. I like to turn the tables when they inevitably make a terrible pick (which they usually will) by letting them know how great of a pick it was and that I was juuuussssttt about to take that player, too.
Because what's better than another owner making one dumb pick? That same owner making two dumb picks.
---
>> Sign up for The Action Network's daily newsletter to get the smartest NFL conversation delivered into your inbox each morning.
---
2. Don't buy in to the "run"
This is arguably the biggest mistake I see new fantasy football players make. Immediately after one owner drafts a quarterback or tight end many in the league panic because they don't have one yet. Does that mean you need to immediately draft a player at this position too so you don't miss out?
When the avalanche gets triggered, let it run its course. Feel free to even let a little "fake panic" set in and frantically look at your rankings sheet while muttering how you "need" to get a QB, TE or whichever position is running early.
As I mentioned in my first tip, print out your fantasy football rankings ahead of time and bring them to the draft. If you have the 60th pick and a run on QBs means Aaron Rodgers, Tom Brady, Cam Newton and Russell Wilson quickly went off the board, don't panic and take Deshaun Watson, who is the next QB in The Action Network's rankings at No. 79 overall. Stay disciplined and let other owners reach on players. Instead, stick to your rankings and take the best player available.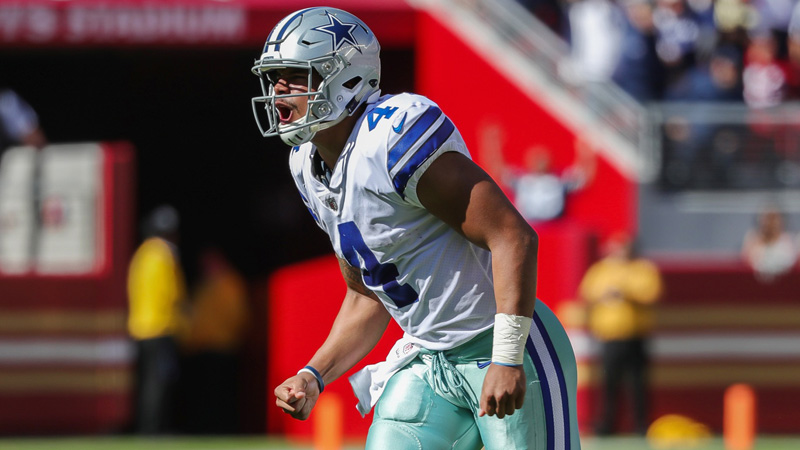 Credit: Sergio Estrada-USA TODAY Sports
And if the liquid courage is flowing (as it should be), here's a little trick I've developed that worked last year in a new league my husband (The Action Network's PJ Walsh) and I started. It's a 10-teamer comprised of five couples, and we did a live draft at Buffalo Wild Wings. Quarterbacks have very little value in this league, but by acting frustrated after Brady went off the board, I baited one owner into drafting three quarterbacks: Rodgers, Andrew Luck (who didn't play a snap last year due to injury) and Dak Prescott (pictured above) toward the end of the draft.
The funny thing is that owner was an experienced male fantasy football player, not one of the three moms who didn't know the difference between American and Australian football. As you can imagine, that owner's team had zero depth at other positions, and he struggled mightily.
It was beautiful.
3. Fade the local favorites
Everybody (except Redskins fans) wants to draft players from their favorite teams, right? Well, not fantasy football winners. Depending on the region in which you live, some players from local teams will go higher than their average draft position (ADP). ADP refers to the average pick in which each player is being drafted across ALL drafts. For example, Tom Brady's ADP is currently 5.10 (in 10-team leagues) according to FantasyFootballCalculator.com, meaning Brady is being drafted, on average, with the 10th pick of the fifth round.
---
>> Download The Action Network App to get real-time odds, track your bets and follow all of our experts' picks.
---
I live in New England (after growing up in North Carolina) and because fans up here cannot drink Brady or Rob Gronkowski's bath water, the next best thing is to draft them on their fantasy teams. Sure, both are awesome fantasy players but remember, fantasy football drafts are all about maximizing value.
Brady will undoubtedly be a top fantasy QB by season's end (assuming he avoids injury/stops deflating footballs), but let someone else take him in the early rounds. The Action Network's experts have Brady ranked 54th overall, so feel free to grab him around that draft pick. But if your opponents want to take him in the third or fourth rounds, let them.
4. Speaking of QBs … wait as long as possible to draft one
Assuming you're playing in a league with 10 or 12 teams, QBs simply don't have much value. Now that doesn't mean it's not important to have a good QB, but the nature of fantasy football scoring means there are lots of good QBs from which to choose. I'll admit, it's hard to watch names like Rodgers, Brady, Wilson, etc. fly off the board and not feel that urge to jump in so you don't miss out.
But trust me, just like those last-call tequila shots, post-draft guilt hits hard when you realize you could have gotten Philip Rivers (pictured below) seven rounds later than Rodgers.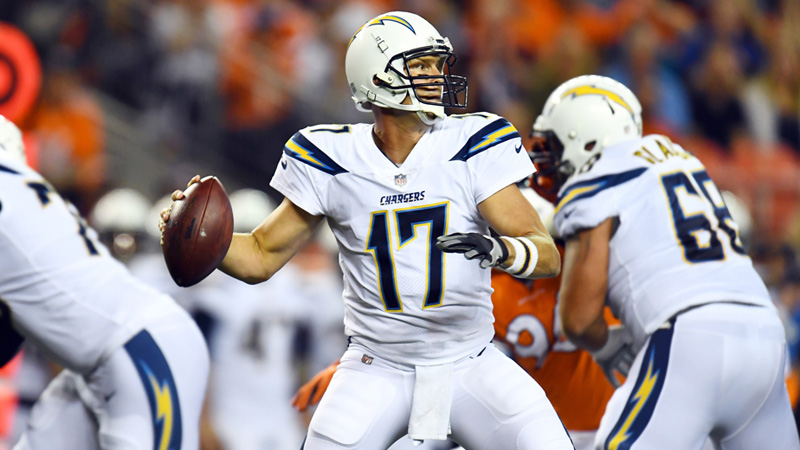 Credit: Ron Chenoy-USA TODAY Sports
Speaking of Rivers, he finished eighth among all QBs in Yahoo leagues last year, yet is only being drafted 13th among QBs (103 overall) in 10-team standard leagues. I'm definitely targeting him in all of my drafts.
Miss out on Rivers? Marcus Mariota (17th among QBs) and Prescott (19th) are two more players I'm targeting.
And even if the QB you ultimately draft (after waiting painstakingly long) is a dud, don't worry. Drop him after a couple of weeks and find another on the waiver wire.
5. Grab a stud WR
I like getting one top-level WR early. This year, Antonio Brown, DeAndre Hopkins, Odell Beckham Jr., Julio Jones, Michael Thomas, Davante Adams and A.J. Green are my studs.
After nailing down one stud and another solid WR in the first five or six rounds, I'm targeting the following WRs going later to fill out the position:
Julian Edelman (Patriots): Edelman will miss the first four games of the season after violating the NFL's policy on performance-enhancing substances, sending him tumbling down draft boards. But Edelman is one of Brady's top targets and will immediately become a fantasy starter when he returns. That's incredible value a player being drafted in the ninth round, on average.
Robby Anderson (Jets): Anderson put up 941 yards and seven touchdowns last season, finishing 17th among WRs in Yahoo scoring, yet he's going 37th (!) among WRs in drafts. 

For those so inclined, The Action Network's Ian Hartitz wrote a fantastic piece on Robby Anderson and

why he's primed to break out this year

.

Randall Cobb (Packers): I just can't quit you, Randall. It seems like Cobb has been around forever, but he's still only 27 years old (turns 28 on Aug. 22) and gets a healthy Rodgers back under center. He's talented, Rodgers' No. 2 receiver and being drafted 36th among WRs. He obviously has his warts, but that's clearly built into the 10th-round price tag.
6. When in doubt, defer to RBs
I have a confession to make … I'm a hoarder. I've won many leagues by drafting as many RBs as possible. If I can't decide between a RB and any other position, I take the RB. If I start my draft with two RBs and there's another one I like in the third round, RB it is. It's not uncommon for me to take RBs with four of my first five picks either, especially if one of the aforementioned QB or TE runs happens early.
And going back to my first tip, this is a very common point in your draft where a male "expert" will reach out with "advice" that you have too many RBs. Once again, play the part. Let him underestimate you.
Don't get caught up on what positions you need to fill out your roster. You just need good players, especially at an injury-prone position like RB.
Here are a few RBs I'll be looking for in my drafts:
Alex Collins (Ravens): This stat from 2017 really stood out to me while reading Hartitz's look at Collins, "Only Kareem Hunt and LeSean McCoy ripped off more runs of 15-plus yards." Collins was 16th in Yahoo Fantasy points among RBs last season and is going 20th so far this season, which is curious for a 23-year-old back coming off a 973-yard, six-touchdown season with plenty of upside for more.
Isaiah Crowell (Jets): Crowell has always held a special piece of my heart after I dubbed him "I ate the Crow-ell" after Frank Reynolds sneakily devoured a dead crow:
Nutritional value of crows aside, Crowell is being drafted as only the 39th RB, waaayyy too late for a legitimate lead back. At that price tag, there's no real penalty if you miss, and trust me, he's worth drafting for the nickname alone.
7. Other quick tips
Don't worry about bye weeks when drafting. It may be shocking to see a bunch of your players with byes during the same week, but those situations always work themselves out. Once again, stick to your rankings and draft the best players, byes aside.
You don't have to draft all of your starters before drafting your bench. If you want to take eight RBs in your first eight picks, you can.
Don't draft kickers and defenses until your last two picks. No exceptions. Many owners will reach on defenses, but you're not a typical owner. Take your defense in the second-to-last round, then your kicker in the last.
Post Draft
Even after you've nailed your draft, your work isn't over. Many owners spend months preparing for the draft, then mostly ignore the waiver wire throughout the season. While the draft is certainly important, it simply sets the table for your team before your players embark on long, physically-demanding seasons.
Be sure to sign up for The Action Network's newsletter and we'll email you our weekly Waiver Wire/Free Agents pick-ups column so you know the best players to add to your team(s) each week. Take five minutes on Tuesday, read our column and set your waiver requests. At the end of the season, you'll be surprised how many free agents are in your starting lineup, and how many end up being key contributors to playoff and championship runs.
Fantasy Football Resources
How would you rate this article?