NFL Week 6 Fantasy WR Breakdown: Julio Jones Will Score a Touchdown (Probably?)
Credit:
Credit: Brett Davis-USA TODAY Sports. Pictured: Atlanta Falcons wide receiver Julio Jones (11) dives in for a touchdown against the Tampa Bay Buccaneers in the second quarter at Mercedes-Benz Stadium.
Atlanta Falcons receiver Julio Jones, who is still seeking his first TD this season, is one of four high-priced DFS targets on Sunday's slate.
His teammates Calvin Ridley and Mohamed Sanu also offer value against a poor Buccaneers pass defense.
See the full version of this piece at FantasyLabs.
The 2018 NFL season rolls on, and we're still on pace for a record-breaking campaign with an average of 24.0 points per game per team. We could be in for another week of high scores with a 12-game main slate that kicks off on Sunday, Oct. 14, at 1 p.m. ET.
With two teams on bye and six in prime-time games, we are without several top-tier wide receivers.
Thursday Night Football: Eagles (Alshon Jeffery, Nelson Agholor) at Giants (Odell Beckham, Sterling Shepard)
Sunday Night Football: Chiefs (Tyreek Hill, Sammy Watkins) at Patriots (Julian Edelman, Josh Gordon)
Monday Night Football: 49ers (Marquise Goodwin, Pierre Garcon) at Packers (Davante Adams, Randall Cobb)
Byes: Lions (Golden Tate, Marvin Jones, Kenny Golladay), Saints (Michael Thomas, Tre'Quan Smith)
Even so, this slate features some great games. It's always a good time to play some daily fantasy football.
For analysis on the smaller slates, consult Chris Raybon's premium strategy guides (released throughout the week).
In writing this piece, I've relied primarily on the FantasyLabs Models.
This breakdown is less of a comprehensive analysis of each receiver and more of an introduction to this week's players via our large suite of analytic DFS Tools. We'll start with four high-priced wide receivers, follow with seven pass-catchers at the top of our individual Pro Models and finish with the rest of the field's fantasy-relevant receivers.
For updates on Vegas spreads and over/unders, check out The Action Network Live Odds page.
Highest-Priced Wide Receivers
This week, four wide receivers have top-five positional salaries on DraftKings and FanDuel.
Of the group, Julio Jones is the most intriguing.
Julio Jones: Atlanta Falcons (-3) vs. Tampa Bay Buccaneers, 57 Over/Under
Julio Jones: $7,900 DraftKings; $8,500 FanDuel
If you listened to the Wednesday edition of The Action Network NFL Podcast, you know that we are high on Julio, and it's not hard to see why. Jones leads the league with 2,008 yards receiving since the start of the 2017 season.
As the #NeverJulio Twitter movement likes to point out, he hasn't scored a touchdown in his past 10 regular-season games. Since morphing into his top-shelf self in 2014, he's managed to play as the No. 3 fantasy wide receiver, averaging 20.4 DraftKings points despite scoring only 0.35 touchdowns per game.
He's the all-time NFL leader with 96.2 receiving yards per game: Even when he doesn't score, Jones is good enough to have a top-five week at the position. And in his 19 games with a touchdown since 2014, he's rocked out with 30.8 PPR points per game. Julio leads the league slate with a 0.47 market share of air yards.
Jones is in a great spot against a Bucs pass defense that has allowed wide receivers to score the second-most DraftKings points per game (51.5). On top of that, the Bucs secondary is without two starters in cornerback Vernon Hargreaves (shoulder, IR) and strong safety Chris Conte (knee/stiff arm, IR). But even if those guys were healthy, it probably wouldn't matter. This defense is just bad, ranking dead last with a 28.9% mark in Football Outsiders' DVOA.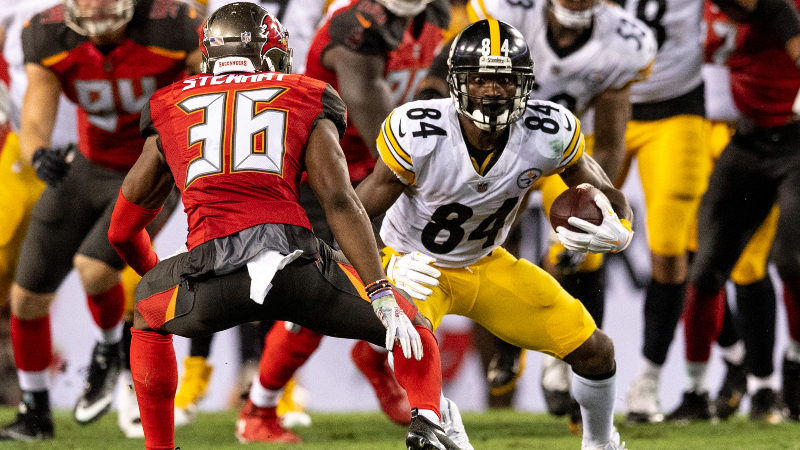 It's possible that the Bucs have literally the league's worst trio of starting cornerbacks. Brent Grimes was a Pro Bowler with the Dolphins in the 2013-15 seasons, and in 2016-17 he had above-average PFF coverage grades of 87.4 and 75.2. This year, though, in the two games he's played, Miko's husband has been a liability, allowing a 7-116-1 passing line on eight targets.
As for M.J. Stewart and Carlton Davis, both are second-round rookies with potential as well as poor PFF coverage grades of 54.5 and 56.3. One day they might be good. But so far, they've combined to allow 433 yards and five touchdowns.
On top of that, Julio has done especially well against the Bucs since 2016, when they hired his former and longtime head coach, Mike Smith, to serve as the defensive coordinator (#RevengeGame).
Against Bucs (four games): 26.7 DraftKings points, +6.71 Plus/Minus, 10.5 targets, 6.8 receptions, 121 yards, one touchdown
All other teams (31 games): 19.6 DraftKings points, -2.84 Plus/Minus, 9.4 targets, 5.7 receptions, 94.6 yards, 0.16 touchdowns
After suffering through offensive coordinator Steve Sarkisian's growing pains in 2017, when the Falcons ranked just 23rd with a 50.0% red-zone conversion rate, the Falcons have come alive this season, placing seventh with a 65.0% mark. At some point, the team's improved scoring ability will translate into Julio touchdowns.
On Sunday morning, I will probably look for action on Julio's receiving yardage prop. To find the best bets in the props market, use our Player Props Tool, which is powered by our industry-leading projections. Since Week 1, the props with a bet quality of 10 have gone 107-58-4, which is good for a 63% win rate.
Without question, you should supplement your DFS action with player props.
The Falcons-Bucs game easily has the slate's highest over/under, and the Falcons lead all teams with their 30.25-point implied Vegas total. Julio leads the position with 10 Pro Trends on DraftKings, where he's the highest-rated wide receiver in the Bales, Levitan and SportsGeek Models.
Also on the Falcons:
Calvin Ridley: $6,300 DraftKings; $6,700 FanDuel
Mohamed Sanu: $4,800 DraftKings; $5,800 FanDuel
I was so, so wrong about Ridley. (Probably.) Ridley is yet to play even 70% of the offensive snaps in any game, but he has a league-high six touchdowns receiving through his first five games. A versatile receiver, Ridley is lining up all over the formation: 95 snaps out wide on the right, 57 on the left, 53 in the slot and even two in the backfield.
Although the Falcons are bringing him along slowly, they're deploying Ridley in strategic, high-leverage ways to maximize his usage. That he leads the team with five red-zone targets is telling.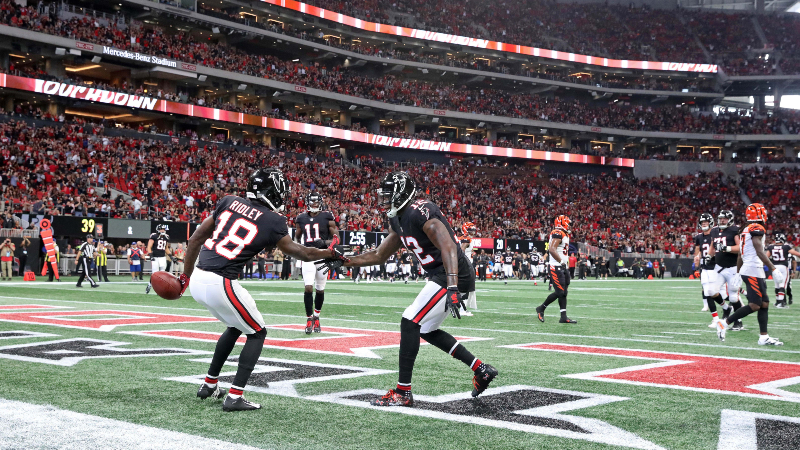 If you roster Ridley in tournaments, you might want to use our Lineup Builder to stack him with quarterback Matt Ryan. In Week 5, Ridley and Ryan were together in a ridiculous 6.92% of Millionaire Maker lineups, but with their elevated salaries and poor performances last week, they will likely have reduced ownership on Sunday.
Since 2014, No. 2 wide receivers on average have had 0.46 correlation with their quarterbacks. The sample is small, but with Ryan, Ridley has a personal-high mark of 0.94.
As for Sanu, even though he has more targets (31-26) and receptions (20-19) than Ridley, the veteran is the tertiary option in the passing game. But in a high-scoring game, he could still put up points.
Over the past three weeks, he has a 14-220-2 receiving line on 23 targets (plus a 2-point conversion), and since last season he has somehow hit salary-based expectations in 65% of his games with a +2.34 DraftKings Plus/Minus. Of the three Falcons wide receivers, Sanu will unquestionably have the lowest ownership rate.
Model Wide Receivers
Besides Julio and Boyd, there are seven wide receivers at the top of the individual Pro Models that Jonathan Bales, Peter Jennings (CSURAM88), Adam Levitan, Sean Koerner, Chris Raybon, Kevin McClelland (SportsGeek) and I have constructed.
The two who catch my eye most are Mike Evans and Chris Godwin.
Mike Evans & Chris Godwin: Tampa Bay Buccaneers (+3) at Atlanta Falcons, 57 O/U
Mike Evans: $8,100 DraftKings; $8,000 FanDuel
Chris Godwin: $4,400 DraftKings; $5,900 FanDuel
UPDATE (10/14): Tight end O.J. Howard (knee) is questionable but expected to play on Sunday.
Evans is on pace to become only the third player in NFL history (along with Randy Moss and Green) to open his career with five straight 1,000-yard receiving campaigns. He's second in the league with 0.44 PPR points per snap and third in the league with 2.96 yards per route (PFF).
He's playing as well as any receiver right now and has seemingly regained his form from 2016, when he was a no-doubt top-five fantasy play on a weekly basis.
On a per target basis, Godwin has been the most efficient receiver on the Bucs, posting a WR Rating of 139.5. A second-year breakout-in-process, Godwin is top-10 at the position with 0.36 PPR points per snap.
He's yet to play 70% of the snaps in any game, but there's nothing fluky about his 15-193-3 receiving line through four games. An integrated part of the passing attack, Godwin leads the team with six targets inside the 10-yard line: All other Bucs have five such targets combined.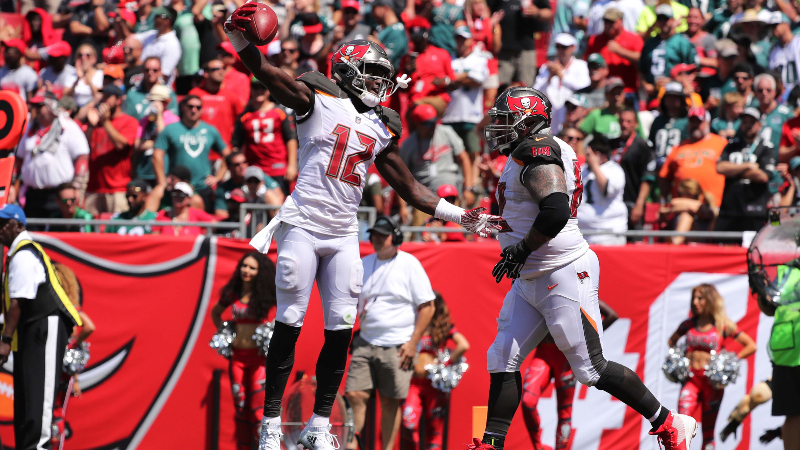 The Bucs will need to score points in the game with the slate's highest over/under, and they have a great matchup against the Falcons, who are 28th in pass defense with a 28.4% DVOA and have allowed wide receivers to score the league's sixth-most DraftKings points per game (45.2).
The Falcons defense has suffered a rash of injuries to open the year: Starting middle linebacker Deion Jones (foot, IR), free safety Keanu Neal (knee, IR) and strong safety Ricardo Allen (Achilles, IR) are out. Defensive tackle Grady Jarrett (ankle) is expected to be out as well.
Since the Falcons lost Jones and Neal in the season opener, wide receivers have routinely exposed Atlanta.
Jarius Wright (Panthers, Week 2): 17.2 DraftKings points, 5-62-1 receiving on seven targets
Devin Funchess (Panthers): 14.7 DraftKings points, 7-77-0 receiving on nine targets
D.J. Moore (Panthers): 12.8 DraftKings points, 1-51-1 receiving on two targets
Torrey Smith (Panthers): 12.3 DraftKings points, 3-33-1 receiving on seven targets
Michael Thomas (Saints, Week 3): 25.9 DraftKings points, 10-129-0 receiving on 10 targets
Ted Ginn Jr. (Saints): 12.2 DraftKings points, 3-12-1 receiving on six targets
Tyler Boyd (Bengals, Week 4): 24.0 DraftKings points, 11-100-0 receiving on 15 targets
A.J. Green (Bengals): 17.8 DraftKings points, 4-78-1 receiving on eight targets
John Ross (Bengals): 13.2 DraftKings points, 2-52-1 receiving on two targets
Antonio Brown (Steelers, Week 5): 31.1 DraftKings points, 6-101-2 receiving on 13 targets
JuJu Smith-Schuster (Steelers): 13.4 DraftKings points, 4-34-1 receiving on four targets
That's 11 receivers with at least 12 DraftKings points in just four weeks.
Godwin is the highest-rated DraftKings wide receiver in the CSURAM88 Model. Evans has a position-high 98% Bargain Rating on FanDuel, where he's the No. 1 wide receiver in the Levitan Model.
Also on the Bucs:
DeSean Jackson: $5,900 DraftKings; $6,500 FanDuel
Adam Humphries: $4,200 DraftKings; $4,600 FanDuel
Jackson is first in the league with 4.2 yards per route (PFF) and 0.55 PPR points per snap, although his past production with returning quarterback Jameis Winston has been subpar (9.7 PPR points per game). Humphries is a low-upside slot operator yet to be targeted more than 15 yards down the field this season.
Positional Breakdowns & News
Be sure to read the other Week 6 positional breakdowns.
• Quarterbacks
• Running Backs
• Tight Ends
For more in-depth NFL analysis information, check out The Action Network.
After this piece is published, FantasyLabs is likely to provide news updates on a number of players. Be sure to stay ahead of your competition with our industry-leading DFS-focused news blurbs.
---
---
Matthew Freedman is the Editor-in-Chief of FantasyLabs. He has a dog and sometimes a British accent. In Cedar Rapids, Iowa, he's known only as The Labyrinthian.