Barkley: How to Predict and Bet the NFL Coach of the Year Award
Credit:
Charles LeClaire-USA TODAY Sports. Pictured: Mike Tomlin and Doug Marrone
There's money to be made betting the NFL Coach of the Year award, given the market's inefficiencies.
The coaches who win the award almost always improve their team's record by 4-6 games after winning fewer than seven the year before.
Yet coaches who won double-digit games last year -- like Doug Pederson (10-1), Sean McVay (12-1) and Bill Belichick (13-1) -- are among the favorites again.
Give sportsbooks in 2018 credit for one thing: They don't lack options, especially for NFL season props.
Leading rusher? Sure. Leading receiver? Yup. Defensive Rookie of the Year? Of course!
One of those smaller, random markets is NFL Coach of the Year, offered now by many offshore books. Let's be clear what we're talking about: the AP NFL Coach of the Year award, which is announced the night before the Super Bowl. Other media outlets do it, but the AP version that's been handed out since 1957 is what we're betting into.
---
>> Follow Ken Barkley in The Action Network App to get free alerts on all his college football bets during the season.
---
I am going back to 1990 to do this analysis, which is sort of arbitrary but also captures the NFL's rise in popularity. This is also the weirdest year in the award's history — Cowboys coach Jimmy Johnson is still the only winner with a losing record at 7-9. Dallas won one game the year prior.
The 27 years after 1990 paint a pretty clear picture about who wins and why.
I had a Sean McVay ticket last year; he was 100-1. I also had four or five other tickets, so I am not clairvoyant. You might think the compression of the close odds and lack of longshots indicate that this award is difficult to predict, but as we go along, you'll see why it's not.
Here are Coach of the Year odds and some criteria to keep in mind for picking a winner:
First-year coaches have an advantage
Of the 27 winners since 1990, 10 have been first-year coaches. Considering the percentage of the coaching population that first-timers represent (there are seven first-year coaches this year, about 21 percent of the league), first-timers win at a slightly higher rate than coaches with experience.
---
>> Sign up for The Action Network's daily newsletter to get the smartest conversation delivered into your inbox each morning.
---
First-year coaches have also won three of the past seven awards, including last year's winner in the Rams' McVay. Media members (aka voters) love narratives, and what narrative is easier to grasp then a new regime, with sweeping new changes and a bold new philosophy.
Look for a team that can improve by 5-6 wins
The way we measure the value of a coach is the change in wins year over year. The Coach of the Year's team has won on average 5.44 more games than the year before since 1990.
There are two exceptions — Arizona's Bruce Arians in 2014 and Andy Reid in 2002, who both improved by one game. If you take them out, four wins becomes the minimum YOY boost.
You might say, "Well wait, Bill Belichick has won this award three times!" Yes, that's true, but all three times he won, his team registered at least a four-win improvement.
The Patriots won 13 games last year. So yes, if they did go 16-0 again, I think Belichick could win, but that's the only way. That does not make him a good bet. He's currently tied for the third-best odds at 13-1.
Which leads me to my larger point: Despite needing a big-time win boost to take home the award, the market inexplicably gives a lot of credit to coaches who had incredible 2017 seasons.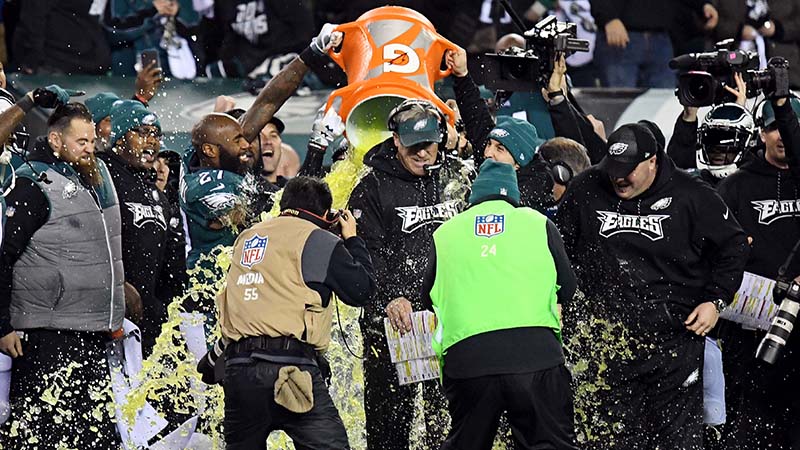 James Lang-USA TODAY Sports. Pictured: Eagles head coach Doug Pederson
Philly's Doug Pederson and McVay, each of whom won at least 11 games last season, are the two favorites to win the award in 2018.
There's just no way that's logical.
It's much easier to go from four wins to 10 than from 10 to 16. Which leads me to …
Target 7-win-or-fewer teams from year prior
Seven wins is the magic number. Obviously fewer than seven is even better, but only a handful of coaches have won the award on teams that were successful the year before.
We already talked about Belichick's three awards, which featured minimum four-game improvements each time. We touched on Arians and Reid. That's it.
---
---
Remember: The narrative — going from bad to good — is what matters. If you were 7-9 the year before or 3-13, you were bad. You underachieved. Which means there is room for improvement.
Narrowing down the list
The past couple of years I've been betting this market, I've had success forming a group of coaches and doing equal "to-win" amounts on each, basically creating a pool of coaches with a price attached to the pool. If anyone in the pool won, it paid at that price.
I will probably wait until the end of training camps and preseason to make my final bets, but even if you just use the generic criteria I've mentioned, you whittle down 32 coaches to 14.
Here are the coaches with teams that won fewer than seven games last year, along with their odds:
If you're favoring first-year coaches from the group, that's Jon Gruden, Frank Reich, Matt Nagy and Pat Shurmur. I actually like all four. I think the Bears probably have less talent than the other three, and you need a leap from QB Mitchell Trubisky, but again, this is supposed to be unexpected. Reich enters an interesting situation because his first year coincides with the return of Andrew Luck.
A couple coaches who to perhaps eliminate based off circumstances:
Mike McCarthy, whose success is too closely tied to Aaron Rodgers to win.
Dirk Koetter is in a rough spot in Tampa with everything swirling around Jameis Winston, and we have very little evidence thus far that Koetter is a competent coach.
Some will be quick to dismiss Hue Jackson because of a 1-31 record in two seasons. I am less likely to be dismissive because that record only sets up the narrative for this year being an unlikely success. But I wouldn't blame you for tossing him too.
Of the non-first-timers, I'm most interested in someone like Bill O'Brien, who has talent at the important positions, and posted a poor record last year due to a significant QB injury, or Kyle Shanahan, who didn't get his franchise quarterback until late in the season, and then thrived.
Take those two, and put them in a pool with the four first-timers whose teams won seven games or fewer, and you create a group of six coaches that pays about 3-1 to 4-1 depending on who wins (when doing equal to-win amounts, like say, to win 100, or 1,000 dollars).
Whoever you decide to narrow your list down to, if you just start with these criteria, you'll avoid making really poor value judgments in this market.
It's not really possible to make a pool of all 14 guys who qualify and still have a valuable bet, so there is some judgment, instinct and human analysis that needs to take place. But if you put yourself in the best position to succeed, more often than not, you will.
How would you rate this article?