Koerner's Week 16 NFL Power Ratings: Best Bets According to My Projected Spreads & Over/Unders
Credit:
USA Today Sports. Pictured: Drew Brees, Ezekiel Elliott, Aaron Rodgers
Sean Koerner uses his projected spreads and over/unders to find the best Week 16 NFL bets.
Find his power ratings (and picks) for Saints-Titans, Cowboys-Eagles and more.
What're the best bets for our first Saturday NFL slate of the season? How are weather forecasts impacting value on over/unders? What underdogs are worth backing?
Like every week, I'll use my projected spreads and over/unders to identify the best NFL picks, so we'll identify my favorite picks for Week 16 below.
Note that I highlight differences in teams' actual record vs. their Pythagorean expectation (which you can learn more about here).
Now let's dig in.
---
Odds as of Wednesday evening and via DraftKings, where Action Network users get a risk-free bet up to $500.
---
Texans at Buccaneers
Current odds: Texans -3.5; 49.5
My Projections: Texans -2; 48
Jameis Winston is the first quarterback in NFL history to throw for back-to-back 450-yard games, but could be without both of his top wide receivers this week after Mike Evans was placed on injured reserve and Chris Godwin in doubt. The Bucs will have to rely on Breshad Perriman, O.J. Howard and Cameron Brate in this matchup against a struggling Texans defense.
Luckily, Winston should have a fairly clean pocket to work with as the Texans — who are sorely missing J.J. Watt — generate the second-worst pressure rate in the league at 18.2%. Winston owns a 45.5 QB rating against pressure that shoots up to 99.8 when kept clean, so can expect an above-average game from him this week.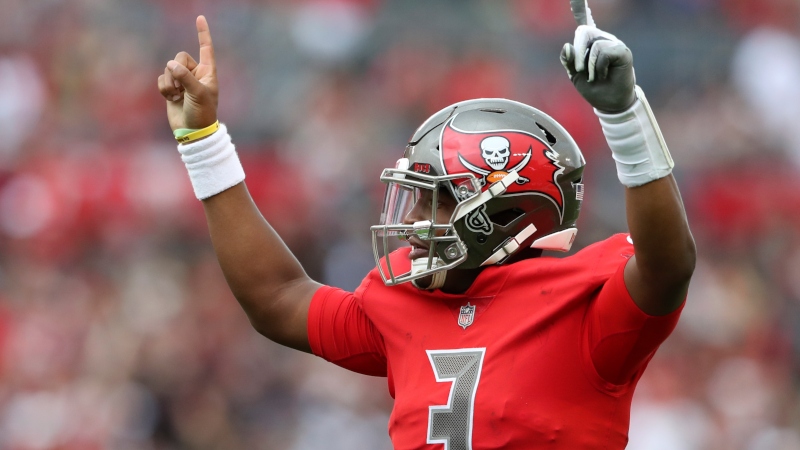 The Buccaneers are a fairly underrated team right now given their brutal schedule — they had a seven-week stretch without a home game from Weeks 4-10. They also have a +2.1 edge over the Texans in expected Pythagorean win differential.
Weather could also be a factor, which means we'll want to have more clarity on the forecast before pulling the trigger. We could see steady rain in Tampa Bay Saturday, which I feel would favor the Bucs and the under.
The Bucs are an extreme pass funnel defense as they possess the top-ranked run defense in Football Outsiders' DVOA vs. a 15th-ranked pass defense in DVOA. If both teams are forced to lean on the run game more, it will negatively impact the Texans. In fact, if the Bucs lean on the run game more, it could limit the potential for ill-advised throws from Winston that lead to turnovers.
I'm already showing value on the Bucs and under with my projected lines, but the matchup and potential weather considerations further enhance the outlook of both sides.
Lean: Buccaneers +3.5, Under 49.5
Bills at Patriots
Current odds: Patriots -6.5; 37.5
My Projections: Patriots -6.5; 39.5
I am right in line with the spread for this matchup, but as you can see, my projected total is two points higher than the actual one.
Yes, it's easy to imagine this being a defensive struggle. And I don't think anyone would be surprised if we saw a similar result as when these two teams met in Week 4 and the Patriots won 16-10. That's why the public has been hammering the under to the tune of 65% of tickets and 81% of money (see live public betting data here). If there were no sharp resistance, it's likely the total would've dropped by more than a half point by now, so the market is behaving in a way that doesn't scare me away from the over.
There are some underlying factors that could make this game higher scoring than we anticipate.
Both defenses specialize in shutting down their opponent's passing game, yet are more prone to the running game. The Bills play a soft zone that specializes in taking away boundary wide receivers and is willing to concede to chunk plays on the ground or underneath. This is something the Patriots are more than capable of game planning to exploit. Bill Belichick is arguably the greatest coach of all-time and excels at attacking the other team's soft spots. Therefore we should see Julian Edelman and James White targeted heavily to move the ball effectively.
Meanwhile, the Patriots have been prone to quarterbacks who can rely on their scrambling ability once the play breaks down. Josh Allen is one of the better QBs at doing just that. The Patriots play heavy man coverage, which can leave their backs turned to the QB and vulnerable to one like Allen who can run for a big gain.
Lastly, this game is expected to have a league-average pace, which can benefit us when a total is as low as 37.5. Yes, this should be a strong defensive battle, but with a number this low, there are enough factors that lean toward an over given the low number we have to clear.
Still, it's worth seeing if the market can push this line down to 37 or even 36.5 before pulling the trigger.
Lean: Over 37.5
Rams at 49ers
Current odds: 49ers -6.5; 45
My Projections: 49ers -6.5; 45
The market has been very lopsided on this spread with 79% of tickets and 89% of the money coming in on the 49ers. I don't see any reason to go against the market here as it's never a good idea to back Jared Goff and the Rams when matched up against a team that generates pressure, and the 49ers currently rank fourth as they generate pressure at a rate of 28.5% on the season.
It's also worth noting that the 49ers gave up 12 points to the Falcons in the final two minutes of last week's double-digit upset, so we shouldn't put too much stock in that 29-22 final score. I would say the market did a good job of overlooking that and has settled on a sharp line that I don't see value either way.
This is a pass for me.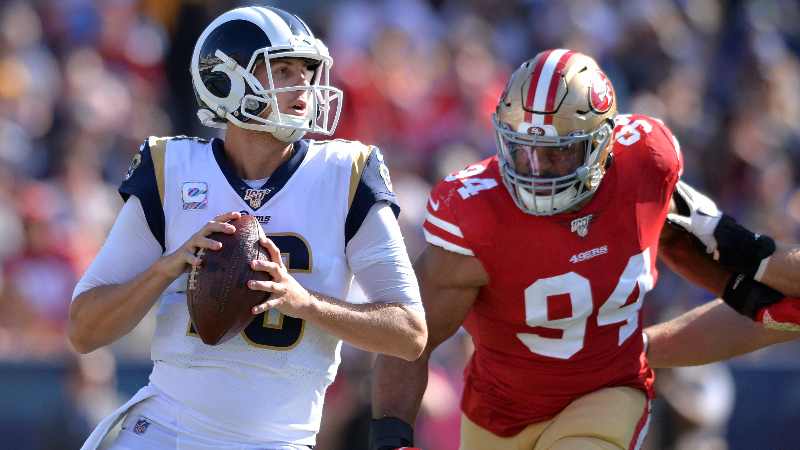 Lions at Broncos
Current odds: Broncos -6.5; 38.5
My Projections: Broncos -8; 40
This is another total currently trending below 40 that I'm showing some value on the over.
The Broncos should be able to move the ball with ease against the Lions' 24th-ranked defense in DVOA. And while Detroit's offense is clearly not as explosive with David Blough under center, if he's forced to attempt 40-plus passes for the third straight game, it could help the over here.
It's also worth noting that stud running back Kerryon Johnson could return this week. Even if he's only able to play in a limited role, it should give this offense a slight boost and help keep the Broncos defense honest.
Since this matchup involves teams already eliminated from playoff contention, I'll typically pass in these situations.
Lean: Over 38.5
Raiders at Chargers
Current odds: Chargers -6.5; 46
My Projections: Chargers -7; 46
Both teams are coming off devastating losses.
The Raiders coasted to a 16-3 lead at halftime in what was an emotional final game in Oakland, so it was a bit odd to see them take their foot off the gas and allow the Jags to come back and win 20-16. If the Raiders couldn't pull off that win at home, I'm not sure how they are able to play a competitive game against the Chargers.
Meanwhile, the Chargers were popping so much in my model last week that I made them my Play of the Year. The market behavior clearly indicated that the sharps were on the same side, but the result could not have been any worse as the Chargers ended up turning the ball over six times to the Vikings one turnover.
It's impossible to win a game in the NFL with a -5 turnover margin, so the 39-10 score wasn't too surprising.
The Chargers are likely to bounce back from that debacle, so I'd lean toward them here, but I'm hoping last week was the last time I ever lose money on Philip Rivers. He's been terrible down the stretch this season — the Chargers will have some tough decisions to make this offseason regarding their future at QB.
Rivers and the Chargers are clearly going to rebound for a blowout win just to pour salt in my wound, so this is a hard pass for me.
Jaguars at Falcons
Current odds: Falcons -7; 46.5
My Projections: Falcons -7.5; 46.5
I'm in line with this market, so it's a pass for me.
Saints at Titans
Current odds: Saints -2.5; 50.5
My Projections: Saints -1.5; 47.5
Drew Brees had a historic performance on Monday Night Football, breaking two NFL records: Passing Peyton Manning for most career touchdowns and the highest completion percentage in a game by going 29-for-30.
It should come as no surprise that the public is all over the Saints this week with 72% of the tickets and 68% of the money. Despite this lopsided action, the spread has been pulled down to -2.5. And most books still at Saints -3 are requiring you to pay -120 to -125 of juice on the Titans at +3. This should be a red flag that the market is inviting you to bet on the Saints, and honestly, if sports betting were as simple as betting on teams that looked really good the week before, we would all be millionaires and no sportsbook would be able to sustain itself financially.
The sharp play here is to wait and see if this number can get up to +3.5, then come in hard on the Titans. Tennessee could win this game if it keeps the ball out of Brees hands, which would involve giving Derrick Henry all the carries he can handle.
It makes sense to pair up the Titans +3 or +3.5 with the under 50.5.
Lean: Titans +3; Under 50.5
Giants at Redskins
Current odds: Redskins -2; 42.5
My Projections: PK; 41
This is a pass for me.
Steelers at Jets
Current odds: Steelers -3.5; 37.5
My Projections: Steelers -2; 37.5
The Steelers were another devastating loss last week.
The main reason I backed them was due to their strong defense and the Bills being prone to the running game. It was the perfect matchup to hide Devlin Hodges. And sure enough, the Steelers fell behind, forcing them to lean on Hodges to get back into the game — but he fell flat.
The Jets defense could have the advantage in this one as they're stout against the run, which could force the Steelers to have Hodges drop back to pass more. It's going to be a low scoring game, as seen by the total, which should make the key number of +3 on the Jets even more valuable to have.
This matchup also has the biggest disparity in fumble recovery luck I've seen this season with the Steelers recovering 4.7 more fumbles than would be expected and the Jets recovering 2.4 fewer fumbles than expected for a +7.1 net rating in favor of the Jets. The theory behind fumble recoveries is that they're purely random and expected to regress to league average. If both teams were to recover fumbles at a league-average rate going forward, it would imply there's some hidden value on the Jets.
With the Jets having so many players on the injury report, I'll wait until we get more clarity there before pulling the trigger here.
Lean: Jets +3
Bengals at Dolphins
Current odds: Bengals -1; 46.5
My Projections: PK; 46
I'm close to the market here, so another pass for me.
Panthers at Colts
Current odds: Colts -6.5; 46
My Projections: Colts -6.5; 45.5
The Panthers have decided to move on from Kyle Allen, which means third-round rookie Will Grier will be making his NFL debut. Given Allen's struggles of late and the uncertainty of Grier, I'm considering this more of a lateral move that shouldn't impact the spread very much, if at all.
Grier struggled a bit in the preseason with a 6.3 yards per attempt and a two-to-three touchdown-to-interception ratio. We would have to assume he's been able to adapt to the NFL over the past 15 weeks of practice and should be able to match Allen's production in this offense given the talent he's surrounded by in the passing game.
I always stress that whenever there's a level of uncertainty in a situation like this, there's typically more value on the moneyline. Right now the moneyline is at +260 to +270 at most books based on the +6.5 spread, but we can assume there's more uncertainty in the current spread, which by default makes the moneyline inherently more valuable.
Lean: Panthers ML +260
Ravens at Browns
Current odds: Ravens -10; 48
My Projections: Ravens -9; 48
I'm close to this market, so this is a pass.
Cowboys at Eagles
Current odds: Cowboys -2.5; 46
My Projections: Cowboys -1.5; 48
This matchup is eerily similar to Rams-Cowboys one from just a week ago. The Rams were slight road favorites with lopsided action on their side. After the Cowboys blew out the Rams, it's now their turn to be slight road favorites receiving about 80% of the action.
It's common knowledge at this point that the Eagles are hurting at wide receiver ever since Alshon Jeffery went down in Week 14. However, Greg Ward stepped up big for the Eagles last week and they also might get Nelson Agholor back from injury. And let's not forget they have the best TE duo in all of football with Zach Ertz and Dallas Goedert.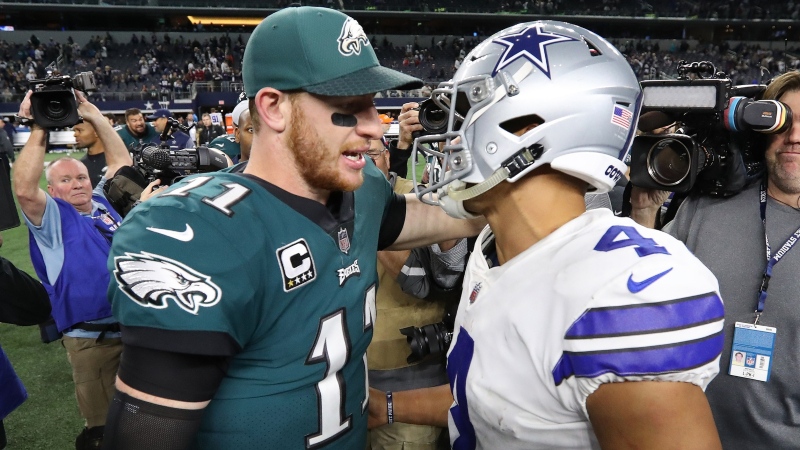 The Eagles should be capable of moving the ball against Dallas this week.
The wildcard will be the health of Dak Prescott. Heading into last week he was dealing with injuries to both hands, one of which required bandage at the tip of his index finger on his throwing hand. The injury didn't appear to limit him in anyway on Sunday, however he ended up suffering a new injury to his right shoulder. It's being described as an AC joint injury, which is likely going to limit him in practice all week.
Given the Eagles' stout run defense is likely to limit Ezekiel Elliott (as much as a defense can), it could prevent the Cowboys from leaning on their running game if Dak's shoulder is in fact an issue. I'm already showing value on Philly  before even factoring in Dak's status, so it's likely smart to lock this in now.
Pick: Eagles +2.5
Cardinals at Seahawks
Current odds: Seahawks -9.5; 50.5
My Projections: Seahawks -10.5; 50.5
This is also a pass for me.
Chiefs at Bears
Current odds: Chiefs -6; 44.5
My Projections: Chiefs -5; 43
One of my favorite aspects of late-season betting is when one game can have an impact on another game's spread. We could see that this week with the Chiefs, who are playing for a first-round bye, but that is somewhat out of their control.
If the Patriots beat the Bills on Saturday, it will all but end the Chiefs' chances of getting a first-round bye. The Patriots would then have to lose at home to the Dolphins in Week 16, or the Ravens would have lose each of their last two games at the Browns and vs. Steelers. Both scenarios seem highly unlikely. Therefore I will be live betting the Bears +6 if the Patriots in-game moneyline ever crosses, say, the -300 or -400 along with possibly the under 44.5.
While I don't think it will result in the Chiefs resting starters, it will significantly lower their motivation to win and the line could drop to the +4.5 to +4 range once the public begins to factor this in.
Pick: Live Bears +6 (if/when the Patriots become -300 or better during Saturday's game against the Bills)
Lean: Under 44.5 (same scenario)
Packers at Vikings
Current odds: Vikings -5; 45.5
My Projections: Vikings -5.5; 45.5
I'm very close to this market, so it's a pass for me.
How would you rate this article?
This site contains commercial content. We may be compensated for the links provided on this page. The content on this page is for informational purposes only. Action Network makes no representation or warranty as to the accuracy of the information given or the outcome of any game or event.