NFL RedZone Fantasy Football Highlights: What to Watch in the Week 2 Re-Air & More
Credit:
Eric Espada/Getty Images. Pictured: Tom Brady, Antonio BRown
The pandemic-induced marathon of NFL RedZone re-airs offers us the rare chance to collectively reflect on the previous fantasy football season.
In an effort to take full advantage of this opportunity, I'd like to highlight two major things for each day's broadcast(s):
Plays that defined a given week and, in some instances, a player's season.
A comparison of my weekly projections to players' actual points scored (for half PPR), complete with a "wins added" metric to capture how players contributed (or detracted) from their fantasy teams.
We're onto Week 2, which you can rewatch on the NFL RedZone network at 8 a.m., 3 p.m. and 10 p.m. ET on Tuesday.
Week 2 Fantasy Football Wins Added
Here's how I calculated wins added:
I assumed the following roster requirements in a 12-team league: 1 QB, 2 RB, 3 WR, 1 TE, 1 K, 1 DEF.
Each player's score was compared to the replacement level for each position, and I calculated how much their score would have boosted your win probability if you played them.
Now let's dig into the highlights!
NFL RedZone Re-Air Fantasy Highlights: Week 2
EARLY GAMES
The Lamar Jackson-to-Mark Andrews Connection
1Q of ARI-BAL (8:35): Marquise 'Hollywood' Brown goes in motion to the right before the snap on what looks like a designed bubble screen that was enough to get the attention of three Cardinals defenders, who were also making sure that Lamar Jackson wasn't going to pull the ball down and run for a chunk gain. It left Mark Andrews wide open down the sideline for an easy 27-yard touchdown, proving that what we learned in Week 1 would carry into the rest of the season:
Jackson's season-opening performance — five passing touchdowns! — wasn't a fluke.
Andrews' season-opening performance — eight receptions for 108 yards and one touchdown — wasn't a fluke.
The Cardinals were going to be a dream matchup for fantasy tight ends.
Jackson would go on to lead the NFL in passing TDs with 36. But the only thing we knew for sure, at the time, was that his three rushes for six yards in the season opener was not sustainable. Sure enough, he erupted with a 120-yard game on 16 rush attempts in Week 2. And considering he was also able to throw for 272 yards and a pair of TDs, it was starting to become clear that he had become the fantasy football "cheat code" at QB.
This was when the debate over whether Jackson or Patrick Mahomes should be the No. 1-ranked fantasy QB began. I had Jackson ranked as my top QB heading into Week 3.
Raheem Mostert's First TD of 2019
1Q of SF-CIN (3:10): Tevin Coleman suffered an ankle injury in Week 1 that would ultimately lead him to miss two games. It paved the way for Mostert to see an increased role in Week 2, when we caught the first glimpse of what he would end up being: A league-winning waiver wire add.
Mostert didn't do anything fancy on this 39-yard TD catch — it looked like he actually missed a blocking assignment and let B.J. Webb run right by him on a blitz, but Jimmy Garoppolo quickly recognized it and dumped it off to Mostert, who then used his blocking downfield to go untouched into the end zone.
The 49ers' elite defense and fantasy-friendly run scheme helped set up Mostert to become the RB7 from Weeks 12-17.
In general, we were all underrating the 49ers as a team. It's crazy to realize this now, but the Bengals were 1-point favorites at some books heading into this game!
Dalvin Cook's 75-Yard TD Run
2Q of MIN-GB (14:12): This touchdown run helped him become the top-scoring RB of Week 2.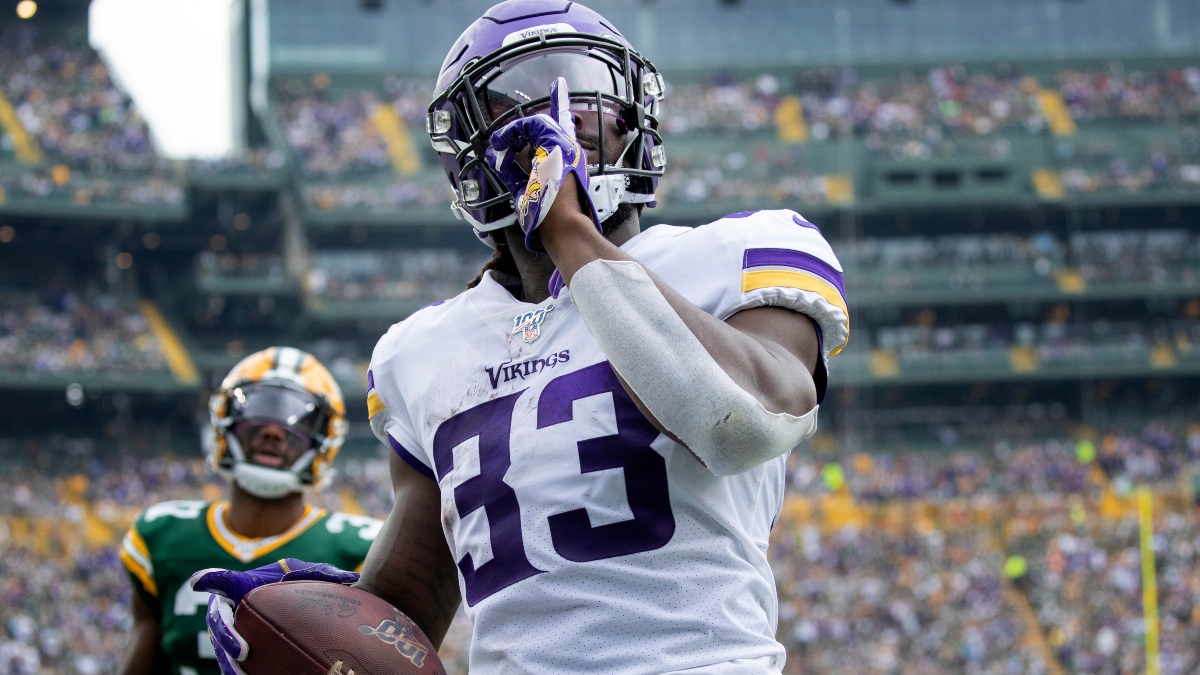 Heading into the season, I don't think many people had any doubt that Cook had top 3-5 RB potential when healthy. However, his injury history through his first two seasons is what kept his average draft position in the RB10 range. Sure enough, he was the RB2 in all of fantasy through Week 15, when he suffered a shoulder injury that knocked him out the final two games.
Heading into 2020, Cook will once again be viewed as a top 3 RB, when healthy.
Glimpses of Will Dissly's Potential
2Q of SEA-PIT (8:45): This Week 2 rewatch will provide Dissly flashbacks for everyone. He managed to haul in two TD passes in this game, but on this particular 14-yard catch, he showed his upside as a pass-catcher.
He was the No. 5 TE in fantasy after Week 5 before suffering a season-ending injury. In 2018, he was the No. 11 TE in fantasy before suffering a season-ending injury in Week 4.
Dissly returns this year with a crowded depth chart as the Seahawks brought in Greg Olsen on a one-year deal. Jacob Hollister was able to step up for the Seahawks last year and should command his share of targets in 2020 as well. It's safe to assume we may never see Dissly return to TE1 value, but Week 2's re-airing should remind us of Dissly's potential when healthy.
That Time Tom Brady Threw A TD to Antonio Brown
2Q of NE-MIA (1:24): This 20-yard touchdown was a gift. Even if it ultimately had no predictive value for the rest of the season, we were at least able to witness this back-shoulder touchdown pass from Brady to AB.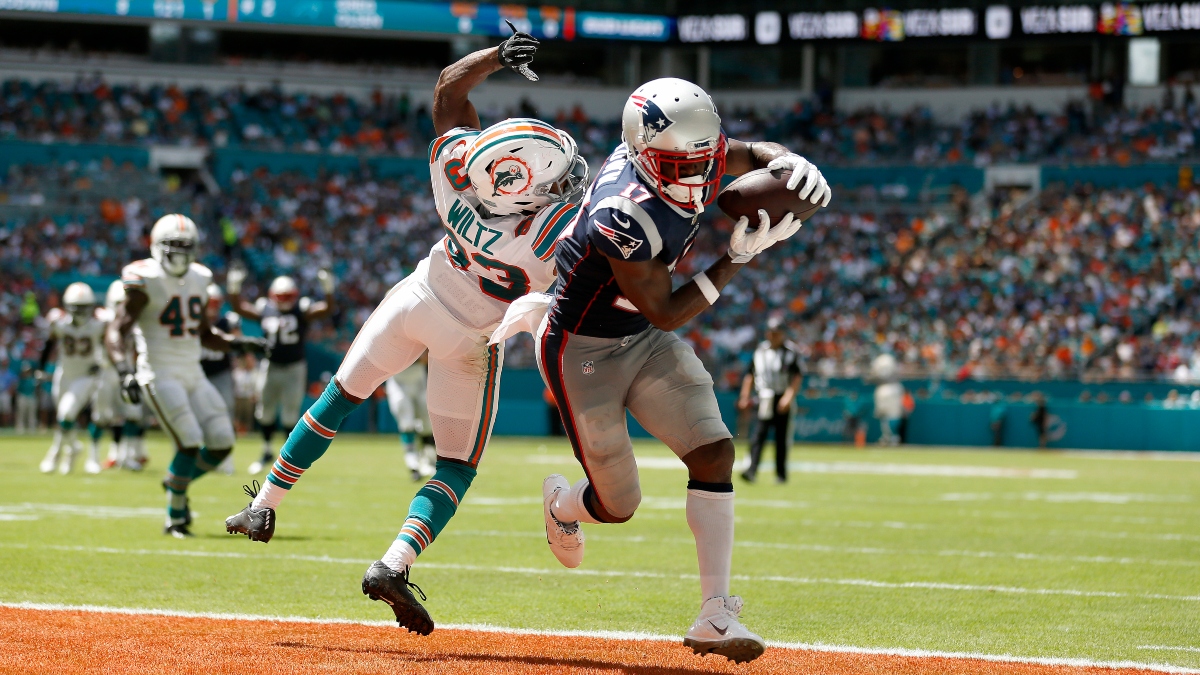 The play itself was incredible, considering it looked like they'd been practicing it for months but had only about a week of practice together.
Brady's starting WRs were Brown, Julian Edelman and Josh Gordon that week, when TB12 ended up finishing as the QB4, sending his fantasy stock way up. But it turned out to be AB's only game as a Patriot, and Gordon's run in New England came to an end after Week 6. Brady ended up being the QB20 in Weeks 3-17.
When John Ross Was the No. 1 WR In Fantasy
4Q of SF-CIN (0:56): One of the Week 2 flashbacks many of us may have forgotten was that Ross was the No. 1 WR in fantasy after his 4/112/1 game against the 49ers. Yes, this 66-yard touchdown was during garbage time, but we were able to see Ross flash the potential we knew he had.
A shoulder injury in Week 4 derailed his season and may allow him to be under-the-radar as a late-round sleeper again this season.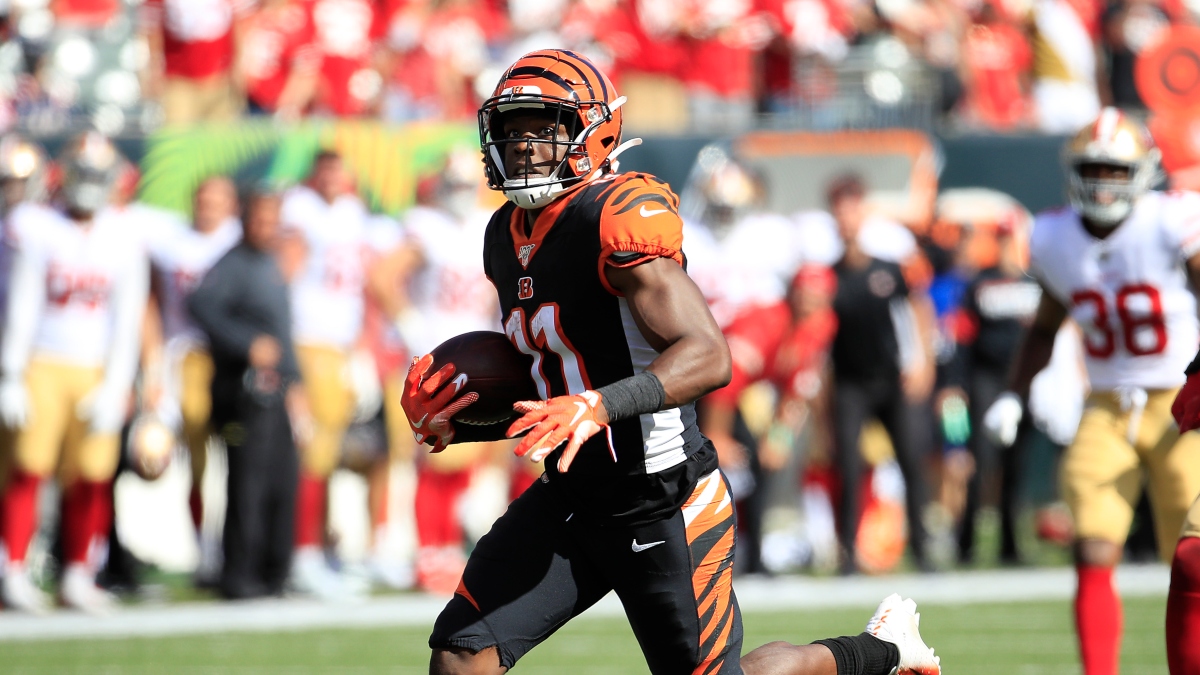 LATE GAMES
Demarcus Robinson's 2-TD Tease
After Sammy Watkins teased us with his 42.3-point fantasy performance in Week 1, it was Robinson's turn to tease us with a 6/172/2 line in Week 2.
2Q of KC-OAK (15:00): His first TD was mostly due to blown coverage by the Raiders, who left him wide open on a simple go route. Patrick Mahomes actually under-threw the WR a bit, but Robinson was able to secure it for the score. The play was more a result of the play design and miscommunication by the Raiders.
2Q (0:47): Robinson's second touchdown was much more impressive. He was able to get separation off of a stop and go, Mahomes then threw up a jump ball that Robinson was able to win. It was a touchdown Robinson earned; unfortunately, we didn't see this level of play from him the rest of the season.
With Tyreek Hill dealing with a multi-week injury, Robinson was one of the top waiver wire adds heading into Week 3. He would top 50 yards only once the rest of the season.
How would you rate this article?