Which Backup Goalies Can Provide Bettors an Edge?
Goalies are weird. They spend their nights alone, wearing elaborate masks while practicing voodoo rituals that include hurling themselves in front of speeding black rubber. With all that time to themselves, it's no wonder that netminders often provide us with the best locker room soundbites. Here's to looking at you, Mr. Universe.
Adding to their mystique is how hard it is to predict how goaltenders will perform game-to-game and season-to-season. This year we've seen highly rated goaltenders like Craig Anderson, Matt Murray and even Carey Price struggle at times, while Connor Hellebuyck and Mike Smith have turned in against-the-odds career years. It's voodoo on ice, and we have the fun task of trying to figure it out.
Just ask the Carolina Hurricanes how hard it is to find a dependable goalie. The Hurricanes looked to have made a shrewd move by acquiring Blackhawks' backup goalie Scott Darling, who was among the best understudies in the league over the years, only to see him struggle to adjust to life as a starter in the NHL.
One way to take advantage of the dubious nature of goaltending is by finding value with backup goalies. You can almost always count on an overreaction when a team announces that their starter will be riding the pine (especially if it isn't on a back-to-back), so it's paramount to get to know your backup cagemasters.
Right now, Washington's Philipp Grubauer is one of the NHL's best deputy goaltenders. The 26-year-old has been consistent behind Braden Holtby for the past three years, but this season has been the German's best campaign yet. According to Corsica.Hockey, Grubauer ranks fourth in the NHL with a GSAA (goals saved above average) of 11.61 at 5-on-5. This means that Grubauer has saved Washington 11.61 goals against (at 5-on-5) in 16 games this season when compared to a hypothetical league average goaltender.
This isn't to say that Grubauer should start over Holtby, nor is it to say that you shouldn't adjust your numbers when he plays over the Capitals' No. 1. But edges are very hard to come by when handicapping hockey, and oftentimes the market's overreaction to a goalie switch could provide some value in a given game.
Out in San Jose, the unheralded Aaron Dell is putting up stellar numbers behind Martin Jones. Dell went undrafted out of the University of North Dakota and went to the minors, playing for the Allen Americans of the CHL and Utah Grizzlies of the ECHL before signing with the Sharks' AHL affiliate in Worcester. The Alberta native put up solid numbers at that level and eventually won the Sharks' backup job out of camp before last season. Quietly, Dell posted a .931 save percentage in 20 games. Nobody would blame you for assuming that was just an aberration, a no-name goalie riding a hot hand, but that doesn't seem to be the case with Dell. In 20 games this year, the 28-year-old has a .929 save percentage and a 9.35 GSAA (in all situations).

At this point, it seems that the Sharks would be better off letting Dell take over as the starter, but Jones is the one tied to a six-year contract, so that's going to complicate things. Whereas there is a dropoff (albeit not a really significant one) between Holtby and Grubauer, that isn't the case here. Any time you see the market move away from San Jose just because Dell is announced as the starter over Jones, make sure to take a second look.
While Dell and Grubauer are probably two of the best non-starting goalies in the NHL right now, the same can't be said of Carter Hutton, but that doesn't mean he isn't worth a quick dive. Hutton went undrafted out of UMass-Lowell, wasn't all that great in the minors, and didn't ever really set the world on fire as a backup when he made it to the NHL. There was nothing to suggest the 32-year-old was about to break out, but here we are. After spending three seasons as a below average No. 2 in Nashville, Hutton signed with St. Louis to serve as Jake Allen's understudy. Hutton was not exceptional last season, posting a 913 save percentage, but this year he's looked like a completely different goalie and has basically won the starting role in St. Louis. Currently, Hutton's .938 save percentage trails only Marc-Andre Fleury of the Vegas Golden Knights.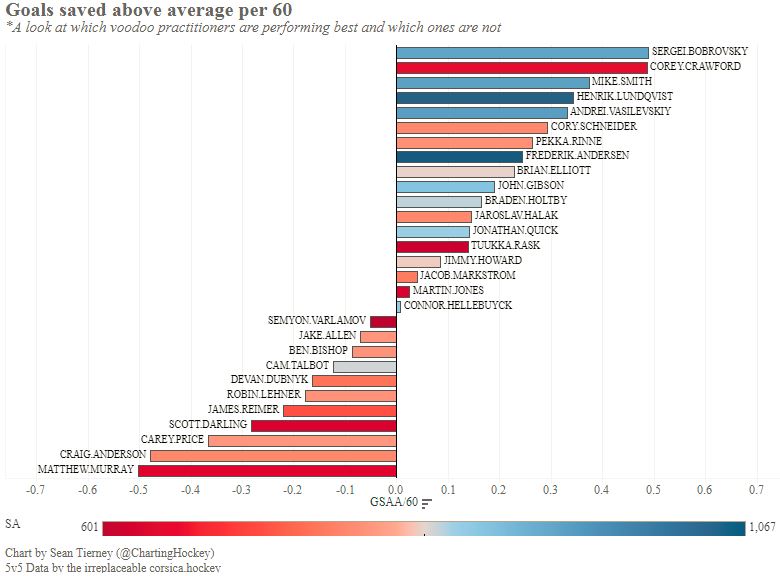 Like with the Sharks, the Blues may be better off riding Hutton's hot hand right now. Allen, who looked like he was about to become "the man" for the Blues after a stellar postseason last spring, has been a disappointment, and it's hard to say that he's the much better option in goal. Hutton will likely regress back to earth, but there may not be as much between him and Allen, and that could provide a bettor with a good number on a good team.
---
Stats provided by Corsica.Hockey. All stats current as of Jan. 23. Images provided by Corsica.Hockey and Sean Tierney.
Photo: Gary A. Vasquez, USA Today