2017-18 NHL Betting Recap: A Story of Chalk and Ice
Credit:
Sergei Belski-USA TODAY Sports
The 2017-18 NHL Regular Season has come to an end. While hockey fans gear up for the Stanley Cup playoffs, puck bettors get a chance to reflect on the past season, pinpointing what worked, what didn't and how they can tweak their models going into next year.
1. Favorites Turn a Profit, Dogs Get Slaughtered
Favorites clicked along at an absurd rate, going 764-504 and producing an impressive 60.3% win percentage, but only a 1.6% ROI. This is due to the fact that hockey is a moneyline sport, so when favorites win bettors only win what they risked. When they lose, the minus numbers sting (-120, -140, -160, -180). Still, betting every favorite was profitable, resulting in +19.92 units won.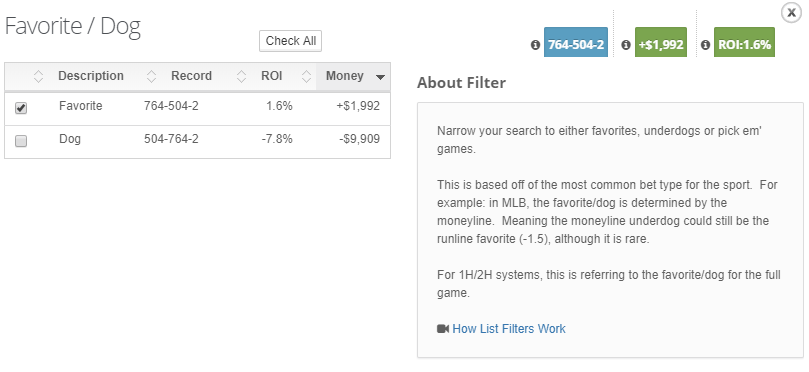 Home conference favorites were especially successful, going 373-214 (63.5%), good for +30.68 units and a 5.2% ROI.
Meanwhile, dogs got taken to the woodshed, Old Yeller style. A $100 bettor taking every dog lost nearly $10,000. Gross.
2. Big Year for Overs
Similar to how the NFL changed its rules to benefit offensive players and generate more scoring (and appease fantasy football fans), the NHL placed a greater emphasis on clutching and grabbing, resulting in more penalties, power plays and goals scored.
Overs went 628-605 (50.9%) and produced +21.94 units won, while Unders got absolutely destroyed (-80.81 units).

3. "Public" Bettors Crush
Since hockey isn't as popular among bettors as other U.S. sports, there isn't much contrarian value for those looking return a profit betting against the public. Simply put, casual bettors don't typically bet on hockey. A normal NHL regular season game might get 1000-2000 bets, while a typical NFL game might get 30,000. As a result, there is no "public" to bet against, which means you are likely fading die-hard, sharp hockey bettors if you go contrarian.
Teams getting less than 50% of moneyline bets went 521-724 (41.8%), -74.69 units. This means that a $100 bettor lost $7,470 over the course of the season. Similarly, teams getting less than 35% went 265-442 (37.5%), -67.86 units.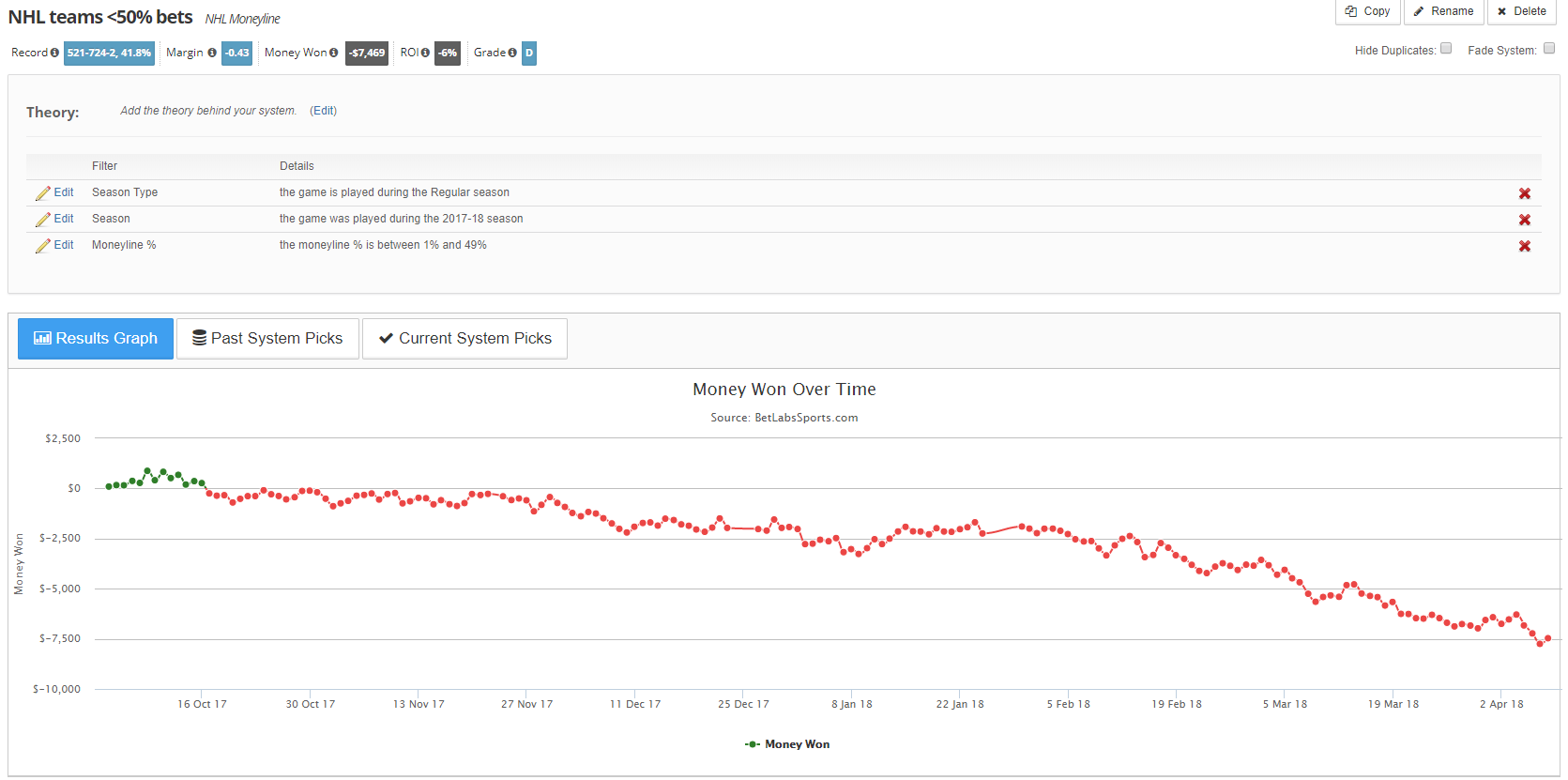 4. Great Year for Vegas Bettors, Habs Not So Much
The Golden Knights had an incredible first season. Betting $100 on Vegas every game turned a profit of over $1,800. New Jersey and Colorado exceeded expectations big time, rewarding bettors who bought low on them all season.
Most profitable #NHL teams this season

Vegas +18.1 units
Nashville +11.85
New Jersey +11.56
Winnipeg +11.18
Colorado +9.38
Tampa Bay +8.9

— Sports Insights (@SportsInsights) April 9, 2018
Meanwhile, Montreal bettors (and fans) spent the 2017-18 season in the Sunken Place. #PrayForTheHabs
Least profitable #NHL teams this season

Montreal -26.6 units
Buffalo -18.84
Ottawa -16.65
Chicago -16.5
Detroit -15.68
Carolina -14.02
Arizona -13.47

— Sports Insights (@SportsInsights) April 9, 2018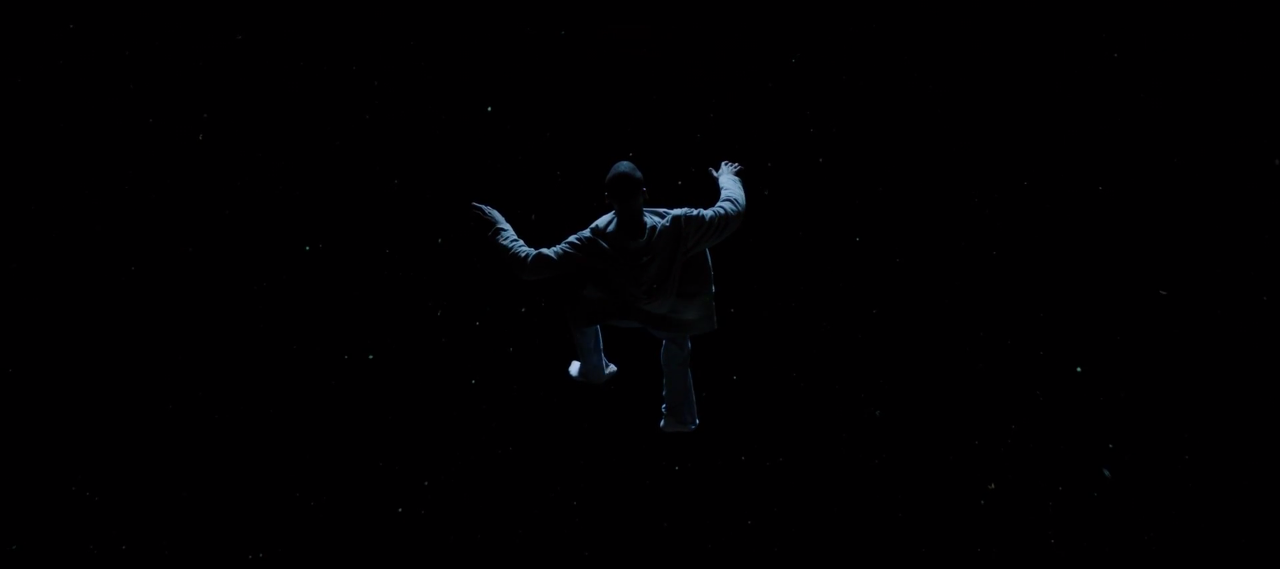 5. The Vegas Flu was Real
Spoiler Alert: Hockey players like to party. Hard. So when they traveled to Vegas to play the Knights, they "enjoyed" the scenery (and played awful). The Knights went 29-12 at home (70.7%), +11.31 units. When the opponent had two or more days off before playing the Knights (i.e. they "slept" in Vegas the night before) the Knights went 22-7 (75.9%), +11.09 units. Vegas, Baby!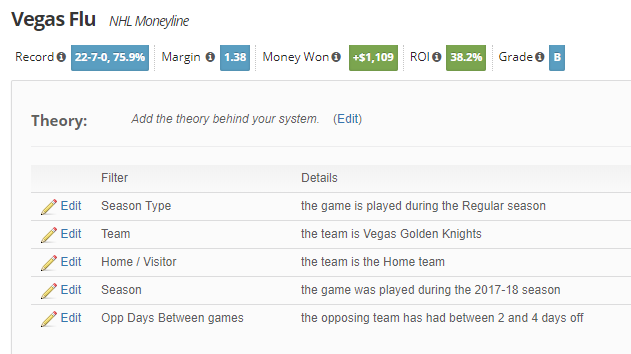 6. Well-Rested Visiting Favorites Killed It
Death, taxes and well-rested visiting favorites. This Bet Labs system went 32-14 (70%), +10.78 units, 23% ROI. Since 2005, it's gone an astounding 458-248 (64.9%), +92.06 units, 13% ROI. Why is it so good every season? Because the theory is sound. Favorites do well in hockey, home ice is overrated and when hockey players get a few days off, they rest, rejuvenate and come out firing against a bad team who missed the playoffs the year before.

7. Rocket Richard
After ceding the goal-scoring title to Sidney Crosby last year, Alex Ovechkin returned to his dominant sniping ways and will be awarded the 2017-18 Rocket Richard trophy for the fifth time in six seasons. The Russian superstar finished the campaign with 49 goals, one shy of reaching the 50-goal milestone for the eighth time in his decorated career.
Ovechkin (+333) was the preseason favorite to lead the league in goals, but the remaining skaters with the best odds before the season started (Crosby, Vladimir Tarasenko, Connor McDavid and Steven Stamkos) failed to crack the top-five goal-scorers in 2017-18. Winnipeg's Patrik Laine, who was priced at +1400 to win the Rocket Richard, finished in second place with 44 goals. Vegas' William Karlsson wasn't even listed at most books, but he rounded out the top-three scorers this season with 43 tallies.
8. Art Ross
Connor McDavid will take home the Art Ross trophy for the second year in a row after racking up 108 points to lead all skaters. The young phenom was the NHL's only player to reach the 100-point mark in 2016-17, but Philadelphia's Claude Giroux and Tampa Bay's Nikita Kucherov joined McDavid in elite club this season. It was a tight scoring race, but No. 97's strong second-half vaulted him to the front of the pack by season's end.
McDavid (+260) was the chalky favorite to lead the league in points before the season started, but the race ended up being tighter than some predicted. Kucherov (+1400) looked primed to capture the Art Ross for the majority of the season and would have rewarded bettors with a nice payout, but the talented Russian's red-hot pace tapered off and he finished third with 100 points.
9. Team Point Totals
The Vegas Golden Knights were the big overachievers this season, as they eclipsed their point total by a whopping 40.5 points. Other teams that outperformed expectations were the Colorado Avalanche, who finished with 25.5 points more than their preseason total. The New Jersey Devils also impressed with 97 points, 22.5 more than the 74.5 they were projected.
The big letdowns this season were the Buffalo Sabres, Edmonton Oilers and Montreal Canadians. The most surprising of this group had to be the Oilers. No one saw them being as bad as they were and many had them pegged as a trendy preseason pick to make a Stanley Cup run. They were also the only team with a preseason point total set over 100 that failed to make the playoffs.
10. Division Winners
The Tampa Bay Lightning (+250) and the Nashville Predators (+300) both won their divisions as preseason favorites. Those who had pending future bets riding on Tampa were sweating that one until the final game of the regular season thanks to the Boston Bruins (+500) making things interesting in the Atlantic down the stretch.
The Central Division was dominated by the Presidents' Trophy-winning Predators. What's surprising is that the Chicago Blackhawks, who were listed as the three-way favorites along with the Predators and Dallas Stars to win the Central, didn't even come close to capturing the divisional crown. It's pretty clear that Chicago, along with Edmonton (who was the preseason favorite to win the Pacific), were two of the most disappointing teams 2017-18.
The Washington Capitals (+300) were listed right behind the Pittsburgh Penguins (+225) in preseason Metro Division odds. Other than Vegas taking home the Pacific, there were no major upsets among this year's divisional champions.
11. Quest for the Cup
The regular season may be over, but hockey bettors can still turn a profit in the postseason. Using Bet Labs, we identified several profitable fist round playoff trends: road favorites and lower seeds off a loss.
Also, teams who made the playoffs the previous year against teams who did not. Experience is key.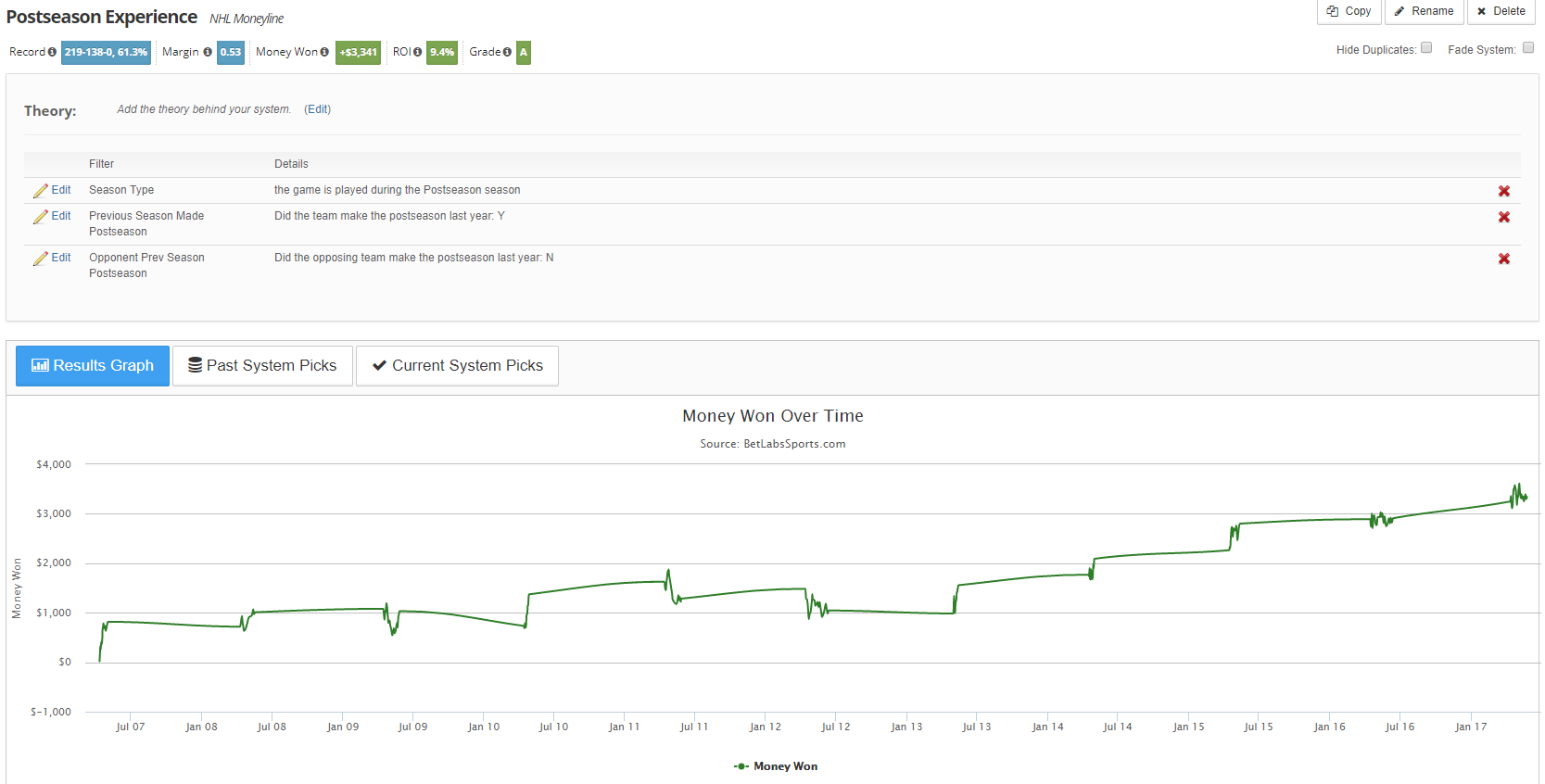 For more NHL postseason coverage, including lines and percentages for every game, be sure to bookmark our NHL homepage and follow us on twitter @ActionNetworkHQ
Pictured: Golden Knights center Jonathan Marchessault (81) and Flames center Mikael Backlund (11) battle for the puck in a recent game at the Scotiabank Saddledome