Welcome to the NHL Daily. Go inside the NHL's card for Monday, Nov. 20, as we explore betting angles and try to find value in this volatile, cruel, good-for-nothing sport. 
It's Thanksgiving week, and in the NHL that's a big deal. Not only does the holiday usually coincide with the end of the first quarter of the NHL season, but it also has become a checkpoint for teams to weigh whether or not they are really going to contend. History suggests that around 75 percent of teams that are in playoff spots at Thanksgiving will make it in the spring. That also means four or five of the teams that currently occupy playoff spots will falter. Here's to looking at you, Vegas.
Last night's action: There was only one game that piqued our interest last night, and it was a wild one. The Avalanche (+160) were down two goals with less than seven minutes to play and tied the game 3-3 to force overtime. The Avs would get a goal from Nathan MacKinnon in the 3-on-3 session to put a bow on a good weekend of action. As bad as the bounces were for a while, as expected, they have come back around for us.
Tonight's action: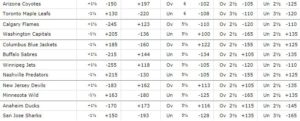 The Arizona Coyotes couldn't win a third game in a row, could they? Probably not, especially with the way Frederik Andersen is rolling in net for the Leafs at the moment, but I still can't get to that number, so it's going to be another night of fun with the 'Yotes. And as a sidenote, although I don't include any narratives like letdown games or trap games into my numbers, the Leafs are coming off a 6-0 win in Montreal, so this is a funny time for them to be hosting the lowly Coyotes.
The Devils are one of the teams I expect to fall out of the playoff picture by the time the weather warms, but they have proven that they aren't an easy out. The Wild haven't been good at 5-on-5 and are operating at a 46.7 percent Corsi, so the Devils should be in this if Cory Schneider can bounce back after a tough start against the Jets on Saturday. It's too good of a number to pass up.
The Ducks seem to be perpetually banged up, will likely be icing Reto Berra in goal and are playing for the second night in a row against a solid Sharks team, which is not exactly a recipe for success. The fact that Anaheim is above .500 at this point is pretty impressive given how many key injuries they have had to deal with. The Sharks have been controlling play at 5-on-5 and have the third-highest expected goals differential in the league (Anaheim is in the bottom five), but there's value with Anaheim at this number — even if you'll lose the bet more often than you win it.
Picks: Coyotes +197, Devils +162, Ducks +173
Season to date: 52-60, -0.44u
---
Be part of the Action
You can be a part of our growing community by simply downloading the SportsAction App through the [App Store]  or [Google Play].