BlackJack: Betting Every Vegas Golden Knights Prop for Game 4
Credit:
James Carey Lauder-USA TODAY Sports. Pictured: Vegas Golden Knights
LAS VEGAS — It's Game 4 of the Stanley Cup Final, our Knights are down 2-1, but we have faith, we believe, we know the Knights will tie it up tonight. So, with that knowledge let's pick every prop on the board at the Westgate SuperBook that relates to our Golden Knights. These are in no particular order; it's just how Westgate listed them on their prop sheet.
And yes, if you're wondering, you can bet plenty of these at your favorite offshore sites, too.
Will either team score in the first 10 minutes of the game?
I'm going with YES on this one at -130. Vegas understands how important this game is, as evidenced by the addition of Tomas Tatar to the lineup. The Knights need to get their offense going, and I expect it to happen out of the gates.
Will the game go to overtime?
Not giving a lot of thought to this, because I think Vegas adjusts and wins in regulation. I'm going NO at -360.
Will either team score three straight goals?
This happened in Game 1 when Vegas rattled off three straight in the third period, but it's been tough to get in this series with these goaltenders and offenses at work. I don't see it in this game either; I'm going NO at -240.
Will the team that scores first win the game?
The Knights play their best when they jump out of the gates offensively. Again, I think we see that tonight as they play with the highest urgency in this game. Obviously I also think they win, so the answer for me is YES at -270.
Will William Karlsson score a goal?
I have to say, I have been disappointed in our "Wild Bill" in these Finals. He scored 43 goals in the regular season and has been solid in the playoffs, but has seemed timid and almost unwilling to shoot unless the shot is perfect. Unfortunately, I'm going NO here at -200.
Will Jonathan Marchessault score a goal?
Yes, yes, a thousand times, yes. He has 18 shots on goal in this series and has not scored yet; I think that changes tonight at +170.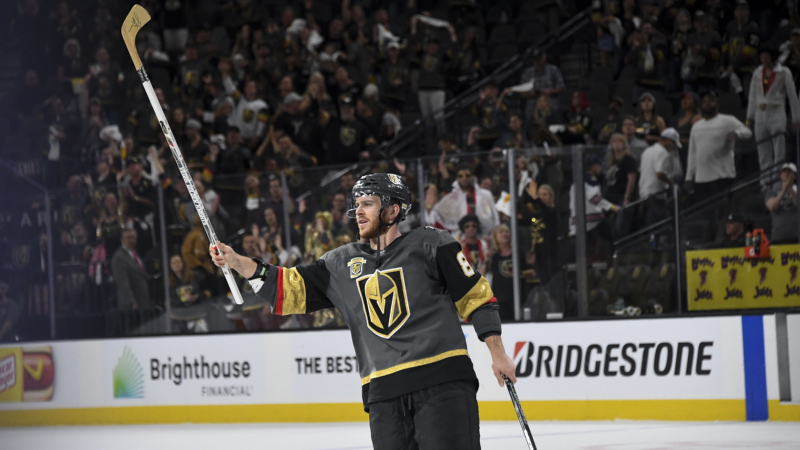 Credit: Kirby Lee-USA TODAY Sports. Pictured: Vegas Golden Knights center Jonathan Marchessault
Will James Neal score a goal?
This one is close for me, because Neal has a knack for being around the puck in great shooting spots. It's tough, though, because he is not the focal point of the offense like he was in the earlier part of the season, as more players have emerged as legitimate goal scorers. I'll take YES at +230, and bet on Neal's experience and savvy paying off tonight.
Will Erik Haula score a goal?
I think the simple answer here is NO. Haula has not found himself around the puck enough to score goals in this series. It has been difficult for him to possess the puck with regularity. There's a reason the no side of this bet is -400.
Will Reilly Smith get a point?
Smith starts with Marchessault and Karlsson, and has played well in this series. I think there is a very good chance he gets at least an assist tonight. I'll take the YES at -140.
Will Shea Theodore get a point?
Let's be totally clear here: Shea Theodore played an absolutely horrific game on Saturday night. He made mistakes that were directly responsible for all three goals by the Capitals. Having said that, he has been a rock for this team on the defensive end, and does find get credited for a lot of assists off deflections. I think he has to bounce-back game tonight. I'll go YES at +130.
Will the Golden Knights score at least one goal in the first period?
Again, this goes back to my thinking that Vegas comes out fast and looking to score, I'll lay the -145 and say YES.
Total shots on goal by Vegas Golden Knights?
Both sides of this are -110 and the number is 31.5. The Knights have gone over that twice in this series, the only time they didn't was Game 3. I don't think we see that game again. I'm going Over 31.5 shots for the Golden Knights.
Total goals by the Golden Knights?
Again both sides are at -110 and the number is 2.5. Vegas needs to get its goal-scorers going and the offense in rhythm. To do that, I think it takes more than two goals, so I'm taking OVER 2.5.
That's it baby, every Golden Knights prop on the board with a pick, let's have some fun and bring this thing back to Vegas tied up at two. #GoKnightsGo #VegasBorn