Lightning vs. Bruins Odds & Pick: Take Advantage Of The Rare Underdog
Credit:
Scott Audette /NHLI via Getty Images. Pictured: Victor Hedman, Nikita Kucherov
Pete Truszkowski breaks down the Eastern Conference round-robin matchup between the Lightning and Bruins.
Find out why he sees betting value on Tampa Bay's moneyline odds for Wednesday.
Lightning vs. Bruins Odds
Odds as of Tuesday evening and via FanDuel. Get up to a $500 risk-free bet at FanDuel today or see more offers and reviews for the best online sportsbooks.
---
When the NHL came up with its return-to-play plan, it was obvious that some teams would be more adversely affected than others.
In March, the Boston Bruins were almost certainly going to be the 1-seed in the Eastern Conference as they had an eight-point lead over the Tampa Bay Lightning, who were in second. Unfortunately for the Bruins, all that earned them was a bye in terms of playing elimination games in the first part of the tournament.
After a 4-1 loss at the hand of the Philadelphia Flyers on Sunday, the Bruins' chance of being the No. 1 seed has diminished greatly. If Boston loses to Tampa on Wednesday, the hope will be completely gone.
On the other hand, Tampa Bay pulled out a shootout win over Washington on Monday. If the Lightning were to win on Wednesday, they would control their fate heading into the third round robin game.
Opinions vary on the importance of these games, but I'm sure that even if teams aren't living or dying with what seed they'll end up occupying, they still want to play well against other elite teams in the league.
Boston Bruins
Since reporting to the bubble, Boston has struggled mightily. The Columbus Blue Jackets took it to the Bruins in their exhibition game, defeating Boston 4-1. Normally, this result would be ignored since the game meant nothing, but it ended up being a preview of the Bruins' form.
Boston continued to struggle, losing to Philadelphia 4-1 on Sunday. When factoring in score effects, the Flyers outplayed the Bruins pretty handily in terms of possession. When it came down to expected goals, however, it was relatively even with Boston coming in at 49%.
---
Expected goals (also known as xG) is a predictive statistic that gives an indication of whether results are based on sustainable factors like a steady creation of scoring chances, or whether it is down to aspects such as shooting luck or outstanding goaltending.
Simply put, an expected goals rate (xGF%) above 50% is considered good because it means a team is creating the majority of the scoring chances. Anything below 50% is usually a sign that a team is struggling to control play.
Expected goals numbers cited from Evolving Hockey.
---
The Bruins' top-line of Brad Marchand, Patrice Bergeron and David Pastrnak is considered one of the best lines in hockey. They were nowhere near their usual selves on Sunday. Pastrnak has had issues with potential exposure to the COVID and breaking quarantine, which caused him to miss some of Phase 3, so he's yet to fully shake off the rust.
Another reason for Boston's success is its goaltending.
Tuukka Rask, Boston's No. 1 goalie, he didn't play Sunday. He had missed time earlier in camp with an issue in his catching hand, though he claims to be fully recovered from that injury. He missed Sunday's game after self-reporting that he had a cough. He was tested for COVID and returned two negative tests, so he'll be in net on Wednesday — a welcome sight after his usually-steady back-up, Jaroslav Halak, gave up four goals on 29 shots against the Flyers.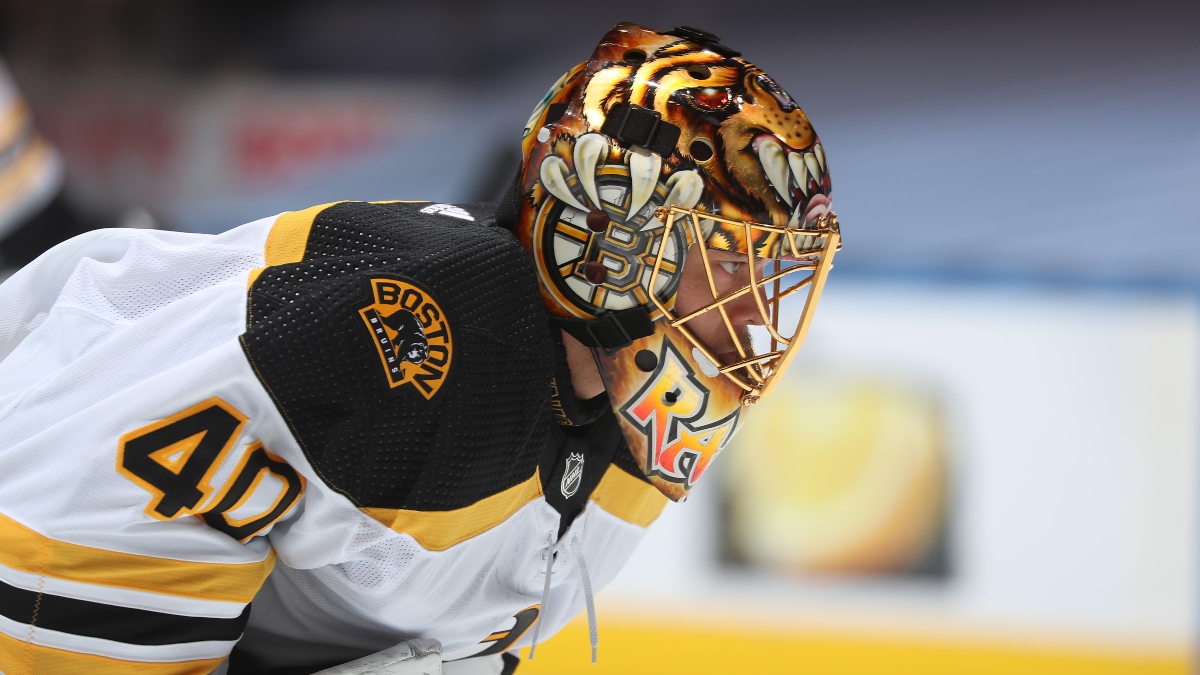 Tampa Bay Lightning
Boston will need Rask to hit the ground running, as Tampa Bay had the best offense in the league in terms of goals per game during the regular season.
The Lightning needed a shootout to defeat the Washington Capitals in their first real game since mid-March. Tampa seemed to be in control of the game, but Washington scored two quick goals that squeaked behind Andrei Vasilevskiy in the final three minutes of the second period. The teams matched each other for the remainder of the afternoon before Nikita Kucherov decided the game in the skills competition.
Tampa didn't play its best game on Monday. Washington controlled the high-danger opportunities (64% compared to 36%) as well as the expected goal rate (54/46), even when adjusted for score effects.
---
High-Danger Scoring Chances (HDSC) is a stat tracked by Natural Stat Trick. It's pretty self-explanatory. A scoring chance that meets certain criteria goes down as a HDSC.
---
Thankfully for Tampa Bay, its stars were its best players. Victor Hedman, Nikita Kucherov and Brayden Point outperformed their teammates in terms of puck possession and shot quality.
Speaking of star players, Tampa will once again be without Steven Stamkos, who has been ruled out by coach Jon Cooper after Stamkos missed the game against Washington as well. Anytime your lineup is missing a guy who scored more than a point per game during the regular season, his presence will be missed. However, if there's one team that can overcome it, it's the Lightning.
The general public sees the Tampa Bay Lightning as a high-flying offensive juggernaut, which they are. But what people don't realize is that the Lightning are a top-five defensive team in terms of expected goals allowed. When they were eliminated by Columbus last season, they made a big deal about being able to play in many different ways. They focused on developing an ability to grind out a 2-1 win rather than just trying to outscore their opponent every night.
During the regular season, early results were promising. Let's see if it carries over to the postseason.
Betting Analysis
At the current number, I'll take Tampa Bay.
We have a perfect clash here. Boston is the best team in the league defensively while Tampa Bay scores at the highest rate of any team. These two are extremely evenly matched.
I understand why the Bruins are a small favorite — if they lose this game, it would eliminate them from contention for the 1-seed, so desperation is expected to be higher from them. But this creates a little value on the Lightning.
Rask gave up three goals in half an exhibition game. He's been in and out of training camp and practice with a bunch of issues ranging from his catching hand to an illness. And while both teams are elite defensively and have solid goaltending, Tampa's offense is more dynamic.
I think the Lightning are the best team in the league, so anytime you get them at plus-anything, you have to take them. I'd be willing to bet on Tampa up to -105.
PICK: Lightning +100 (up to -105)
How would you rate this article?