NHL Betting Odds & Picks: How to Bet Winnipeg Jets vs. Calgary Flames
Credit:
Jonathan Kozub/NHLI via Getty Images. Pictured: Connor Hellebuyck
The Winnipeg Jets (-105) behind star goalie Connor Hellebuyck will take on the Calgary Flames (-115) Saturday night to begin bubble play.
Before the COVID-19 layoff, the Flames were largely mediocre but started to see an uptick when Greg Ward was installed as the interim head coach.
Is the betting market overrating the Jets, who almost completely rely on hot goaltending? I break it down below and give my pick for the match.
Winnipeg Jets vs. Calgary Flames Odds
---
Odds via DraftKings. Get up to a $1,000 sign-up bonus at DraftKings today or see more offers and reviews for the best online sportsbooks.
---
I really don't understand the love for the Winnipeg Jets in the betting market.
I do get the allure of betting a team with a great goalie and a talented forward corps at long odds, but seeing the Jets down to 36-1 at FanDuel and 40-1 at a host of other sportsbooks is a head-scratcher considering some of the other teams in that same range, including the Calgary Flames.
While I don't think the Flames are a great bet to win the Stanley Cup, they are a team that I think can sneak under the radar on a game-to-game and series-to-series basis.
Calgary Flames
The Calgary Flames were largely mediocre through the first third of the regular season.
The Flames were not getting the benefit of any puck luck, as they were scoring 1.76 goals per 60 minutes despite creating 2.22 expected goals per hour (all stats 5-on-5), but Calgary was still a below-average team with a 48.8% expected goals rate. All of this was very disappointing for a team that entered the season at 18-1 to win the Stanley Cup.
---
Expected goals (also known as xG) is a predictive statistic that gives an indication of whether results are based on sustainable factors like a steady creation of scoring chances, or whether it is down to aspects such as shooting luck or outstanding goaltending.
Simply put, an expected goals rate (xGF%) above 50% is considered good because it means a team is creating the majority of the scoring chances. Anything below 50% is usually a sign that a team is struggling to control play.
xG numbers cited from Evolving Hockey.
---
Calgary's season took a turn on Nov. 27 when it was announced that Bill Peters had resigned as head coach after it was revealed that he used a racial slur during his coaching stint in the AHL.
Whether a coincidence or not, the Flames began to trend up with Peters out of the picture. Interim head coach Greg Ward seemed to breathe new life into the Flames as they went 24-15-3 with Ward behind the bench, and even more encouraging was the fact that Calgary's expected goals numbers jumped to 51.8% in that span.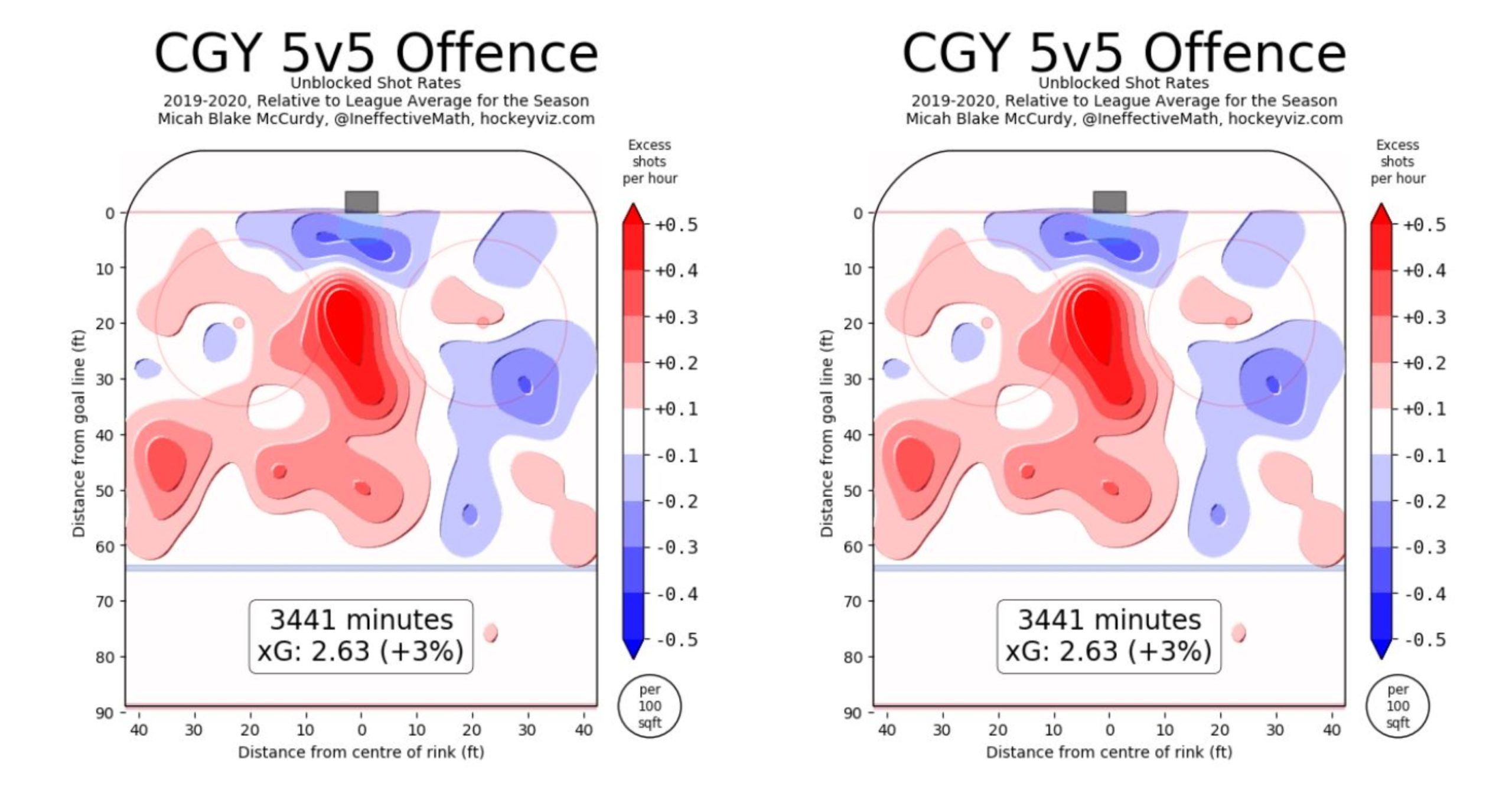 That being said, the Flames never really looked like the team that posted the best record in the Western Conference in 2018-19. A lack of depth at both ends of the ice as well as some uninspired goaltending held Calgary back.
Speaking of goaltending…
Winnipeg Jets
There is one reason why the Winnipeg Jets are in this tournament and his name is Connor Hellebuyck.
No goaltender did more for his team in 2019-20 than Hellebuyck did for the Jets. The Michigan native lapped the field with his +19.86 GSAx and his play kept Winnipeg from sinking to the depths of the Central Division.
---
Goals Saved Above Expectation (GSAx) is an advanced statistic that measures a goaltender's performance against the quality of scoring chances he faced. It is a better catch-all metric compared to save percentage because every SV% counts every saved shot and goal the same, while GSAx weights shots by the quality of the scoring chance.
GSAx numbers cited from Evolving Hockey.
---
A hot goalie can cover a team's blemishes, but what Hellebuyck did for Winnipeg this season was beyond reason. Not only did Winnipeg come in dead last with a 43.5% expected goals rate, but they were 29th in both xGF/60 and xGA/60. Those numbers should have doomed the Jets.
A bet on the Jets is basically just saying a prayer to the gods of the blue paint that Hellebuyck is as sharp as ever and that, perhaps, the rest of the team can meet him halfway and play average hockey. I'm not confident that will happen.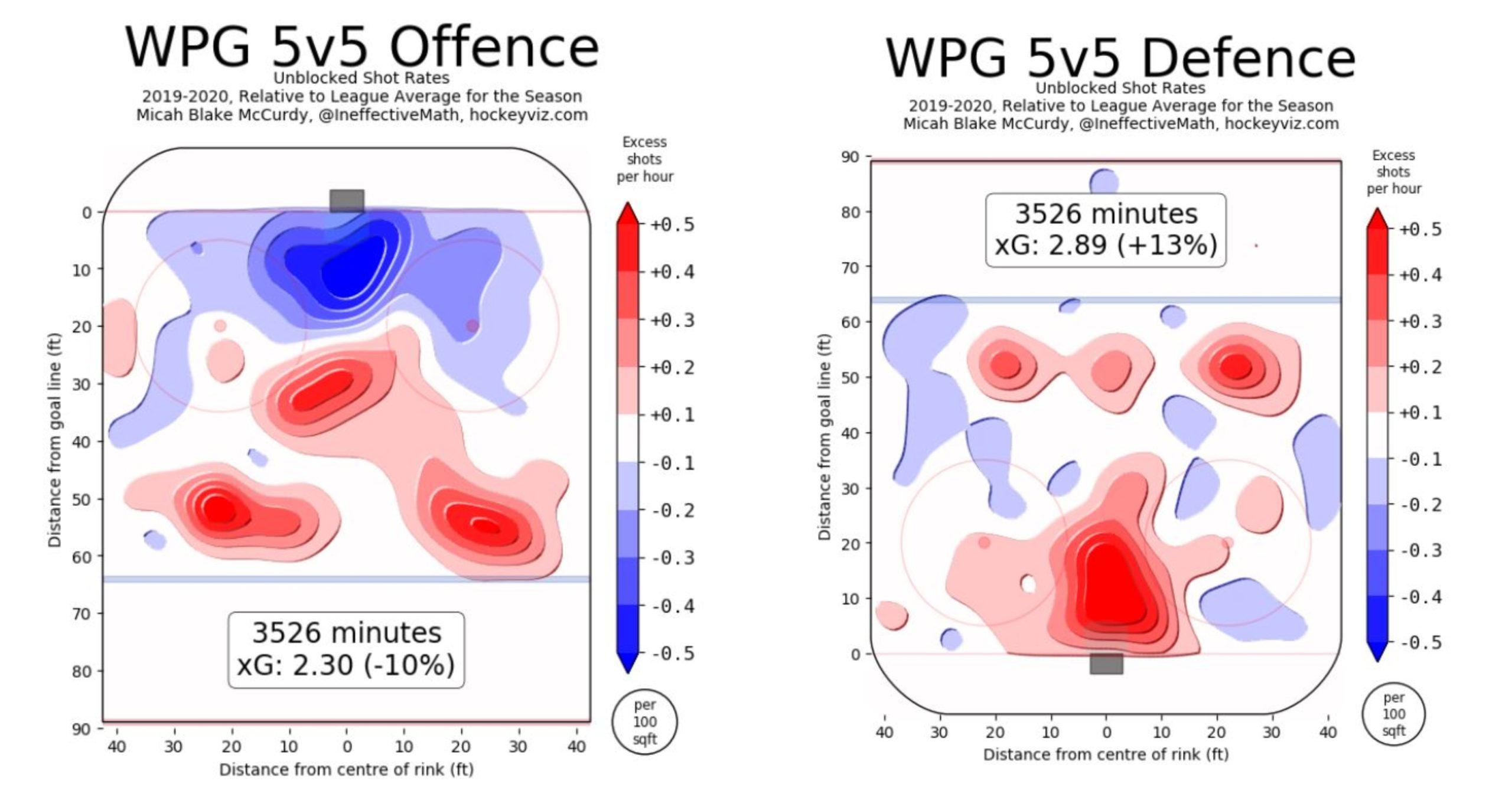 The problem with relying on a goalie to stand on his head is that, and stop me if you've heard this before, goaltending is notoriously fickle and netminders can fall out of form without warning.
Need proof? Check out Hellebuyck's GSAx from the past four seasons:
| | Goals Saved Above Expected |
| --- | --- |
| 2016-17 | -9.25 |
| 2017-18 | 12.81 |
| 2018-19 | -6.07 |
| 2019-20 | 19.86 |
If Hellebuyck falters, the Jets are in a lot of trouble. That being said, if he's on song the Jets will have a huge edge in the crease as neither Cam Talbot nor David Rittich inspire much confidence on the other side of the ice.
Betting Analysis
I very rarely bet favorites, especially big ones, in hockey. The sport welcomes chaos — it is played on ice after all — and that kind of volatility makes me weary of paying up for chalk.
There are exceptions to the rule, however, and this seems to be one of them. With the added disclaimer that anything can happen in this tournament, I'm not quite sure why the Jets are getting so much respect in this series. The Flames have holes, sure, but Winnipeg was one of the worst 5-on-5 teams in the NHL over the course of the regular season.
I'd say it's more likely that the Jets continue their poor 5-on-5 play than it is that Hellebuyck carries his other-worldly form into the bubble. And if I get beat by a red-hot goalie, I tip my JOFA Helmet and move on.
I like Calgary at -120 or better to win Game 1 and -125 or better to win the series.
How would you rate this article?