NHL Betting Odds and Picks: Will the Lightning Ever Lose Again? (Saturday, Jan. 11, 2020)
Credit:
Mark LoMoglio/NHLI via Getty Images.
Well, would you look at that. The Tampa Bay Lightning are absolutely rolling right now. The Bolts have won nine games in a row and look like they could make a serious bid to snatch the Atlantic Division title from the Bruins, who looked like a sure thing for the entire first half.
There are some people around HockeyTwitter patting themselves on the back for not giving up on the Lightning after their 9-7-2 start, but the truth was that if you dug just a little bit deeper than their record it was easy to see the Bolts were still a wolf in wolf's clothing — they just needed to catch a few breaks.
Tampa brings its nine-game winning streak to Philadelphia on Saturday.
---
In New Jersey? Bet now at PointsBet for access to their NHL promotion, which stipulates that if your NHL bet ever gets a two-goal lead in a game, you win even if it ends up actually losing (promotion good for up to $100).

---
Tampa Bay Lightning at Philadelphia Flyers Odds
Lightning odds: -145
Flyers odds: +125
Over/Under: 6.5
Time: 7 p.m. ET
The Lightning have been a force to be reckoned with at 5-on-5 this season. The Lightning won just 16 of their first 31 games, but during that stretch they still boasted a 53.2% expected goal rate (xG%) and created 0.3 more expected goals per hour than they allowed. Those numbers are pretty much on par with where the Bolts were in 2018-19 when they finished with a 52.9 xG%.
Even if Tampa maintained those rates, it would almost certainly have climbed the standings if its goaltending improved. Not only did the Bolts get better play from their goalies over the last few weeks, but they've improved on their already-terrific 5-on-5 numbers, too.
Through his first 20 games of the season, reigning Vezina Trophy winner Andrei Vasilevskiy posted a -10.2 Goals Saved Above Expectation (GSAx). He still isn't back to where he was in 2018-19, but Vasilevskiy has improved of late, posting a  +0.15 GSAx over his last dozen games.
That certainly isn't a mind-blowing number, but as long as Vasilevskiy provides average goaltending, the Lightning will contend throughout the spring.
The Philadelphia Flyers are hanging tough in the Eastern Conference playoff race, but they are a tough team to project. The Flyers are streaky and somehow, those streaks end up balancing out and put the Flyers right in the middle of the pack.
Under the hood, Philadelphia is a picture of mediocrity and is getting the results it deserves. The Flyers average 2.64 goals for and allow 2.62 goals against per 60 minutes at 5-on-5. That ratio is almost perfectly in-line with Philadelphia's 49.7 xG%.
The Flyers have won only five of their last 10 games, but they do boast a 52.2% expected goals rate in that span.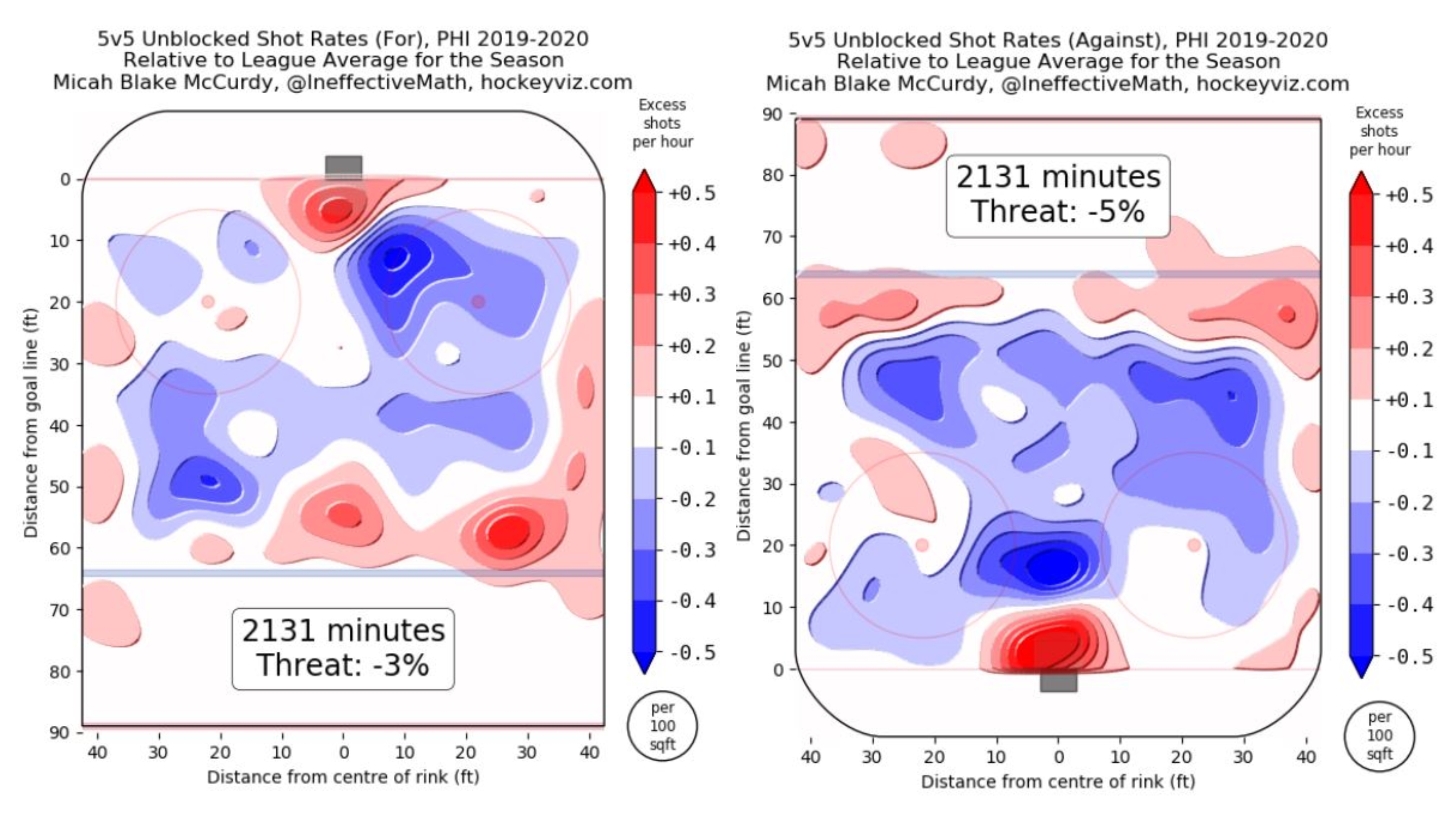 On the surface this may not seem like a big enough number to warrant taking on the Lightning, but when you adjust for home-ice advantage (roughly 4.9% in NHL) you start to see the gap. The listed odds imply that Tampa Bay would approximately be a -177 favorite on neutral ice.
The Bolts are a couple of tiers above the Flyers, but I don't think the odds should be this wide in Philadelphia. Since this number isn't that egregious, I'm expecting the Lightning to get bet up further, so I've not yet locked in a bet on the Flyers but I think they are already showing value at +125.
Around the League
The Carolina Hurricanes (-220) are playing for the second night in a row but the Los Angeles Kings (+175) are in a brutal schedule spot. Los Angeles is playing its third game in four nights and is now in the Eastern timezone after defeating Vegas in Sin City on Thursday night. The Hurricanes have the fourth-best expected goals rate in the NHL, but the Kings aren't that far behind, ranking ninth overall.
I like the Kings at this price and will hope they can catch some breaks in what should be a tough game on Saturday night.
The New York Rangers (+170) spent the first half of the season near the bottom of the xG Table, but things are beginning to trend in the right direction for the Blueshirts, who have a 54% expected goals rate over their last seven games. The St. Louis Blues (-210) have also improved on some suspect 5-on-5 metrics over the past couple of weeks but this number is big enough to warrant a shot on the Rangers.
I probably underrate the Washington Capitals (-260), but their underlying metrics don't match their elite record. Since the holiday break Washington has a 47% expected goals rate and is allowing 2.87 xGs against per 60 minutes. Those numbers are still better than what the New Jersey Devils (+205) have to offer, but I think the Devils win this game more than 31.2% of the time so I'll take a stab on them at +205 or better.
How would you rate this article?