NHL betting: The Metropolitan Division is a nightmare
Credit:
October 15, 2016: Columbus Blue Jackets Defenceman Zach Werenski (8) celebrates his first NHL goal during a regular season game between the Columbus Blue Jackets and San Jose Sharks at Nationwide Arena. (Photo by Michael Griggs/Icon Sportswire)
The NHL's Metropolitan Division is an absolute gauntlet, and we ain't seen nothin' yet.
A few weeks ago, the talk swirling around the Capitals was that this was the season that they'd start to come down from the mountain. Washington has made the playoffs in nine out of the last 10 seasons and has put up over 100 points in each of the last three campaigns. The Caps lost some key players over the summer, including Kevin Shattenkirk, Justin Williams and Marcus Johansson — all of whom ended up with teams in the Metropolitan Division. So when Washington lost 6-2 to the Colorado Avalanche to put their record at 10-9-1 through 20 games, it got people thinking that maybe the Capitals' window was finally closing. But just as people started to write Washington off as mediocre, the Caps went on a 12-3-1 burst and are now considered the favorites (+275) to win the Metro.
That's how life in the NHL's toughest division has been this year. Each team is one hot streak away from pushing through to the top and one cold streak away from sinking to the bottom. As we head toward the halfway point of the year, the three other divisions in the NHL have started to come into focus. The Lightning are on their way to an Atlantic Division title, the Central will most likely come down to a battle between Nashville, Winnipeg and St. Louis, and the Pacific is a two-team race between Los Angeles and Vegas.
And then there's this: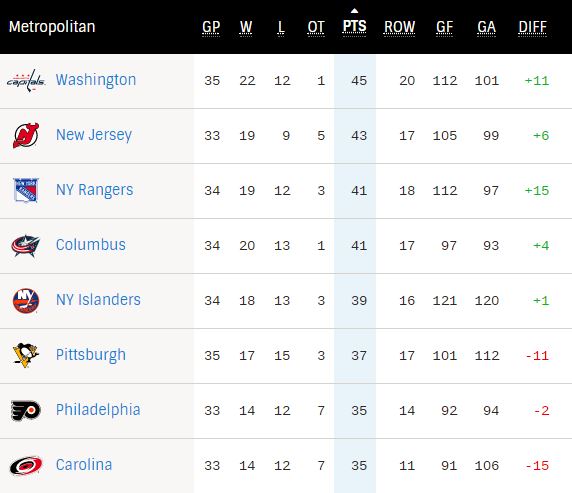 All eight teams in the division are within 10 points of the Caps, and the two teams in the division's basement each have a pair of games in hand on the current pacesetters.
Working from the bottom up, we start with a very familiar tune. The Hurricanes (+2000) remain one of the league's best possession teams, but their goaltending is letting them down. It's especially disappointing given that Carolina made what looked to be a shrewd move this summer by acquiring Scott Darling from Chicago. After posting great numbers as a backup, Darling has struggled with a heavier workload in Raleigh. Meanwhile, the Flyers are largely being kept afloat thanks to great play from their goalie, Brian Elliott, and great production from their top two lines.
It's hard to write off the Hurricanes given their peripheral numbers, but until and unless their goaltending steps up, it's hard to keep going back to the well. As the chart below from Sean Tierney shows, Darling has been pretty bad.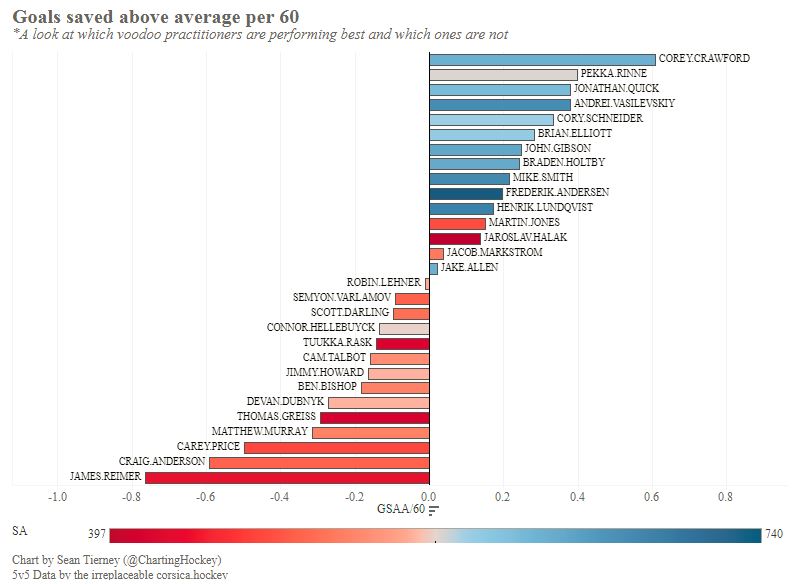 But Darling isn't the only goalie in the division to let his team down. The New York Islanders (+600) came into the year with as solid a setup in net as a team could hope to have. Both Jaroslav Halak and Thomas Greiss have proven themselves to be decent enough options in net over their careers, but this year it's been a mess. The Islanders' goalies sport an NHL-worst .892 save percentage. The Isles' other weakness is their lack of depth. They have one of the league's best 1-2 punches down the middle in John Tavares and Mathew Barzal, but the drop off between their second line and their third and fourth lines is huge. To get through a marathon season and then a grueling postseason tournament a team needs to be able to roll four lines, and the Isles aren't able to do that.
Pittsburgh (+500) was also thought to have its goaltending sorted with up-and-coming star Matthew Murray, he of two Stanley Cup rings in his first two seasons, but that would be too easy. Murray has dealt with injuries and his game has been up-and-down through the first half. Although his numbers look really bad, he's had a couple of weird games that have skewed them a bit. Having said that, Murray's injuries and inconsistent play have been part of the reason that Pittsburgh has yet to cement itself in a playoff position. Another factor in the Pens' uninspiring first half has been that they sport the NHL's lowest PDO (PDO adds a team's save percentage and shooting percentage together to measure luck) at 96.4. In a balanced universe, each team's PDO should be at 100.0, so the Penguins seem due for an uptick in the luck department.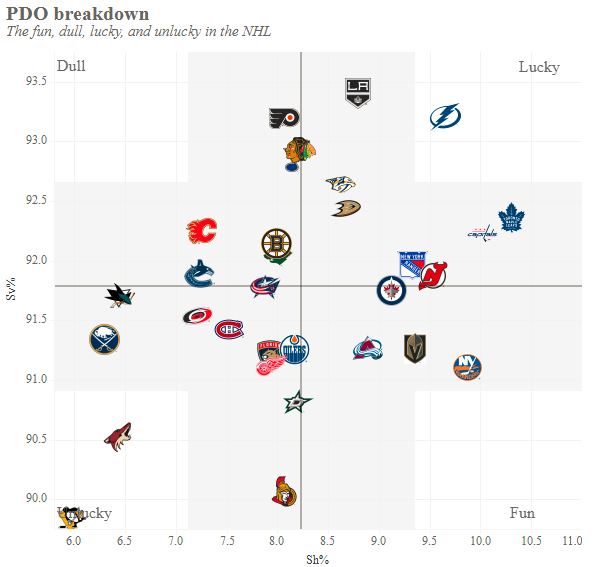 While the Penguins' underlying numbers suggest some positive regression is on the way, the opposite can be said of the Rangers (+700) and the Devils (+600). The two Hudson River rivals have ridden a very similar path to this point. As it stands now the Devils have the fifth-highest PDO in the league, and the Rangers own the seventh. The Rangers' 46.51 Corsi and the Devils' 46.75 Corsi both rank in the bottom five. So how are these two teams competing in the group of death? For starters, they both have very good goalies, and both of their very good goalies are playing well. This song and dance is nothing new for the Rangers, who annually overperform their pretty poor "under-the-hood" numbers. Henrik Lundqvist has been so solid for so long for New York that they basically write their game script around him only allowing a goal or two. If their goaltending holds up, both of these teams will hang around in the playoff picture, but it's a dangerous game to rely on good goaltending and good luck, especially given the Metropolitan landscape.
That brings us to the Columbus Blue Jackets (+350). The Jackets are a complete team. They've got a deep group of forwards, one of the league's best defensive pairs and the league's best goaltender in Sergei Bobrovsky. Columbus' success isn't a mirage, either. The Jackets are a top-10 Corsi team and boast the sixth-best expected goals differential in the NHL at +8.21. Despite the team's recent 5-6 stretch, the Jackets have a roster that is best set up to play at a steady enough pace to stay at or near the top of the division. Every team will go through a bit of a blip, but it would be surprising if the Jackets go through a stretch any worse than their current middling run of form. It's also worth noting that Columbus came into the year at +450 to win the Metro, so they were already held in pretty high regard by the oddsmakers.  This is a good team that would be getting a lot more attention in a different market and in a different division.
The Metropolitan Division race is far from over, and with the NHL schedule set up in a way where teams play the lion's share of their divisional games down the stretch, there is plenty of opportunity for teams to gain and lose ground to one another over the next four months.
More important than finding value on a futures bet, it is critical for a bettor to identify which teams are accurately represented in the standings. The Rangers and Devils seem like a good bet to fall down the ladder, while the Penguins seem like they should move up as we get closer to the spring. The Islanders are hard to peg. Their goaltending should improve, but their shooting percentage is a tick high, so that regression could offset their goalies finding their game. But they are also the team that is best set up to improve at the trade deadline. Philadelphia spent most of November in the midst of a 10-game losing streak, which they immediately followed with a six-game winning streak. As weird and inconsistent as they are, Philadelphia is probably the team best represented by its current record, and it would be surprising to see them qualify for the playoffs. We know what the story is with Carolina, and while it's always tempting when a price like that is hung on a team with good predictive stats, are we really going down that road again? Washington has found its game, but they are outperforming their underlying metrics. Are they closer to the 10-9-1 team that started the season or the 12-3-1 team they've turned into this month? The answer is probably in between. And Columbus is very good and could get better, but is there any value at +350, which gives them a 22 percent chance to win, in such a packed division? It's probably the best value of the group, but is there enough in it to tie up funds from now until April? That's a tough call.
Even if you come up empty, it is important to keep tabs on the futures market. It gives you an opportunity to identify where teams are at, where they are going and if they are just smoke and mirrors.
For now, we've got ourselves three contenders in Columbus, Washington and Pittsburgh and two pretenders in New Jersey and the New York Rangers. As for Carolina and the Islanders, well, the jury is very much still out as to what group they will fall in. And finally there is Philadelphia, who we are ready to declare as an also-ran.
All of this, of course, is very much subject to and most likely will change.
(Stats provided by Corsica.hockey and @ChartingHockey)
*all odds current as of 12 pm ET on 12/20
How would you rate this article?