NHL Betting Odds, Picks & Predictions: Islanders vs. Panthers Game 1 Preview (Saturday, August 1)
Credit:
Mike Stobe/NHLI via Getty Images. Pictured: Jean-Gabriel Pageau
The Islanders are a short betting favorite over the Panthers in Game 1 of the NHL's qualifying round, with the total at 5.5.
Both the Isles and Panthers were in a slump when hockey halted in March, and the line for this neutral-site clash reflects it.
Get Michael Leboff's full analysis and pick for Game 1 below.
New York Islanders vs. Florida Panthers Odds
---
Odds via DraftKings. Get up to a $1,000 sign-up bonus at DraftKings today or see more offers and reviews for the best online sportsbooks.
---
The New York Islanders and Florida Panthers were both in a funk when the world stopped. The Islanders lost seven in a row and 11 of their last 13 games before the hiatus, while the Panthers seemingly played themselves out of contention with a 6-9-3 stretch over their last 18 contests.
Yet, here we are.
Considering how equally bad these two teams were playing in the old world, it's no surprise that oddsmakers are projecting this to be one of the tightest of series in the play-in round, with the Isles sitting at -122 (52.2% implied probability) and the Panthers at +100.
New York Islanders
The Islanders famously transformed into a defensive powerhouse under Barry Trotz in 2018-19, and even though they took a step back this past regular season,  they remain a formidable defense-first team that excels in tight games. The Isles know they can't consistently win 4-3 games, so they play a style that keeps games predictable.
The way the Islanders accomplish that is by keeping teams to the outside and selling out to make sure they don't give up odd-man rushes.
The Isles were the best team in the NHL at preventing scoring chances off the rush (per The Point Hockey) and, even though they allow their opponents a ton of possession time in their own zone, they finished middle of the road in expected goals against.
The Isles will let you have the puck until the cows come home, so long as you stay out of the danger areas. To a man, the Islanders are one of the most detail-oriented teams in the league and Trotz has the entire roster committed to keeping the puck out of harm's way.
---
Expected goals (also known as xG) is a predictive statistic that gives an indication of whether results are based on sustainable factors like a steady creation of scoring chances, or whether it is down to aspects such as shooting luck or outstanding goaltending.
Simply put, an expected goals rate (xGF%) above 50% is considered good because it means a team is creating the majority of the scoring chances. Anything below 50% is usually a sign that a team is struggling to control play.
xG numbers cited from Evolving Hockey.
---
As solid as the Isles are defensively, they struggle to score. If their defense leaks, the Islanders are in trouble as they aren't built to play catch up.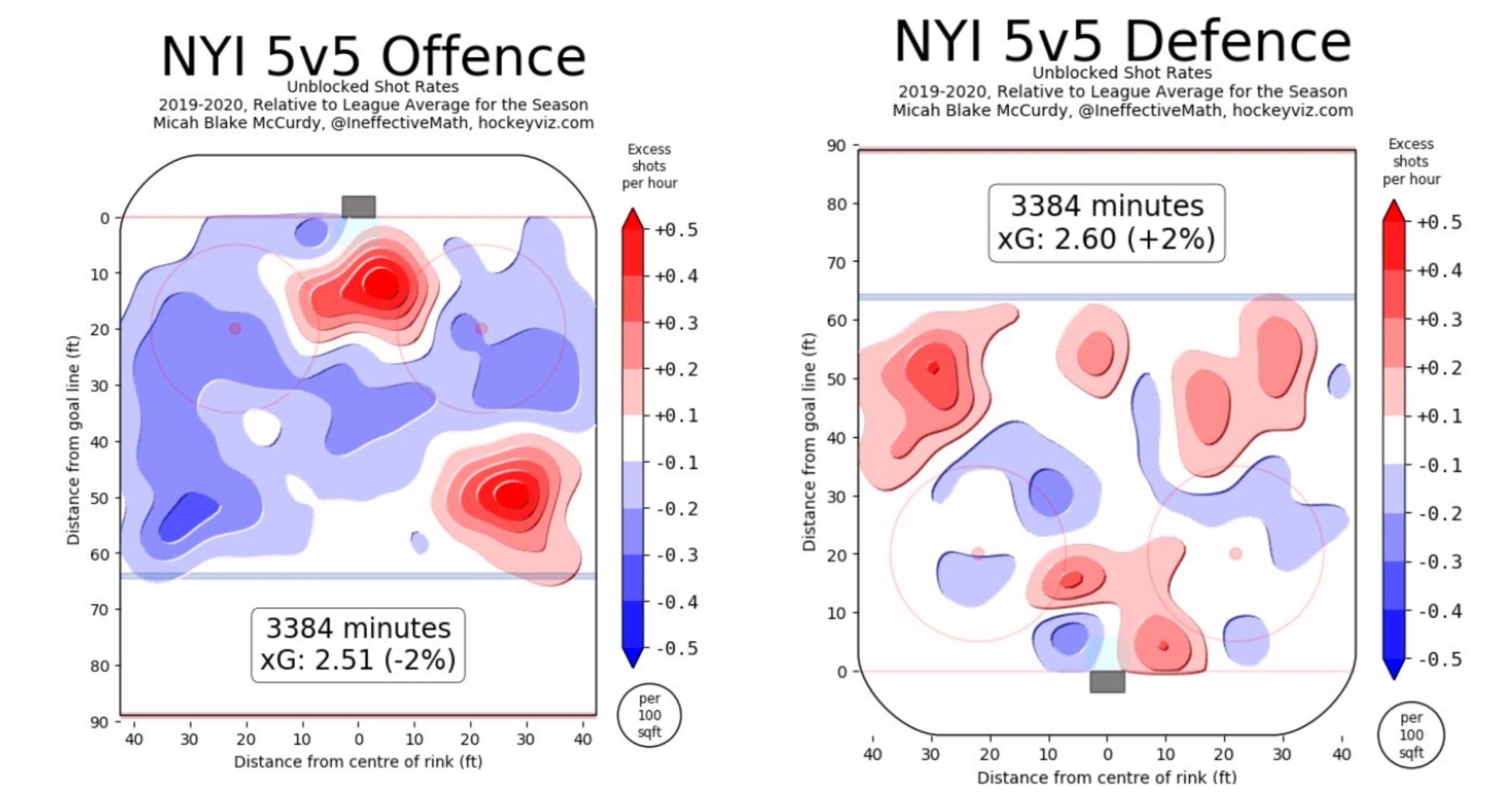 Mat Barzal is the only potential game-breaker on the roster but the Isles need all four lines rolling to compete. They have a terrific spine with Barzal, Brock Nelson, Jean-Gabriel Pageau and Casey Cizikas, but they lack oomph on the wings, especially in the bottom six.
The Islanders should be well covered in net with Semyon Varlamov and/or Thomas Greiss. Neither goaltender is a superstar but they both are reliable, which is not something we can say about what the Panthers are dealing with in their blue paint.
Florida Panthers
Outside of having a terrific head coach, the Florida Panthers don't have much in common with the New York Islanders. Where the Islanders are a good defensive team that lacks teeth up front, the Panthers are a scoring team that has a lot of trouble keeping the puck out of their own net.
Part of that problem is that the Panthers got no help from their franchise goaltender, Sergei Bobrovsky. The Russian netminder posted a -15.51 Goals Saved Above Expectation (GSAx) in 50 games with the Panthers and likely would have been the difference between the Cats making the playoffs and missing them in a normal season.
---
Goals Saved Above Expectation (GSAx) is an advanced statistic that measures a goaltender's performance against the quality of scoring chances he faced. It is a better catch-all metric compared to save percentage because every SV% counts every saved shot and goal the same, while GSAx weights shots by the quality of the scoring chance.
GSAx numbers cited from Evolving Hockey.
---
Bobrovsky doesn't get that much help from his defense, but his offense scores enough that if he gave them league-average goaltending the Panthers would be in a lot better shape.
There is a chance that Bobrovsky rebounds and finds his world-beating form from a couple of seasons ago, but it's hard to count on that happening. Should Bob bounce back, the Panthers aren't just a live dog in this series, but they could make noise beyond the qualifying round.
Florida's offense is top-heavy, but it is still very effective. Aleksander Barkov and Jonathan Huberdeau have become one of the NHL's most potent partnerships and they're backed up by sharp-shooter Mike Hoffman and the creative Evgenii Dadonov. It's a steep drop-off after those four, so that crew will need to do the heavy lifting, especially since Florida struggled at 5-on-5 during the regular season.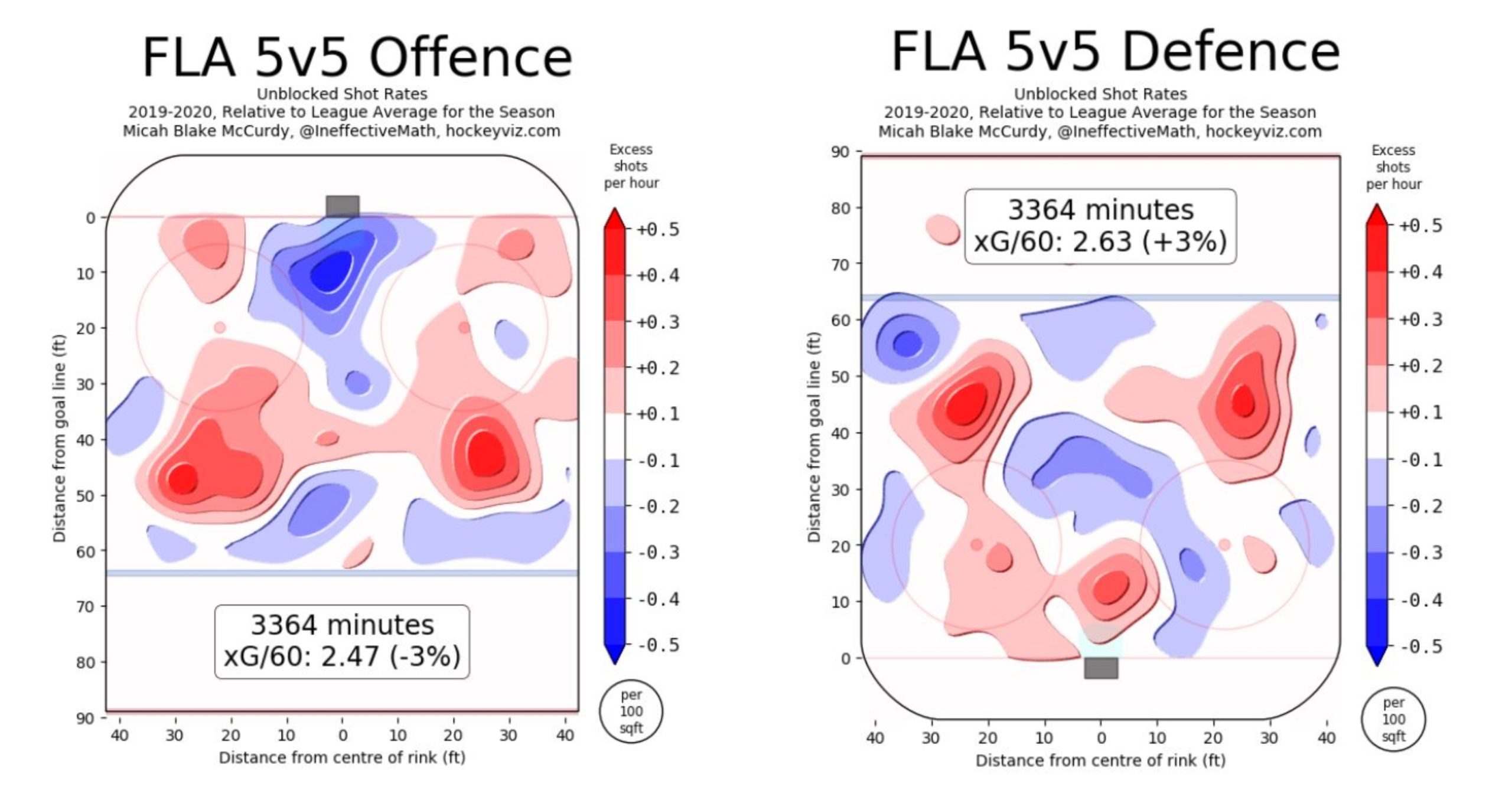 Even though the Panthers were above 50% in goal share with 2.82 GF/60 compared to 2.74 GA/60, they posted a 48.2% expected goals rate with 2.33 xGF/60 and 2.51 xGA/60.
The Panthers have enough scoring talent to beat their expected goals, but relying on their offense to cover up for a middling defense and poor goaltending will be a tall task, especially against a solid defense.
Betting Analysis
Even though they approach the game differently, there isn't all that much that separates these two teams on paper and the odds reflect that.
The Islanders won't knock your socks off but they're dependable, while the Panthers have a high ceiling but are a roller coaster ride. That's why I think the Panthers are better as a long-term bet (Eastern Conference, Stanley Cup, etc.) instead of a game-by-game play. Florida has a high enough ceiling that if you take the ride, you could get paid off handsomely.
That kind of payoff isn't going to come from betting on Florida to win a game or even the series, so if you're itching to bet the Panthers, I'd shoot for the stars.
As for the single-game market, I think the Isles are the better bet, at least for Game 1. I wouldn't say there's much value in anything above -115, but if you're just kicking back and want some action on the game, my money would go on the Isles, who are slightly better overall and more reliable than Florida.
How would you rate this article?