NHL Odds & Betting Picks: Dallas Stars vs. Colorado Avalanche Game 2 (Monday, August 24)
Credit:
Jeff Vinnick/Getty Images. Pictured: Blake Comeau
The heavily favored Colorado Avalanche look to bounce back from their Game 1 loss to the Dallas Stars Monday night in Edmonton.
Sam Hitchcock predicts another high-scoring affair between these two teams after a 5-3 final score in the series opener.
Read Hitchcock's full betting preview for Avalanche vs. Stars Game 2 below.
Stars vs. Avalanche Odds
---
Odds as of Sunday night and via DraftKings. Get up to a $1,000 sign-up bonus at DraftKings today or see more offers and reviews for the best online sportsbooks.
---
Saturday's loss to the Dallas Stars should be a jolt for the Colorado Avalanche. Avs Goaltender Philipp Grubauer left that game with an injury, shifting the responsibility to Pavel Francouz, who will continue between the pipes for Game 2.  Top-four defenseman Erik Johnson sat out the third period after suffering an injury early in the contest.
All this drama aggravates an inescapable fact after Game 1: The Dallas Stars are not cowed by their opponent. In Game 1, the Stars' style of play eroded a lot of the creativity and speed that's the hallmark of the Avalanche skaters.
Falling down 2-0 would be a virtual death knell for Colorado. But even with the uncertainties that come with Francouz playing in goal and the lingering questions of Johnson's health, it is hard to fathom Colorado getting wiped out so rapidly.
Nothing in the numbers suggest Colorado is ready to keel over. At DraftKings, Colorado is -165. That is quite high, but there is a danger to be suckered into recency bias. In other words, the Stars' success wasn't a gimmick, but they can still lose the series. I would grudgingly advise taking the favorite even though the price is steep.
Let's get into it all.
Colorado Avalanche
In Game 1, Dallas established the cycle early. The Stars had their defensemen taking a very aggressive posture on their pinches, and their forwards were adept at rattling the Avs' skaters on breakouts. These tactics were very effective, except with the Avs' top forward group.
The Nathan MacKinnon line collected all three even-strength goals, finishing with a 74.30% expected goals and 10 shots on goal at 5-on-5. Composed of MacKinnon, Gabriel Landeskog and Mikko Rantanen, and often playing with defensemen Cale Makar and either Ryan Graves or Samuel Girard, this Avs group had the speed to push Dallas back and enter the offensive zone with speed.
In the offensive zone, the MacKinnon line's three-wide set at the blue line had Makar and his left-handed partner sliding down or fanning out while MacKinnon helmed the point. At three wide, they sought to utilize Landeskog in the middle slot. This look was virtually unstoppable.
At 5-on-5, Colorado's other three lines mustered only 12 shots and allowed several ugly goals. Against the Colorado bottom-nine forwards, the Stars defensemen stepped up in the neutral zone to disrupt passes and stymie the transition. The Stars' defensemen could be emboldened because their forwards provided ample back pressure, taking away passing lanes and allowing their defensemen to keep tight gaps on entries.
With only one line producing, Colorado coach Jared Bednar has a decision to make in Game 2: Does he split up MacKinnon and Landeskog or should he not overreact and hope that the supporting forwards come through with a positive impact?
Put differently, Dallas is demanding that the Avs' non-MacKinnon lines create offense through their forecheck. Can Colorado achieve this against a very mobile Dallas defense that will overload on the puck below the goal line? And even if the forecheck does succeed, can Colorado's defensemen boost the cycle without conceding counterattacks to Dallas?
If Bednar wants to keep the MacKinnon line together, it would be advisable to jumble the second and third lines. Skepticism of the Nazem Kadri line is rooted in not just Game 1's performance but a healthy sample size of mediocre numbers during the regular season.
Kadri played 125 minutes with Andre Burakovsky and Joonas Donskoi and they saw their opponent create more shots and shot attempts. Their expected goals was 40.50%. The other team generated twice as many high-danger chances when they were on the ice. Bednar should feel no constraint about mixing up the second and third lines.
The wild card in this matchup is Francouz. During the regular season he posted impressive numbers, finishing with a 2.68 Goals Saved Above Expected (GSAx) and 11.11 Goals Saved Above Average. In GSAA, he was top ten among all goaltenders. In both statistics, he far exceeded his colleague Grubauer despite splitting time with him. Stars goaltender Anton Khudobin made a few key saves in Game 1, but it will be interesting to see if Francouz gives the Avs any goaltending edge. Conversely, with his relative lack of NHL experience, it is also in the realm of possibility that he becomes a detriment.
Dallas Stars
Accountability doesn't rouse excitement, but the bureaucratic banality that suffuses the Stars' play is working against the Avs. Dallas was the more responsible team in every facet in Game 1 and that chipped away at Colorado's luster.
First, Dallas made an earnest effort to stay out of the penalty box, only affording Colorado one powerplay chance. The Avs are converting on nearly 30% of their power-play chances, so keeping the game at 5-on-5 was a coup for Dallas.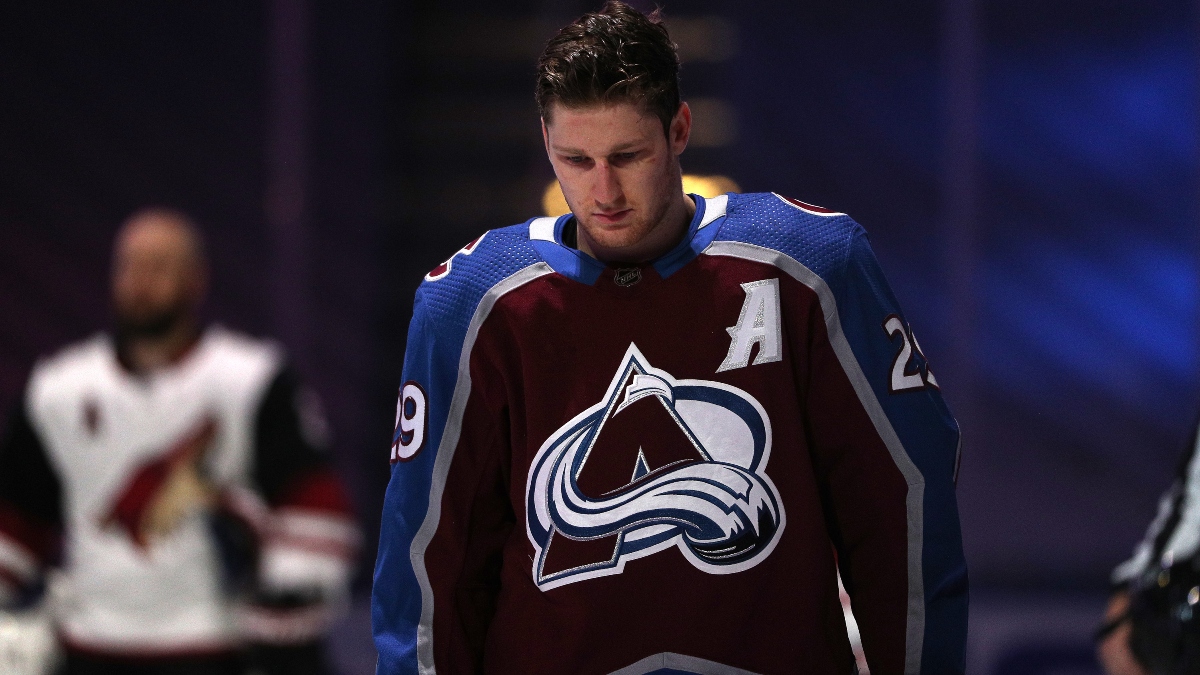 Second, the Stars create matchup problems for the Avalanche. They use a shutdown forward line of Blake Comeau-Radek Faksa-Andrew Cogliano and the very talented Miro Heiskanen and Jamie Oleksiak defensive pairing against the MacKinnon line. By attempting to somewhat neutralize the Avs' star line, they produce easier matchups for their other three forward lines where the skill is nicely distributed.
The Tyler Seguin line was the most productive, but the Denis Gurianov line (with Joe Pavelski) may have been the most consistently dangerous in Game 1. Gurianov saw more time against Ian Cole than against any other Colorado defenseman and when he was on the ice Dallas generated six shots while allowing zero. Dallas coach Rick Bowness has to be thrilled that Colorado employed the defensively deficient Kadri line against them.
Finally, by pilfering pucks in the neutral zone and not allowing Colorado to establish possession in the offensive zone, the Stars had the Avs constantly retrieving the puck in their own end.
Dallas won the expected goals battle in all three periods because it applied pressure and forced turnovers on Colorado breakouts. When those turnovers happened, Colorado could get messy in its defensive coverage.
The frenetic play of Colorado had been a feature of their creative-destruction offense. Dallas has turned that instinct on its head. Dallas wants to make the series procedural, like an audit.
How I'm Betting Stars-Avs
Game 1 was not a fluke. If Dallas hits +155, I think that is excellent value because the Stars are eminently capable of winning Game 2.
But as of this writing, Dallas is at +143 on DraftKings, which doesn't quite move the needle for me.
But since I think Colorado will win Game 2, I am endorsing them, somewhat tepidly, at -165.
Perhaps the best way to bet this game is by taking the over 5.5 at -103 — with the Avs' offense trying to outpace their depth concerns and defensive coverage issues, I'm banking on a high-scoring affair regardless of the winner.
How would you rate this article?