NHL Playoff Fantasy Pool Strategy & Picks: How to Come in First or Dead Last
Credit:
Darcy Finley/NHLI via Getty Images. Pictured: Blake Wheeler
I don't know if these pools have a universal name across sports, but the concept is simple — you pick a "fantasy team" of sorts before the postseason, and those players accumulate points until they're eliminated. It works for just about any sport with a bracket-style postseason, and it's always been somewhat popular in hockey.
There are a few different ways to run a pool like this:
Snake draft, where only one version of each player is owned. This will typically be amongst friends, with a max of eight entries, or else you'll quickly run out of goalies.
Everyone can pick the same players, so you'll end up with most of the pool owning Auston Matthews and Nathan MacKinnon. These pools will be bigger, and you need to differentiate yourself.
We'll be focusing on No. 2. It's the format our friends at MoneyPuck are using:
Pick two forwards and one defenseman from each of the four divisions.
Get 1 point for a goal, expected goal, or primary assist, and 0.5 points for a secondary assist.
These playoff elimination fantasy pools offer an extra level of strategic thinking because you must balance picking players who will put up points and advance so that they can continue scoring. You can't score if you're not playing.
MoneyPuck posted projections for playoff pools, complete with the most essential stat — projected games played. They've got Toronto the highest at 14.7 games played, and St. Louis the lowest at 6.7. Of course, the Stanley Cup finalists will end up playing 20-plus games, but these are averages based on MoneyPuck's projections.
| Team | Projected Games |
| --- | --- |
| TOR | 14.7 |
| COL | 14.3 |
| VGK | 12.9 |
| PIT | 12.6 |
| FLA | 12.5 |
| CAR | 12.3 |
| EDM | 12.1 |
| WSH | 11.9 |
| BOS | 10.5 |
| T.B | 9.9 |
| MIN | 9.36 |
| NSH | 8.93 |
| NYI | 8.6 |
| MTL | 8.2 |
| WPG | 7.9 |
| STL | 6.7 |
So how do you win a pool like this? You want to treat your roster construction like DFS and get leverage over the rest of the pool. And that means you want to get a little weird. Here are some strategies to help your team stand out, and the team I'm entering.
1. If You're Not First, You're Last
The goal of these pools is to win, or come very close to winning. Placing 45th of 350 is the same as finishing last.
This concept will inform the rest of my strategy, which I believe will increase your chances of winning, but also increase your chances of coming in dead last. If you planned to take McDavid, Matthews, MacKinnon and Stone, you'll finish 45th, and you can stop reading.
2. Pick Teams First, Then Players
In MoneyPuck's pool, you pick two forwards and a defenseman from each division. I'll be picking three players from the same team for each.
Why? In a pool this big, you can't split the baby. You're going to need to have a handful of players from both Stanley Cup finalists to win. Every round your players advance, their expected points scored go up significantly. If I nail the four semifinal teams, I feel like I'll have a good chance to win.
But what if I pick the wrong teams and they got knocked out in the first round? Shouldn't I split it up?
No. Splitting it up will help you finish in the top half of the pool, or maybe the top 20%. But it won't help you win. It may slightly increase the entertainment value you derive from this pool. But it won't help you win.
Picking teams will also help your players put up points together — known in DFS as stacking. When Mark Stone scores, there's a good chance Chandler Stephenson, Max Pacioretty or Shea Theodore were involved. Sometimes three. That's increasing your upside should the Knights go deep in the playoffs. Because to go deep, they need their best players to score.
I was in a pool last year with 12 forwards, so I did end up having exposure to more teams, but went heavy on Tampa and Vegas. In a big roster format, you'd likely rather have MacKinnon or McDavid than the sixth-option for a team you go heavy on.
3. Get Leverage on the Field
We don't have historical data on ownership in these types of pools because they're quite niche, but MoneyPuck posted the percentages of players used so far. MacKinnon, McDavid and Matthews are all north of 70%.
It also appears that most people aren't totally stacking teams — if MacKinnon is at 70%, Mika Rantanen should be closer to that, but he's at about 30%. It appears most people are taking the best player from the two best teams in each division, which should help me if I can nail the four semifinalists.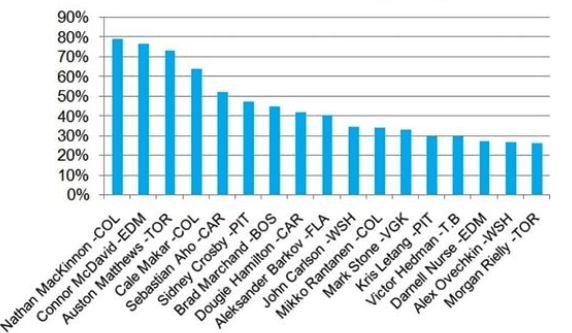 So how do you get leverage on the pool? You fade the highest-owned players, and parlay your own team's success with the failures of others.
If the Jets beat the Oilers in the first round, anyone who went heavy on Edmonton will be drawing dead. If I take Winnipeg and the Jets advance, I've eliminated those entries, and I'm getting points no one else is getting, because no one is going heavy on Winnipeg.
Based on implied odds from DraftKings, Winnipeg has a 40% chance to advance past Edmonton, but I can guarantee their best players will be owned by less than 5% of entries. McDavid's ownership will be north of 70%, but his team has just a 60% chance to advance.
Don't take the Blues, Jets, Predators and Islanders, but mix and match good teams with teams who no one wants but have some upside.
4. Find High-Usage Players & Lines
The best part about rostering McDavid is that he never comes off the ice on the powerplay. If Edmonton scores at 5 on 4, he's probably involved.
But the flaw in Edmonton's setup is that he and Leon Draisaitl don't play together at 5 on 5. You're eliminating some of your upside if you pair those two because their performance isn't as correlated as it could be.
Boston and Colorado play their top lines together at even strength and on the powerplay, so you have exposure to them at all times. If you're going to pick 2-3 players on the same team like me, make sure they're on the ice together a lot.
5. Add Goalies to Your Stack
If your pool features goalies, you'll want to pair your tender with your offense. When your offense is scoring, it means your goalie is winning, and advancing so he can win more games. Connor Hellebuyck, Andrei Vasilevskiy and Semyon Varlamov would be my favorite plays if MoneyPuck's pool used goalies.
6. My Team
Hopefully points 1-5 were compelling enough that you now trust my line of thinking, even if you don't trust me. Which is fair. Here are the guys I'm using in MoneyPuck's pool.
East Division
Forward 1: David Pastrnak (BOS)
Forward 2: Patrice Bergeron (BOS)
Defenseman: Charlie McAvoy (BOS)
This was the one division where I thought about taking a rogue defenseman like John Carlson, but I'll stick with the three-man stack, especially since Boston and Washington play in the first round. Marchand will be the highest owned of the three, so getting Pastrnak and Bergeron at much lower ownerships with almost identical upside is appealing.
My other option here would be heavy on the Islanders. This division is much more up for grabs than people think, but ownership will skew heavy toward Pittsburgh, then Washington and Boston. If New York advances out of this pod, it's likely Mathew Barzal put up some points.
North Division
Forward 1: Mark Scheifele (WPG)
Forward 2: Kyle Connor (WPG)
Defenseman: Neal Pionk (WPG)
This is my spot to get massive leverage on the field. If Winnipeg wins two rounds, it will essentially eliminate any entries that went heavy on Toronto or Edmonton, which I'd guess will be over than 50%. Maybe more. Connor Hellebuyck just needs to steal a series or two.
I went with Pionk to tie his powerplay usage to Scheifele and Conner, and might be one of about five people to use Neal Pionk.
The second option here is go heavy on Toronto or Edmonton, then get contrarian in one of the other divisions with the Islanders, Panthers or even Wild.
The third option is to truly fade Toronto and take Montreal, which I don't hate either. No one is going to use the Habs, and their even-strength possessions numbers were still pretty strong this season.
Central Division
Forward 1: Nikita Kucherov (TB)
Forward 2: Brayden Point (TB)
Defenseman: Victor Hedman (TB)
My decision was made for me after seeing early ownership percentages with Carolina's Sebastian Aho and Dougie Hamilton both north of 40%.
Kucherov is the ultimate upside play. If he flops, or isn't healthy, you may actually finish last. Again, who cares.
But if he's himself, you have a top 5 player in the NHL on an elite team owned by almost no one else in the pool.
It's unclear where Kucherov will play, but he has been working with the first powerplay unit. I thought about going ultra-contrarian and going with Steven Stamkos, too, but I don't think Brayden Point will be highly owned anyway.
West Division
Forward 1: Mark Stone (VGK)
Forward 2: Chandler Stephenson (VGK)
Defenseman: Shea Theodore (VGK)
I always take Vegas in pools like this because they're impossibly good and tend to be the contrarian play relative to Colorado. Max Pacioretty is banged up, so Chandler Stephenson it is. I don't know if he's any good but Stone makes him good.
You can take Colorado, just make sure you're taking some underdogs elsewhere, like the Jets or Canadiens in the North.
How would you rate this article?