NHL 2019-20 Season Betting Preview: Are Any Favorites Worth an Investment?
Credit:
The Tampa Bay Lightning are Stanley Cup Favorites in 2019-20. John E. Sokolowski, USA Today Sports.
The Tampa Bay Lightning are 7-1 favorites to win the 2020 Stanley Cup, and 14 teams sit behind them with at least 20-1 odds or better.
Below we dive into each team's season outlook, and examine if any are worth a future bet.
Longshots have been the story in the NHL the past two seasons. In 2017-18, the Vegas Golden Knights famously made it to the Stanley Cup Final in their inaugural season. Last year, the St. Louis Blues touched 250-1 midseason before going on a historic run to hoist Lord Stanley.
Adjustments have been made.
Coming into '18-19, there were nine teams with odds at 80-1 or higher. This year, there are four. In fact, there are only five with odds longer than 50-1 at PointsBet.
Meanwhile, the top of the board is absolutely crowded. At the time of writing, 15 of the 31 teams in the NHL have odds of 20-1 or shorter.
The NHL prides itself on parity, but this is a little ridiculous.
Tampa Bay Lightning 7-1
Boston Bruins 10-1
Toronto Maple Leafs 11-1
Vegas Golden Knights 11-1
Dallas Stars 14-1
St. Louis Blues 15-1
Colorado Avalanche 16-1
Nashville Predators 16-1
Washington Capitals 16-1
Calgary Flames 18-1
San Jose Sharks 18-1
Carolina Hurricanes 20-1
Pittsburgh Penguins 20-1
Florida Panthers 20-1
Winnipeg Jets 20-1
---
Odds via PointsBet, where Action Network users get an exclusive 200% deposit match (deposit $50, bet with $150).
---
Winnipeg Jets
Stanley Cup Odds: 20-1
Season Point Total: 93.5
Odds to Make Playoffs: Yes -167, No +130
We'll start at the bottom of this list with a team that should be a good fade candidate heading into the campaign. Despite almost winning the Central Division and making the postseason, the Winnipeg Jets underwhelmed against high expectations in 2018-19.
Even though they were in the Central Division hunt all season and finished with 99 points, the Jets always looked like an empty suit last year. Winnipeg's expected goals rate (48.02%) was below average and the Jets were not the possession juggernaut they were the previous season.
After a solid campaign in 2017-18, Connor Hellebuyck came back to earth last season and ended the year with a -6.91 Goals Saved Above Average. In fact, if it wasn't for back-up goalie Laurent Brossoit — who finished with a +9.34 GSAA in 21 games — the Jets may have been in big trouble.
We don't know what type of goaltender Hellebuyck will be in 2019-20, but it's hard to expect Brossoit to put up the same kind of numbers again if Hellebuyck falters.
The goaltending will be under the microscope in '19-20 because the Jets' defense has turned into a pumpkin this offseason. Not only did Winnipeg trade Jacob Trouba (for pennies on the dollar) to the Rangers, but Dustin Byfuglien is taking a leave of absence and won't start the season with the team.
With the Jets down their two best defensemen from last season, Josh Morrissey will step into a much bigger role. Morrissey has looked good thus far in his NHL career but carrying this kind of workload may be asking too much.
Winnipeg's best path to success is by relying on its talented group of forwards. Any team with Mark Scheifele, Blake Wheeler, Patrik Laine, Kyle Connor and Nikolaj Ehlers on its roster has a chance to be good, but each of them will need to stay healthy and produce consistently to keep Winnipeg alive in the Central Division.
There are just too many alarm bells going off here to be confident in the Jets. I think the Jets are 50/50 at best to make it to the postseason, so +130 on them to miss the playoffs is a good bet.
Florida Panthers
Stanley Cup Odds: 20-1
Season Point Total: 94.5
Odds to Make Playoffs: Yes -200, No +135
The number seems a little short on the Florida Panthers, but I certainly understand why the betting has gotten a bit out of hand. The Panthers come into the new season with considerable hype after signing top-five goaltender Sergei Bobrovsky and hiring three-time Stanley Cup winner Joel Quenneville as head coach.
The Panthers have a dynamic, young core and they aren't short on high-end talent, so buzzy offseason moves were always going to cause an overreaction.
I think the Cats will be good, but I'm a little more bearish on them than the market is. Florida's season points total sits at 94.5 points and that seems fair in a vacuum, but the Panthers are no sure thing.
Bobrovsky grades out as one of the best goaltenders on the planet and his +61.6 Goals Saved Above Average over the past three seasons is the best in the NHL. However, goaltending is such a volatile position that a down season from 'Bob' isn't out of the question and it could be disastrous because he's got an unproven backup and Florida's defense isn't impressive.
Florida is a solid group, but its path to the Stanley Cup. The Panthers play in the Atlantic Division with the three Stanley Cup favorites (Tampa, Boston and Toronto) and another borderline-playoff team in Montreal. Having Florida priced with the Penguins and Hurricanes, who should have an easier path to the Cup, just shows you that the offseason hype is driving up this price.
I'm not getting involved with the Panthers in any way before the season, but if their futures price reflects how the market views them, I suspect they will be very overrated on a game-to-game basis in the early part of the season.
Pittsburgh Penguins
Stanley Cup Odds: 20-1
Season Point Total: 95.5
Odds to Make Playoffs: Yes -182, No +140
Considering the Pittsburgh Penguins have flown somewhat under the radar this offseason. The Pens made one significant move this summer, trading Phil Kessel to the Coyotes for Alex Galchenyuk.
Losing a player with Kessel's offensive profile isn't a good thing, but it was clear his time was up in Steel Town. Galchenyuk has not come close to living up to the potential of being a No. 3 overall draft pick, but riding shotgun next to Sidney Crosby and Geno Malkin does wonderful things for a career.
The knock on the Penguins is that their defense is top heavy and an injury to Kris Letang and/or Justin Schultz will mean the Pens will need to rely on a Jack Johnson and Erik Gudbranson too much. Johnson is one of the league's worst blue-liners and Gudbranson was right there with him, but the latter actually had some success when he was traded from Vancouver.
Matt Murray and Tristan Jarry project to be a slightly above-average goaltending tandem and the good news is that Pittsburgh's offensive firepower can cover up the blemishes on defense.
I stay away from preseason favorites when it comes to betting Stanley Cup futures, but of all the teams on this list, I think the Penguins carry the most value in terms of outright futures. At 20-1, you'd need Pittsburgh to win the Stanley Cup just about 5% of the time to have value and I don't think that's out of the question.
Perhaps a savvier strategy is to wait out the first month of the season and bite on the Penguins if they stumble out of the gates but put up strong peripheral numbers.
Carolina Hurricanes
Stanley Cup Odds: 20-1
Season Point Total: 94.5
Odds to Make Playoffs: Yes -157, No +121
This will be the first time in about a half decade that I won't be investing in a Carolina Hurricanes outright future before the season.
Going by the odds, the Canes are expected to battle with the Penguins and Washington Capitals in the wide-open Metropolitan Division.
The Hurricanes have built a reputation for being a trendy dark horse over the past few seasons, but this year will be different. A run to the Eastern Conference Finals and an impressive offseason have vaulted Carolina from sleeper to contender and there are very few teams with a higher ceiling than the Canes.
Carolina finished last season with the best xG rate in the league, but just the 12th-best goal share. That suggests there's still room to grow and given how well things went for Carolina this offseason, there's a good chance they are even better.
The offense, headlined by Sebastian Aho, is dripping with talent and Andrei Svechnikov showed all the signs of being a star in an impressive rookie campaign. For most teams, a forward group that consists of Aho, Svechnikov, Teuvo Teravainen and Nino Niederreiter would be the clear strength of the roster, but for Carolina it is actually the defense that deserves the most shine.
Carolina's defense was one of the best units in the NHL last season and it only got stronger in the offseason. The addition of Jake Gardiner from Toronto gives the Canes a top four of Jaccob Slavin, Dougie Hamilton, Brett Pesce and Gardiner.
As is always the case with the Canes, this season will come down to goaltending. Petr Mrazek made good on a one-year show-me contract with Carolina last season, but he's going to need to at least repeat his .931 5-on-5 save percentage and +8.24 GSAA from last season.
Mrazek only played 40 games in 2018-19 because the Hurricanes had the dependable Curtis McElhinney backing him up, but McElhinney has been replaced by James Reimer, who has struggled in recent seasons, and that could mean an expanded workload for Mrazek.
Carolina's season point total currently sits at 94.5 points and I think there's good value on the over, but in terms of outright odds, I'm approaching the Hurricanes in the same fashion as I am working with the Penguins.
I think you can make a case that Carolina wins the Stanley Cup 5% of the time, but the number is too short for my liking and I'm instead happy to wait and see if Carolina's odds lengthen if the Canes get off to an uninspiring start.
San Jose Sharks
Stanley Cup Odds: 18-1
Season Point Total: 95.5
Odds to Make Playoffs: Yes -358, No +250
The San Jose Sharks came within two games of making their second Stanley Cup Final in the past four seasons.
San Jose feels like a known commodity at this point, but the Sharks had a bit of a changing-of-the-guard offseason with Joe Pavelski walking out after spending 13 seasons with San Jose. Pavelski was the team's best right-winger and his absence will leave a big hole in San Jose's top six.
That's not to say the Sharks aren't still formidable up front, as Timo Meier is well on his way to being a star and Logan Couture, Evander Kane and Tomas Hertl are all great players in their own right.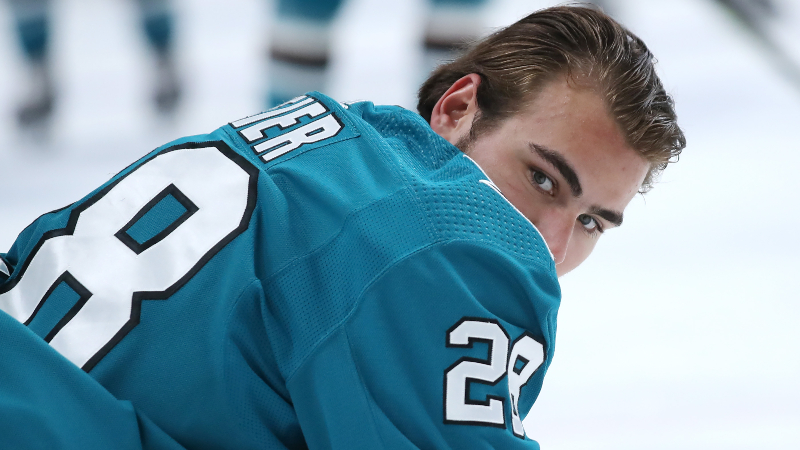 San Jose's defense is an attention-grabber with Erik Karlsson and Brent Burns giving them a 1-2 punch few teams in NHL history have ever had the luxury of on the blueline.
There's plenty of high-end talent to make San Jose relevant and they shouldn't have any trouble getting to the postseason in a very weak Pacific Division, but I'm not sure how high the team's ceiling is, especially considering the situation in the blue paint.
At this point I've given up on trying to figure out Martin Jones. He was terrible for San Jose in the regular season and then began to stand on his head in the postseason.
The players in front of Jones didn't make life particularly easy for the enigmatic goaltender, as his .913 expected save percentage (5-on-5) was the third-lowest mark in the NHL among goalies who appeared in at least 30 games last season. Jones still underwhelmed, posting a .898 5-on-5 save percentage.
The prices on the Sharks seem appropriate and I'm not looking to get involved with them preseason.
Calgary Flames
Stanley Cup Odds: 18-1
Season Point Total: 97.5
Odds to Make Playoffs: Yes -251, No +185
The Calgary Flames were both a pleasant and unpleasant surprise in 2018-19. After romping through the regular season and grabbing the No. 1 seed in the Western Conference, the Flames were unceremoniously dumped by the Colorado Avalanche in Round 1.
It took 82 games for the Flames to vault themselves onto the radar as a contender and just five for it all to come crumbling down.
Under the hood, things looked great all season long for Bill Peters' charges. They finished third in the NHL in goal share and eighth in expected goals. Calgary has plenty of top-end scorers led by Johnny Gaudreau, Sean Monahan and Elias Lindholm. That top line is easily one of the 10 best trios in the NHL and they are backed up by a strong group of secondary scorers.
The defense, led by Mark Giordano, remains above average and could end up being a top-10 unit if Rasmus Andersson continues to grow into his game.
The pieces are still there for the Flames and they have the luxury of playing in the Pacific Division, so a playoff spot should be the expectation. But once again, this team looks like it will be sunk by goaltending.
The team tried to address the issue in the offseason by letting Mike Smith walk and bringing in Cam Talbot, but there's not much of an upgrade there. Talbot has had one sensational season but outside of that he's been mediocre at best.
The Pacific Division has enough cannon fodder to make a playoff berth pretty likely for Calgary, but I think they will take a step back from the number of points they posted last season, though the edge isn't big enough to back the under.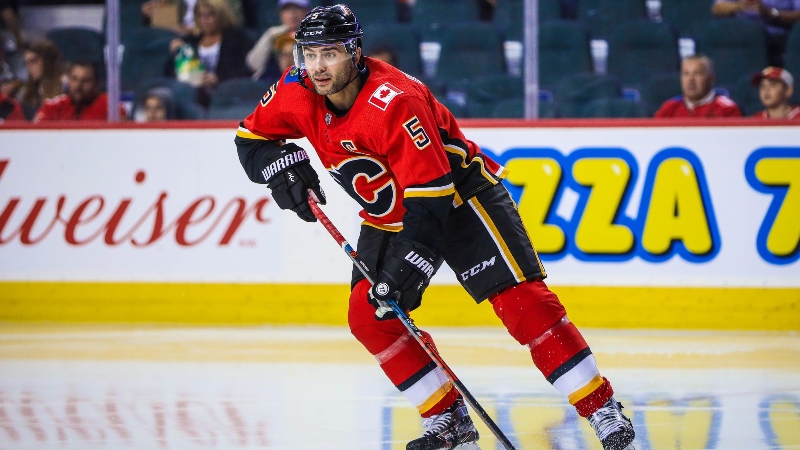 Washington Capitals
Stanley Cup Odds: 16-1
Season Point Total: 99.5
Odds to Make Playoffs: Yes -527, No +341
The price on the Washington Capitals is definitely too short, but 2019-20 should be another typical season for Alex Ovechkin and Co.
Things look solid up front as Todd Reirden has a terrific top six headlined by Ovechkin, Evgeny Kuznetsov, T.J. Oshie and Nicklas Backstrom. Those four lead the charge but the emergence of Jakub Vrana has given the top of Washington's lineup card some balance.
Washington's underlying numbers are usually a bit suspect — the Capitals finished with a 47.6 xG% in 2018-19 — but their shooting talent is elite and they have a top-5 goaltender in Braden Holtby.
I've got the Capitals, Hurricanes and Penguins on basically level terms heading into the season, so I don't see much value here.
Nashville Predators
Stanley Cup Odds: 16-1
Season Point Total: 98.5
Odds to Make Playoffs: Yes -435, No +300
The Nashville Predators won the Central Division with 100 points in '18-19 but it was a bumpy ride for the Preds, who were unceremoniously dumped by the Dallas Stars in Round 1 of the postseason.
Under the hood everything looked good for the Predators. Peter Laviolette's team finished 11th in expected goals and eighth in Goal Share (GF%) at 5-on-5. That didn't stop trigger-happy general manager David Poile to shake things up summer, essentially offloading P.K. Subban so the Preds could sign Matt Duchene.
That move changed Nashville's identity a bit, going from a team known for its elite defense to a balanced squad in all areas of the ice.
Duchene, Ryan Johansen, Viktor Arvidsson, Filip Forsberg and Mikael Granlund gives Nashville some pizzazz at the top of the lineup card and if Kyle Turris can find his game in a less-pressured role, the Preds could have one of the league's most effective top-sixes in the circuit.
I have Nashville as the second-best team in the Central, but there's nothing that excites me enough for a pre-season investment on the Preds.
Colorado Avalanche
Stanley Cup Odds: 16-1
Season Point Total: 95.5
Odds to Make Playoffs: Yes -286, No +210
When the market was set for the 2019-20 season, the Colorado Avalanche were the first team to catch my eye. The Avs were near the top of the board and were slapped with a 100.5-point Over/Under.
Sure, the Avalanche are a team on the rise with a terrific goaltender and a bonafide superstar, but are they a 100-point team with a 6% chance of winning the Stanley Cup?
Not quite.
The market agreed with my original assessment of Colorado and the Avs' season point total has been bet down to 95.5 points, which is much more appropriate for the Avalanche.
There are plenty of reasons to be optimistic in Colorado. The Avs feature one of the best lines in hockey, their young defense will only continue to get better and Philipp Grubauer looks like he's becoming one of the best goalies in the league.
More likely than not, Colorado is a playoff team and is in the thick of the race for the Central Division. I wouldn't be confident in backing them to reach loftier heights than that.
If the preseason buzz surrounding the Avalanche carries into the regular season, they should be overvalued on a game-to-game basis and there should be opportunities to fade the Avs at good prices.
St. Louis Blues
Stanley Cup Odds: 15-1
Season Point Total: 95.5
Odds to Make Playoffs: Yes -334, No +235
After winning the Stanley Cup for the first time in their 51-year history, the St. Louis Blues are 15-1 to repeat.
Defense won the championship last season and if the Blues repeat, it will be on the strength of their defensive play.
St. Louis finished third in xGA/60 and High-Danger Chances Allowed per 60 last season and it got terrific goaltending from Jordan Binnington after the New Year.
Not much has changed for St. Louis heading into this season. The Blues lost Patrick Maroon to free agency and swapped Joel Edmundson for Justin Faulk.
There aren't many holes to poke in this roster, but if I had to take a shot at doing so, I'd start with the goaltending, as weird as that may sound after Binnington's other-worldly run last spring.
Goaltending is difficult to predict and the sample size on Binnington is still small enough that I'd be a little weary of penciling him in as one of the league's best net minders. We've seen goalies get hot at the right time in the playoffs and then come back down to earth (Cam Ward, Connor Hellebuyck, Matt Murray) before, so a step back is not out of the question.
St. Louis should be right in the mix again this season and I think anything higher than 16-1 to win the Stanley Cup is worth a look, but backing a team at short odds in a brutal division doesn't seem like a great idea.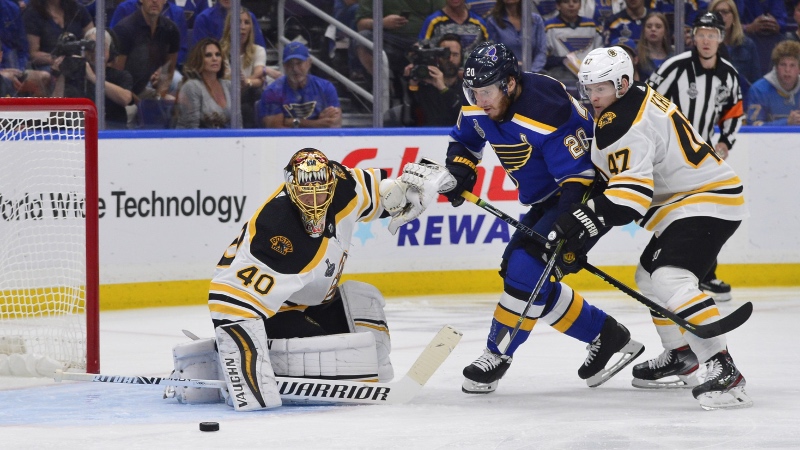 Dallas Stars
Stanley Cup Odds: 14-1
Season Point Total: 95.5
Odds to Make Playoffs: Yes -286, No +210
The Dallas Stars were so close last spring, falling to the Blues in double-overtime of Game 7 of Round 2. One more good bounce here or there and who knows what could have been.
You'd think a team that is headlined by Tyler Seguin, Alex Radulov and Jamie Benn would be built around offense, but head coach Jim Montgomery turned the Stars into a sturdy defensive ship last winter. Dallas finished eighth in xGA/60 and third in GA/60. The delta between the Stars' expected goals against and actual goals against can be chalked up to a fantastic season from goaltender Ben Bishop.
Bishop was deservedly nominated for the Vezina Trophy and Anton Khudobin is one of the league's stronger backups, so there's a good Plan B if Bishop stumbles or gets hurt.
It's hard to imagine the Stars will change much about their game this season, but they did add a big piece to their top six. Joe Pavelski may be 35, but he's still a first-line caliber player and will give Dallas some much needed scoring balance.
Dallas' defense features two of the game's rising young stars, John Klingberg and Miro Heiskanen, but the supporting cast leaves something to be desired.
The Stars have taken some money and shortened all the way to 14-1. I think that number overrates them, but I don't see any value fading them with an Under (95.5 points).
Instead, I will be keeping a close eye on how the Stars are priced in the day-to-day market. They are the second favorite to win the Western Conference at PointsBet and if they are priced that way on a daily basis, there should be some good value going the other way.
Vegas Golden Knights
Stanley Cup Odds: 11-1
Season Point Total: 100.5
Odds to Make Playoffs: Yes -334, No +235
The Knights are even-money favorites to win the Pacific Division and, while that number is short, it gives you an idea of what to expect from Vegas in its third season.
Mark Stone is one of the league's best all-around players and his arrival at the trade deadline turned Vegas' top-six into the best group in the Western Conference.
The bottom half of Vegas' forward group isn't anything spectacular, but they don't need to be anything more than effective given who is playing in front of them. They have a higher ceiling than that, though, as Alex Tuch, Cody Glass and Brandon Pirri should provide some offensive upside.
The Knights defense may be lacking in household names, but it's a solid group. Nate Schmidt and Shea Theodore both could play on a No. 1 pairing while Brayden McNabb and Jon Merrill grade out fine as top-four guys. There may not be anything to write home about with this unit, but there's nothing to be alarmed about, either.
Marc-Andre Fleury will once again be asked to shoulder the load in goal and he's been a top-10 goalie in his two seasons with Vegas. 'Flower' is turning 35 in November and Malcolm Subban doesn't exactly inspire confidence behind him, so if there is a flaw to be pointed out, it's there.
As long as things don't go horribly wrong in goal and the Knights aren't crippled by injury I don't see them having much trouble putting up 100 points in the softest division in the NHL. I won't be investing on them in the preseason, but I wouldn't argue against anybody taking the over even at triple digits.
Toronto Maple Leafs
Stanley Cup Odds: 10-1
Season Point Total: 104.5
Odds to Make Playoffs: Yes -1667, No +700
The Toronto Maple Leafs are once again among the Stanley Cup favorites and are one of the most talented teams on the planet. Unfortunately, they play in the same division as the other two Stanley Cup favorites.
Anything under 100 points would be surprising from this group, but it's not the regular season that matters for a team that hasn't won a Stanley Cup since 1967 — they also haven't won a playoff series in 15 years.
This is as good a chance as the Leafs will get at ending the hoodoo.
It all starts with the forwards in Toronto and this group can be summed up pretty succinctly. It's scary good. Toronto's got an enviable amount of elite-level forwards and there's very little doubts about their ability to score.
The other end of the ice is a different story, though.
The Leafs struggled to suppress scoring chances last season, allowing the seventh-most expected goals against per 60 minutes at 5-on-5.
The team addressed some of its shortcomings on defense by acquiring Jake Muzzin at the trade deadline and Tyson Barrie this summer, but this group is slightly above average at the moment. The Buds score enough to provide cover for their defense and Frederik Andersen is among the league's best goalies, so it's not a huge red flag by any means.
It goes without saying, but Andersen's health could be what determines how far Toronto goes in '19-20. The team's high-risk, high-reward style puts an onus on the defense and if Andersen goes down and the Leafs need to rely on Michael Hutchinson in goal it could all come down.
The Leafs are deservedly among the Stanley Cup favorites, but these odds are incredibly short for a team that will need to deal with Boston and Tampa Bay. It's a fascinating race to watch, but not one I'll be betting on.
Boston Bruins
Stanley Cup Odds: 10-1
Season Point Total: 101.5
Odds to Make Playoffs: Yes -556, No +360
While the Leafs are looking to win by out-scoring their opponents, the Bruins are the poster child for grinding out results. It's hard to find a team in the league that is better at winning 2-1 or 3-2 games than Boston.
The Bruins allowed the second-fewest goals against, expected goals against and high-danger chances against per 60 minutes at 5-on-5 in '18-19 and that's been the B's M.O. for a generation.
That type of defensive profile, coupled with elite talent at the top of their roster on all ends of the ice makes Boston a perennial contender.
I don't have any doubts the Bruins will be back in the hunt again this spring, these numbers just aren't worth betting into, especially with the Bruins having to deal with the Maple Leafs and Lightning.
Tampa Bay Lightning
Stanley Cup Odds: 7-1
Season Point Total: 110.5
Odds to Make Playoffs: Yes -2000, No +850
Despite a shocking first-round exit last spring, the Tampa Bay Lightning are still the cream of the crop in the NHL.
Tampa Bay's forwards are a known commodity at this point. Nikita Kucherov, Steven Stamkos and Brayden Point are all head-turning talents and the depth behind them is terrific. Yanni Gourde, Ondrej Palat, Anthony Cirelli and Mathieu Joseph all bring a lot to the table and give Jon Cooper the luxury of rolling four lines night in and night out.
The defense in Tampa Bay doesn't get the credit that the offense does, but this group can play with any other sextet in the league. Victor Hedman leads the charge, but Ryan McDonagh, Mikhail Sergachev and Erik Cernak give the Bolts a tremendous top four.
Even though they were closing in on the cap, the Bolts made two savvy adds this summer by bringing in Kevin Shattenkirk as a third-pair defenseman and Curtis McElhinney to back up Vezina-winner Andrei Vasilevskiy.
Shattenkirk's game fell off a cliff as the No. 1 guy with the Rangers, but Tampa Bay is bringing him on to be a third-pair rearguard with some offensive upside. He should be a positive contributor in sheltered minutes.
The signing of McElhinney didn't make any headlines, but it shored up Tampa's biggest roster weakness from last season. Gone are the days where teams ask their No. 1 goalie to play 70 games a season, so bringing in a proven commodity behind Vezina-winner Andrei Vasilevskiy should pay off down the road.
The Lightning are the most likely team to win the Stanley Cup, but it's not a foregone conclusion. Their 7-1 odds imply there is an 87.5% chance the Cup eludes them once again in 2020.
How would you rate this article?