Cash, Chips or Check? A Day in the Life of 2 Longshot Blues Bettors Collecting $150K
Credit:
Darren Rovell. Pictured: Scott Berry
Scott Berry and Brendan Chapel, two friends and St. Louis Blues fans, won a combined $150,000 (on just $600 in wagers) when their hometown team won the Stanley Cup.
Darren Rovell tagged along on Tuesday as they flew from St. Louis to Vegas and collected their winnings.
LAS VEGAS — When you win $100,000 on a bet, how exactly do you collect it?
After weeks of turning down money to hedge out of his $400-to-win-$100,000 wager on the Blues to win the Stanley Cup, Scott Berry arrived in Vegas on Tuesday via a private plane with a wrestling style championship belt and his ticket.
The 31-year-old healthcare software salesman was flanked by his biggest supporters over the last couple of weeks, his Beta Theta Pi fraternity brother at Mizzou, Brendan Chapel, and his brother Tad, who lives with his family three doors down from Scott on the same cul de sac.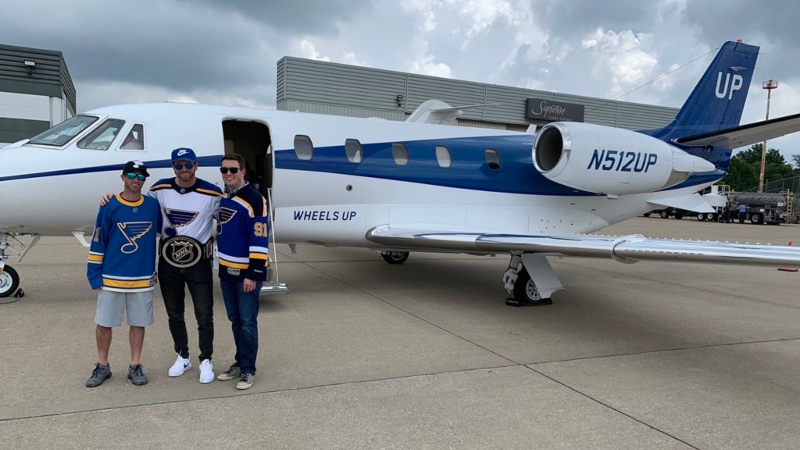 On Jan. 15, The Blues were 250-1 to win all. They had a record of 20-19-5 and had not shown much hope. But Berry was a crazy homer and thought he had gotten a steal with the odds on his $400 bet. So he went on the group text he has for the Dilly Dilly's, the roller hockey team he plays on every Sunday, and sent a text to let people know it was 250-1 at the Paris Hotel.
It was 4:36 p.m. local time.
Chapel happened to be in town for work, as well. He saw the text. Three hours and three minutes later, Chapel was at the Paris sportsbook. He had settled on a $200 bet to net $50,000.
"My wife thought I was crazy and didn't want me to bet," Chapel said. "But then a beer or two in, you're feeling pretty good for yourself."
Heading to the $150,000 cash out. For the first time, the date of the bets are revealed — January 15. Their record was 20-20-5. pic.twitter.com/Qt0mdSW6Dd

— Darren Rovell (@darrenrovell) June 18, 2019
At the Paris, head bookmaker Bill Sattler wanted to know what the hell was going on. In his vast experience in Vegas, bettors wager on the longshots at the beginning of the season and rarely after that. Now two people have bet … the St. Louis Blues … in mid-January?
As the stories of Scott and Brendan became well known, so too did the people telling them to hedge. That includes loved ones.
"I wanted him to take the $17,000 early on when that was offered to him," Tad, Scott's brother, said. "If we did that and then they won, that wouldn't be good."
Chapel admitted he was freaking out. The two turned down $35,000 and $71,000, respectively, via PropSwap with the Blues up 3-2 in the Stanley Cup Final.
Two excruciating, exhilarating games later, their blind faith paid off to the tune of $150,000 in winnings.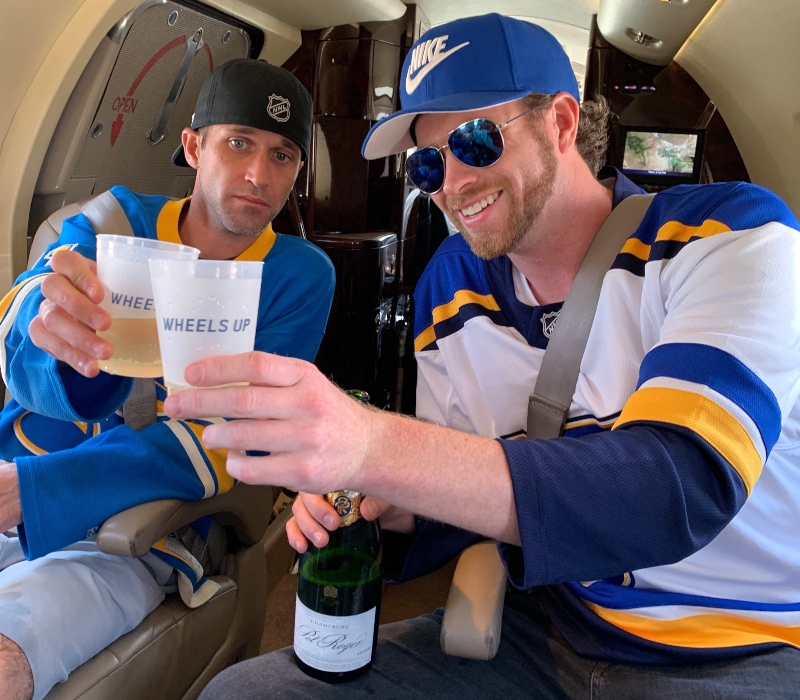 Chapel's wife wanted the $35,000. So he made a deal with her: He gets to keep the $15,000 windfall to himself.
Now here they are, back in Vegas, after a quick flight from St. Louis on a private plane provided by Wheels Up.
Scott's five-month-old ticket is fading. He protects it in a ziplock. Brendan has his in his wallet.
Sattler greets the duo as they enter The Paris.
The sportsbook director mentions how the Stanley Cup bets started to come on his radar in late March. Sattler also reveals the $600 in wagers between Scott and Brendan immediately shifted the odds from 250-1 to 150-1, which Scott had found was the price next store at the Bellagio before placing his bet.
"I give you a lot of credit," Sattler says. "We've have had big futures hit, where the bettor held on, but he's often buying that in the middle of the year."
Bill and Scott take a few pictures together, before laying out the options for cashing out the bet:
1. Cash — piles and piles of it
2. Casino chips ($100/chip)
3. A check
The chips — piled high, like what you'd see at the World Series of Poker — are the most jarring option of them all.
Before Scott and Brendan pick their poison, they're taken inside what's called "the cage," along with $150,000 in cash. A door closes with a security guard inside.
The teller asks Berry what he wants. "$2,400 in cash." The rest — $98,000 — gets paid out via check. Chapel wants $5,200 out, making his check $45,000.
(Strangely, the IRS doesn't make the sportsbook take out any taxes. It is only required to do that when the odds are at least 300-1. So it's the bettor's responsibility pay taxes, and according to tax attorney Robert Raiola, they'll owe 5.4% in Missouri taxes, in addition to the federal rate.)

With checks in hand, the traveling party heads to dinner at Momofuku, David Chang's famous establishment.
It costs a pretty penny — and includes such decadence as the "Caviyacht" and black truffle ramen — but it returns what Scott had hoped for: "The legit best meal I've had in my life," he says.
Neither Scott nor Brendan are big bettors, but Vegas seems to be getting to Brendan, as he spends dinner talking about his strategy for deploying his cash and making more.
One problem. He's both so excited and drained that he forgot one small thing when he left the table.
Three minutes after everyone leaves, a Momofuku chef comes running after Chapel. "You left something," he said.
It's the $45,000 check.
How would you rate this article?