Stuckey: Can You Really Assume the Islanders Are Cooked in Carolina?
Credit:
James Guillory-USA TODAY Sports. Pictured: Islanders left wing Anders Lee
Stuckey dissects a popular NHL playoffs betting narrative -- do teams down 0-3 in a series usually give up and lay down for Game 4?
That's what the betting market thinks the Islanders, who are +125 in Game 4 after closing +110 in Game 3, will do against the Hurricanes on Friday (7 p.m. ET).
He offers his take on that game, plus quick thoughts on Stars-Blues.
You can sometimes gain an edge in sports betting by fading specific public narratives that inflate a line for no real reason.
Plenty of those narratives exist in sports that feature best-of-seven playoff series format. You will frequently hear that you should fade a team trailing 0-3 in Game 4 because "they are deflated and dead in the water."
You will particularly hear this when said team is on the road for Game 4. The easy logic is "why would they show up on the road after going down 0-3?" And while I think that sentiment holds some water in the NBA where teams trailing 0-3 are 21-41 SU and 25-34 ATS in Game 4 overall since 2005, it simply does not reflect reality in the NHL.
You may actually hear this narrative on Friday night as the Islanders look to stave off elimination against the sweep-seeking 'Canes. (By the way, I'm pretty sure I exclusively use the phrase 'stave off' when referencing postseason-clinching games).
Let's take a closer look at Friday night's game to see if this particular spot presents any betting value for the visiting Islanders. We will also get a little crazy and look at the adjusted series price.
Friday Night Fight
Since 2005, 50 NHL teams have gone down 0-3 in a series and more than half (26) forced a Game 5. Of those 50 tries, 20 occurred on the road. Surprisingly, 11 of the 20 road teams that trailed 0-3 went on to win Game 4 to prevent the sweep. Not only do they have an 11-9 record, they've outscored their opponents 59-50 in those games.
As you might imagine, the team trailing 0-3 in the series has also been an underdog in this situation more often that not. In fact, 15 of those 20 road teams were underdogs. If you simply bet $100 on every one, you would've profited just under $600 for a cool ROI of 29.6%. It's not the largest sample size, but it's large enough to give me confidence in the effort being there.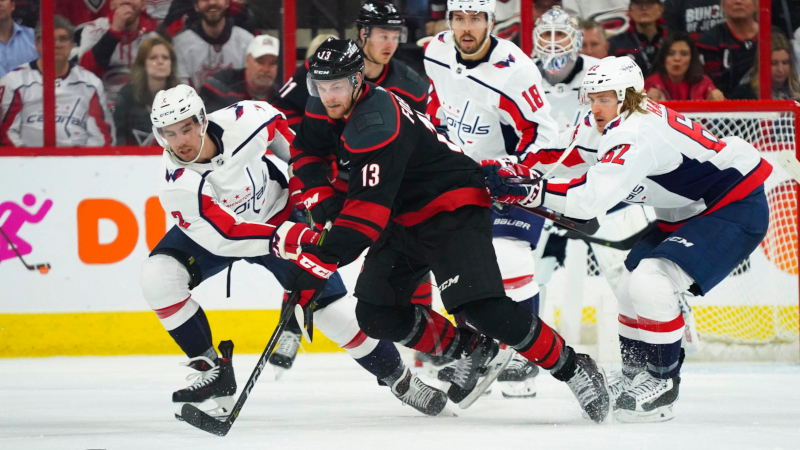 Generally, NHL teams don't quit in Game 4 on the road when facing a 0-3 series deficit. However, because of that narrative, lines are usually inflated as if the trailing team would simply lay down. Just look at the Islanders, who went from +110 in Game 3 to +125 in Game 4.
While I think NHL teams don't quit in general, the last 10 minutes of Game 3 do concern me for a very gritty Islanders squad. It was the first time all year I saw them really just skate without a purpose.
Could that be a sign of actual deflation in a thin-margin series that has seen the Canes get every bounce? It's certainly possible and might be enough to keep me away from betting this game.
But bottom line: the value lies with the Isles as the easy narrative is inflating this price. If you want to bet a side in tonight's game in Raleigh, I think it's Islanders or pass.
Adjusted Series Price
You'd be crazy to even mention the possibility of a team coming back from an 0-3 series deficit in MLB (happened once) and especially NBA (has never happened), but history says you at least have to consider it in the NHL.
Of the 190 NHL teams that have trailed 0-3, four have come back win the series — including two in the last 10 years.
1942 Leafs
1975 Islanders
2010 Flyers
2014 Kings
If you just take a pure percentage, 2.1% (4/190) of teams have accomplished this feat in NHL history. That would imply true odds of about 50-1 — much higher than the 13-1 being offered at Westgate SuperBook, which implies a 7.14% chance of the Islanders coming back to win the series.
In my opinion, 2% is way too low as it includes teams that were far superior to their opponent. The Canes are not that to the Islanders. However, I do think 7% is a little high even though 13-1 is approximately what a rollover moneyline parlay of the Islanders for the next four games based on the prices we have seen in the market would pay.
I personally give the Islanders slightly less than a 6% probability of pulling off what they did in 1975 against the Penguins. Therefore, I would only recommend betting the adjusted series price if you can find New York at 16-1 or better.
As a Flyers fan who watched Philly come back from an 0-3 deficit in 2010 and then the Kings en route to a Stanley Cup to cash my future in 2014, I won't be comfortable with my Hurricanes 125-1 ticket moving on until this series is officially over. The 0-3 NHL comeback monster is eventually going to sting me in my lifetime; just hopefully not this year. (I suffered enough with the Auburn tease).
Bonus: Blues-Stars Quick Take
This series has featured a few more goals than I thought we would see . Each of the past three games have gone over the total in a series I expected to be dominated by unders.
However, that won't scare me away from the under tonight. I anticipate seeing both teams play much tighter to the vest in the all-important series-swinging Game 5 in a 2-2 series.
If you are looking to play a side, I'd look at the Stars who I still think will find a way to win this series behind netminder Ben Bishop. We also saw the positive bump Dallas got from the line changes we saw implemented in Game 4.