What Would USA's Moneyline Have Been in 1980 Miracle on Ice?
Credit:
Focus on Sport/Getty Images. Pictured: Jim Craig
Perhaps the most famous line in coach Herb Brooks' speech to his upstart 1980 United States Olympic hockey team before it beat the Soviet Union was this:
"If we played 'em 10 times, they might win nine. But not this game. Not tonight."
He didn't get that number from bookmakers of that era, but he wasn't far off from what would have been offered.
I asked long-time Las Vegas bookmakers, some folks involved in the "local" betting scene at the time, and the author of this terrific ESPN piece on the game.
But no one I talked to remembers or has since seen moneyline odds on the United States vs. the Soviet Union in the 1980 Winter Olympics. (If you have seen or do remember a line, let me know).
Olympic betting wasn't allowed in Las Vegas back then. There were no online offshore sportsbooks offering whatever they wanted.
So let's set a line on the Miracle on Ice ourselves.
If you don't want to read the full explanation, I've arrived at 10-1 odds for the Americans, which of course cashed in dramatic fashion.
Things Were Different Entering The Tournament Than Entering That Game…
A Monte Carlo simulation run by Carlton Chin and Jay Granat in 2010 gave the U.S. 1,000-1 odds to win Gold entering the tournament.
But they told The Action Network those odds should probably have been closer to 17-1 based on what we ended up seeing through the first five games from the Americans.
The U.S. was seeded seventh entering the Olympics, but this team had never played together in a real tournament and there was no data on them. So in hindsight, 17-1 feels about right.
Chin and Granat gave the Soviets a 77% chance to win Gold — that translates to -335, and with the juice added to a futures market, let's put them around -450.
The Soviets Were Dominant, But It's Still Hockey…
The weird nature of hockey is why you can't set this line astronomically high, like 100-1. The Soviets weren't a 99% lock to win gold or this game.
I like to joke with my co-worker Michael Leboff that every NHL game should be lined at -110 on both sides because hockey is an inherently random game. It's played on ice. The puck is rubber and it does strange stuff.
A hot goalie, weird bounces and capitalizing on a single opportunity can turn one game on its head. And that's what happened in 1980.
The Soviet Union was of course a dominant force, winning Gold at the previous four Olympics and 12 of the last 16 world championships.
They entered that game against the U.S. with a 51-12 goal differential in round robin play, but 33 of those goals came against lowly Japan and the Netherlands.
The Soviets beat Canada 6-4 and Finland 4-2 in their final two pool play games. This wasn't a team winning every game by 12 goals like the movie Miracle seems to imply.
The Americans had outscored their opponents 25-10 to that point, playing arguably the best defense in the tournament.
But this was still a monumental upset given the circumstances.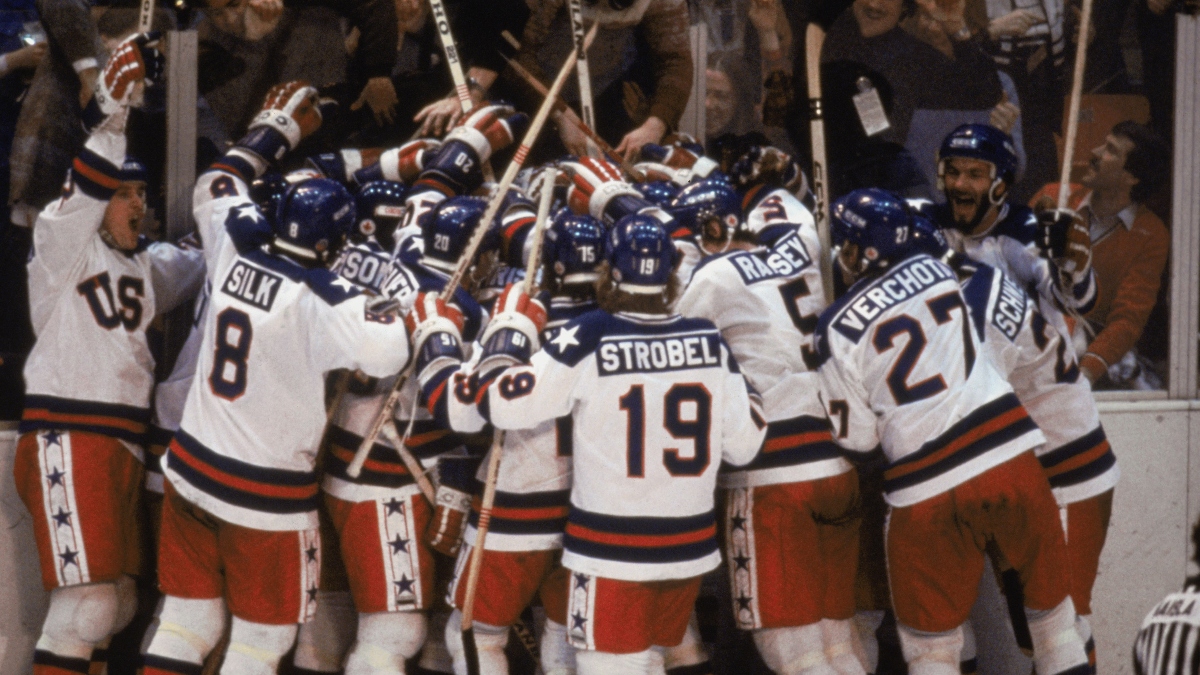 OK, Let's Make Some Lines
To make a betting line, we of course need a pregame probability.
Chin and Granat said in an email that their Monte Carlo simulations would have put the United States' chances to win that game somewhere in the 7% and 14% range, creating a moneyline of anywhere from 6-1 to 12-1.
Sports Reference's Simple Rating System still makes the Russians about 2.5 goals stronger than the Americans after the tournament, so the gap was even wider entering that medal-round game, likely between 3 and 3.5.
Using comparable upcoming games from international hockey markets like the KHL (since the gap in talent is much wider than the NHL), a 3.5-goal gap in relative ability between two teams will lead you to odds of about -2,200 on the favorite and 10-1 to 12-1 on the underdog. That's in line with Chin and Granat's simulations.
But this would have been a three-way market, meaning you have to include a draw.
The Olympic medal round in 1980 was its own round robin, not an elimination bracket. USA's game against the Soviet Union wasn't a semifinal, but one of three results in a round robin that were all weighted equally. The Soviets actually ended up winning Silver, and would have won Gold had the U.S. not beaten Finland in its next game.
This game could have ended in a tie.
So here's our opening line, with just over a 12% hold by sportsbooks. The hold on a game when both sides are -110 is 4.8%, but in events when the gap between the two teams is much larger, you'll often see bigger holds.
Opening Line
Soviet Union -2,000 (bet $20, win $1)
United States +1,200 (bet $1, win $12)
Draw +1,000 (bet $1, win $10)
But What About the Betting Market?
After oddsmakers set an initial number, it's the betting market that dictates where it goes. And it's fascinating to think about what a betting market may have looked like for this game, had modern markets and technology been available.
On one hand, recency bias should have scared off anyone wanting to bet the Americans. They were trounced by the Soviets 10-3 in an exhibition just before the Olympics. And the score could have been much worse, according to a contemporary account from the New York Daily News.
But on the other hand, patriotism can often run rampant in American sports betting. Your weasel of a friend may have been in the corner tying the Soviet moneyline into some parlays, but the rest of the party would have taken a shot on the American moneyline (though sadly the game was shown on tape delay in the United States, so betting would have closed).
Considering the only option to bet on this game in America was with a local bookie, I'm guessing they would have shaded the lines down a touch, depending on their risk aversion.
Closing Line
Soviet Union -1,600 (bet $16, win $1)
United States +1,000 (bet $1, win $10)
Draw +1,050 (bet $1, win $10.50)
That gives us the same hold as the opening lines above.
Comparable Upsets
Leicester City's Premier League title at 5,000-1 is heralded as one of the biggest shockers in sports history. But that's because the Foxes needed to sustain their elite level over a 38-game schedule.
All the U.S. hockey team had to do is win one game. If you believe the 10-1 odds we've set, it was a feat similar to one of these underdogs pulling off an upset.
What Ended Up Happening in the Game?
The ESPN piece I referenced above gives some fascinating insights into just how bad the U.S. was out-chanced and outplayed by the Soviets despite winning 4-3.
The USSR held a 67.5% advantage in shot share. They allowed just seven even-strength scoring chances, but gave up three goals at 5-on-5. The Soviets had 20 even-strength chances and converted just two.
Assuming a standard conversion rate on a scoring chance of 20% — as Twitter's TangoTiger points out — the United States can expect to win a game in which it was that badly outchanced about 10% of the time.
As Herb Brooks said: They might when nine. But not tonight.
How would you rate this article?