Why the Golden Knights have betting support from an unlikely source
Everybody loves an underdog, except bookmakers. Bookmakers hate underdogs.
If you ever want to piss off a bookmaker, ask them about the "Greatest Show on Turf" St. Louis Rams. You know, the one where that dude who used to bag groceries ended up quarterbacking the St. Louis Rams to the Super Bowl? Yeah, the guys upstairs at the sportsbook hated that story. They also hated when those plucky 100-to-1 Minnesota Twins beat the 250-to-1 Atlanta Braves in the 1991 World Series. Miracles don't build casinos, they destroy them.
In case you haven't heard, the Vegas Golden Knights are running through the NHL like tap water through a tourist. In their first year of existence, the Knights are 26-9-2 and lead the Western Conference with 54 points as of article publication. The Knights were the first team in their circuit to reach 50 points and are only four points behind the Tampa Bay Lightning in the Presidents' Trophy race with a game in hand.
To put that in perspective, the Vegas over-under was 67.5 points, and they opened at anywhere from 100-to-1 to 500-to-1 to win the Stanley Cup. They are now 15-2 to win the Cup, putting them second behind Tampa. It has all the hallmarks of a historic bath for the sportsbooks.
"Quite a bit," Bob Scucci, the Director of Sport and Gaming for Boyd Gaming, said of his books' liability on the Knights. "I can't speak for some of the other casinos, but I know for us it's pretty significant.  It's right up there with some of the biggest losses we've ever had with futures like the year the Twins and Braves played in the World Series or the year the Rams won the Super Bowl."
And this isn't some miraculous run fueled by lucky bounces, misleading box scores and some magic dust. There's some hard data supporting the assertion Golden Knights are actually decent. The chart below, put together by @loserpoints, give you a general idea of a team's level of play. Vegas is doing pretty darn well.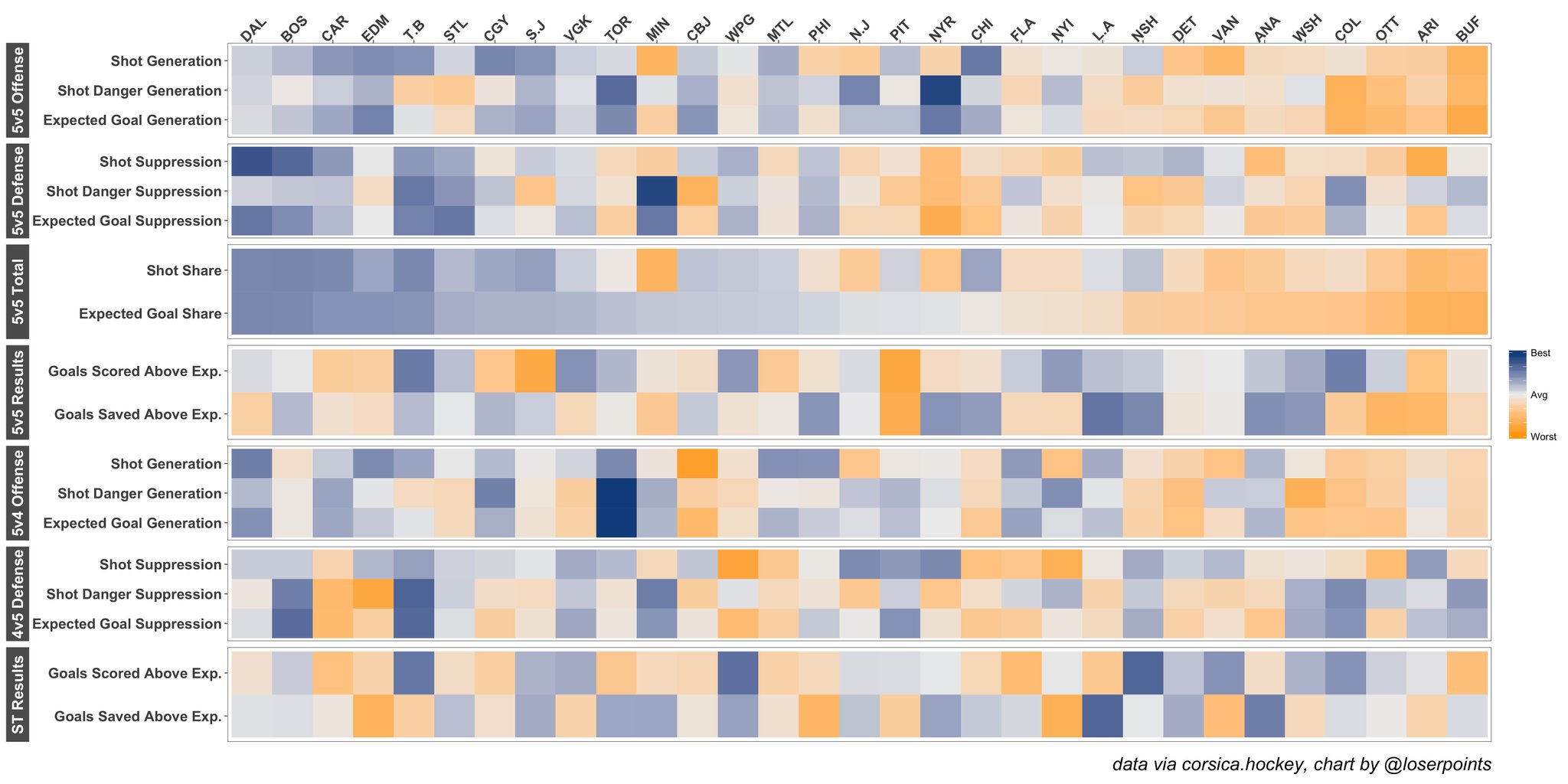 The reality of being an expansion team is that you're basically throwing together 25-30 players who have never played together and hoping for the best. Much like putting a hockey team in the middle of the desert, it doesn't sound like it will go well. But somehow it's working, and this hodgepodge of hockey players has quickly meshed into a playoff contender.
Marc-Andre Fleury and James Neal may be the team's stars, but middle-sixers Jonathan Marchessault, Reilly Smith and William Karlsson have been one of the league's most effective units at driving play, as the chart from Sean Tierney depicts: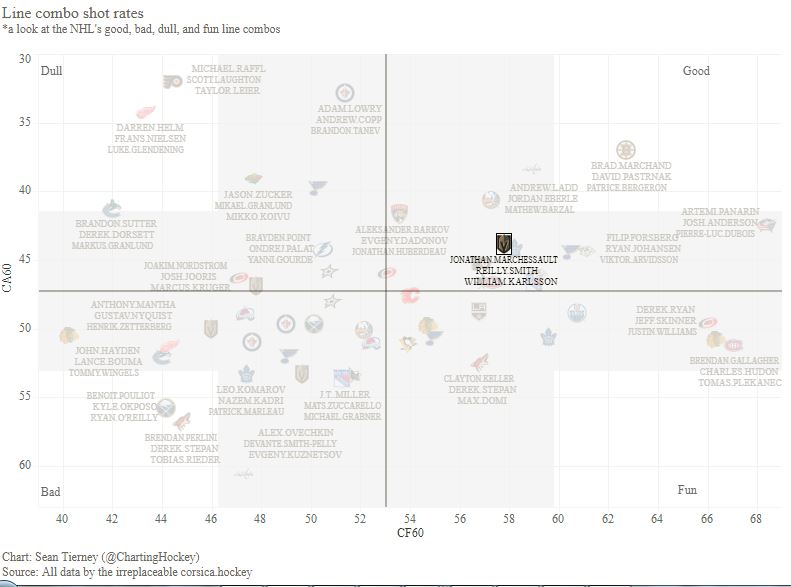 Getting that type of production from your secondary guys goes a long way in a league where edges are hard to come by.
The team also obtained decent young defensemen who, for whatever reason, were unable to crack their former team's top six and were left exposed in the expansion draft. Nate Schmidt, Brayden McNabb, Colin Miller and Shea Theodore certainly aren't household names, but they've been effective and helped keep Vegas afloat after the Knights lost three goaltenders to injury in the first month of the season. A look at the chart below from Micah Blake McCurdy's HockeyViz shows that Vegas has done a good job limiting chances in their own end.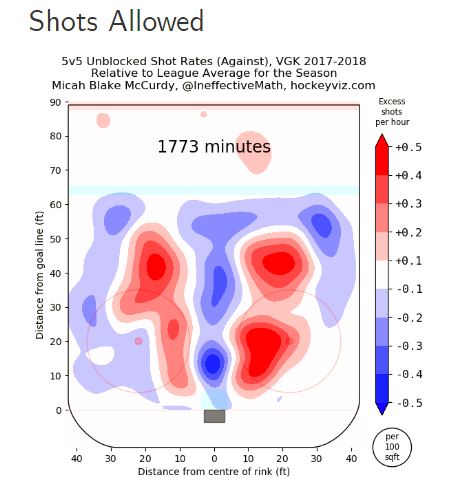 Vegas is certainly overperforming their underlying metrics to a certain extent, and it would be a bit much to expect them to keep rolling at their current 120-point pace, but the point is that they aren't fraudulent. This team is going to make the playoffs.
Prior to landing the Knights, Las Vegas had long been bandied about as a destination for a major sports franchise. There was trepidation, of course, but against all odds it was the NHL that decided to take Sin City to the prom.
It was a strategic move by the NHL. If the NFL or NBA or MLB, sports that don't require ice to be played, beat them to the Entertainment Capital of the World, the novelty may have worn off. The honeymoon phase would be over. Being first left the people of Vegas with little choice. And what's a fan, maybe one who never really got into hockey before the Knights arrived, to do to guarantee he or she is invested in the new, and only, team in town? How about strolling to your local and taking a flier on the Knights to win the Stanley Cup.
"(The local betting interest has been) huge," Scucci said. "I mean some places had them as high as 500-to-1. Luckily we didn't start them out that high, but it doesn't take much when a team is 150 or 200-to-1 and you think of every hundred dollar bet, it adds up really, really quickly."
A story like this, one that sounds too good to be true, is what bookmakers fear the most. Some dude bagging groceries in Iowa isn't supposed to lead his team to the Super Bowl, and expansion teams in the desert aren't supposed to win Stanley Cups.
But this time it's different. Some bookmakers actually aren't rooting against the happy ending.
"It depends on the bookmaker," Scucci said with a laugh. "This bookmaker is rooting for the city."
Indeed, the Knights have put oddsmakers in a unique spot. They are on the same side of the fence as the underdog-loving masses. For the first time, they're with David rooting him on to slay Goliath, even if it will lighten their wallets. Vegas hath frozen over.
"You have to look at it like this," Scucci said. "How much would you spend, as a corporation, to promote your casino? We spend money on billboards and advertisements and things like that. So whatever we're going to lose on the Golden Knights, is like promotion for the city."
"Eventually it will come back to us. We'll have more fans here coming and enjoying the games or maybe even betting on the games, so in this case we're going to lose, yeah, but way more bookmakers will be rooting the same way I am. It's going to be great for the city, so whatever we lose, we lose."
Whether the Golden Knights make things really interesting remains to be seen. But no matter how far they go this season, the boys in the backroom will be rooting them on.
---
Photo: Stephen R. Sylvanie, USA Today Sports
A special thanks to @IneffectiveMath, @ChartingHockey and @loserpoints for the wonderful visuals they provide. 
---
All records and stats retrieved on Jan. 2, 2018.
---
Be part of the Action
Download the Sports Action app at the App Store or Google Play
How would you rate this article?