2022 IIHF World Junior Championship Betting Guide: Previewing Canada, United States and the Other Eight Teams in World Juniors
Credit:
Photo by Codie McLachlan/Getty Images
It is the most wonderful time of the year for hockey fans–especially those that have been deprived of the NHL in recent days.
The 2022 IIHF World Junior Championship will kick things off on Sunday with all five of the tournament favorites set to play.
The World Juniors is an annual hockey tournament that pits the top U20 players on the planet against each other. There's no tournament quite like it in any other sport and it's something that a lot of hockey fans get excited for every year.
It is traditionally Canada's tournament. Canadian fans are the most passionate about the event and it takes place in Canada every other year, with the other countries rotating the off-year.
But nobody has won more gold medals than the United States since 2010. Russia, Sweden and Finland are always contenders in this tournament as well.
For the full rosters of this year's teams visit Elite Prospects.
Oh, and most importantly, finding ways to bet on the WJC has become easier and easier over the years. The two best places to bet on the tournament are DraftKings and BetRivers.
All future odds via DraftKings.
1. Canada (+125)
Canada enters this tournament practically every single year as the favorite, especially when playing on home ice. But that doesn't mean they always win it.
The Canadians have won three gold medals since 2010, but only one of them came on home soil. Additionally, capacity will be limited to 50% this year, so Canada's home-ice advantage will be a bit muted.
Canada only returns three players from last year's team that stormed through the competition before losing to the United States 2-0 in the gold medal game–Kaiden Guhle, Cole Perfetti and Dylan Garand.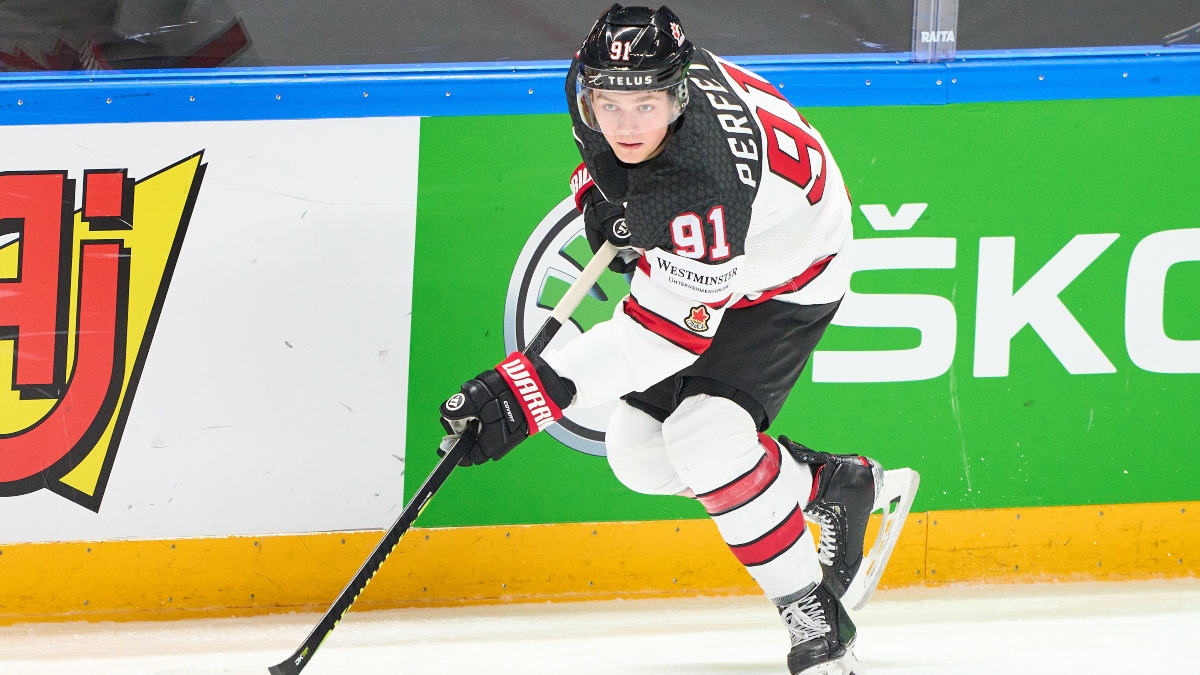 But that doesn't include the No. 1 overall pick in the 2021 NHL Draft: Owen Power. The 6-foot-6 defenseman is currently in his sophomore year at Michigan and has 23 points in 18 games so far this season.
It's not often you get to watch the No. 1 pick in the previous year's draft at the WJC because they're typically already playing in the NHL. Canada also has the potential No. 1 pick in the 2022 and 2023 NHL Draft's in Shane Wright and Connor Bedard.
This team is rightfully the tournament favorite.
2. United States (+400)
The United States has never won back-to-back gold medals in this tournament and they will try to change that this year–although most of last year's team has moved on.
They return the entire coaching staff and six players from last year's team–Matty Beniers, Jake Sanderson, Brett Berard, Landon Slaggert, Brock Faber and Tyler Kleven.
The two notables are Beniers and Sanderson. Beniers was the No. 2 pick in the 2021 NHL Draft and he'll have to carry the load for the U.S. offensively. Sanderson will captain the team and be the defensive stalwart after leading the team in ice time in last year's gold medal game.
The U.S. is expected to have the best blue line in the tournament with Sanderson, Faber and Kleven all returning. They also have the 2021 No. 4 pick in the draft in Luke Hughes.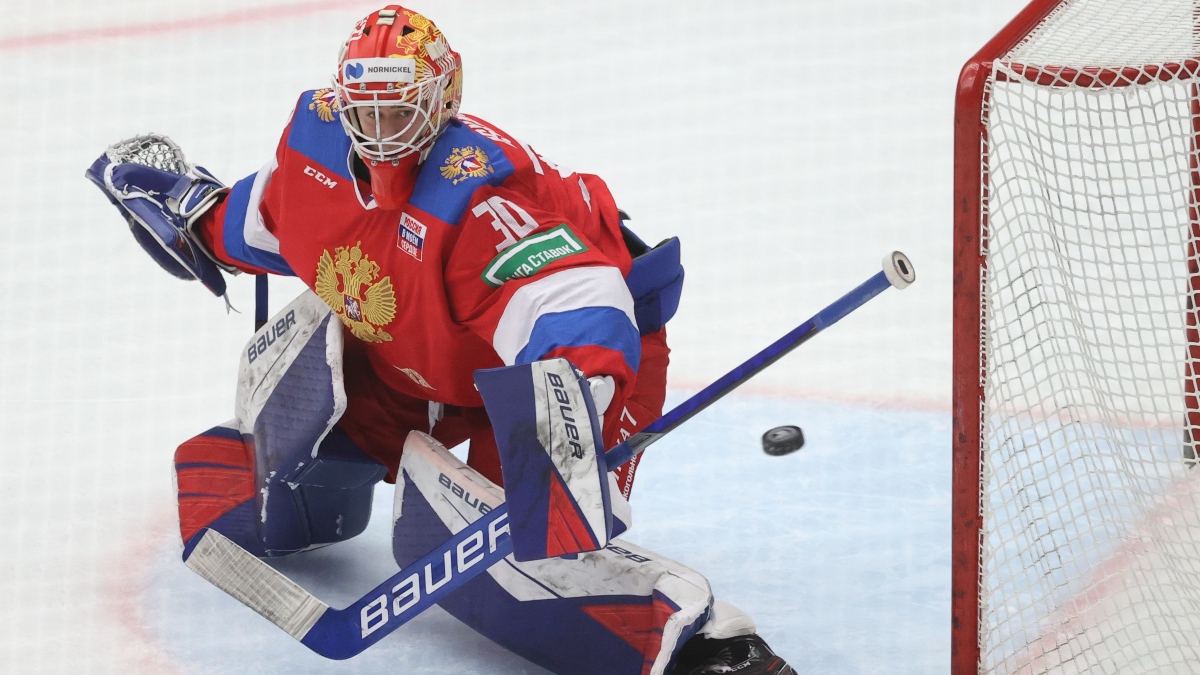 3. Russia (+500)
The Russians have never missed the podium in back-to-back years, but are in danger of doing it this year after missing out on a medal 365 days ago.
Matvei Mitchkov is the player to watch on this team. He's not eligible for the NHL Draft until 2023 and just recently turned 17 years old but is still expected to be Russia's top scorer.
The Russians have a formidable group offensively but if they're able to go far in this tournament it will be through goaltending. Yaroslav Askarov, the No. 11 pick from the 2020 NHL Draft, is arguably the best goalie in the field and has plenty of experience in this tournament. This will be his third year starting for the Russians which is extremely rare for a goaltender.
Russians go as Askarov goes but if he can play his best, they will have a legitimate chance at a gold medal.
4. Sweden (+650)
Sweden always brings a formidable squad and this year is no different with 21 NHL draft picks on their 25-man roster. Only Canada and the United States (22 each) have more.
Like the Russians, the Swedes will count on a star-in-the-making goaltender to lead their effort in 2021. Jesper Wallstedt was drafted No. 20 overall in the 2021 NHL Draft to the Minnesota Wild. He currently holds a .923 save percentage and 1.82 goals against average in the Swedish Hockey League.
The Swedes will also have one of the top first lines in the tournament. The trio of Oskar Olausson, William Eklund and Alexander Holtz were all first-round picks in the draft and Eklund and Holtz both went top 10.
This is a team that has plenty of firepower to compete for a gold medal.
5. Finland (+700)
Finland is always one of the scarier teams in the draft not because they boast a lot of top draft picks–this year's team doesn't have any first rounders–but because they have a style of play that has consistently worked in this tournament.
New York Islanders' second-rounder Aatu Raty was expected to be Finland's top player but he was unable to play due to COVID protocol for his club team in Finland.
They will have to rely on a couple of youngsters for their scoring in draft-eligibles Joakim Kemell and Brad Lambert. Lambert had four points in seven games as one of the youngest players in last year's tournament.
Don't sleep on the Fins.
6. Slovakia (+5000)
This is always where the major dropoff between contenders and countries just trying to sneak their way onto the podium.
Slovakia has caused a lot of issues, especially for the U.S., in the past and is a team you can never look past.
There is certainly some talent on this team as well. They will be led offensively by LA Kings draft pick Martin Chromiak. Chromiak has 32 points in 23 games for the Ontario Hockey League's Kingston Frontenacs.
On the defensive end, they'll rely on 17-year-old Simon Nemac. Nemac has already played games with the Slovakian senior team and is expected to be a top-10 pick in the upcoming NHL Draft.
Also, keep an eye on winger Juraj Slafkovsky, he could be a top 5 pick in the 2022 NHL Draft.
It's been awhile since Slovakia has had this many prospects to be excited about and they're not a team to overlook.
7. Czechia (+5000)
The Czechs are always in the same conversation as the Slovakians. They're good enough to steal a game or two from the top teams but aren't necessarily a contender for the gold medal.
They do have one top prospect to keep an eye on: defenseman David Jiricek. He could be the first defenseman off the board in the upcoming draft.
If they're going to go far in this tournament it will be behind goaltender Jan Bednar. Bednar was taken in the fourth round of the 2020 NHL Draft and has played in this tournament before.
8. Germany (+20000)
Germany has quietly become a better and better hockey country in recent years.
But this year's team is missing their top three eligible players including 2020's third overall pick Tim Stutzle who has been playing with the Ottawa Senators.
Without those guys, it will be tough sledding for this German team but their entire goal will be to avoid relegation.
Two guys to keep an eye on are goaltender Nikita Quapp and defenseman Luca Munzenberger–the only two drafted players on the roster.
9. Switzerland (+20000)
It was just three years ago when Switzerland finished fourth in this tournament. But they don't have the firepower they had then.
They also drew the tougher side of the draw–playing in the same group as the United States, Russia, Sweden and Slovakia.
I just don't see how they beat one of those teams.
10. Austria (+100000)
As it shows in the odds, there's a significant drop-off from Switzerland and Germany to Austria. Austria is the team that is expected to get relegated.
But they do have a very exciting prospect for the first team in a while in Marco Kasper. Kasper is expected to be a first-round pick in the upcoming draft. He has six points in 24 games in the Swedish Hockey League this season.
How would you rate this article?
This site contains commercial content. We may be compensated for the links provided on this page. The content on this page is for informational purposes only. Action Network makes no representation or warranty as to the accuracy of the information given or the outcome of any game or event.