2022 FIFA World Cup Qualifying Best Bets & Projections for CONCACAF, Europe, South America, More (March 29-30)
Credit:
Foto Olimpik/NurPhoto via Getty Images. Pictured: Poland star Robert Lewandowski.
We've reached the final stage of FIFA World Cup qualifying stage, with spots in the prestigious event on the line.
In Europe, we have the unlikely matchup of Portugal taking on North Macedonia, along with Poland facing Sweden. In Africa, we are in the second leg of five playoffs, with the aggregate winner of each earning a spot in Qatar.
Further east in Asia, South Korea, Iran, Saudi Arabia and Japan have secured their berth, while Australia awaits the third-place finisher in Group A that will either be United Arab Emirates or Iraq for a playoff that will take place in June.
In South America, Brazil, Argentina, Ecuador and Uruguay have booked their trips. However, the fifth and final team — who faces the winner of the Asian third-place playoff, is still up for grabs between Peru, Colombia and Chile. They are all within two points of each other with a match to go.
Finally in CONCACAF, everything has almost been decided as long as the United States doesn't lose to Costa Rica by six goals (six goals!) and Mexico doesn't get blow out by El Salvador.
If you're new to our soccer coverage at the Action Network, we have our own world soccer ratings that are used to help calculate the projected lines and totals below.
Note: These projections do not take into account injuries or suspensions.
CONCACAF Model Projections
Best Bets
Costa Rica vs. USA
Costa Rica Odds
+205
USA Odds
+150
Draw
+185
Over/Under
2.5 (+125 / -175)
Day | Time
Wednesday | 9:05 p.m. ET
How To Watch
Paramount+ | Peacock Premium | fuboTV
Odds via BetMGM. Get up-to-the-minute soccer odds here.
The United States should be able to dominate the luck box better known as Costa Rica, which showed up twice in the past seven days. Against Canada, Los Ticos earned a 1-0 victory despite losing the expected-goals battle by a 1.51-1.1 margin. And, oh… Canada played with 10 men for 52 minutes.
Then, Costa Rica went on the road to El Salvador and secured a 2-1 win. However, for only the fourth time in qualifying, it won on xG via a 1.46-0.52 edge. Yet, it was the first time in five matches it conceded a goal. So, that's now one goal allowed on 6.45 xGA in those five contests. 
On the flip side, when the nation isn't  playing El Salvador or Honduras, Costa Rica parks the bus and looks to either hit teams on the counterattack, which is why it's luck-boxing its way to the playoff match against Oceania region side New Zealand. It hasn't worked at all against the U.S., Canada or Mexico. In matches against those countries, they have a -2.51 xGDiff in five fixtures.
So, even though this match is going to essentially mean nothing for the United States, there are a lot of reserves who are going to get their shot to prove themselves and try to make the team that goes to Qatar. And they're miles and miles more talented than anything Costa Rica can put on the field. So, I am expecting a full effort from the USMNT in this road showdown.
I have the U.S. projected at -239, so I love the value on it at +150 odds even if the visiting nation plays some reserves.
Pick: USA ML (+150)
UEFA Model Projections
Best Bets
Poland vs. Sweden
Poland Odds
+150
Sweden Odds
+210
Draw
+195
Over/Under
2.5 (+145 / -200)
Day | Time
Tuesday | 2:45 p.m. ET
How To Watch
ESPN+
Odds via BetMGM. Get up-to-the-minute soccer odds here.
I love Poland to advance to the World Cup.
These teams played in the Europeans Championships this past summer and Sweden escaped with a 3-2 win despite a completely dominant Poland effort. The latter won the xG battle (2.25-1.23), held 67% possession had 29 shot-creating actions to just 12 for Sweden and 41 progressive passes compared to just 19 for the Swedes.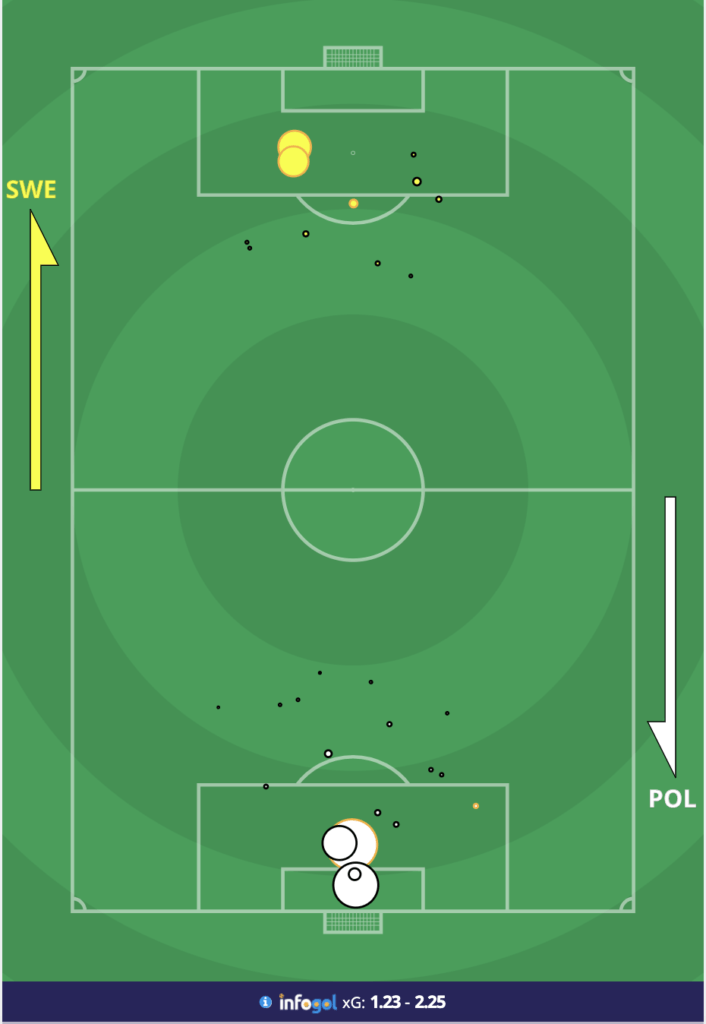 *(graphic via infogol.net)
In fact, in three group stage matches at the Euros, Sweden actually had a worse xGDiff than Poland, but finished in first in the group while Poland finished in last place.
Sweden also is coming off 120 minutes against the Czech Republic. Now, it has to travel to Poland, while the host got to play a friendly with Scotland. Even in that tilt against the Czechs, who were without Patrick Schick and Vladimir Coufal, they only won the xG battle by a 0.90-0.60 margin after 90 minutes.
Poland was in a qualifying group with England, Albania, Hungary, Andorra and San Marino. While it took care of business against Andorra and San Marino, it actually played England tough in both meetings, drawing with the Three Lions in Poland and losing by a 2-1 score in London.
With Poland able to rest Robert Lewandowski, being the fresher side and playing at home, I believe it will secure its spot in the World Cup at -145 odds and will make it my top pick.
Pick: Poland To Advance (-145)
Africa Model Projections
Best Bets
Senegal vs. Egypt
Senegal Odds
-115
Egypt Odds
+375
Draw
+195
Over/Under
1.5 (-145 / +105)
Day | Time
Tuesday | 1 p.m. ET
How To Watch
ESPN+
Odds via BetMGM. Get up-to-the-minute soccer odds here.
This is a line-in-the-sand match for me.
Egypt has been one of the luckiest teams in the world over the past few months from reaching to the Africa Cup of Nations final by winning in extra time three consecutive times despite having a -2.4 xGDiff for the tournament to winning the first leg against Senegal even though it lost on xG (1.10-0.83) in the process.
The Egyptian defense is so overdue to concede a boat load of goals it's not even funny. Since the start of AFCON, Egypt has conceded two goals off 8.93 xGA, which is utterly insane.
Additionally, the Egyptian offense — even though they have one of the best attacking players in the world in Mohamed Salah — has only created more than one xG once in its last eight matches.
How Egypt has continued to get results throughout AFCON and the first leg against Senegal is really beyond comprehension at this point, because even at AFCON its pressing wasn't successful putting up a PPDA of 12.2 overall. That wound up ranking 16th in the entire tournament, per Opta.
Senegal is the best team in Africa and it would be an absolute shame if it misses the World Cup. Since the start of AFCON, Senegal has a +7 xGDiff in eight matches and its defense is only conceding 0.55 xGA per match. It helps when you have one of the best center backs in the world in Kalidou Koulibaly, as well as one of the world's finest goalkeepers in Edouard Mendy.
I have Senegal projected at -246, so I love the favorite at -112 odds to win this showdown in regular time.
Pick: Senegal ML (-112)
South America Model Projections
Best Bets
Bolivia vs. Brazil
Bolivia Odds
+550
Brazil Odds
-225
Draw
+320
Over/Under
2.5 (-145 / +105)
Day | Time
Tuesday | 7:30 p.m. ET
How To Watch
fuboTV
Odds via BetMGM. Get up-to-the-minute soccer odds here.
This match means nothing to either country, as Brazil has qualified and Bolivia has been eliminated. However, given the lineup Brazil played against Chile, I highly doubt it's going to rest players. And even if it does, its second team is way better than anything Bolivia can put out there.
Even though it's not in last place, Bolivia is far and away the worst team in South America. Over the course of qualifying and Copa America, it has a -1.33 per match xGDiff overall. Its defense is unbelievably bad as well, yielding a whopping 2.46 xG per match.
Its offense isn't much better, averaging 1.14 xG per match, which is last in South America. Even in its last game against Colombia, it had two shots and 0.05 xG, so what do you think the best team in South America is going to do?
These nations have met once and Brazil blew out Bolivia in a 5-0 rout, outshooting its foe by a 19-3 margin and maintaining 65% of possession.
So, with this match meaning nothing and given the lineup Brazil put out against Chile in a 4-0 rout, I think we're getting a discount on Brazil -1 at -110 odds.
Pick: Brazil -1 (-110)
---
Asia Model Projections
Best Bets
UAE vs. South Korea
UAE Odds
+320
South Korea Odds
-120
Draw
+240
Over/Under
2.5 (+105 / -145)
Day | Time
Tuesday | 9:45 a.m. ET
How To Watch
Paramount+
Odds via BetMGM. Get up-to-the-minute soccer odds here.
I understand this match means everything to UAE and nothing to South Korea because they've already qualified. However, depending on the lineup (if Son Heung-min, Hwang Hee-chan, Hwang Ui-jo are playing), this is a great discounted price on Asia's best team.
South Korea has been completely dominant in the third round of qualifying, putting up a +10 xGDiff in only nine matches, while its offense is averaging 1.76 xG per game. The same can't be said about UAE, as it has been incredibly fortunate in qualification, especially defensively since it has yielded eight goals off of 13.03 xG overall. Its offense isn't much better, conceding 0.97 xG per tilt. 
In the first meeting, South Korea was dominant in a 1-0 victory. It won the xG battle by a 2.39-0.10 margin, held 64% possession and 20-1 edge in shots.
UAE can't just sit back and play for the point, especially if Iraq takes the lead on Syria, so it's going to be forced to potentially have to play an open game with South Korea, which is a nightmare scenario for the country. 
I have South Korea projected at -195, so I like the value on it at -110 odds if it plays Hwang, Son and Hwang in this match.
Pick: South Korea ML (-110)
How would you rate this article?
This site contains commercial content. We may be compensated for the links provided on this page. The content on this page is for informational purposes only. Action Network makes no representation or warranty as to the accuracy of the information given or the outcome of any game or event.