Africa Cup of Nations Soccer Betting Odds, Dates & Format: Preview, Projections for Every Group Match (Jan. 9-Feb. 6)
Credit:
Giuseppe Cacace/AFP via Getty Images. Pictured: The Africa Cup of Nations trophy.
The "World Cup of Africa," better known as the Africa Cup of Nations, is finally here. The tournament will begun Sunday and through Feb. 6 in Cameroon at various sites.
This is a tournament that takes place every two years, but with the ongoing COVID-19 pandemic, the competition was delayed a year. The last tournament took place in 2019, when Algeria lifted the cup for the second time in the country's history.
There are plenty of stars throughout the African continent that will be featured in this tournament like Mohamed Salah (Egypt), Sadio Mané (Senegal), Edouard Mendy (Senegal), Achraf Hakimi (Morocco), Riyad Mahrez (Algeria) and so many more.
For those wondering where you can watch the Africa Cup of Nations in the United States, it will be aired on beIN Sports and beIN Sports Connect.
Before we get to my projected odds, let's first set the stage for AFCON 2022 by discussing the odds, format and how I came up with my projections.
AFCON 2022 Odds
*Odds via DraftKings
| TEAM | ODDS |
| --- | --- |
| Senegal | +450 |
| Algeria | +550 |
| Egypt | +650 |
| Ivory Coast | +800 |
| Morocco | +800 |
| Cameroon | +1000 |
| Nigeria | +1000 |
| Tunisia | +1400 |
| Ghana | +1400 |
| Mali | +1800 |
| Burkina Faso | +3500 |
| Guinea | +5000 |
| Cape Verde | +5000 |
| Gabon | +6500 |
| Gambia | +10000 |
| Equatorial Guinea | +10000 |
| Zimbabwe | +15000 |
| Ethiopia | +15000 |
| Guinea-Bissau | +15000 |
| Mauritania | +20000 |
| Comoros | +25000 |
| Sierra Leone | +25000 |
| Sudan | +25000 |
| Malawi | +25000 |
As you can see from the odds, bookmakers believe there are seven legitimate contenders. Senegal is the consensus favorite, but have plenty of stiff competition from usual powers like Algeria, Egypt, Ivory Coast, Morocco, Cameroon and Nigeria. Then, there are a couple of nations slightly outside +1000 odds like Tunisia, Ghana and Mali. However, after that, there's a steep drop-off into the mid-range/long shots for the tournament.
Historically, the favorites tend to win the Africa Cup of Nations, as the last four winners have been Algeria, Cameroon, Ivory Coast and Nigeria. However, in 2012, one of the long shots of the event in Zambia in won the whole thing at +4000, beating the Ivory Coast, 8-7, on penalties in the final.
So, it's not out of the realm of possibility we could see another Cinderella story.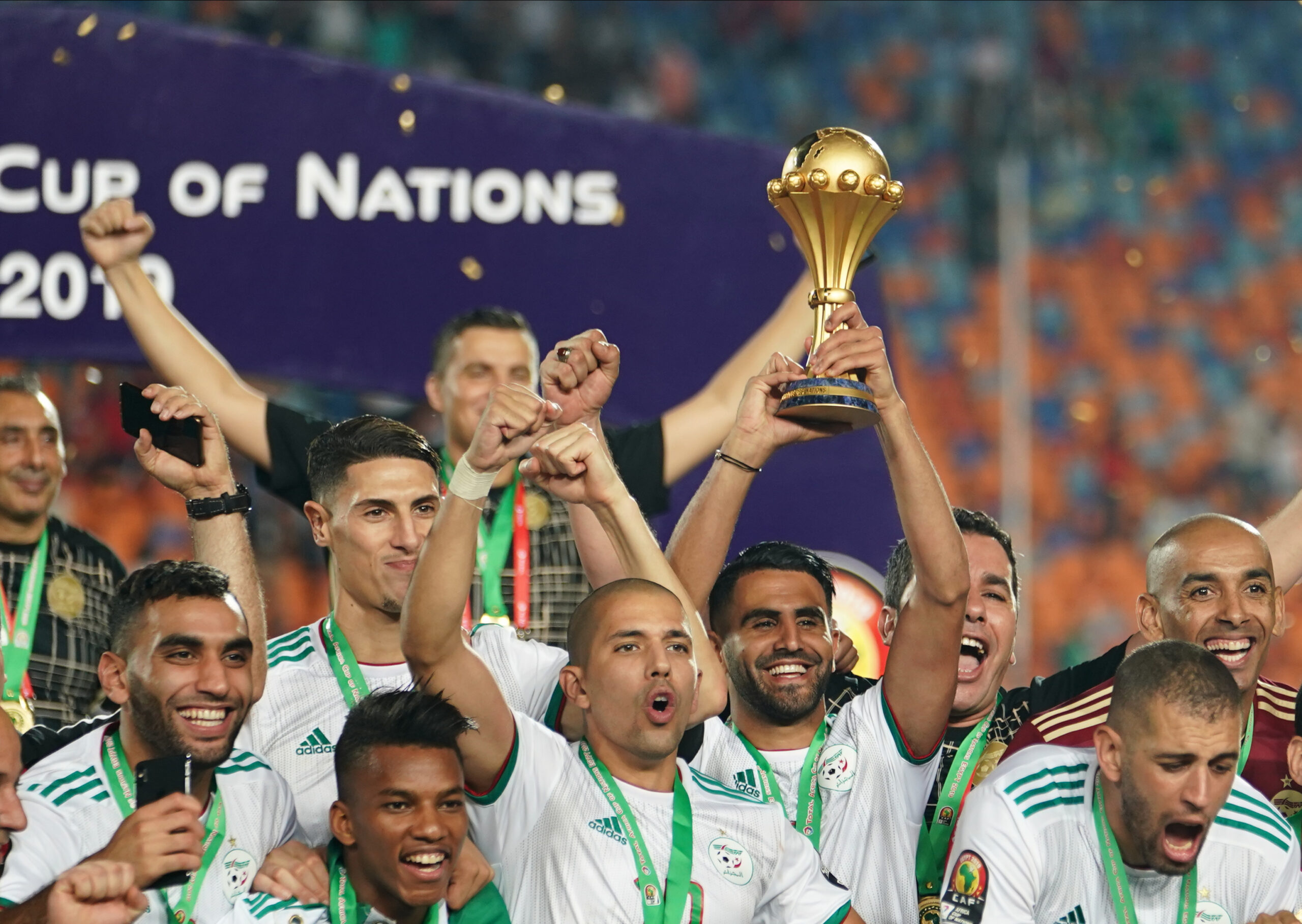 AFCON 2022 Dates
Group Stage: Jan. 9-20
Round of 16: Jan. 23-26
Quarterfinals: Jan. 29-30
Semifinals: Feb. 2-3
Final: Feb. 6
AFCON 2022 Groups
Group A

Group B

Group C

Group D

Group E

Group F

The difficulty in the groups is pretty spread out with no clear "Group of Death." However, the host country in Cameroon got the easiest draw of any of the seven betting favorites.
It's also worth noting the number of countries expanded from 16 to 24 in 2019, which has changed the format of the competition.
AFCON 2022 Format
The top two teams from each group advance to the knockout stage, along with the four best third-place teams. For example, this is how the third-place teams finished in 2019.

Since each team only plays three matches in the group stage, ties should be expected. However, it's important to note we have two different sets of tiebreakers, including one for the individual group finishing positions and another set for the ranking of third-place teams.
Tiebreakers for Group Finishing Positions (via cafonline.com)
1. Points in head-to-head matches among tied teams.
2. Goal difference in head-to-head matches among tied teams.
3. Goals scored in head-to-head matches among tied teams.
4. If more than two teams are tied, and after applying all head-to-head criteria above, a subset of teams is still tied, all head-to-head criteria above are applied exclusively to this subset of teams.
5. Goal difference in all group matches.
6. Goals scored in all group matches.
7. Drawing of lots.
Tiebreakers for Third-Place Finishing Teams
1. Points
2. Goal Difference
3. Goals Scored
4. Disciplinary points
5. Drawing of Lots
Knockout Stage
After group play has decided all of the finishing positions, the knockout stage is a single-elimination tournament to determine the winner. Below is the knockout-stage bracket and path for every team to the final, which will be held in the Cameroon capital of Yaoundé.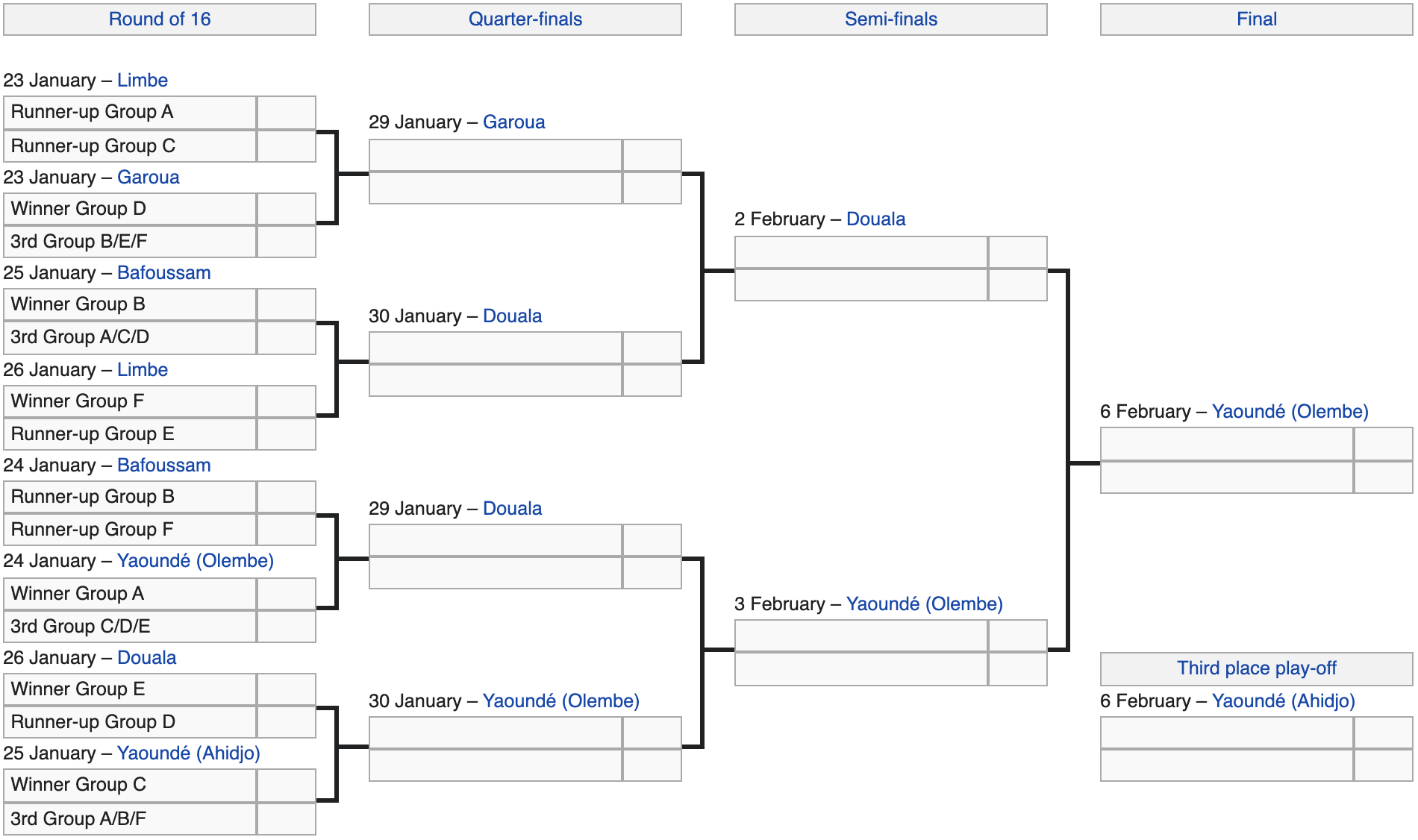 What Are Expected Goals?
The idea behind expected goals is they give an indication of whether results are based on sustainable factors like a steady creation of scoring chances or whether it's down to aspects such as luck or outstanding goalkeeping.
Therefore, we can project what "should" happen based on the chances being created and allowed by either side.
Expected Goals models can be different based on the data available. For mine, I will be going with a per-match average for all AFCON qualifiers and World Cup qualifiers that have taken place between 2019 and 2021. Below are the total xG and xG per match for each team I'll be using for the projections (data from footystats.org):
---
Note:Some countries like Sudan, Gambia and Comoros didn't qualify for the group stage of African World Cup qualifiers. Therefore, they played fewer matches than the rest of the teams in the competition. 
Additionally, individual matches where no xG data was available wasn't counted as a match toward that specific country, which is why it shows not all countries have played the same amount of games. 
---
From there, it's a four-step process to determine the amount of xG goals per contest for each team:
1) Once I have the number of xG per match, I take each team's xG times the opponent's xGA divided by 1.55 (the average goals per match I have individually determined based on a number of different factors).
Example: (Cameroon xGF/Match x Burkina Faso xGA/Match)/1.55 = Cameroon's xG
2) I use Michael Caley's method of using a team's overall transfer value to account for the talent level of each country. Using Transfermarkt data and running a few different calculations, I will be adding the following weights for each team.
3) Next, we have to factor in strength of schedule. Below are the average rankings of each country's opponents based on my World Soccer Power Rankings.
For strength of schedule, I take the number in the fourth column, which represents the strength of schedule adjustment to each team's projected xG.
Cameroon: (-0.01 Cameroon SOS – -0.11 Burkina Faso SOS)/2 = +0.05
Burkina Faso: (-0.11 Burkina Faso SOS – -0.01 Cameroon SOS)/2 = -0.0
Note: Since Cameroon is the host country, it will get a home-field advantage boost of 0.26 xG, which I have determined is the average home-field edge throughout all of Europe's top club leagues.
So, once we have determined each team's xG for the match, I then use a poisson distribution formula to determine the probability of each team winning and probability of a draw. If you would like to read more about poisson distribution, this article gives a fantastic explantation.
Once we have the win probability, draw probability and probability of the match going over or under the total, we can compare that to the implied odds of each line to determine the amount of expected value on the match.
AFCON 2022 Group-Stage Match Projected Odds
Group A
Group B
Group C
Group D
Group E
Group F
How would you rate this article?
This site contains commercial content. We may be compensated for the links provided on this page. The content on this page is for informational purposes only. Action Network makes no representation or warranty as to the accuracy of the information given or the outcome of any game or event.