Champions League Soccer Betting Preview: Projected Odds, Totals for Round of 16 Matches (March 9-10)
Credit:
Christina Pahnke – sampics/Corbis via Getty Images. Pictured: Hee Chan Hwang
The Champions League Round 16 second leg kicks off this week with spots in the quarterfinals on the line. Here is where we stand after the first leg.
It was quite interesting that we did not have one draw in any of the first leg matches, so each club that won the first leg will have the advantage of only needing a draw in the second.
When betting second legs of competitions like the Champions League it is vitally important to 1) know the first leg result and 2) know what score the teams that are behind need to advance to the quarterfinals. The team with the most goals between the two legs advances to next round and if there is a tie on aggregate, the team that scored more away goals moves on.
For example, Liverpool is up 2-0 on RB Leipzig. All the Reds need is a draw, lose by one, or lose by two while also scoring a goal. That means teams who already have a lead are likely to play more defensive than they did in the first leg. On the flip side of the example, RB Leipzig has to play very aggressive since they need to make up a two goal deficit.
The futures market has shifted quite a bit after the first round of fixtures as well, with RB Leipzig and Barcelona dropping way down the list. Of these current odds, nothing really grabs my attention, expect for Chelsea at +1300 due to their improved form under Thomas Tuchel.
2021 Champions League Odds
| Team | Odds |
| --- | --- |
| Manchester City | +250 |
| Bayern Munich | +350 |
| PSG | +500 |
| Liverpool | +750 |
| Chelsea | +1300 |
| Real Madrid | +1300 |
| Juventus | +1700 |
| Borussia Dortmund | +2000 |
| Atletico Madrid | +3000 |
| Sevilla | +6000 |
| Atalanta | +7000 |
| Porto | +10000 |
| Barcelona | +12500 |
| RB Leipzig | +25000 |
| Borussia Monchengladbach | +50000 |
| Lazio | +50000 |
We have some tantalizing fixtures this week including Barcelona in a similar spot to where they were against PSG in 2017 when they pulled off the greatest comeback in Champions League history.
Now, without further ado lets get into the projections.
You can use these projections to identify early betting value on the opening lines, and follow me in The Action Network App to see any bets I make throughout the week. 
Note: These projections do not take injuries into account. The injury news highlighted below is for players that regularly would start in each team's starting XI.
Tuesday's Matches
Borussia Dortmund vs. Sevilla
Sevilla's good run of form as taken a turn in the wrong direction, as they've lost three straight matches including a terrible road loss this weekend against 17th place Elche. However, Sevilla is still in the middle of a fantastic season, currently sitting fourth place in Spain's La Liga, where they have a fantastic defensive record, allowing only 0.94 xG per match.
Tactically, Sevilla struggled to defend Dortmund in the final third. Dortmund continually had Marco Reus and Jadon Sancho gravitate toward the middle of the pitch, which allowed both wing backs plenty of space to come forward on the outside flanks. This allowed Dortmund to create a ton of chances on balls coming in from out wide. Sevilla themselves usually uses a fantastic blend of pressing and defensive structure. It truly depends on the opponent, but Sevilla rarely tried to press Dortmund high in fear of allowing too much space for Reus and Sancho going forward in attack. Erling Haaland was also extremely clinical in front of net when Dortmund was on the counter attack, scoring two of their three goals.
Dortmund's 3-2 advantage is key because all they need is a draw or to lose by one while holding Sevilla to less than three goals. They didn't press high that often in the first meeting, so I expect something similar tactically, as they'll likely try to sit deep and hit Sevilla on the counter.
Injury News
Sevilla: None
Borussia Dortmund: Jadon Sancho (RM), Giovanni Reyna (LM), Raphael Guerreiro (CAM), and Axel Witsel (CM) are out. Manuel Akanji (CB) is questionable.
Juventus vs. Porto
Porto was the only club outside of the major five European leagues to make it to the knockout stage and pulled off a shocker in the first leg, beating Juventus 2-1 at home. The Portugese champions got an early gift from Juventus and never looked back.
Juventus is going to have its hands full in this match for a couple reasons: 1) Porto's defense is incredibly difficult to breakdown and 2) They are likely going to park the bus in front of net and try for a 0-0 draw.
Porto's defense has been a fortress during Primeira Liga play, allowing only 0.89 xG per match. The reason for that is because they play out of a 4-4-2 formation, which is one of the most defensive formations in soccer.
I expect Porto to park the bus in front of the 18-yard box and not even try to go forward in attack. Why do you may ask? Well because they did the exact same thing against Manchester City in the group stage when all they needed was a draw to advance to the knockout stage. They were able to secure a 0-0 draw, but take a look at the expected goals map. (Map via Infogol)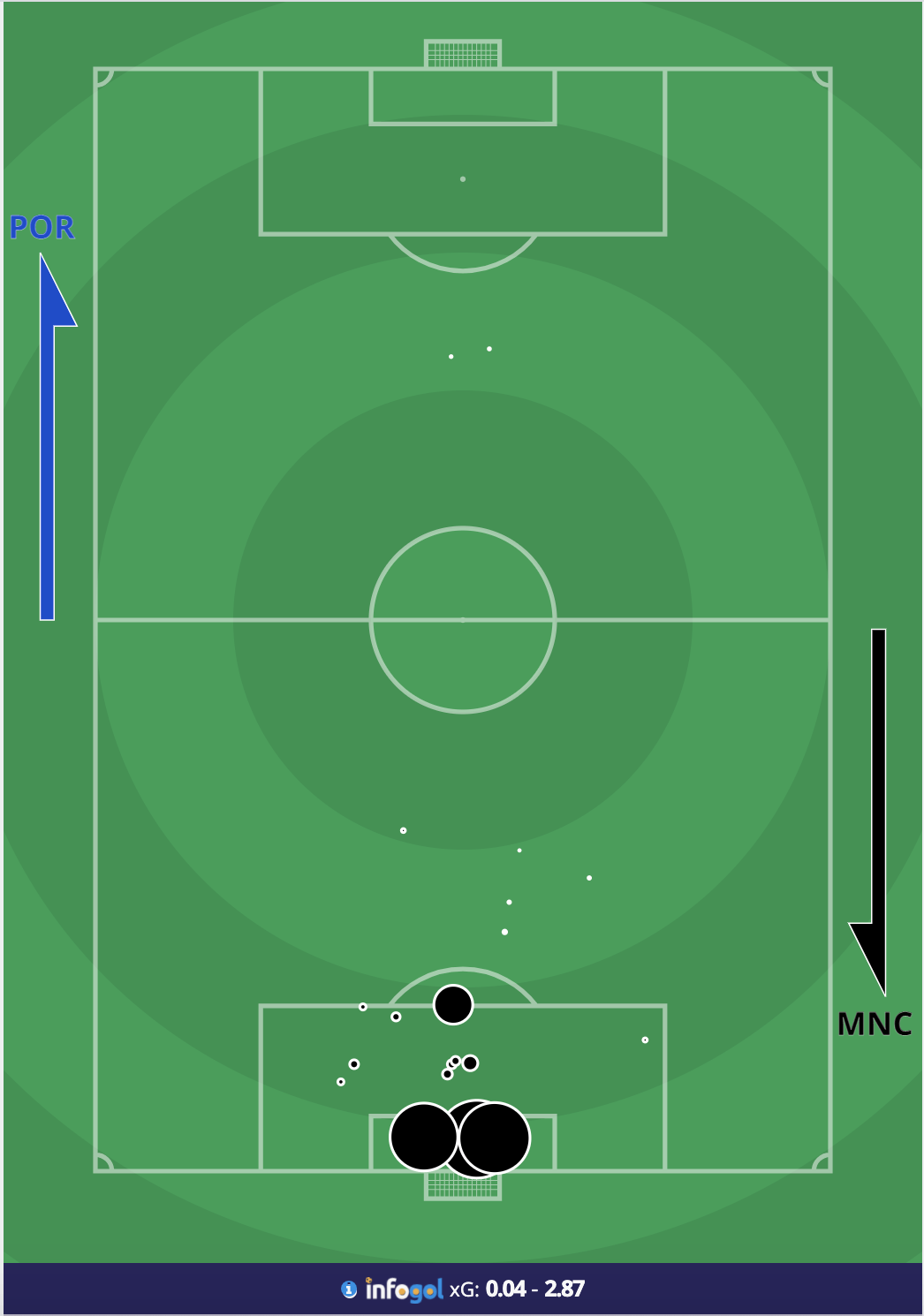 Juventus is starting to turn things around in Serie A. They've won six of their last eight matches and seven in a row at home. Pirlo has switched Juventus to a 4-4-2 this season which has been met with great results, as they're averaging 2.36 xGF per match, while only allowing 0.97 xG.
So with both teams playing out of a 4-4-2, this is likely going to be a very defensive contest, especially with Porto going for a 0-0 and Juventus only needing a 1-0 win since they got an away goal in the first leg.
Injury News
Juventus: Paulo Dybala (CF) and Giorgio Chiellini (CB) are out. Matthijs de Ligt (CB) and Rodrigo Bentancur (CM) are questionable. 
Porto: Chancel Mbema (CB) is out. 
Wednesday's Matches
PSG vs. Barcelona
PSG pulled off biggest stunner of Round of 16 first leg, beating Barcelona 4-1 at Camp Nou, without Neymar and Angel Di Maria. Kylian Mbappe absolutely torched Barcelona's defense, notching a hat trick, including this stunner:
So Barcelona is done right? They've never experienced a deficit like this right?
Now pulling off the greatest comeback in Champions League history twice in the span of four years is a tall task, but if there was a team to do it, it would be Barcelona. They have made up a ton of ground on Atletico in La Liga and are now only three points behind after winning 10 of their last 11 league matches. Their underlying metrics are really impressive, averaging 2.26 xGF per match and putting up a +16.77 expected goal differential in their last 11 matches.
What went wrong for Barcelona in the first leg is their attackers not fulfilling their roles in defense. Barca dropped into a 4-5-1 as the match went on with Messi up top, but he hardly ever pressed the two center backs. That allowed both PSG wing backs to move higher up the pitch, which moved Mpabbe and Moise Kean into a more central position.
This means that Ousmane Dembélé and Antoine Griezmann had to track the wing backs as they went forward, which they did an incredibly poor job of and allowed PSG acres of space out wide to play balls in. The clearest picture of this is the second Mbappe goal where Florenzi gets behind Griezmann to deliver a perfect cross for Mbappe to slot home.
When Barcelona did press high, PSG chose to play long ball and try to win arial duels and they were really successful at it, which afforded them a few great counter attacks including Mbappe's third goal. So, Barcelona has to lock down PSG's wing backs and avoid them getting high up the pitch or Mbappe might net another hat trick. The video below shows in detail how PSG tactically broke down Barcelona.
All PSG needs is to essentially lose by two goals or less, so I am expecting the French champions to play ultra defensive. They will once again be without Neymar, which will be a blow, but if they put up anywhere near the performance they did in the first leg, they should easily move onto the Round of 16.
Injury News
PSG: Neymar (CF) and Alessandro Florenzi (RB) are out. Moise Kean (ST) is questionable.
Barcelona: Gerard Pique (CB), and Ansu Fati (LW) are out. Sergi Roberto (RB) and Philippe Coutinho (CAM) are questionable.
RB Leipzig vs. Liverpool
Things have gone from bad to worse for Liverpool. Their 1-0 loss against Fulham on Sunday was their sixth in their last seven Premier League matches. The Reds seem lost on offense because they can't create anything in front of net, scoring only four goals in those seven matches.
The Reds tactical problem without their top three center backs has reached crisis level now that central midfielder and captain Jordan Henderson is out for the foreseeable future. Usually, Jurgen Klopp plays an all-out high press that gives teams fits. Liverpool's high line at the back also keeps teams from playing long balls up the field and causes most opponents to spend less time on the ball since they are forced to make quick passes. With their top three center backs out they've had to back off their high press so their fill-in defenders aren't exposed.
In the first leg, Liverpool's two goals came off of uncharacteristic mistakes by RB Leipzig's defense, which is only allowing 0.89 xG per match in the Bundesliga this season.
Here's the first mistake:
Here's the second mistake:
In fact, if you take away those two shots, Liverpool only created only 0.75 xG for the match.
RB Leipzig is a much better team than they showed in the first leg and the good news is this match will be played at a neutral site again, so they don't have to travel all the way to northwest England. Julian Nagelsmann tried to high press Liverpool the entire match to put pressure on their defense, but it actually ended up having the opposite effect, because their back three struggled to defend Mane, Firmino, and Salah all game long. Nagelsmann is one of the best up and coming managers in the world, so I think he should be able to figure out how to break down Liverpool's defense.
RB Leipzig needs to go all out for this match trailing by two goals, so it's going to be fascinating to see what kind of tactics Klopp goes with given all over Liverpool's defensive struggles at the moment.
Injury News
Liverpool: Virgil Van Dijk (CB), Jordan Henderson (CM), Joe Gomez (CB) and Joel Matip (CB) are out.
RB Leipzig:Willi Orban (CB), Marcel Sabitzer (CM) and Marcel Halstenberg (CB), and Angeliño (LB) are out.
How would you rate this article?
This site contains commercial content. We may be compensated for the links provided on this page. The content on this page is for informational purposes only. Action Network makes no representation or warranty as to the accuracy of the information given or the outcome of any game or event.