Premier League Week 24 Betting Preview: Can Leicester City Knock Off Liverpool?
Credit:
Getty Images. Pictured: Liverpool's Mo Salah and Leicester City's Harry Maguire
Premier League Week 24 matches will take place on Tuesday and Wednesday, highlighted by Leicester City-Livepool (Wednesday, 3 p.m. ET on NBC Sports).
I've broken down the betting market for all ten matches and provided value plays for three games, in addition to updated trends, stats, futures and more.
There are a number of big underdogs in the Premier League this week that public bettors are eyeing, but are any actually worth a flier?
Here's a look at the latest standings and betting trends before delving into Week 24 action.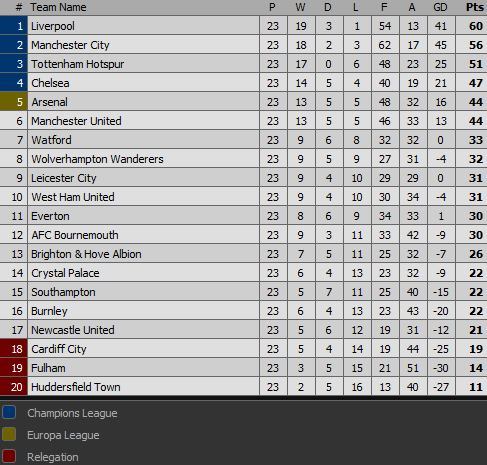 2018-19 Season Trends
Incredibly, draws have hit in just 19.13% of EPL matches this season, costing bettors 64.73 units in the process.
Leicester City (+16.12 units) remain the most profitable moneyline bet, mostly due to their two upset victories against Chelsea (+958 ML) and Manchester City (+860 ML).
Overs are hitting 53% of the time, good for +7.33 units on the season. Public bettors love taking the over so this hasn't been good news for sportsbooks.
For Week 24, I've analyzed the betting market for every match and provided three value plays (29-53-1 season record, -11.44 units).
(Odds are always on the move until kickoff, so be sure to follow all the latest lines and betting percentages here)
---
Tuesday (6 Matches)
Arsenal vs. Cardiff City (2:45 p.m. ET on NBC Sports Gold)
Arsenal are coming off an impressive EPL victory over Chelsea, 2-0, but they did lose to Manchester United in the FA Cup, 3-1, eliminating them from the competition entirely.
Now the only trophy left for the Gunners this season is the Europa League, which would get them into next year's Champions League tournament.
The injuries keep piling up for Arsenal, especially on defense. Hector Bellerin is out for the season and Sokratis will miss at least 3-4 weeks of action. Arsenal may not need them for this specific game, but it will certainly test their depth the next couple months.
For this weekend's meeting against Cardiff City, the market lists Arsenal as heavy -400 favorites with an over/under of 3, and the total is trending up to 3.5. Cardiff haven't scored for four straight matches in all competitions, so the books clearly think Arsenal will be doing all the scoring.
You could make the argument that Cardiff are the contrarian pick, but there are plenty of public bettors taking a shot on the big underdogs. I expect Arsenal to get a comfortable 3-1 or 4-1 victory on Tuesday night.
Fulham vs. Brighton (2:45 p.m. ET on NBC Sports Gold)
In their previous EPL match, Fulham were hard-luck losers. After a great first-half performance, the Cottagers allowed a last-second goal against Tottenham. Brighton's season has been the opposite, earning results despite not playing particularly well, very similar to Burnley last year.
I've been waiting for Fulham to turn things around and I still think they can salvage this season, but it has to start with a home win this weekend. I'm willing to bet Fulham at any number above +130, so the current value at +145 is solid.
Huddersfield vs. Everton (2:45 p.m. ET on NBC Sports Gold)
Huddersfield are now massive -3300 favorites to be relegated and have won just one home match all year.
Meanwhile, Everton are coming off a poor 2-1 loss at Southampton in EPL action and an embarrassing 3-2 loss at Millwall in the FA Cup. They're once again middle-of-the-pack in the Premier League and are contending for 0 trophies.
Despite their struggles, Everton are receiving nearly 80% of bets, yet they've moved from -105 to +110. Public bettors want no part of Huddersfield to win/draw, although clearly some sharp money does. The Terriers have been shutout in consecutive EPL games but that hasn't deterred the sharps from chiming in.
This contrarian angle has been profitable historically, and it falls right in line with "buying low" on bad teams, especially at home. Instead of choosing the win or draw, I'm taking Huddersfield +0.5 (-115) which covers both scenarios.
Wolves vs. West Ham (2:45 p.m. ET on NBC Sports Gold)
Wolves are riding a high after earning a last-second victory over Leicester City, 4-3, in their most recent EPL action. They're also still alive in the FA Cup after drawing 2-2 at Shrewsbury.
West Ham may have had a worse week than Everton, losing in the EPL and then getting upset by AFC Wimbledon in the FA Cup. Bettors want no part of The Hammers on the road and odds have shifted accordingly from +345 to +380.
Following the line movement, there's a bit of value on the draw (+255), and I'm forecasting a 1-1 final.
Manchester United vs. Burnley (3 p.m. ET on NBC Sports Network)
Manchester United (-500) have a very favorable matchup before facing Leicester City on Super Bowl Sunday, and there's really no reason to fade the Red Devils. Burnley haven't shown much all season long and have been horrid defensively, so expect a multi-goal win from United.
Newcastle vs. Manchester City (3 p.m. ET on NBC Sports Gold)
Ultimately this match comes down to "guess how much Man City will win by". The Cityzens are -500 road favorites and will likely win by a 3-0 or 4-0 scoreline, just like last weekend's match at Huddersfield.
Wednesday (4 Matches)
Bournemouth vs. Chelsea (2:45.m. ET on NBC Sports Network)
Chelsea are in danger of dropping out of a Champions League position, but they've got a couple 'easier' matches against Bournemouth and Huddersfield before facing Manchester City on February 10th.
The Cherries are +440 underdogs to pull off the home upset and a good portion of the public is biting on the moneyline. This may be another match to avoid the trendy underdog and side with Chelsea (-150) instead.
Southampton vs. Crystal Palace (2:45 p.m. ET on NBC Sports Gold)
Both clubs are actually playing some good football, and I tend to bet on Crystal Palace frequently. However, I'll be sitting this one out as I get the feeling there will be a 90th minute goal to sway the result. There's not a lot of betting data yet, but it should be balanced across the board on Palace, Southampton and the draw.
Liverpool vs. Leicester City (3 p.m. ET on NBC Sports Gold)
These teams played in similar thrilling matches in Week 23, but with opposite results: Liverpool came back to beat Crystal Palace, 4-3, while Leicester City came back against Wolves multiple times but ultimately lost in stoppage time, 4-3.
It's no secret that the Foxes have been giant-killers this season with wins over Chelsea and Man City, but a victory at Liverpool would be their biggest at +1100 odds. They're an extremely trendy road underdog, attracting nearly 50% of the bets, so I would be careful thinking that lightning will strike a third time.
Tottenham vs. Watford (3 p.m. ET on NBC Sports Gold)
Similar to their Arsenal rivals, Tottenham have been hit hard with key injuries and were bounced in the FA Cup Fourth Round over the weekend.
In addition to Harry Kane being out, Dele Alli will also miss at least a month of action, which is terrible timing considering the Champions League Round of 16 is right around the corner.
If a big underdog wins this weekend, I'd definitely lean toward Watford (+500) to do so. Spurs just haven't been in form and I don't expect them to do a 180 with so many key players missing.
Value Plays
Huddersfield +0.5 (-115) vs. Everton
Fulham (+145) vs. Brighton
Wolves-West Ham Draw (+255)