Stuckey: My 2019 French Open ATP and WTA Futures Bets
Credit:
Susan Mullane-USA TODAY Sports. Pictured: Kiki Bertens and Madison Keys
Set your alarms for 5 a.m. ET on Sunday morning for the start of the 2019 French Open.
Stuckey walks through the WTA and ATP draws and shares his futures for this year at Roland Garros.
Handicapping the futures market ahead of the four tennis Grand Slams is one of my favorite exercises of the year. Digging into the 128-player fields is a daunting task, but the rewards can be fruitful. This is especially true for the puzzle known as WTA, which looks ripe for upsets at this year's French Open.
After obsessing over this draw for over 36 hours, I have finally crafted my futures card. Let's start with the ATP, which should be much more straightforward than the WTA.
ATP French Open Futures
If you fancy long shots, Roland Garros has not been kind over the past decade-plus. In fact, only four men have won the French Open over the past 14 years. Amazingly, Nadal has won 11 of those 14. The true King of Clay.
Is this the year that changes? Possibly — although it looks like we will see many of the same cast of characters toward the end of the show. Before I get into the draw, here is the 2019 ATP French Open betting cheat sheet for your reference.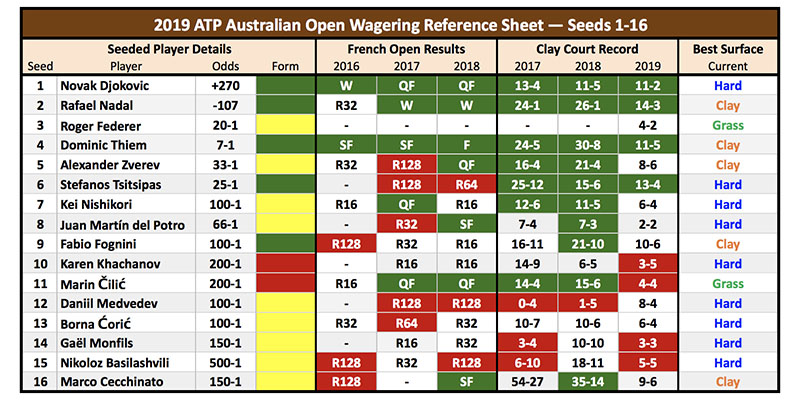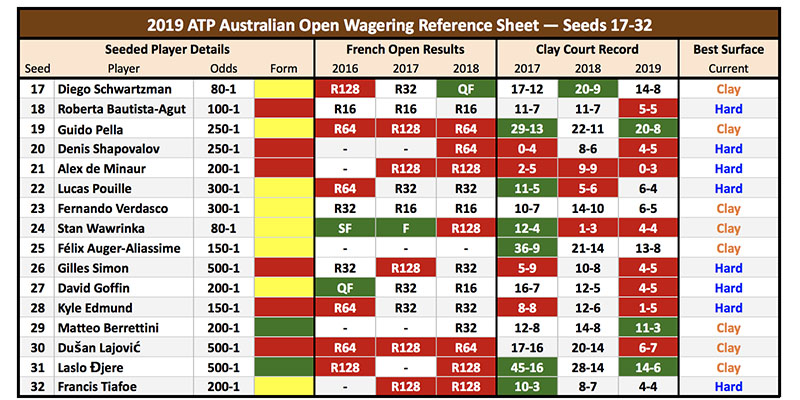 Looking at the extremely favorable draws of Djokovic and Nadal, I don't see anybody worth an investment in the futures market to take either out before the semifinals.
Despite his past woes against Fernando Verdasco, who lurks in his section, Dominic Thiem should also navigate through his quarter. The Austrian has advanced to the semis at the French Open in each of the past three years at Roland Garros. No other player on Tour can make that claim.
I'll happily back the second-best clay player on Tour at 7-1, especially considering he can't face Nadal until potentially the final.
That leaves Federer's quarter, which looks completely wide-open. The big names in this section just don't strike any fear in me for a myriad of reasons.
Federer, who hasn't even competed at the French Open in the past three years, looks as vulnerable as he ever has in his illustrious career. Especially on clay.
Marin Cilic has been an absolute mess, Stan Wawrinka is still searching for his peak form and I don't trust Kei Nishikori at this point in his career.
You will also find American Francis Tiafoe in this quarter. He replaced the enigmatic Nick Kyrgios as the last seed, but I don't think he's ready for a deep run here yet.
I could make a case that Marco Cecchicato, Diego Schwartzman and Matteo Berrettini hold some value. They are each fine clay-court players when on their game — and this is the quarter to take a long shot in. However, I  have my sights set on a different target: Greek phenom Stefanos Tsitsipas.
Not only does the Greek arrive in good form, he should have no shortage of confidence after defeating some of the best players on Tour over the past two seasons.
Tsitsipas beat Nadal and Alexander on clay in Rome earlier this month. He also took out Federer at the 2019 Australian Open en route to a semifinals appearance in Melbourne. I think he can repeat that run here in Paris — and potentially take it a step further. He is one of the few players on Tour with the game and mindset to challenge the Big 3.
If you insist on taking a long shot, here are the only three names that I even remotely considered:
Fabio Fognini 100-1
Matteo Berrettini 200-1
Laslo Djere 500-1
I ultimately decided to stay away from all three and just roll with the Austrian and the Greek.
French Open ATP Futures
Dominic Thiem 7-1
Stefanos Tsistsipas 25-1
WTA French Open Futures
In complete contrast to the ATP, the 2019 WTA French Open draw is completely wide-open. I could realistically see 25 different women taking home the hardware. Before I get into my take on the field, here is a handy betting cheat sheet to gather a little more intel on all 32 seeds.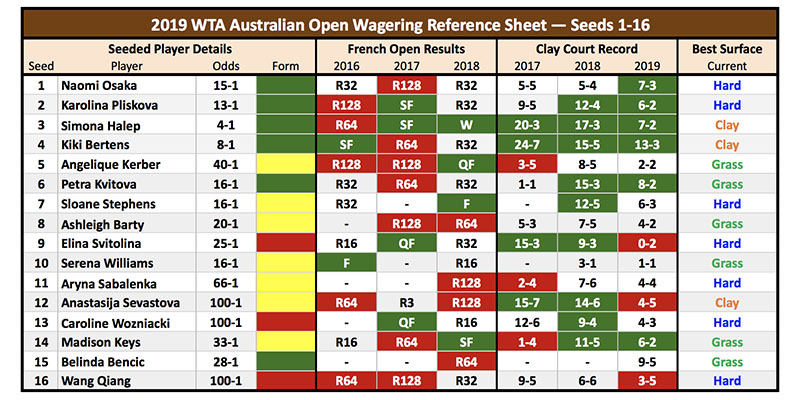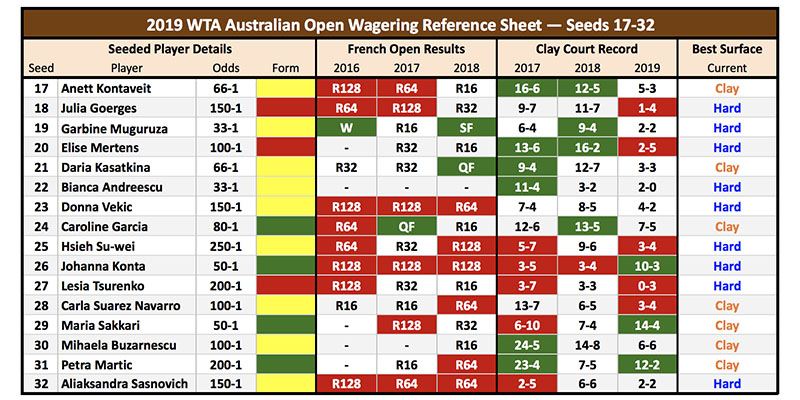 This year's French Open feels even more wide-open than other WTA Grand Slams as a result of the countless injury and form concerns of this year's seeded players. This tourney presents a tremendous opportunity for one of the up-and-comers to break through.
I will walk you through my quick thoughts on each of the quarters before finishing with my final futures card. Let's start with top-seeded Naomi Osaka's quarter.
Naomi Osaka Quarter
Yes, Osaka (15-1) has won the past two Slams but I want no part of her at this year's French Open. She finds herself in a gauntlet of a section.
There are also serious fitness concerns as she's had to withdraw from two of the past three tourneys with two different injuries. Osaka has also never won a clay court tile on Tour — something her first-round opponent has done twice.
I actually think Madison Keys (33-1) has the easiest path in this quarter to the fourth-round, where she would face Osaka if the seeds hold. The American actually owns a 3-1 head-to-head record over Osaka.
The weaker bottom half of this quarter will come down to Serena's (16-1) form and fitness. If she's on and healthy, she should cruise to the quarterfinals. Those are big ifs on her worst surface.
Simona Halep Quarter
There are some interesting young guns in this quarter but this is Simona Halep's (4-1) to lose. That said, those who know me know where I'm going. I'm backing Daria Kasatkina (66-1) as I have the past couple French Opens.
I am convinced she will win multiple titles at Roland Garros in her career, so this is almost an annual requirement on my part. However, there are many issues with the Russian's game right now. She has not been good in 2019 to put it kindly. Her confidence is low and her second serve is beyond worrisome.
That said, when she's on her A game, she's one of the best clay court players in the world. Maybe she can find some magic this week. An easy early draw won't hurt.
Sloane Stephens Quarter
Last year's finalist Sloane Stephens (16-1) got a very favorable draw. If she brings her A game to Paris, she should cruise to the fourth-round where she would potentially meet one of a handful of seeds that are struggling with form and fitness of late. I couldn't argue against backing the American who seems to play her best tennis at majors.
The bottom half of this quarter is much more intriguing with the likes of Belinda Bencic (28-1), Johanna Konta (50-1) and Kiki Bertens (8-1). All three players are in outstanding form but I trust the clay pedigree of Bertens the most. Yes, Konta recently defeated Bertens on clay but the Brit has never won a match at Roland Garros.
I like Bertens to come out of this quarter but could see the arguments for a supremely confident Bencic or "Slam Sloane".
Angelique Kerber Quarter
This quarter has the potential for the most chaos.
Kerber (40-1) is not only dealing with an injury, clay is by far her worst surface. I think that will open up the door for either Anastasia Sevastova or unseeded Marketa Vondrousova (40-1). I prefer the current game and mental toughness of the latter. Vodnrousova can ball on the red dirt.
The bottom half of this quarter looks just as messy. Caroline Wozniack (100-1)i is dealing with multiple injuries and Julia Goerges (150-1) arrives in poor form. The obvious choice is Karolina Pliskova (13-1), who comes in with plenty of momentum on the dirt.
If you're looking to take a shot, I'd focus in on Kristina Mladenovic (66-1). "Kiki" has been a different player under new coach Sascha Bajin. She has also had a number of massive wins in the past here at the French Open and made the quarterfinals back in 2017. Her draw isn't easy but she will at least have the support of the home crowd.
French Open WTA Futures
Kiki Bertens 8-1
Belinda Bencic 28-1
Madison Keys 33-1
Daria Kasatkina 66-1
Marketa Vondrousova 40-1