Stuckey's 2019 Wimbledon WTA Betting Preview: Finding Longshots in a Lopsided Draw
Credit:
Susan Mullane-USA TODAY Sports. Pictured: Ashleigh Barty
WTA betting action for the 2019 Wimbledon Championships will start on Monday morning in London.
Ashleigh Barty is the current oddsmaker favorite after winning the French Open and the only other grass tournament she entered this season.
Stuckey examines the overall field, analyzes each quarter and provides his seven WTA futures, including two 150-1 shots.
Before every Grand Slam I make two sets of futures betting prices:
Pre-draw
Draw-adusted
If the market odds differ drastically from mine for a player I have targeted (depending on surface, form, etc.) — I may invest in a future prior to the release of the draw. That can sometimes work in my favor and sometimes not, depending on the so-called' "luck of the draw."
Well, this year, I only had one pre-draw future in Donna Vekic, who I bet to win Wimbledon back on June 17. 
Yeah, that didn't work out how I planned. First, she withdraw from Eastbourne with a hip injury. That might not be the end of the world if it's just pre-cautionary. But still not ideal.
Despite that injury, her pre-draw odds dropped to 40-1 which was right around my price. However, those odds changed quickly after Friday's draw reveal when Vekic was unfortunately placed in one of the most loaded major quarters I have ever seem.
Vekic also has an extremely difficult first-round match against grass-loving American Alison Riske. Vekic, who arguably has the hardest draw in the tournament, now sits at 66-1.
Before we dig further into that quarter of death as well as the other three quarters and my final futures betting card, let's take a closer look at the seeds and some other relevant recent data.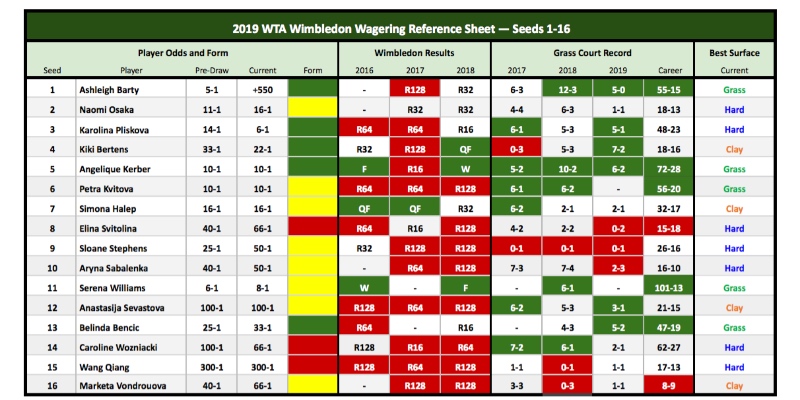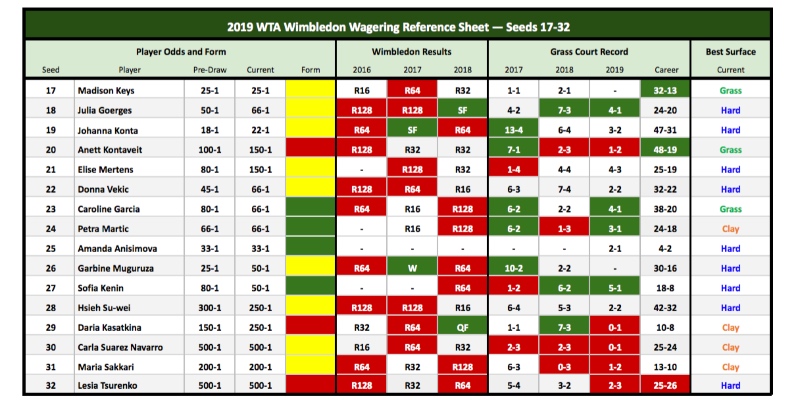 Former Wimbledon Winners
In 2019 Draw
Serena Williams (7)
Venus Williams (5)
Petra Kvitova (2)
Angelique Kerber (1)
Garbine Muguruza 1)
Maria Sharapova (1)
Recent Wimbledon Semifinalists
Since 2016
Serena Williams (2)
Venus Williams (2)
Angelique Kerber (2)
Garbine Muguruza
Julia Goerges
Johanna Konta
Jelena Ostapenko
Magdalena Rybarikova
*Elena Vesnina made the semis in 2016 but is not in draw
2019 Grass Court Titles
Karolina Pliskova (Eastbourne)
Ashleigh Barty (Birmingham)
Caroline Garcia (Nottingham)
Alison Riske (Hertogenbosch)
Sofia Kenin (Mallorca)
Wimbledon Quarter 1
Top Seed: Ashleigh Barty
Stacked. Loaded. The Death Quarter. Whatever you want to call it, this is the most difficult (on paper) quarter I've ever seen at a major.
When I made my pre-draw Wimbledon odds, the three women with the best odds to win the championship were Ashleigh Barty, Angelique Kerber and Serena Williams. All three are in this quarter.
In addition to Vekic, I also had Belinda Bencic circled as I do every year at the All England Club. Both are also in this quarter. And don't forget about 2017 champion Garbine Muguruza, who can get hot out of nowhere. Yup the Spaniard is also in this quarter as is 2004 Wimbledon winner Maria Sharapova.
In total, there are seven former Slam champions, two legit contenders in Bencic and Vekic and a few unseeded grass-specialists.
If the seeds hold, the potential fourth-round matchups look like legit semifinal matches:
Ashleigh Barty vs. Belinda Bencic
Serena Williams vs. Angelique Kerber
As a result, I simply can't justify backing Serena, Kerber or Barty at any number lower than 10-1. They will likely have to survive an absolute gauntlet just to get out of the quarter.
I'm already locked in with Vekic but would no longer recommend the Croat at 60-1 with her grueling draw. Muguruza is intriguing at 50-1 but something still seems off with her game.
The only future I will be adding from this quarter is Belinda Bencic — who I've said for years will win multiple Wimbledon titles. Similar to Daria Kasatkina at the French Open, this is almost an annual auto play in London as long as the price isn't outrageous.
Bencic loves the grass and comes in on good form. The 2013 Wimbledon Junior champ also has a relatively easy path to the third-round. It could become a nightmare from there but the Swiss can play with anybody on Tour on this surface. And when peaking, Bencic has shown she has no issues getting through gauntlets.
Wimbledon Quarter 2
Top Seed: Kiki Bertens
The discrepancy of talent in this quarter compared to the first is staggering. Kiki Bertens was the biggest beneficiary of the lopsided draw which explains part of her futures price drop from 33-1 to 22-1.
The Dutch has become an elite all-court player and should cruise to the fourth-round as a substantial favorite in each match — as long as she's on her game and fit. Bertens did withdraw from the French Open with an illness but has looked great on the grass swing, making the final in Hertogenbosch and the semi in Eastbourne.
The bottom section of this quarter features more talent with seeds Sloane Stephens, Petra Kvitova, Amanda Anisimova and Jo Konta. However, Stephens does not fancy the grass (0-3 past three seasons) and fitness questions surround two-time Wimbledon champ Kvitova. The Czech also does not have an easy first round match against grass-loving Ons Jabeur.
Anisimova is fresh off a semifinal appearance at Roland Garros but I don't think the American is quite ready for a deep run on the grass just yet. That leaves local-favorite Konta — who has failed to make it past the second round in six of her seven appearances at Wimbledon. However, that one was a semifinal run in 2017.
If I had to pick, I'd say Konta comes out of this quarter. The Brit is the only future I truly considered from this relatively easy-looking quarter, but I just don't see enough value at under 25-1. 
Wimbledon Quarter 3
Top Seed: Karolina Pliskova
Again, as a result of the stacked first quarter, we have another relatively easy-looking section here, especially in the top half.
The highest seed in the top half, Elina Svitolina (66-1), has had a horrid 2019 season and hasn't looked better of late, losing twice in the first round during the grass swing. The Ukrainian is one of only three seeded players with a career losing record on grass.
That said, Svitolina has an extremely easy draw on paper but I also wouldn't be shocked if she lost in the first-round. The biggest benefactor could be Maria Sakkari (200-1); the Greek doesn't thrive on grass but has an ideal path to the fourth-round here.
You could make an interesting case for Petra Martic (66-1) — who comes in on form with a reasonable path to the quarterfinals. However, I still don't fully trust her game on grass.
If you're looking for a deep dark horse, look at 18-year-old Russian Anastasia Potapova (1,000-1). The former Junior No. 1 won the Wimbledon Junior title in 2016 and has a game suitable for this surface. I personally played her at 150-1 to win this quarter.
In regards to the bottom half, Karolina Pliskova (6-1) is the clear favorite to win this entire quarter. She comes in on fantastic form after rolling through quality competition en route to a title in Eastbourne. She only lost 19 total games — by far the lowest of any 2019 tournament winner.
The addition of new coach Conchita Martinez (1994 Wimbledon champ) is clearly helping Pliskova on grass. If her serve is firing on all cylinders, she should ride this wave to the semis.
However, for whatever reason, the Czech hasn't had much success in the past at Wimbledon — the only major she has never made a quarterfinal. Plus, I just don't see any value at her current price of 6-1.
Another name worth throwing out is Jelena Ostapenko (66-1). I think grass is her best surface and she can blast anybody off the court but I just don't trust her serve right now. Plus, she has an extremely tricky opponent in the first-round who could give her fits.
Instead I'm actually going to throw a dart on a player I've always loved on the grass: Annet Kontaveit (150-1), who has won over 70% of her career matches on the lawn.
She does arrive in London in poor form and has a potentially tricky first-round opponent in Shelby Rogers but if she can get a few wins under her belt, she can make a deep run in this wide-open quarter.
Wimbledon Quarter 4
Top Seed: Naomi Osaka
This is definitely the second-hardest quarter.
I spent the most time here as there are a lot of intriguing options. One I didn't consider is Naomi Osaka (16-1), who just hasn't quite mastered grass nor clay just yet. (Osaka didn't play Juniors which I think hurt her in this area.) She also just lost on grass to her first-round opponent Yulia Putintseva.
Simona Halep (16-1) could certainly come out of this quarter but the price isn't right for me. The same can be said for Madison Keys (25-1), who has struggled with Halep throughout her career for what it's worth. The Romanian just gets everything back and forces Keys into an eventual error.
The value play in this quarter is Venus Williams (100-1). I can't believe I'm saying that for such a prominent name but the price is simply too high for the five-time champ. Her last title here came in 2008 but the American made the semis and final in 2016 and 2017, respectively. Her path isn't easy but she's more than capable of getting out of this quarter on her favorite surface by far.
In the bottom half, I think there are opportunities with questions surrounding both Osaka and Wozniacki. I ultimately cut the possible investments down to Sofia Kenin (50-1) and Caroline Garcia (66-1).
Kenin won Mallorca this grass season, beating three Wimbledon seeds and two grass-court specialists. The young American is ready to make a run on this surface.
I do have questions about Garcia's mental toughness. I think it's one of the reasons she hasn't thrived at majors (one career Slam quarterfinal appearance) but she comes in peaking and loves the grass. Garcia can also continue building momentum and confidence with a manageable early draw.
2019 Wimbledon Futures
Belinda Bencic 33-1
Sofia Kenin 50-1
Donna Vekic 66-1
Caroline Garcia 66-1
Venus Williams 100-1 (0.5 unit)
Anett Kontaveit 150-1 (0.25 unit)
Anastasia Potapova 150-1 to win Quarter 3 (0.25 unit)
How would you rate this article?