2020 US Open Women's Futures Picks & Best Bets: 6 Sleepers with Value in Wide-Open Tournament
Credit:
Matthew Stockman/Getty Images. Pictured: Naomi Osaka striking a forehand
Stuckey highlights a few plays in the mid-tier and a few longshots for the 2020 U.S. Open on the women's side.
In a wide-open tournament where we don't know much about player form coming in, he thinks it makes sense to spread risk across a number of players.
Get his full futures breakdown for the women's draw in the 2020 U.S. Open below.
It's been a while but our second grand slam of the year has finally arrived with the 2020 US Open. It's not your normal Grand Slam during these unprecedented times. Just take a look at some of the top names not participating in this year's field:
Simona Halep
Bianca Andreescu
Ashleigh Barty
Belinda Bencic
Kiki Bertens
Elina Svitolina
Prepare for the Unknown
That makes what's usually a wide open WTA field even more chaotic. Another unique circumstance leading up to the tournament is the lack of preparation for many players with some not even playing since the restart. There are also new courts at the US Open for the first time in over 40 years. Based on player feedback so far, they will play much faster.
Oh, and we won't have any crowd, which will be very odd at the usually boisterous US Open. Maybe it will hurt Americans the most without the backing of the home crowd. Another hypotheses is it will help the unseeded players the most. They are used to playing in empty venues and won't have to deal with the unfamiliar pressure of crowds at a major. Maybe we see fewer underdogs melt down trying to close out sets and matches?
Shop for the Best Number
Before I break down each quarter and share my futures card, I want to stress the need to shop around for the best odds. You should be doing this with any bet, but especially when it comes to tennis outrights as the prices can differ significantly depending on the book.
Let's get into the field, starting with a look at each of the 32 seeds followed by a quick analysis of each quarter. Hopefully, we can hit another US Open future like last year with Bianca.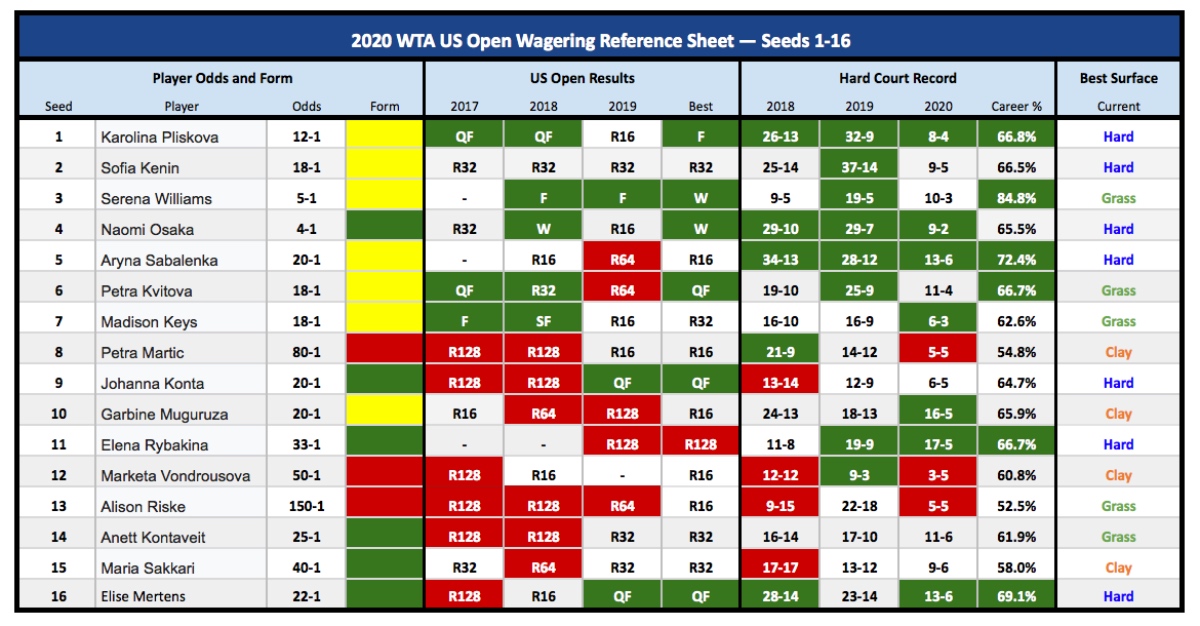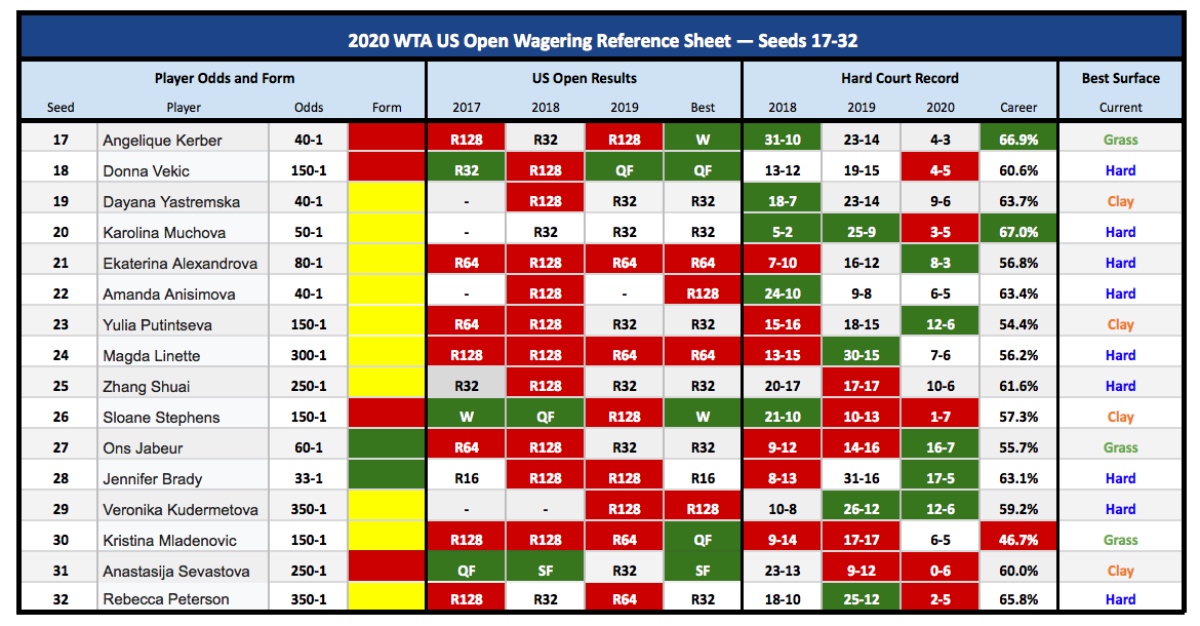 Quarter 1 Betting Preview
Top Seed
Karolina Pliskova (12-1) is the No. 1 overall seed and clear favorite to come out of this quarter at 3-1 odds. Even with a fairly easy draw, I have no interest in backing the Czech at her current price — and any woman at anything under 20-1 odd for that matter. This is just such a unique grand slam, so I'd rather look for bigger payouts to take advantage of the chaos.
Pliskova lost her only match since the restart in straight sets to Veronika Kudermetova and will miss the on-court coaching she needs at times. She was a runner-up here in 2016, a quarterfinalist in 2017 and 2018 and made it to the fourth round in 2019, so she's comfortable on these courts.
And while she's advanced to at least the quarters in six of her past eight hard-court Slams, I still can't trust her to break through for her first career Slam win just yet.
Would it surprise me if she pulled it off on these faster courts? Absolutely not, especially if she's firing her serve from the jump, but I just have no interest at a price of 12-1.
Sleeper
The biggest threat to Pliskova could actually be Jennifer Brady (30-1). The hard-hitting American has looked in form since the restart, taking home a hard court title in Lexington, winning every match in straight sets, before suffering a bit of a let down against an in-form Jessica Pegula in New York.
Brady hasn't made it past the second round in any major over the past three years but did get to the fourth round at both the US Open and Australian Open back in 2017. If she gets to the fourth round again this year, she'll likely have to take out Pliskova in the third round.
Brady won only one game in their only career meeting, back at the 2017 US Open, but she's a much different player now. If you value form and confidence, Brady is the outright target in this quarter.
[Bet Jennifer Brady at DraftKings and get a $1,000 sign-up bonus.]
Other Notable Players
Former 2016 US Open champion Angelique Kerber (40-1) has yet to play a match since the restart, so I'm not going to bet her, but she does have the pedigree with three major wins and actually owns a winning head-to-head record against Pliskova, who she could face in the fourth round.
The German is 7-5 overall against Pliskova and 6-2 on hard courts, including a win at the US Open back in 2017 en route to her title.
I just haven't seen enough to consider Kerber, who has bowed out here in the first round in two of the past three years.
Grass-loving American Alison Riske (150-1) has lost in the first or second round in six straight trips to the US Open but should fancy these faster courts. I just didn't love what I saw in her only match back since the restart in a loss to Amanda Anisimova.
The future is bright for Czech Marketa Vondrousova (50-1), who I backed last year when she made the French Open final. I love her on clay but she has a game that can also excel on hard courts.
Her form just hasn't looked great — both before and after the break. She's lost four straight matches, including two since the restart to qualifiers although both went the distance.
Yulia Putintseva (150-1) will battle and annoy her opponents until her time ends in New York. She'll always be worth a look as a match underdog, but I don't see her hoisting this trophy.
Many forget that Kiki Mladenovic (150-1) made the US Open quarters in 2015 but this is not her best surface. She's lost in the first or second round in eight straight hard court slams and has the only losing career hard-court record of any seeded player.
Petra Martic (80-1) made the fourth round here in 2019 but this isn't her best surface. She has played six matches since the restart but all were on clay.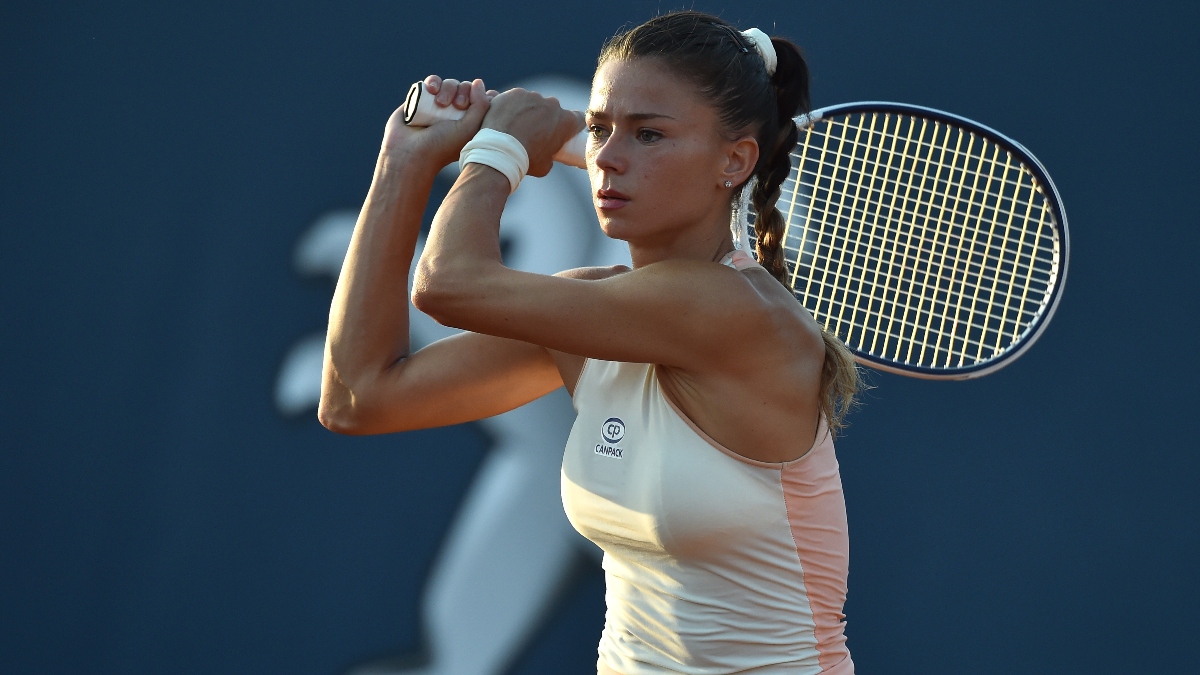 Quarter 2 Betting Preview
Top Seed
Naomi Osaka (4-1)
Osaka is the deserved favorite for both this quarter and tournament although I don't see any value in backing her at this price. She's the best hard court player in this field and has won two of the past four hard court majors.
She's looked spectacular in her first tournament back since the restart, making the final on these very courts during the week leading up to the US Open.
Sleepers
Naomi does have a potentially tricky second-round opponent in unseeded Camila Giorgi (150-1), who can bash anybody off of a hard court on her best day.
Plus, Osaka had to pull out of the Western & Southern Open on Saturday after she injured her hamstring against Elise Mertens. Whether or not it was simply a cautionary move remains to be seen but it's definitely worth monitoring.
Giorgi could become the biggest benefactor of a potentially hampered Osaka — and the Italian has flashed some brilliant form since the restart.
[Bet Camila Giorgi at DraftKings and get a $1,000 sign-up bonus.]
This quarter is actually pretty loaded as Anett Kontaveit (25-1) was a name I had circled prior to the release of the draw.
Her form has looked great since the restart and I wouldn't have backed her at the current price if Osaka had no hamstring concerns, considering she has a tough first-round opponent and sits in the same half of this quarter as Osaka.
But after the hamstring news, I took a little piece of the Estonian.
[Bet Anett Kontaveit at DraftKings and get a $1,000 sign-up bonus.]
The most intriguing name to me in the this quarter is Elena Rybakina (33-1), who I think gets to the fourth round here. The very talented Dayana Yastremska (40-1) looms as a potential opponent in the third round but I have questions about Dayana's health at the moment after watching her most recent match.
Rybakina made multiple hard-court finals before the restart and has a game tailor-made for these courts. She did lose her only match since the restart but a manageable early draw should help her shake the rust off. Rybakina, who boasts a 17-5 record on hard courts this season, is very dangerous.
[Bet Elena Rybakina at DraftKings and get a $1,000 sign-up bonus.]
Other Notable Players
Anastasija Sevastova (250-1) lost both of her matches since the restart and all six of her non-Fed Cup hard-court matches in 2020. She's made the quarters in three of her past four US Open appearances but the form just isn't there. Oh, and if she can even pull off the upset in the first round against Coco Gauff (33-1) she'd likely face the tournament favorite in the third round.
Magda Linette (300-1) has never advanced past the third round of a major. I can't see her coming out of this tricky quarter. That also applies to Rebecca Peterson (350-1).
That leaves us with Petra Kvitova (18-1) — who obviously has the pedigree and talent to make a run here and beat any player on Tour on her best day. However, her serve and fitness left a lot to be desired in her only match since the restart — a loss to Marie Bouzkova.
The US Open also remains the sole slam where Petra has never made it past the quarterfinals. Id' need 30-1 or better to consider the Czech.
Quarter 3 Betting Preview
Top Seed
Madison Keys (21-1) did not look great in her first match since the Australian Open, losing convincingly to Ons Jabeur. That said, the former finalist has advanced to the fourth round in each of the past five years at the US Open.
Her game will always give her a chance in New York, but she could also beat herself on any given day if she wakes up on the wrong side of the bed and sprays errors all over the court.
The draw for Keys does look extremely easy on paper, so don't be shocked if she gets to the fourth round for a sixth straight year. Here are the three other seeds in her half of the third quarter:
Donna Vekic (150-1) did make the quarters here last year but I didn't see enough form from the Croat in her three matches in August.
Garbine Muguruza (20-1) 

hasn't played since the restart, so I won't even consider backing the Spaniard, especially at this price.

Zhang Shuai (250-1)

has lost her only match since the restart and has never made it past the third round here. She'd also likely have to face Pliskova in the third round. Shuai has lost all seven career meetings with the top seed although the past three have all gone the distance.
The GOAT
Serena Williams (5-1) highlights the bottom half of this quarter. Serena hasn't looked that sharp since the restart but she did get some important match play under her belt. She went three sets against all five opponents, losing twice to Maria Sakkari and Shelby Rogers.
The loss to Sakkari was the most troubling. Serena appeared to cramp up and check out mentally in the third set after struggling to close out both of the first two sets. And that will be the last taste of tennis she had before her first round match.
I'm not sure where Serena currently stands mentally or physically but it's very difficult to bet against her making a run in New York. She has made the semifinals in an incredible 10 straight appearances here and has never lost in the first or second round in 19 US Open appearances. The six-time US Open champ also lost in the final in each of the past two years.
Serena hasn't won a Slam since the 2017 Australian Open as her 24th win has evaded her time after time. Can she finally get it done over the next two weeks? Possibly. She at least has a very favorable draw.
The other seeds in her half of the quarter shouldn't scare her as Sloane Stephens (150-1) is lost, out of shape and out of form at the moment. Maria Sakkari (40-1) did just beat Serena but the match was pretty much gifted to her. And Amanda Anismova (40-1) is still a bit too inconsistent for my liking. That said, I can't back her at 5-1 to win this tournament with some of the vulnerabilities we've seen of late.
While I'm not backing Keys or Serena, I'm respecting both of their games and past success at the US Open by not taking either of them on with any outrights from this quarter.
Quarter 4 Betting Preview
Top Seed
If you've never seen Aryna Sabalenka (20-1) play, try to find time to check her out. She's one of the most talented players on Tour and has unrelenting power. She still struggles a bit with consistency but if she's on for seven matches, she could easily win this tournament.
Unfortunately for Sabalenka, she has a very tough draw.
She could potentially face a very  in-form Victoria Azarenka (33-1) in the second round. While I'm not sure Azarenka can hold up from a fitness perspective for two weeks after making the final on Saturday, she certainly is capable enough of beating Sabalenka if the latter isn't on top of her game.
In addition to the aforementioned Azarenka, other intriguing unseeded names in this quarter as well with Iga Swiatek (60-1) and Venus Williams (80-1). Sabalenka could face the talented Swiatek in the third round.
It doesn't get any easier from there with Karolina Muchova (50-1) and Jo Konta (20-1) looming as potential fourth round opponents. Both have posted decent results since the restart but there have been a few holes in their games.
Muchova and Konta can be very dangerous once they gain momentum in a tournament but I'm passing.
The Favorite
On the bottom half of this quarter, Sofia Kenin (18-1) is the favorite to come through to the quarterfinals. She did lose her only match since the restart in straight sets to Alize Cornet, but that doesn't concern me as much as it would with others since Kenin has such a steady head and overall game.
And with an easy draw early on, she should have no problem regaining her form and confidence. She is a force to be reckoned with but I just think her odds are spot on.
Sleepers
If you're going to take Kenin on, I think you have to look at either Ekaterina Alexandrova (80-1) and/or Elise Mertens (22-1). Alexandrova is very dangerous on this surface and I've had Mertens circled since the restart.
She's played stellar tennis over the past month, making the final in Prague and then semis in New York. I'm taking a shot on both.
Other Notable Players
Veronika Kudermetova (350-1) recently beat Karolina Pliskova but she's far from ready to win the US Open.
Ons Jabeur (60-1) is an intriguing player to consider. She has played at a top-10 level over the past year and has looked strong since the restart.
That said, I've seen a few issues with her serve recently that could catch up with her in New York.
2020 US Open WTA Futures Betting Summary
I wagered on six total players for a total of two units. And as I mentioned previously, none at less than 20-1 odds in a wide-open field.
I watch a ton of tennis and prefer having a handle on form for the majority of the field going into a tournament. I certainly don't have that level of insight this year with at the lack of play over the summer.
With so much more uncertainty than usual, I just wanted to build a decent size portfolio of medium to longer shots based on the small sample size of recent form we do have in addition to the draw and style of play on these courts.
Elise Mertens 22-1 (0.5 units)
Jennifer Brady 33-1 (0.5 units)
Anett Kontaveit 25-1 (0.35 units)
Elena Rybakina 33-1 (0.35 units)
Ekaterina Alexandrova 80-1 (0.2 units)
Camila Giorgi 150-1 (0.1 units)
How would you rate this article?