Australian Open Quarterfinals Betting Preview: How Court Conditions Impact Ashleigh Barty vs. Petra Kvitova
Credit:
Cameron Spencer/Getty Images. Pictured: Ashleigh Barty.
In comparison to most Grand Slams, I have had very little betting volume on this year's Australian Open. There were already questions entering into the tournament about the air quality due to the recent brushfires (you can donate to help here), but I thought the changing of the court surface could have the biggest impact from a betting perspective.
Understanding the conditions and how they impact certain matchups is a major part of tennis handicapping — and there were a lot of unknowns coming into this tourney.
---
Odds as of Monday afternoon and via FanDuel, where Action Network users get a risk-free bet up to $500.
---
Starting this year, the Australian Open changed court manufacturers from Plexicushion to GreenSet, which was used in the 2016 Rio Olympics. Most thought the change would create slower conditions and that appears to be the case based on the eye test and some of the results so far. And a number of players have weighed in on the slower conditions.
Also, it has been much cooler than normal for this time of year in Melbourne, which also will slow things down. (Although it will get hotter later in the week.)
So, that begs the question: how will that impact tonight's matchup between Petra Kvitova and Ashleigh Barty? Let's take a closer look.
Conditions
We can safely assume the court this year is playing much slower, which would favor the Aussie, who has a game much better-suited for all surfaces. Barty will have more time to slice Petra all night, while the Aussie's heavy spin forehands and kick serves should excel in these conditions.
Meanwhile, Kvitova plays a high-risk playing style, highlighted by flat, powerful ground strokes that she looks to blow by her opponent. She thrives on faster courts — think Wuhan and Wimbledon. She doesn't want to come forward or get in extended rallies.
Barty should have the edge on the longer points of the match and we should see more of them in these conditions.
Advantage: Barty
Time of Day
I thought this might be played at night in Melbourne, but it's actually a daytime match (12:30 p.m. local time). The conditions in general are quicker during the day, which would favor Kvitova's high-risk, powerful game.
Petra has struggled with the heat in the past but again, it's extremely cool for this time of year in "Marvellous Melbourne." It can be a slight disadvantage for lefties (Kvitova) serving at this time of day if the sun is shining through, but nothing egregious.
Advantage: Push
Wind
Both players have struggled at times with the wind during this tournament, but Barty has a game much better suited for windy conditions. Once Petra finds her range on her deep groundstrokes, she is as dangerous as anybody on Tour. Wind introduces variance in that department and could increase the error count for the Czech. There should be some wind but nothing extreme.
Advantage: Barty (small)
Location
The obvious angle here is Barty will have the home-court advantage with the crowd on her side but that might not be a big factor here.
Barty hasn't always thrived on her home turf (take a look at Fed Cup last year). The pressure of playing in front of the home crowd can also create added nerves, which is what appeared to happen in her last match against Ali Riske when her forehand went off the rails for long stretches.
Meanwhile, Kvitova is a player that I think thrives in these types of situations and she's certainly excelled on the biggest stages in tennis, having won two Grand Slams at Wimbledon in her career.
Advantage: Push
Conclusion
Trying to factor in everything, I give Barty an edge when it comes to the conditions. When these two met here last year in the quarterfinals, the conditions were much faster and more ideal for Kvitova, who blew past Barty in straight sets (6-1, 6-4).
Kvitova won their only meeting on clay, but that came in 2012 before Barty's return to the game and subsequent breakout. I completely throw out that result, which makes the relevant head-to-head 3-3 with four of the six going three sets.
The court conditions have played a major role in determining the outcome of their five hard-court clashes — all within the past 13 months:
Barty got the better of Petra in Miami (medium) and Beijing (slow), while rolling in their most recent meeting at the 2019 Year End Finals in Shenzhen (super slow). In Shenzhen, Petra tried to overcome the conditions by going for too much which is a fear tonight.
Kvitova came out on top in Sydney (fast) and Melbourne last year which was playing fast.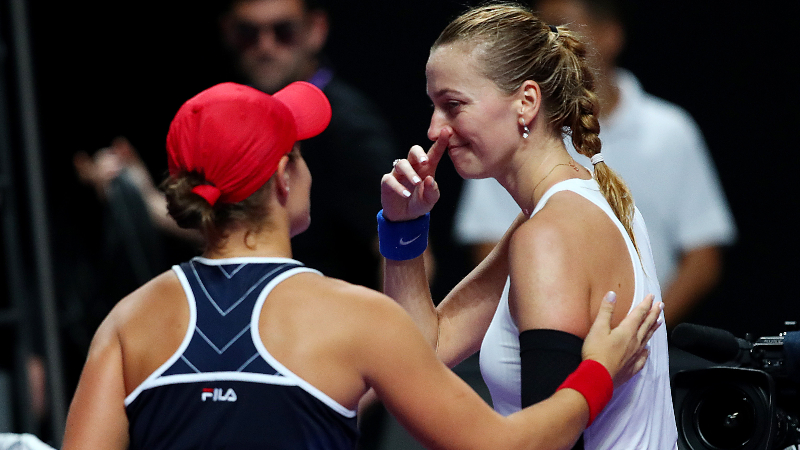 The court conditions this year are playing much closer to those we saw in Barty's three wins. These conditions could create more break point opportunities for Barty in matchup of two of the most consistent servers on Tour.
Last year, Barty and Kvitova each finished in the top three (along with Serena) in percentage of service games and service points won. (And Barty actually led all qualified women in percentage of second-serve points won.)
So after making some on-the-fly adjustments, with only a small sample size of this new court, I make Barty a -125 favorite. I would've jumped on Kvitova in a heartbeat at this price here last year, but the conditions are drastically different. Plus, I already have exposure on Petra in the futures market.
That said, it could be worse for Kvitova. She could be playing this daytime match with much hotter daytime temperatures or at night with extreme wind. But she'll still have to bring her A-game for two sets in these slower overall conditions.
If you don't have any Kvitova futures or are looking for action, I'd try to find Petra at +120 or better, but the edge is minimal.
How would you rate this article?