151st Open Championship Recap: 10 Takeaways, Featuring Brian Harman, Rory McIlroy & More
Credit:
Richard Heathcote/R&A/R&A via Getty Images. Pictured: Brian Harman with the Claret Jug.
The 151st edition of The Open Championship was really fun for a couple of days — until Brian Harman decided to become Tiger Woods in his prime and take control of things, never letting anyone else get too close.
It also led to perhaps the most Harman quote ever, after receiving the Claret Jug in the post-round presentation: "I'm gonna have me a couple of pints out of this here trophy."
Let's dive right in with my 10 takeaways as we wait just another 263 days for the next men's major championship.
---
1. There's a line from Brian Harman's Wikipedia entry — a factual line, at that — which perhaps helps explain his mentality and the reason why he's constantly referred to as "gritty" and "gutty" and "a bulldog" (if not a capital-B Bulldog from UGA).
It's this line: "In college, Harman was a three-time 2nd Team All-American on the University of Georgia golf team."
From announcer comments about his height to being universally overlooked for his talent, Harman has often played with a chip on his shoulder, as if he's still trying to prove to everyone that he's not just some "gritty" competitor but rather a world-class player who can win big-time events.
I'm guilty of it, too. A few weeks ago, he was a guest on my SiriusXM PGA Tour Radio show "Hitting the Green," and I referred to him as being a "short hitter" off the tee. Almost immediately, Harman acknowledged that while he was 135th on the PGA Tour in driving distance (he went into this past week at 142nd), his average of more than 294 yards per tee shot placed him just five yards behind the average, which is hardly "short."
It was a great point that he made and the story serves as sort of a double-microcosm. First, those like me have too often generalized his game based on physical stature, which, of course, is a poor crutch with so much available data.
But the other part of it is that Harman is usually on high alert for such stereotypes about him and isn't one to stay quiet about offering a correction.
Anyway, that should show a little insight into his "me against the world" mentality, forever trying to show that he's a top-level player, one who doesn't deserve to be saddled with those aforementioned adjectives.
2. Harman's pre-shot waggles received a ton of attention this week, with NBC even placing a "Waggle Meter" on the screen while he prepared to hit some shots.
I tweeted Sunday morning that the "casuals" were making a big deal about this, the insinuation being that Harman has been doing about the same thing for close to 15 years as a professional. If you haven't noticed before, that's probably a you problem, not a him problem.
It was amazing how many observers were so triggered by his machinations before pulling the trigger but not as amazing as how many attempted to saddle him with the "slow player" label. I mean, it's 2023, guys. We should be able to ascertain that what we witness on our TV screens isn't the entirety of what's taking place.
Most of his fellow PGA Tour players would laugh at the notion that Harman is a slow player. He just owns a definitive pre-shot that takes a few extra seconds when he's on your screen, not unlike Keegan Bradley, who's suffered from similar obtuse analysis in the past.
If you think the waggles are off-putting, that's fine. Ask Harman if he cares, though, and you already know his answer.
3. Not that Harman was ever going to be left off his first Ryder Cup team after this performance, moving from 20th to third on the points list, but if there's ever a perfect scenario for him, it's having Zach Johnson as the captain — a fellow Sea Island resident and eternal underdog who also unexpectedly won a Claret Jug.
Granted, Johnson also claimed a green jacket, so many of the comparisons might end there. But seeing the captain as one of the first to offer Harman a hug before he reached the scoring area only helped enforce the idea that there are still plenty of similarities between the two.
My guess is that even if Harman doesn't qualify, he would've done enough to make any captain's roster, but for this one at Marco Simone — which, by the way, should perfectly suit his game — and with this captain, there's very little chance he'll be ignored. Instead, he could be given a chance to be a major part of the lineup.
4. Speaking of the Ryder Cup, Sepp Straka was probably going to be on the European team before this week, whether he automatically qualified or needed a pick from captain Luke Donald. He'll almost assuredly make it after a T-2 finish directly on the heels of his John Deere Classic victory.
Straka was born in Austria and lived there during his formative years but was raised by a mother from Georgia and always had a little Southern twang, even before moving to the Southeast. He recently offered up a great story, saying that he'd always called himself 50% Austrian and 50% American, but a friend told him it's more like 100% Austrian and 100% American.
When he joined the radio show two weeks ago, Straka said he believes he'll fit with the squad should he make it, though he laughed about perhaps being the first European player to request Miller Lite in the team room.
5. When Rory McIlroy arrives at next year's Masters Tournament, he'll assuredly be greeted by the annual questions about trying to win the green jacket and career grand slam. But he'll also be asked about the Big One-Oh, as it'll be 10 years since his last major championship. (OK, technically next April will be nine years and eight months, but don't let the facts get in the way of a good narrative.)
It's not like he's fallen off the map during that time — if he had, the time length wouldn't be so significant. Since that last win, Rory now owns 20 top-10s in majors — more than half of the tournaments he's played.
At this point, it might be less mental struggle than statistical anomaly that he hasn't won a fifth, though good luck to him in trying to explain it that way.
A few years ago, we could point to his poor proximity with the wedges; this past week, it was more about missing so many short and midrange putts. We often say there are no inevitabilities in this game while simultaneously presuming certain things. You'd be hard-pressed to find anyone who doesn't believe McIlroy will win another major, but it would've been a lot tougher to find someone who'd said that a decade ago.
That doubt is starting to creep in — for the masses, at least, if not for Rory himself, as well.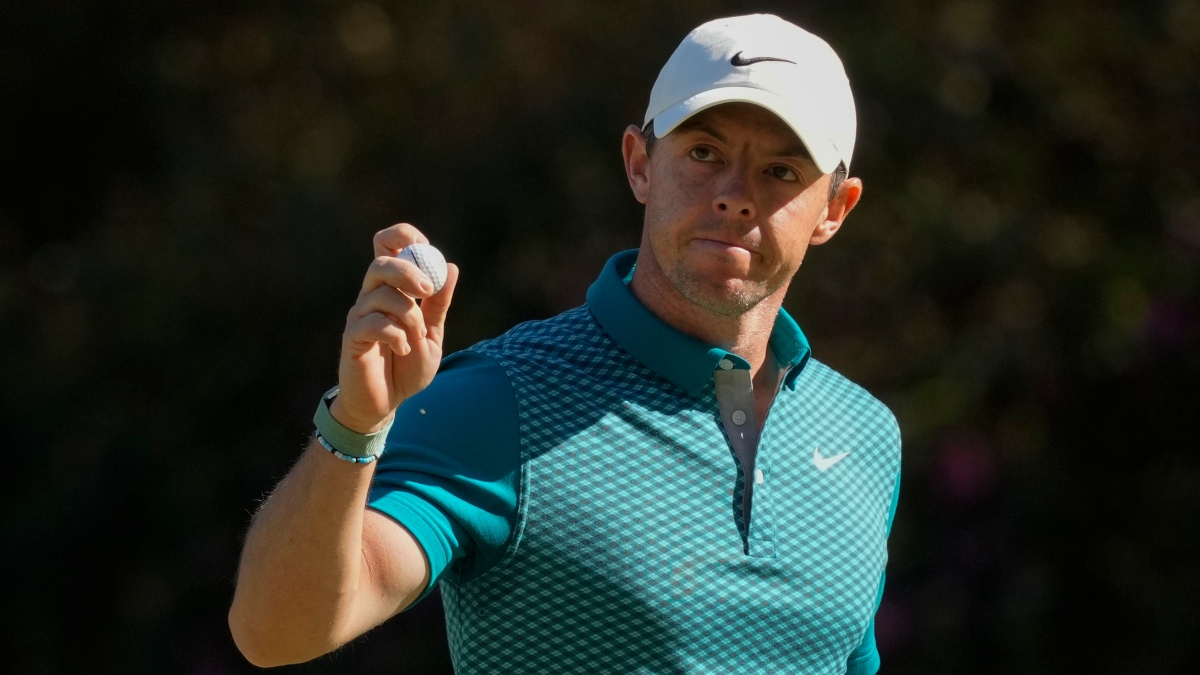 6. I have no idea what was going on with Cameron Young from mid-April until late June, when he took a detour from a brilliant first year-and-a-half as a PGA Tour member and played comparatively mediocre golf for a few months.
What I do know is that for seven straight starts, he failed to finish inside the top 30 at any of 'em, dropping from 13th in the world rankings to 19th.
He now looks to be back on track, with a couple of top-10s in his last two starts, and while he likely only has three or four tourneys remaining before the season ends, it's hardly out of the realm of possibility that he'll claim that elusive first win.
There are still a few issues in Young's game that he needs to clean up, but big things are coming.
7. Don't cry because it's over, smile because it happened. After either 18 or 19 straight events with a top-12 finish — depending on whether we want to count the limited-field, somewhat-unofficial Hero World Challenge — Scottie Scheffler finally failed to reach that mark, winding up "only" T-23 at The Open.
For a player who was once again very good from tee to green, the glaring weakness is with his flatstick. It's an issue at which Scottie bristled in his pre-tourney press conference.
"I had back-to-back tournaments that I could have won where I putted poorly, and all of a sudden it became this thing where I'll watch highlights of my round, and even the announcers, any time you step over the putt it's like, 'Well, this is the part of the game he struggles with,'" he said. "And it's like, if you say it every time and you guys see me miss a 12-footer it's like, 'Oh, there it is. He's struggling again.'"
Apologies to Scheffler, who's been handling these questions deftly for most of the summer. Yeah — every time he misses a 12-footer, we collectively talk about him struggling. I mean, that's not just armchair analysis; it's what the statistics are telling us. This week, he ranked 147th in putting out of 156 players in the field, including those who missed the cut.
This was finally an event — unlike his last seven, each of which was a top-five result — where even his best putting performance might not have been enough to win. But whether he likes it or not, that's going to remain a storyline until he figures it out and starts winning again.
8. I'm certainly not going to pile on Justin Thomas after he closed out a missed cut at last month's U.S. Open with an 11-over 81 and started his week at The Open with an 11-over 82.
I will, however, offer two takes in the aftermath.
The first is that he should be commended, not just for following with a second-round 71, but facing the music and speaking with the press about his struggles — something even Rory McIlroy declined on a few occasions despite playing much better golf.
The other is that if JT needs a long-term dose of optimism, he should find it from buddies Jordan Spieth and Rickie Fowler, each of whom suffered dark times in his career over the past few years, only to eventually figure it out and revert to elite-level status.
I have little doubt Thomas will follow that same path — though whether it takes weeks, months or years remains the biggest question.
9. Whenever there's a blowout major championship — or at least one that lacks some drama at the end — we tend to push that narrative onto any analysis of the host venue. Of course, it's not like Royal Liverpool paled in comparison to, say Royal Troon, just because one yielded a six-stroke victory this week and the other led to one of the greatest final-round duels we've ever seen the last time it played host.
The same goes for the status of the champion. If you thought Hoylake was terrific when Tiger Woods and Rory McIlroy triumphed, you shouldn't think any less of it when Brian Harman does.
I still think the internal O.B. was silly, but maybe that's just because some of my bigger positions for the week — Viktor Hovland, Tyrrell Hatton, Rickie Fowler and Adam Scott — all found it on the 18th hole over the first two days.
If nothing else, there was a glorious bit of irony, as a car commercial ran during the telecast, showing a guy hitting a golf ball out of a cactus while his buddies looked on, all with the tagline, "There's no such thing as out of bounds." That one literally made me laugh out loud.
10. As I tweeted Sunday morning, while the heavy stuff was coming down at Royal Liverpool: "Nothing beats attending The Open and witnessing golf in its truest form. But laying on the couch with a cup of coffee and watching players deal with the conditions through raindrop-streaked camera lenses is pretty nice, too."
I've covered maybe 8-10 editions of The Open on-site and can confidently say to any Americans that if you love the game, you owe it to yourself to make a trip across the pond and watch this tournament while also getting in a few rounds yourself.
I can also assure you that watching golf in the steady rain that engulfed the course Sunday, trying to see around all those brollies, is no fun at all. As Byeong Hun An succinctly tweeted after the round, "That was miserable out there."
How would you rate this article?
This site contains commercial content. We may be compensated for the links provided on this page. The content on this page is for informational purposes only. Action Network makes no representation or warranty as to the accuracy of the information given or the outcome of any game or event.