Sobel: Dufner An Intriguing Longshot at Dell Technologies Championship
Credit:
Dennis Schneidler, USA Today Sports. Pictured: Jason Dufner
Dustin Johnson (+900) is the favorite to win the Dell Technologies Championship in Boston over Labor Day weekend.
At the top of the board, there are reasons to believe Brooks Koepka (+1250) and Tiger Woods (+1900) have a shot to win at TPC Boston.
Among the longshots, Jason Dufner (+25000) seems to be a great value pick to win the tournament.
Welcome to That Week. You know the one. The week when so many golf fans wake up Thursday morning, check the PGA Tour app and immediately log on to social media to complain that scores aren't updating.
I'm going to assume that if you're reading this column right now, you're also savvy enough to understand that the Dell Technologies Championship begins on Friday and ends on Labor Day, which means you can join me in taking pleasure at all of those who think they're trolling the PGA Tour by ragging on its app the day before a single shot is hit.
I'll get to some year-over-year trends at TPC Boston and players I like this week, but first, this feels like a good place to discuss one of my favorite niche subjects to write about over the years.
The domino effect.
It's real and it's spectacular.
As you can imagine, even the most elite players aren't born into top-50 status. They don't graduate Q School or the Web.com Tour with invitations into majors for the next 10 years.
What often happens is one singular result elevates a player into a bigger field, then another and another. Think of it like playing a video game: You have to keep passing certain levels to unlock further rewards.
Jason Dufner has an opportunity to pull off a domino effect result this week. After missing the cut at last week's Northern Trust, Dufner fell exactly 10 spots on the FedEx Cup points list, dropping from 90th to 100th, but still claiming the final entry into this week's second playoff event.
Granted, "parlaying" an MC into better results isn't quite the full domino effect, but Dufner has experienced one here before.
Back in 2009, he posted a final-round 65 on Labor Day to finish T-2 at this tourney. That was enough to get him into the Tour Championship field, which in turn qualified him for each of the next year's major championships, two of them for the first time.
Dufner finished T-5 at the PGA Championship that next year, then runner up and T-27 before winning the title in 2013. Would he have gotten into those fields without that final round in Boston? Likely. Would he have still won four years later?
Probably, but we can still directly trace those experiences back to that initial qualification, which happened because of the timely 65.
(That's hardly my favorite domino effect story. In 2005, Jason Gore was the leading money-winner on the then-Nationwide Tour. After winning three times, he earned a PGA Tour promotion, then won again on the big tour. Instead of offering cards to the top 20 on the developmental circuit that year, the powers that be went 21 deep, granting playing privileges to the guy who'd finished one spot outside the number. That player was Bubba Watson – and he never played another Nationwide Tour event.)
---
>> Download The Action Network App to get real-time PGA odds, track your bets and follow all of our experts' picks.
---
On to this week's event, where the persistent theme shouldn't come as much of a surprise. With the annual field whittled to 100 players, there are hardly any no-names or journeymen who have won this title.
In the 11 years of FedEx Cup playoffs, there have been Charley Hoffman and Chris Kirk sightings in the winner's circle, but those are the biggest longshots.
In the past three years, the champions were Justin Thomas, Rickie Fowler and Rory McIlroy, which suggests we might not want to veer too far from the big names when handicapping this event.
During those three years, the winning score ranged from 15-under to 17-under, also suggesting that it will take plenty of birdies to beat the other 99 players in this field.
However, I spoke with a caddie from TPC Boston this week who told me the rough is lusher and thicker than previous years and the green speeds appear quicker.
No, this won't exactly resemble a U.S. Open setup, but it might be something closer to 12-under that wins this week, potentially meaning some grinders could keep themselves in the mix more than in previous editions of this tourney.
Let's get right to the picks, which include a mix of those grinders and big names looking for a title contention.
Favorites
Brooks Koepka (+1250)
Betting on Koepka in nonmajors hasn't been a profitable endeavor in the past, but that's not going to last much longer.
He finished T-18 here last year, but that hardly tells the whole story; after an opening-round 74, he posted successive scores of 67-68-68. And if you like trends, there's this: Three weeks after winning the PGA last year, Justin Thomas won in Boston. Maybe that extra day off will help Koepka rejuvenate.
Jason Day (+1500)
Strong course history? Check. Solid recent results? Check. Ready to peel off another win? Check, mate. (It's an Aussie joke.)
Day won at Torrey Pines in January and Quail Hollow in May, and — guess what? — this one concludes in September, which means that every-four-months pattern could be ready to pop. With five straight finishes between 10th and 20th, he's at least ready to seriously contend again.
Tiger Woods (+1900)
Man, it's hard to believe that it's been FIVE WHOLE YEARS since Tiger's last miraculous jaunt around TPC Boston!
OK, maybe the nostalgia doesn't quite work here, considering that appearance resulted in a disappointing T-65 finish. He does have some history here, though I continue to like him more at each successive playoff event, which means, yes, expect him to again be on this for next week's BMW Championship, which might offer a better chance to win again than this one.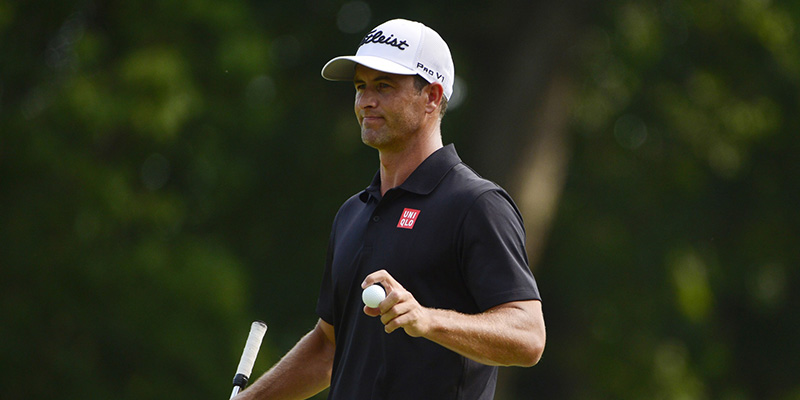 Adam Scott (+2500)
We should start calling him Mona Lisa, because his game right now is equal parts beautiful and inspiring and confusing and sort of unattractive.
Scott owns the world's most gorgeous swing — an unofficial honor handed down years ago by Ernie Els — and the world's ugliest putting style, using something that looks like it would be better at killing spiders on the ceiling than making crucial putts.
And yet, he's finished top-five in his past two starts, riding a nice wave of momentum entering this week.
Mid-tier
Tony Finau (+3000) and Patrick Cantlay (+3500)
For the second straight week, I'm grouping every golf bettor's favorite man-crushes together.
For a while on Friday last week, it looked like we might get a Riviera flashback, with both in serious contention on the weekend. Instead, it was just Finau who stayed on the board, with a solo second-place finish.
He might be the automatic middle Bingo square on your DFS lineup this week, but Cantlay's consistency shouldn't leave him too far behind in ownership levels.
Hideki Matsuyama (+3500)
I've been calling for the Hideki heater for a few weeks now, and I still think it's coming. He's finished 35th-11th-15th in his past three starts, which leads to some important news: Traditionally, he's a player who shows some strong form and builds up to his victories. I still think it's coming soon; if not this week, then very possibly next.
Billy Horschel (+4000)
Copy-paste that Hideki section for Horschel. Some players can find something on the range and instantly turn it into a contention. These two are momentum-type guys, which should spell good things for Billy Ho, who has three finishes of 11th or better in his past five starts, including a T-3 last week.
Phil Mickelson (+5000)
The ubiquitous left-hander has offered a similar answer to every question this summer. How's your game right now? "I'm close." Do you think you'll win again? "I'm close." Have you already taken the Chargers over 9.5 this season? "I'm close."
All right, so I made up that last one (maybe), but you get the point. Mickelson keeps telling us he's close to playing really well again, and he finally showed it last week. He's going to get one of the first three Ryder Cup captain's picks made next week, but he desperately doesn't want it to be a courtesy selection. He wants to earn the pick. Expect that motivation to show in his scores.
Longshots
Aaron Wise (+5500)
What a strange summer it's been for the rookie. In his past 11 starts, he owns four results of sixth or better, including his first career victory – and in the other seven, he's missed the cut. That should make him a lock for this year's Ron Burgundy award: "That's amazing, I'm not even mad."
Well, as any gambler knows, you've gotta go big or go home. Wise's variance can pay off a lot more than other players' consistency.
Marc Leishman (+5500)
Another week, another first-two-rounds pairing with Tiger, which apparently suits the big Aussie just fine, as he's played very well in front of those large galleries. His recent results aren't great, but a solo third here last year should offer some positive vibes.
Daniel Berger (+9000)
I don't know this for sure, but if I were a betting man (hey, wait a minute …) I'd put money on Berger having spent the early part of this week at the Misquamicut Club in nearby Rhode Island with his former instructor Matt Doyle, who's the head pro there.
Berger loves the area and plays well on New England tracks. At this big number — and with two top-15 finishes in his past three starts — he's absolutely worth a punt.
Jason Dufner (+25000)
Speaking of big numbers, did somebody tell the oddsmakers that Dufner's a club pro or something? He hasn't been playing his best golf, but unlike what I wrote above about Matsuyama and Horschel, he's not the type of guy who needs to feed off momentum. With a decent track record at this course – remember that story I told earlier? – he's worth a small play at his number and perhaps a bigger one at +1900 for a top-10 finish.