Sobel: Who Has Best Chance to Catch Brooks Koepka at PGA Championship?
Credit:
Jerry Lai-USA TODAY Sports. Pictured: Tiger Woods
Brooks Koepka holds a two-stroke lead entering the final round of the PGA Championship at Bellerive Country Club in St. Louis.
This is the ideal scenario for Rickie Fowler to win his first major. He's not the leader and won't have a target on his back.
Jon Rahm's 11-1 odds are also enticing. The pressure won't be too weighty for him.
ST. LOUIS – Major championship leaderboards can be funny creatures.
When they're packed with a bunch of worthy contenders at the top, eliciting dreams of three- or six- or, hell, 10-man playoffs, the drama so often devolves into one player running away from the pack.
Don't believe it?
Think back to last month's Open Championship, as the final-round leaderboard appeared primed for a captivating climax at Carnoustie, only to have Francesco Molinari play flawless golf down the stretch and turn it into a relative flatliner.
Conversely, when these tournaments appear to be snoozefests, when one player is seemingly running away with the title, his odds all the way down to -225 early on the back nine of Saturday's round at the PGA Championship, as they were for Brooks Koepka when he grabbed a five-stroke lead, the Golf Gods have a tendency to reverse the scenario.
All of which helps to explain why an event that looked for a while like it would be a final-round coronation is now ripe for some Sunday drama.
Entering the final day, Koepka leads by just two strokes over Adam Scott; Jon Rahm, Rickie Fowler and Gary Woodland are each three back; Tiger Woods, Stewart Cink, Jason Day, Justin Thomas, Shane Lowry and Charl Schwartzel are four back; and Julian Suri, Francesco Molinari and Kevin Kisner are still in the mix at five off the pace.
Let's break down the chances for each of 'em in what could be – hopefully – a wild finish to the year's majors.
Brooks Koepka
Odds: +125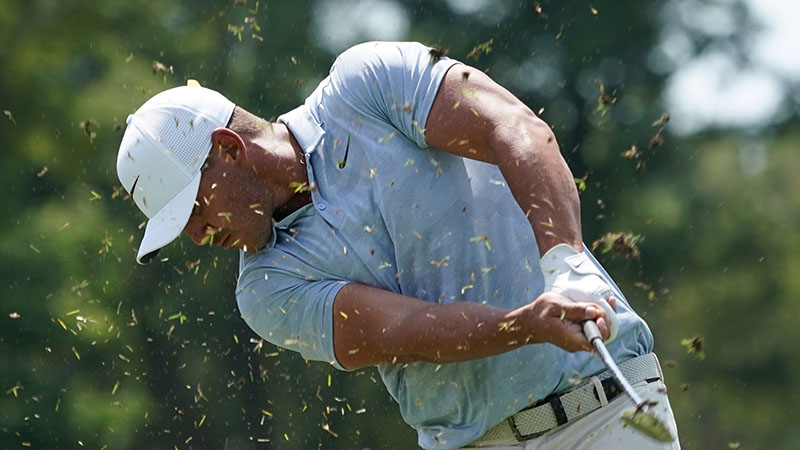 Kyle Terada-USA TODAY Sports. Pictured: Brooks Koepka
Look, you've gotta be really confident to go after Koepka at this price. It's certainly a quandary. He's shown a propensity for bringing his best stuff to majors, especially on the final day. But this lead is only two, not five, and he's got a big group of elite players chasing him.
The truth is, I don't mind the -150 field bet, taking your chances with more than a dozen other really good players to beat him.
Adam Scott
Odds: 8-1
Scott doesn't have a top-five finish in two years. He hasn't played in the last pairing of any final round in two years. I know people will hear the name and instantly recall the fluid swing and the Masters victory, but Scott hasn't felt this type of heat in a long time.
I don't trust his long putter on a Thursday morning; I'm certainly not going to trust it on a Sunday afternoon.
Rickie Fowler
Odds: 8-1
This is the ideal scenario for Fowler to win his first major. He's not the leader, with a target on his back. He's surrounded by enough other great players that they're each deflecting the spotlight.
In other words, this could be the perfect situation for a first win.
Jon Rahm
Odds: 11-1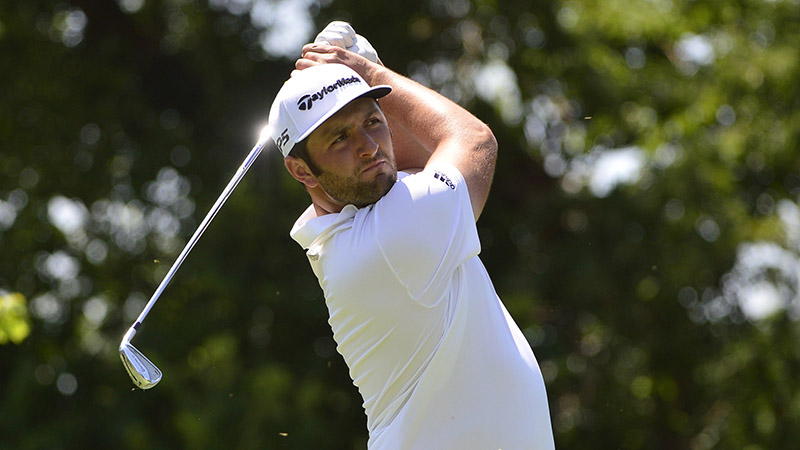 Jeff Curry-USA TODAY Sports. Pictured: Jon Rahm
Rahmbo. Rahm Threat. Rahm Squad. Rahmania. They're all potential headlines if the young Spaniard can claim his first major in the penultimate pairing alongside Fowler.
I like these odds. I don't think the pressure will be too weighty for him; I don't think the situation will be too much. Wouldn't surprise me at all if the winner came from the Rahm-Fowler pairing.
Justin Thomas
Odds: 14-1
Entering last year's PGA Championship final round, Thomas was T-4 and two back; now he's T-6 and four back, which sounds twice as difficult to overcome. He posted a 68 that day to win by two, but might need something closer to a 65 to at least make a run at back-to-back titles, emulating Koepka's double at the U.S. Open.
Might be worth a punt at this number.
Tiger Woods
Odds: 14-1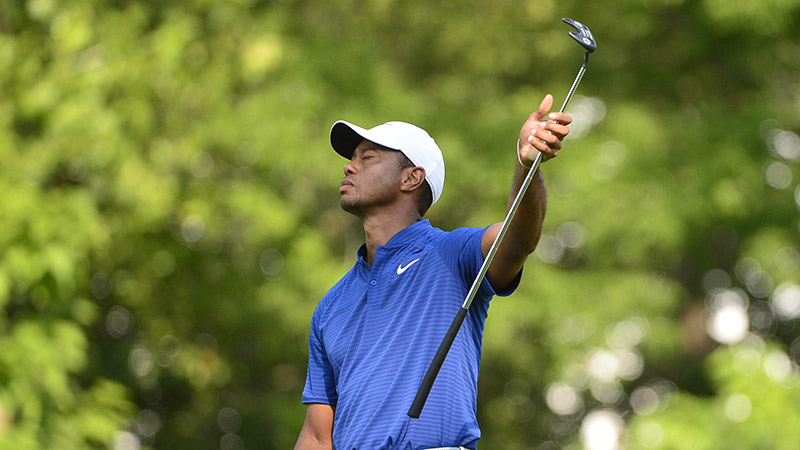 Jeff Curry-USA TODAY Sports. Pictured: Tiger Woods
At last month's Open Championship, Woods was T-6 and trailed by four entering the final round. And now? He is T-6 and trails by four. We all know how that one ended up, but we also know that Tiger owned sole possession of the lead on the back nine.
If he did it at Carnoustie, he can do it at Bellerive — and with fewer mistakes lurking, it would be tougher to lose that lead so quickly this time.
Jason Day
Odds: 16-1
Just about everything I wrote above for Thomas can similarly be applied to Day. I think the Stewart Cink pairing is a good one for him; he won't have to keep up with Koepka off the tee or try to impress Woods around the greens. He can just do his own thing, which could lead to another nice score. Rounds of 67-68-67 suggest he might still have a low one in him.
Gary Woodland
Odds: 18-1
After a triple-bogey on the 10th hole, Woodland acquitted himself well, playing the final eight holes in 2-under. But let's face the reality: A guy who's never claimed even a top-10 at a major isn't going to enter the maelstrom of a Tiger gallery and suddenly play the best round of his life.
The Rest of the Pack
Francesco Molinari (40-1), Charl Schwartzel (45-1), Shane Lowry (50-1), Stewart Cink (80-1), Kevin Kisner (100-1)
Hey, there are some nice prices on guys who aren't too far back. Here's the only problem (and, yes, it's kind of a major one): They'll only pay out if they actually, you know, win.
Can any of them do it? Sure, but from where they are, it might take their absolute best golf. Will they do it? I don't think so.
That said, the name on this list that intrigues me the most is Lowry, who's won at Firestone and contended at Oakmont, each of which should somewhat correlate to Bellerive. If I had to choose one guy to be a complete surprise, he's the one.
How would you rate this article?