Sobel's 2019 British Open Preview: Who Are the 10 Best Links Golfers in the World?
Credit:
Orlando Ramirez, USA Today Sports. Pictured: Tommy Fleetwood
The 2019 Open Championship begins on Thursday, July 18 at Royal Portrush in Northern Ireland.
The British Open is played on a links-style golf course, which is different from most other courses played on tour.
Which players play best on links courses? Jason Sobel shares his thoughts:
There exist two inherent problems with attempting to identify the world's best links golfers.
The first: Other than bare-bone results, there are very few analytics which can offer insight into strokes gained on a certain style of golf course. (I will, though, incorporate some of them below.) The second: The game's most elite players might compete on just a single traditional links track annually, often relegating this data to Open Championship performance and not much else.
In advance of this week's edition of the (now) final major championship of the year, I've delved into these limited resources and tried to put together a top-10 list of the best links performers, a list which I'll willfully admit is more than a bit subjective.
In no order but alphabetical, here's my top-10, some of whom are bound to find themselves on the leaderboard at Royal Portrush this week.
Tommy Fleetwood
British Open Odds: 25-1
While his Open Championship record is surprisingly shallow – three missed cuts in five starts and a career-best finish of only T-12 last year – the Englishman has enough reps on links courses that he edged his way onto this list.
Most notably, that includes six consecutive top-25 finishes at the Dunhill Links Championship, including a pair of runner-up results.
Rickie Fowler
British Open Odds: 25-1
With a Scottish Open title to his name at Gullane four years ago, Fowler certainly owns the right skills and mentality to succeed in this style.
"I love playing links golf," he said last week, "when it's a little bit of weather and you can just go out and push the bag around, have a little fun."
In nine career Open starts, he owns eight finishes of 31st or better, including a pair of top-fives.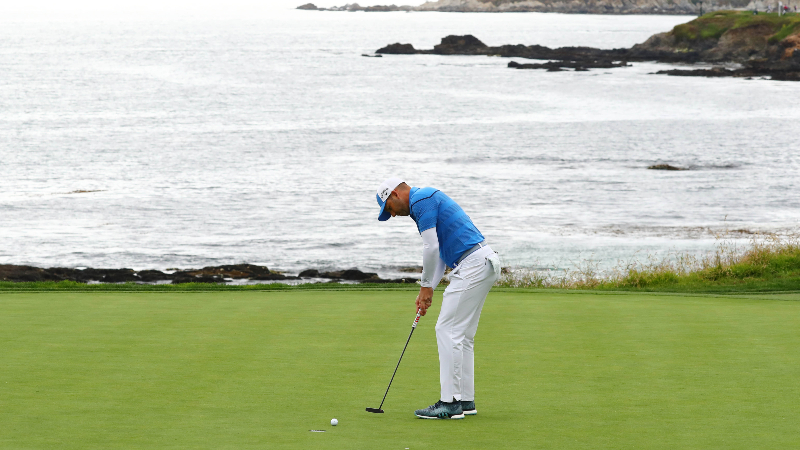 Sergio Garcia
British Open Odds: 60-1
Perhaps it should come as little surprise that Garcia is the all-time leading money-winner in Open Championship history out of those who haven't won the event. Ranking seventh overall with more than $3.6 million, Garcia owns more top-10 at this event since the turn of the century (10 of 'em) than results outside the top-10.
That includes a playoff loss to Padraig Harrington in 2007 that still must sting.
Marc Leishman
British Open Odds: 50-1
The man from Warrnambool ranks as one of the world's best wind players, which in turn makes him also one of its best links performers. Known for a low ball-flight, he's parlayed that skill into top-six finishes in three of the last five editions of The Open. We should similarly expect a strong performance for Leishman this December, as he'll return to Australia for the International side at Royal Melbourne.
Rory McIlroy
British Open Odds: 8-1
At some point, a few players need to be on this list less because they're so proficient at links golf and more because they're simply proficient at any golf, regardless of venue.
It's no secret that McIlroy fares better on soft parkland tracks than firm links courses, but that hardly means he's a slouch on the latter, as evidenced by four straight top-five finishes at The Open, starting with his win at Royal Liverpool in 2014.
Ian Poulter
British Open Odds: 80-1
A classic case of a golfer tailoring his game to the environment in which he grew up. Poulter needed to learn how to keep his ball out of the English winds, a trait which shows in his numbers today. He ranks 192nd in average apex height on tee shots and 190th in hang time, statistics which help explain three career top-10 finishes at The Open.
Adam Scott
British Open Odds: 30-1
If it's little surprise that Garcia ranks first on The Open money list of non-winners, then it similarly shouldn't shock us that Scott is second, at 11th overall, with just over $2.5 million. Not only does he own five career top-10s at this event, he also won a few early-career titles on links courses, plus the 2013 Talisker Masters at Royal Melbourne, where he'll return for the Presidents Cup later this year.
Jordan Spieth
British Open Odds: 30-1
Full disclosure: Spieth was the last of the 10 to make the cut, just barely over the likes of defending champion Francesco Molinari, Tyrrell Hatton and Matt Fitzpatrick.
The 2017 winner owns less experience on linksland than those European players, but has found just a bit more success in those limited reps. One possible reason: This season, he ranks 175th on the PGA Tour in hang time on tee shots at just 6.0 seconds per drive.
Henrik Stenson
British Open Odds: 40-1
With a brilliant combination of length and accuracy off the tee, often with a penetrating 3-wood, Stenson's game is built for fast, firm golf courses. His performance at Royal Troon three years ago was a thing of beauty, posting scores of 68-65-68-63 to reach 20-under on a course where only one other player was better than 6-under.
He also owns a runner-up and two thirds at The Open.
Tiger Woods
British Open Odds: 16-1
Ah, you didn't actually think this list would be complete without this three-time Open champion, did you? Woods has won at St. Andrews twice and Royal Liverpool once.
At last year's edition of the event, he contended at a major for the first time in a half-decade, even tying for the lead on the back-nine Sunday before succumbing to Molinari. There's no doubt the reigning Masters champion's best chance at another major moving forward is at Augusta National, but this one might be a close second.
How would you rate this article?