Sobel: Recent History Shows Anything Can Happen This Weekend at the British Open
Credit:
Steve Flynn, USA Today Sports. Pictured: Lee Westwood
The stage is set for the final two rounds of the 2019 Open Championship at Royal Portrush.
Jason Sobel explains why recent history suggests to expect the unexpected this weekend in Northern Ireland.
Just in case you needed a little reminder, this thing ain't over.
That's not just a catch-all, it's-anybody's-ballgame, never-over-'til-it's-over kind of statement, either. This one has some serious stats to back it up.
Since 2012, only two 36-hole Open Championship leaders – Jordan Spieth in 2017 and Rory McIlroy in 2014 – have converted those advantages into victory two days later. On those seven total occasions, four eventual champions were at least three strokes back entering the weekend, with three of them in 10th-place or lower, including Francesco Molinari, who was T-29 and six back at this point last year.
Those numbers might not mean much without some comparative analysis, so let's take a look at the other three majors during that span, each of which has been played eight times already.
At the Masters, four 36-hole leaders ended up winning, only two were at least three shots back and none were lower than eighth place.
At the PGA Championship, again four midway leaders converted, while only one was at least three shots off the pace and none were lower than seventh.
And at the U.S Open, five leaders entering the weekend wound up winning, only two were at least three shots back and just one (Webb Simpson, who was T-29 in 2012) was lower than fourth place.
To summarize: In recent years, the 36-hole conversion rate is half as much at The Open as any other major; the other three have combined for just one more winner beyond three shots off the lead; and there have been two more winners at this event alone who were 10th-or-worse than each of the other three altogether.
What does it all mean? If you're expecting the Sunday evening leaderboard to mirror the one we have now, recent history suggests that's an uneducated guess.
It also means that if we're live betting The Open through the weekend, we can dig a little deeper down than we would for the other three majors.
J.B. Holmes (-8)
Let's just say I'm a little skeptical that J.B. Holmes' name will still be atop the leaderboard come Sunday evening.
To date, his best result at The Open is a solo third three years ago, which sounds great until you realize that he finished 14 shots out of first and 11 behind second. At least there's some hint that he can score on a weekend at this event, as he posted closing rounds of 69-69 at Royal Troon.
But I keep coming back to Holmes' record this year, one that leaves me pessimistic.
Make no mistake: It's more advantageous to be great for one week on the PGA Tour than pretty good for all of 'em, but a win at Riviera with nothing else better than T-21 suggests that consistency is a big-time issue. And really, in the short-term, that's what you want from a guy in the lead. He doesn't have to chase, doesn't have to make a ton of birdies to win this golf tournament. Playing consistent golf might be enough, dependent on the weather, but that's been an issue for him over the long haul and I'd be surprised if it doesn't come back to bite him over the final 36 holes.
Shane Lowry (-8)
I was recently speaking about Shane Lowry with a colleague who knows him well. The Irishman has always been tremendously talented, but he's hit a bit of a speedbump over the last couple of years. How come? While most of us remember the 2016 U.S. Open as Dustin Johnson's first major on brutally difficult Oakmont, Lowry still owns haunting memories of taking a four-stroke lead through 54 holes, only to post a final-round 76 to finish in a share of second place.
As you might recall, there were weather delays early in that event, which caused the third round to be completed Sunday morning.
The consensus is that Lowry, who barely had time to grab a sandwich and hit a few balls before starting his third round, began thinking too much about the win and didn't have any time to settle himself down.
Granted, the devil's advocate might point out that sleeping on the lead could've had an even weightier impact, but the point remains: That one hurt. We tend to think of professional golfers as flexible, able to bounce back from regular appointments of disappointment, but it's so difficult to climb back to that precipice of a major – and it has been for Lowry, which could explain why his T-8 at this year's PGA Championship was his first top-10 at a major since then.
Dylan Fritelli (-5)
Earlier this week, I wrote about the R&A's need to offer more exemptions to recent winners and contenders. Many who commented on my column confused my take with some sort of xenophobia, as if I was only calling for more PGA Tour exemptions, but that's not the case at all.
To wit: The top four players from the Asian/Japan Tour co-sanctioned Singapore Open were granted an invitation into this week's field. That event was played in January. There have been nine events on the Asian Tour and eight on the Japan circuit in the six months since this one. Why not offer exemptions for more recent events? Or at least spread 'em out a little bit?
That was my main point.
On the PGA Tour, there were three spots available at both the Canadian Open and Rocket Mortgage Classic, but a total of one at the more recent 3M Open and John Deere Classic combined.
That one exemption went to the John Deere winner, which happened to be Dylan Frittelli, who is now hammering home my original point by getting himself into contention heading into the weekend.
It's a shame that Matthew Wolff or Collin Morikawa or others who have played well more recently didn't get a similar opportunity.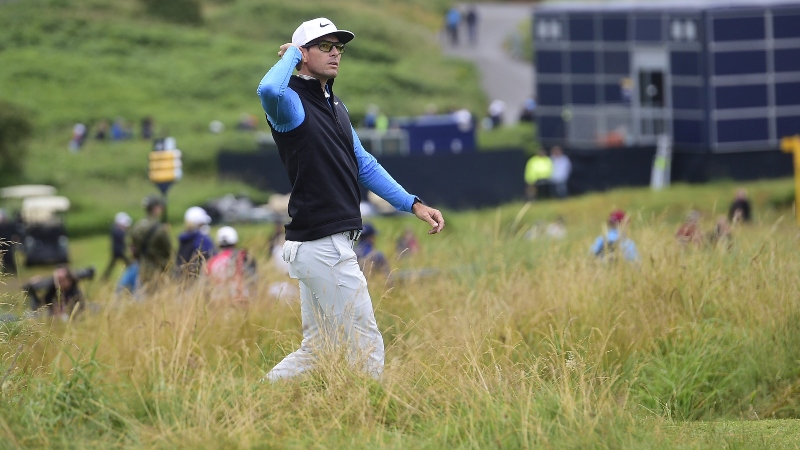 Lee Westwood (-7)
I said it before the tournament started and I'm certainly not backing away now: Lee Westwood in 2019 has such a Darren Clarke in 2011 kind of vibe.
Clarke was 42 when he won The Open that year, exactly 10 years removed from his last top-10 at a major. Westwood is 46 now and just three years removed from a runner-up finish at the Masters. While it's not perfectly analogous – Westwood was always the better player – there's still the same over-the-hill-guy-comes-back-to-win-his-home-major kind of feel going on.
Westwood was asked on Golf Channel after his second round whether he sees any comparison and he immediately deflected.
"No, not really," he replied. "I've had a lot of chances myself since Turnberry in 2009. … I've got the hang of links golf. It's always great to come to these historic courses. This one is spectacular. It's right up there with the best."
He might not think so, but there's still a definite similarity.
Jordan Spieth (-5)
It's a big if – alright, a huge IF – but if Jordan Spieth can win this week, that would give us three players age 30 or younger who own four career major championships.
Of all the grow-the-game initiatives out there, having young players winning the biggest tournaments and forging a rivalry might be the best of 'em.
As for Spieth, who opened 70-67, it'll be very interesting to see if he can hold it together on the weekend.
That's been his biggest struggle this year, one which has received plenty of notoriety. Spieth ranks 16th in first-round scoring average and second in second-round average, but on the weekend those numbers dip to 166th in the third round and 196th – ahead of just one other qualified player – in the final round.
After his round on Friday, he said, "The hole is starting to look bigger." We'll see if it doesn't get a little smaller over the next 36 holes.
Brooks Koepka (-5)
There are sooo many good Brooks Koepka major statistics over the past few years.
Allow me to gratuitously source and borrow these numbers from Justin Ray of the 15th Club, via Twitter.
Koepka will be in the top-20 entering the weekend for his 12th consecutive major championship.
When beginning a major with two rounds in the 60s, as he has this week, Koepka has finished: T-4, Win, Win and solo second.
Most rounds in the 60s in majors since beginning of 2017: 1. Koepka 25; T-2. Spieth, Rickie Fowler 19 each.
Best score to par in majors since beginning of 2017: 1. Koepka -69; 2. Spieth -32; 3. Fowler -30.
We all know how well Koepka plays in the majors. But it's nice to see this statistical evidence for a reminder, too.
Tiger and Phil
For the first time ever, covering 83 total major championships, Tiger Woods and Phil Mickelson have each missed the cut in the same one.
I know this fact will serve as some sort of definitive changing-of-the-guard for many observers, the end of a two-decade-long era. But let's not forget: Tiger is just three months removed from winning one of these things. If Lee Westwood can still contend at 46, Woods can, too, someday.
Instead, the main takeaway should be a celebration of this unbelievable mark. One of them making the cut in 82 straight majors isn't just some coincidence.
How would you rate this article?