Sobel's 2019 Tour Championship Betting Preview: Who Can Catch Thomas and Cantlay?
Credit:
Brian Spurlock, USA Today Sports. Pictured: Webb Simpson
Justin Thomas (+225) is the favorite to win the 2019 Tour Championship and lift the FedEx Cup at East Lake.
Jason Sobel previews the Tour Championship and how the scoring format should create for some odd betting.
ATLANTA — Get ready for the strangest scoring week you've ever seen at a professional golf tournament — and as a result, perhaps the strangest betting and DFS week, too.
Look, I'm not a big fan of the staggered scoring format for this week's finale, in which Justin Thomas starts at 10-under and every other competitor is some number of multiple strokes behind him. I do understand it, though. The PGA Tour has alleviated itself of last year's fault, when Justin Rose failed to win a FedEx Cup playoff event and still captured the overall title.
A different issue persists now, though: The player who posts the lowest score over 72 holes won't necessarily be declared the champion, because of the dynamic scoring.
I'm not the only one with an issue, either. Even though the PGA Tour will only recognize the "net" winner of this tournament, the Official World Golf Ranking will offer points based on every player beginning at even-par, which makes for an even greater quandary.
Speaking of quandaries, let's get back to betting and DFS.
I've often written in this column that, as much as you might like a favorite in a specific tournament, betting a player with single-digit odds to win against a full field is foolish. Granted, there are only 30 players in this week's limited-field event, but four of them are lower than 10-1.
So, there's your predicament: Either wager on a player outright with extremely short odds or wager on a player who is literally starting at least a half-dozen strokes off the lead. Neither seems like a shrewd option, though I'll offer one with at least a little potential below.
The dilemma on DFS might be even worse.
In the largest salary range we've ever seen, Thomas owns a DraftKings price of $15,500, while Charles Howell III sits in the cellar at $5,000.
Sure, there's going to be a nuts lineup that properly balances the haves and have-nots this week, correctly picking a few of the under-par starters and linking them with those way back in the pack, but it's going to be a lot less fun and strategic than usual weeks, when every player starts at zero.
Not that the PGA Tour, even with the ink barely dry on its new DraftKings deal, should be worried about the balance of DFS lineups.
They had a problem, they found a solution.
Instead of two players holding up trophies and mugging for the camera on Sunday evening, the winner undoubtedly takes all this week.
Yes, that problem is solved — even if it's left other potential issues in its wake.
Let's get to this week's picks, which includes a certain recent winner already at 10-under whom I tend to like this week.
Outright Winner
One player to win the tournament.
Webb Simpson (22-1)
Really?! No, not really. OK, kind of not really.
Yes, if I have one pick to win, I'm taking the guy who's already 10-under. And if I have another pick, gimme the guy at 8-under.
Of course, the books are similarly aware of this, which is why Thomas is +225 and Patrick Cantlay is +450.
Sorry, but even in a limited field with a head start, I can't bring myself to buy favorites that low.
So instead, give me Simpson. I don't think he'll win, but maybe he'll play pressure-free starting at 4-under; maybe he'll play more aggressively.
At 22-1, it's worth a shot – and that's as far down the board as I'll go seeking some value. Not only do those at 4-under and below have to make up ground, they have to make up ground on some of the world's best players.
The truth is, I don't love any outright bets this week. This entire event should be marked by one of those warning signs like they have at the first tee at Bethpage Black.
Other OADers
Potential selections for one-and-done options.
Justin Thomas (+225)
Congratulations. You've successfully navigated through the entire season without ever using JT in your pool. Maybe that decision hurt last week, but it should feel pretty nice right now.
Look, if you've got him left, you're using him.
Easiest decision you'll ever have.
If you don't have him – and if you used him anywhere but last week's BMW Championship – then you're kicking yourself right now, because somebody below you in the standings is about to catch up in a big way.
Brooks Koepka (5-1)
There would be some poetic justice if Koepka, who's about to earn POY honors for the second consecutive season, can wrap his campaign in a nice bow and add a FedEx title to his resume.
If he does, Koepka will undoubtedly be the unofficial single-season leader in bonus money, considering he's already pocketed a nice amount from the Wyndham Rewards Top 10 and the Aon Challenge.
If you've got Koepka left, then use him. Unless you've also got JT left. In which case, you severely underutilized your roster of players this season.
Stroke Score Winner
One player to win if they all started at even-par.
Kevin Kisner (40-1)
Yes, this wager is gloriously available at some books this week. I thank you, dear oddsmakers, and the good folks at the OWGR thank you, as well.
On a tight track with Bermuda greens, East Lake should be right up Kiz's alley.
He didn't reach this field a year ago, but finished T-3 back in 2017.
With results in ascending order from 30th to 27th to 12th to 9th in his last four starts, he's trending in the right direction.
Top-Five
One player to finish top-five.
Hideki Matsuyama (+475)
Here's where some of these numbers get pretty funny. Thomas is -285 to finish top-five, which would mean he'd have to give up at least six shots to the field to not cash.
Matsuyama will start at 3-under, in a share of 11th-place and one shot out of sixth.
Following a week that included his single-best putting round ever, I like Hideki to make a nice little run here this week.
DFS Free Bingo Square
A safe plug-and-play option for DFS.
Patrick Cantlay (DK $12,400; FD $12,300)
If you need a pivot from the extraordinary price that's been set for Thomas this week, then Cantlay is the easiest solution, as he'll enter the week just two strokes off the lead.
Fresh off a solo second-place finish at Medinah, he's not only playing well, but – as I've mentioned endlessly in this column – he traditionally owns a high floor and high ceiling, which makes him a nice, safe play in full-field DFS contests, let alone one where he already owns an advantage over 28 other players.
DFS 'Dog
A lower-priced option for DFS.
Tony Finau (DK $8,800; FD $9,500)
Dustin Johnson (DK $8,400; FD $10,100)
Adam Scott (DK $8,200; FD $9,300)
Justin Rose (DK $6,900; FD $9,000)
Hey, look … options!
No, this isn't a normal week, but it feels like these studs are being underpriced based on their place on the leaderboard.
Each can be had at near or below average salary this week, which could provide some nice value. Considering all four of these guys are capable of going low here, I don't mind an entire lineup stuffed with "mid-tier" players like this, each of whom can make a run.
First-Round Leader
One player to post the low score Thursday.
Justin Thomas (-150)
I mean, he leads by two before he even starts. He leads most guys by a lot more than that.
Sure, if you want to insist that Cantlay or Koepka will take control after 18 holes, I don't hate it.
But let's not suggest that someone will make up 10 shots in a single round. That's foolish.
Matchup Man
One player who should beat comparable players.
Sungjae Im
The great thing about matchup bets is that even when the entire field is essentially playing a net event, we can still find guys to bet who start at the same place.
I've already seen Im as an underdog in a H2H against Louis Oosthuizen, despite starting one stroke better.
While I can't see Louis grinding for a paycheck this week, I can absolutely envision Im trying to solidify his ROY award and make as much bank as possible.
There should be some nice matchups to invest in this week, but this one might be my fave.
The Big Fade
One top player to avoid at this tournament.
Matt Kuchar (+4000)
There was a time – many times, actually, over the past decade – when I always liked the Georgia Tech product at East Lake, on a course which should suit his game nicely.
There was also a time – not too long ago – when I believed Kuchar was playing just about as well as anyone in the world and would take him nearly any week he was teeing it up.
Not now, though, as he's limping his way across the finish line to this season.
After finishing 28th-or-better in 14 of his first 16 starts this year, Kuchar has now lingered outside the top-40 in each of his last four.
I'll go ahead and guarantee he finishes top-30 this week, but I don't expect him to turn it around right now.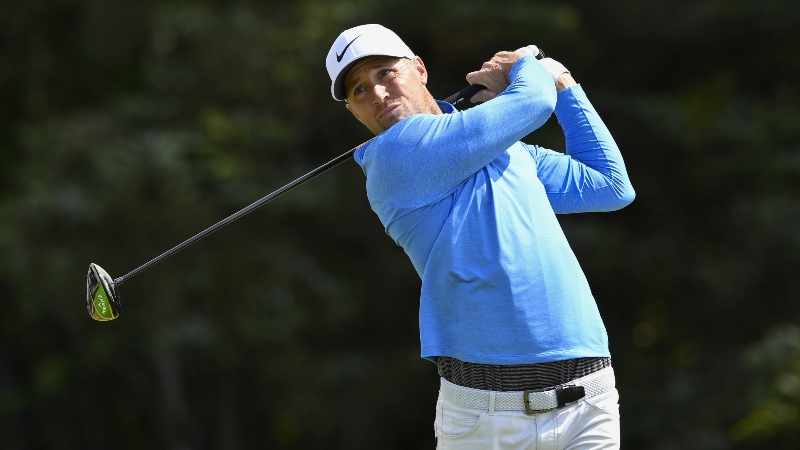 Off Tour
My favorite non-PGA Tour play of the week.
Alex Noren (12-1) to Win Scandinavian Invitation
With the Tour Championship format likely (and perhaps rightly so) scaring off many of you from the PGA Tour this week, I figured I'd go a little more in depth on the European circuit, which will become even more intriguing in coming weeks, when the U.S. tour is dark.
The erstwhile Nordea Masters has been re-positioned as the Scandinavian Invitation, which I'll admit I hadn't realized until Henrik Stenson recently withdrew from the FedEx Cup playoffs to rest up for it.
Played this year (as it was last year) on the 6,865-yard, par-70 Hills Golf & Sports Club, the focus is on exactly what you'd think it would be on for such a short track — driving accuracy and greens in regulation.
Only three players currently rank in the top-10 on the European Tour in both categories. Mikko Korhonen (great name) isn't playing this week, but Ashley Chesters (better name) and Matthew Southgate are – and that's where I'm starting my bets and DFS lineups. Neither has been tearing it up recently, but they've shown enough form that they're both viable options on a course which suits their games.
There was a Victor Dubuisson sighting at last week's Czech Masters and I could absolutely see another one this week. Aaron Rai is another player to watch anytime there's a short, tight track.
As for the big names, Stenson is an obvious selection, as is Matthew Fitzpatrick, who's owns some nice results in Sweden. Of the top players, though, I'm going with the home country's own Alex Noren, who's been trending in the right direction for a few months now.
How would you rate this article?