Presidents Cup Betting Tips, Preview: Will Justin Thomas Shine at Royal Melbourne?
Credit:
Mark Konezny, USA Today Sports. Pictured: Justin Thomas
To many casual golf fans, the biennial Presidents Cup is like a local election: They feign interest for the sake of patriotism, but don't pay too much attention until something goes horribly wrong, at which point they similarly feign indignance.
Fortunately for U.S. supporters, not much has gone horribly wrong lately – or, well, ever.
The red, white and blue has lost this competition exactly once, and that was over two decades ago. The team has won seven straight, with the margin of only one of those victories – four years ago in South Korea, the last time this event was played on International soil – fewer than three points.
In fact, two years ago, the team had nearly clinched before the final singles session, as the lone entertaining moment on Sunday came when Dustin Johnson mimicked the American fans by singing, "I Si Woo baby, shakin' that ass…" during the post-round press conference.
Will the U.S. team be singing and shaking their way to another easy victory? Or will the International side finally celebrate?
Let's break down 10 important betting questions going into this week's event.
Is there any value on the home 'dog?
Everyone loves betting a home underdog, even if Royal Melbourne isn't exactly a "home game" for guys from Japan or Canada or South Africa. While it's easy enough to glance at the history of this event and quickly discern that perpetually betting the International side is a sucker's bet, but at the current number (+225), it will again yield some temptation.
If you're seeking some rationale for taking the International team to win outright, here's one stat to help the cause: In the four previous editions held outside North America, the Internationals have actually outscored their American counterparts, 67-63.
Of course, that includes a 20½-11½ victory at this same host course in 1998, which skews the numbers, but also proves a home win is at least a potential outcome.
---
Looking to bet the Presidents Cup? Check out PointsBet, where Action Network users can access an exclusive promotion to get a 200% deposit match (deposit $50, bet with $150). No strings attached. No rollover required.
---
Who will be the go-to guys for the U.S. team?
Expect a mix of the usual suspects and the next generation.
Justin Thomas (+500) is understandably the favorite to lead all American players in points – and for good reason. He's been consistently stellar for the past six months, with no finishes worse than T-17, and went 3-1-1 in his only previous Presidents Cup appearance.
Right behind him on the list are Patrick Cantlay (+600) and Xander Schauffele (+600), a pair of rookies who've already shown a propensity for playing great golf on the game's biggest stages.
And then there's a guy named Tiger Woods (+1200), who's likely further down the board due to potentially fewer matches due to physical limitations and captaincy duties, but owns plenty of value based on his recent performances.
Tiger? Doesn't he have a terrible track record at this event?
If you believe this, then perhaps you're confusing the Presidents Cup with the Ryder Cup, as he has indeed struggled in the latter – just like many of his teammates. In this event, though, he owns a lifetime 24-15-1 record, which might not underscore his overall individual accomplishments, but hardly renders him a failure.
And while there's some concern that Tiger's role as captain could inhibit his focus as a player, it would be wise to consider the other side of this intangible: If any player is extra-motivated to win for Captain Woods, it's Tiger. While he was only 2-3-0 at Royal Melbourne back in 2011, he did win his singles match to clinch the deciding point and the links-ish track should suit his current game.
Which International players should we pick on?
Outside of the event organizers, nobody would contend that the Presidents Cup is better than the Ryder Cup – but a few of its intrinsic details are indeed more fan friendly.
The five sessions are spread across four days instead of three; because of that, the first two sessions feature five matches instead of four. The irony here is that while it's an improved format, it almost inherently hurts the International side, as the roster is never nearly as deep as the American team. What it all means is that unlike at the Ryder Cup, it's more difficult to hide weaker players.
If you're looking to load up against a specific guy once each day's matches are announced, keep an eye on C.T. Pan. He qualified for the International team on the strength of his win at Harbour Town earlier this year, but owns just one finish inside the top-50 in his last six starts and has exactly zero top-10s in the past six months.
That last one was a fairly pessimistic question. Why not ask which International players will be go-to guys?
Fair point, mate. (I'm just assuming anyone reading this who would be upset about the pessimism must be Australian.) No surprise here, but I'd stick with the Aussies, who will be playing for pride and with plenty of spectator support.
Hideki Matsuyama (+450), Louis Oosthuizen (+600) and Sungjae Im (+800) are among the favorites for low point-scorer on the team – and Oosthuizen, in particular, has been playing really well lately – but the smart money should focus more on Adam Scott (+500), Marc Leishman (+800) and Cameron Smith (+800), the latter of whom is a wizard with a wedge in his hands and could also serve as a sneaky low-owned DFS option.
Wait … there's DFS available this week?
That's right. For the first time, DraftKings has introduced a "Cup" contest, in which you select a "captain" (no, not an actual team captain; a player whose points are worth 1.5 times more, mirroring showdown contests in other sports) and five other players, garnering points for not only winning matches, but individual holes, with bonuses for three consecutive holes won and none lost in an entire match.
So, what's the strategy for it?
Short of the simplified advice of picking the players who will earn the most points, I'll defer to my colleague Chris Raybon, who so often emphasizes the impact of volume in fantasy football.
The more snaps a player is on the field for, the more targets he gets, the better chance he has to post bigger numbers. Same goes here. You'll want to focus on those who will – or at least should – play five matches for their respective teams.
Thomas is an obvious choice for the U.S.; Fowler might be less obvious as a late addition for Brooks Koepka, but don't overlook his "usage rate" to steal from other sports. Coming off a knee injury that kept him from competing last week, Dustin Johnson is a logical choice to sit for a session or two if he's not at full health.
As for the International team, it would be unwise for captain Ernie Els to bench any of those aforementioned Aussies unless they're playing especially poor. The other strategy we'll borrow from other sports is that of "stacking" teammates. Just as you'll get twice as many points if you roster both Drew Brees and Michael Thomas, you can win big by correctly choosing the best tandem for your lineup.
While the first batch of these won't be announced until Wednesday afternoon Australian time, there were some clues in those first-round Hero pairings, which included Thomas with Woods and Cantlay with Patrick Reed.
After another cheating scandal, Reed is a full fade, right?
Look, you can consider Reed a cheater after his latest rules infraction during the third round of last week's Hero World Challenge. You can choose to root against him this week, even if you're supporting the U.S. squad. You can believe he'll hear the catcalls about it from the Australian crowds. ("I don't have any sympathy for anyone who cheats," Smith told reporters. "I hope the crowd absolutely gives it not only to him, but everyone.")
If you think, though, that any of the aftermath from this controversy is going to have a negative effect on his performance, then you don't know Reed. He's the type who flourishes in the villain role, having first offered his now famous (or infamous) shush to the European gallery during the 2014 Ryder Cup.
Despite Smith's request, lustily booing Reed might only ignite him to play better on foreign soil. It would never happen, but the better idea might be to give him the silent treatment, effectively shushing him before he ever has the chance to shush them.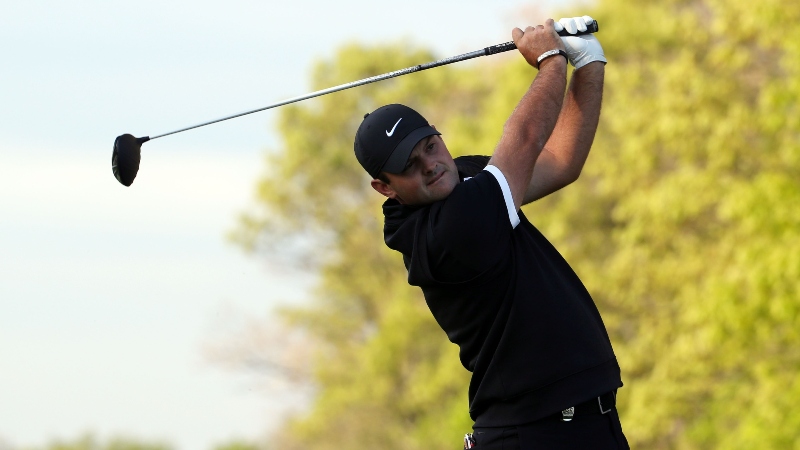 How can the U.S. team win this event?
This is a pretty simple formula, one which has worked for each of the last seven editions of this event: The U.S. is stronger on the top end, stronger in the middle of its roster and (much) stronger at the bottom than its competition this week. If the team wins all of the matches in which it's favored, this will be another landslide victory.
Getting more technical, Woods' squad can really win one of two ways. The team can start winning the partnered sessions early, taking an insurmountable lead into Sunday's singles, as it did two years ago. Or, frankly, it can just keep things close and use that superior talent across the board to win that final session.
Either way, getting early leads and taking away some of the home crowd vibes – especially against the Aussie players – will help retain some of the momentum.
How can the International team win this event?
This is obviously the much bigger mystery, one the International team hasn't solved in an awfully long time. It's easy to insist the players need to embrace the underdog role and ride the momentum of the galleries, but there needs to be more than that.
Not to focus too much on the American side, but for the International team to win, it needs the U.S. to help. Els' squad needs the opponent to come out flat, jet-lagged, a bunch of multi-millionaires at the end of a long year who can't wait for the plane ride home.
It needs Woods to struggle in the player-captain role, Reed to somehow wilt under the spotlight, Johnson to be more injured than he's let on and the entire team to play scared, knowing the U.S. hasn't lost in so long. All of that is a big ask – and it's the reason why the Internationals have suffered such a long drought – but it's hardly impossible.
How would you rate this article?