Sobel's Rocket Mortgage Classic Final-Round Matchups: Fade Red-Hot Nate Lashley?
Credit:
Brian Spurlock-USA TODAY Sports. Pictured: Nate Lashley.
Jason Sobel analyzes five Final Round matchups for the 2019 Rocket Mortgage Classic: J.T. Poston vs. Nate Lashley, Kyle Stanley vs. Vaughn Taylor, Rickie Fowler vs. Luke Donald, Sepp Straka vs. Nick Watney, and Aaron Wise vs. Jason Kokrak.
Entering the final round of the inaugural Rocket Mortgage Classic, the finished picture is becoming clear.  Either Nate Lashley is going to win this tournament, or Nate Lashley is going to lose it.
Following his second 63 in three days, Lashley leads by a half-dozen strokes in search of his first career PGA Tour victory. There isn't much value in betting him outright at -450, while every other contender is at least 10-1, but for good reason considering the deficit.
Let's take a look at my five favorite matchup bets entering Sunday, starting with the only Lashley fade that I like.
Kyle Stanley (+110) over Vaughn Taylor
10:55 a.m. ET
One week ago, Taylor birdied his final five holes at the Travelers Championship to soar up the leaderboard and earn himself a hefty paycheck. I'm betting that lightning can't strike twice.
Stanley has one of the strangest round-by-round splits I've seen in a while: He ranks 177th in first-round scoring average, 174th in second-round scoring average, 186th in third-round scoring average … and 29th in final-round scoring average. The road to Sunday afternoons has been a bumpy one, but it's usually been smooth sailing when he gets there.
Rickie Fowler (-200) over Luke Donald
10:15 a.m. ET
Look, I'm not exactly going out on the thinnest limb here, but following a disappointing even-par 72 on Saturday, I'd be surprised if Fowler doesn't post one of his trademark inconsequential low Sunday rounds when already out of contention. He's at his best when he's playing aggressively, and mired in a share of 39th place, there's nothing left to do but fire at flagsticks.
Sepp Straka (+125) over Nick Watney
12:25 p.m. ET
Professional golf is a game so devoid of controversy that we sometimes construct hypothetical issues to hold us over. Such is the case for Straka, who was born in Austria, raised in the U.S. and still undetermined which Ryder Cup team he'd play for.
Obviously, that's hypothetical, because he's not close to making either of 'em right now, but the point remains: At least he's played well enough to be asked the question. While Straka's final-round scoring average isn't too special, he's posted a 65 and a 67 in two of his last three Sunday rounds and I like him to get the job done over the favored Watney today.
Aaron Wise (+110) over Jason Kokrak (-0.5)
12:35 p.m. ET
Fun matchup between two players I really liked to contend at next week's 3M Championship. Only problem? Neither one decided to play. Instead, we'll have to settle for this Sunday throwdown, and I'll give the edge to Wise, who is rounding into form and just might improve upon that 67 he posted yesterday.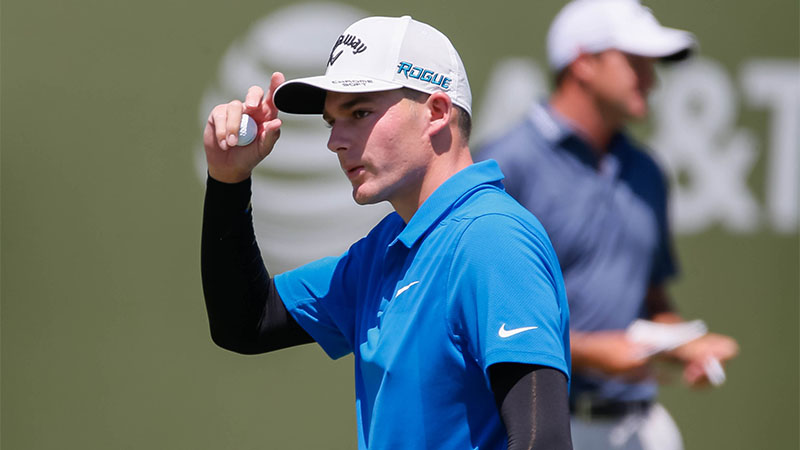 J.T. Poston (-118) over Nate Lashley
2:05 p.m. ET
I won't be bold enough to bet Lashley to lose a six-shot advantage, but it's entirely feasible that he plays a bit more defensively in search of his initial win. Couple that with the fact that it's difficult to see him posting a 65 to get to 30-under for the week and I like Poston in this one, as he's gained nearly eight strokes against the field from tee to green this week.
How would you rate this article?