Sobel's 2019 Wyndham Championship Betting Preview: Patrick Reed Is Trending Up
Credit:
Patrick Reed was penalized two strokes during the Hero World Challenge. Credit: Peter Casey, USA Today Sports.
The 2019 Wyndham Championship begins on Thursday, August 1 at Sedgefield Country Club in North Carolina.
Jason Sobel previews the final event before the FedEx Cup Playoffs and wonders if Patrick Reed is worth a look in the outright market.
I'll get to the picks for this week's Wyndham Championship, but first let's address an issue which reared its ugly head once again recently – an issue which really should be a non-issue.
In what has become a highly publicized clap-back – with an eventual happy ending – Max Homa last week took on part of the fantasy community which had been trolling him for not performing better.
Following an opening-round 74 at the WGC-FedEx St. Jude Invitational, Homa indirectly charged at the critics with this tweet:
I can't emphasize enough how little I care about messing up ur guys' fantasy golf lineups

— max homa (@maxhoma23) July 25, 2019
One of golf's best personalities on social media, Homa's words quickly drew some attention. (That tweet has been retweeted more than 200,000 times since then.) Most agreed with his sentiment; some, of course, retaliated with boorish remarks.
Fixing this problem is as easy as telling everybody to be nice to each other on Twitter, which obviously isn't happening anytime soon. Instead, people use this as a forum to spout their disgust with everything from politics to airline service to, yes, even golf betting.
This is nothing new. A few years ago, Daniel Berger hit a single tee shot at a WGC event, then withdrew and collected his last-place paycheck to the ire of bettors and fantasy players, many of whom somehow believed it was their right to know about this strategy beforehand. This year, Marc Leishman and Louis Oosthuizen have each WD'd before their opening rounds, but after lineup lock on DFS, causing a similar outcry.
Homa's situation is a little different. He played the first round and simply didn't play well. But the message remains – and it's an important one: Professional athletes don't – and shouldn't – care about your money on them.
Actually, it's bigger than that: Professional athletes don't care, your buddies don't care, your spouse doesn't care. Literally, nobody else cares about your fantasy team. So stop whining about it.
Now, I'll admit there is a fine line here. I'm pretty obviously in favor of the benefits that gambling can bring to the game – and if you're reading this column, chances are that you understand this, too. The more that people own a personal investment in golf, the more interest there will be in the sport. This seems like a fairly simple concept.
Here's where that line gets crossed, though: If these athletes start worrying about their impact on your bankroll, then we've got this whole thing backwards.
Trust me: They are aware that people are placing money on them each week. Trust me: They're aware that you win when they do and you lose when they do. And trust me: They're not trying to lose simply to screw over your lineup.
That's the part which I don't understand.
If you made a few mistakes at your job and had a couple of hundred people tweeting at you to better proofread those TPS forms because you're losing them money, you'd probably answer similarly to Homa. We'll never get everyone to act civil on social, but we can still push to make it a less popular form of whining.
Ah, but here's the part where we get to the happy ending from last week.
After a suggestion from a fan, Homa got the ball rolling on charity donations for his birdies.
Yoooo just found out we raised around $10k this week for St. Jude!! It's times like this that I realize social media isn't just a black hole of pessimism and political debates. Way to come together everyone. Can't thank u all enough!

— max homa (@maxhoma23) July 29, 2019
Three days later, he'd raised $10,000 for St. Jude Hospital.
See? Social media can be used for good, not just evil. Here's hoping some of those gamblers who put money on Homa also donated some of that money to St. Jude in his name, a mere penance for blasting a player when he didn't have his best stuff.
Let's move on to the Wyndham, the final regular-season event before the FedEx Cup playoffs.
Last week's theme was motivation at the WGC following the Open Championship and while that didn't quite pan out, I'm doubling-down for this week, as players understand this is their last chance for a regular-season win or to move into position for the Tour Championship or even to extend their season by qualifying for the playoffs.
Outright Winner
One player to win the tournament.
Patrick Reed (+2200)
Let's play a little Jeopardy! Here's your answer: "This past champion is trending in the right direction as he returns to the site of previous glory."
Your question in response might be: "Who is Webb Simpson?" Or maybe even: "Who is Brandt Snedeker?"
Solid guesses, both of which aren't technically wrong. But since the category listed above is "Patrick Reed," you probably should've said, "Who is Patrick Reed?" I mean, I gave you this one.
In his last four starts, Reed has finished 12th-10th-23rd-5th. He's clearly moving in the right direction – and, yes, motivated to play well at season's end.
While I don't feel overly confident picking a player to win who's claimed only the 2018 Masters and nothing else in nearly three full years, I think Reed is a nice little deviation from Simpson and offers a lot more value.
Other OADers
Potential selections for one-and-done options.
Brandt Snedeker (+2200)
I've never been a big fan of taking the defending champion, basically preying on the lightning-has-to-strike-twice theory. And really, Sneds might not even be available to you, as many OAD pools own a "no defending champions" clause.
If you can, though, he might be worth the play.
The all-time leading money-winner at this tournament, Snedeker opened with a 59 last year and owns two wins and four other top-10 finishes.
He'll be another popular play this week.
Hideki Matsuyama (+1400)
It remains surprising that Matsuyama can play as well as he has all year and still not own a victory.
If you're trying to make up ground in OAD, I'd look in another direction. But if you're leading a pool and want a nice, safe pick to tread water and stay ahead of the pack, Hideki feels like a nice play.
Prior to 43rd-MC the last two weeks, he'd finished 33rd-or-better in 15 straight starts.
He also owns three top-15 finishes in five starts at the Wyndham, including a T-11 last year.
Sungjae Im (+6000)
It wasn't so long ago that the golf world was talking about Im being the next great player. Since then, Matthew Wolff and Collin Morikawa have won and Viktor Hovland has piled up some strong finishes, taking all the attention away from a player who still might hold the Rookie of the Year advantage over his competiton.
Well, when everyone zigs away, we should zag.
Before missing the cut at the admittedly unfamiliar Open Championship, Im had finished 26th-or-better in five consecutive starts.
With no course history to speak of, he might be a player who's gone largely overlooked in OADs, so if he's still available, he could be worth a shot as a potentially low-owned selection this week.
Top-Five
One player to finish top-five.
Webb Simpson (+220)
Come on, you knew this was coming.
As I've stated in the past, I only have one hard-and-fast rule about golf betting: When a player names one of his kids after the tournament sponsor, you should probably think about picking him.
I believe I'm breaking a lengthy streak here of taking Simpson to win, but only because he's +900 price tag suggests that everyone else is thinking the same thing.
Fresh off a solo second-place finish last week, this one feels like a slam dunk.
I'd expect Webb to be extremely highly-owned in DFS this week – and I really can't blame any of you.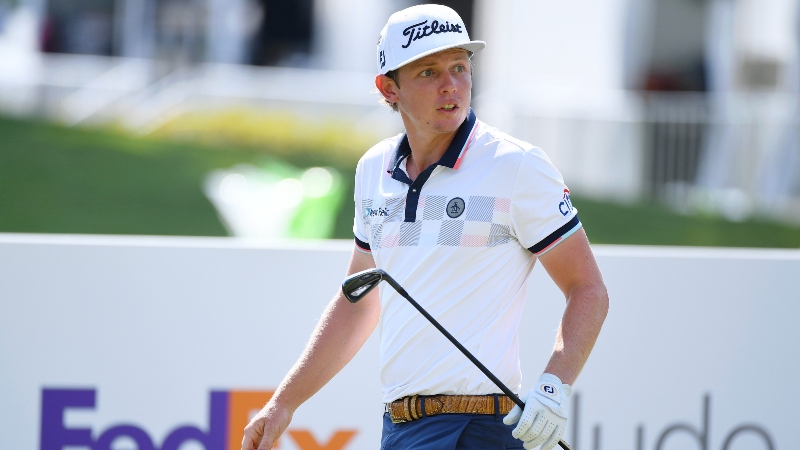 Top-10
One player to finish top-10.
Cameron Smith (+350)
It's been quite a roller-coaster ride lately for the young Aussie.
After closing last year with a victory at the Australian PGA, he started this year with four finishes of 22nd-or-better in his first five events. Seemingly on the verge of big things, he inexplicably finished outside of the top-50 in each of his next nine.
Just when it appeared time to write him off for a while, though, he's progressed from 29th to 20th to 12th in his last three, suggesting a jump into the top-10 could be the next step.
Top-20
One player to finish top-20.
Sepp Straka (+285)
Two weeks ago, Straka was borderline to make the FedEx Cup playoffs, but finishes of 3rd and 12th have him at 110th in the standings, safely inside the number to reach the first event.
Riding such a heater, though, he should be motivated to do a lot more than just qualify for the Northern Trust.
Straka is a player who, based on these last two weeks and others, can get really hot when his game is on.
Top-20 is a nice play here, but it might be conservative. Don't be surprised if he steps on the gas pedal and posts another strong result.
DFS Free Bingo Square
A safe plug-and-play option for DFS.
Joaquin Niemann (DK $9,100; FD $10,600)
After he turned professional last year, I asked Niemann what type of course best suits his game.
He responded that he likes tree-lined tracks which remind him of the courses in his native Chile.
Well, Donald Ross tracks should correlate nicely – and he's already proven it with a T-33 at last year's Wyndham and a T-5 at the Rocket Mortgage last month.
With potentially large ownerships on Simpson and Snedeker, Niemann could remain fairly low-owned this week.
DFS 'Dog
A lower-priced option for DFS.
Sebastian Munoz (DK $7,000; FD $8,600)
Richy Werenski (DK $6,500; FD $8,000)
I wrote in the intro section about players being motivated this week. Well, few should fit the profile better than these two.
Entering the final week before the top-125 reach the playoffs, Munoz sits at 123rd in the standings and Werenski is 127th
Those numbers suggest they've each had less-than-successful seasons, but recent form shows they've each been playing well enough to qualify.
Munoz has finished 11th-9th in his last two starts; in fact, he's finished in the top-11 in half of his last eight PGA Tour starts.
Werenski hasn't posted those types of numbers, but he has been making cuts, including four straight, which makes him a nice play at his price.
First-Round Leader
One player to post the low score Thursday.
Wes Roach (+11000)
Up amongst players like Matt Kuchar, Jon Rahm and Justin Thomas on the R1 scoring average list is Roach, who ranks eighth this season with an average score of 69.39.
He's clearly a fast starter – and lately, that fact has been even truer.
In his last four opening rounds of stroke play, Roach owns scores of 64-69-69-67. The last of those came at the Rocket Mortgage, where he finished third on another Donald Ross track.
It's only a matter of time before he cashes a FRL bet. At this price, it's worth a shot on that happening this week.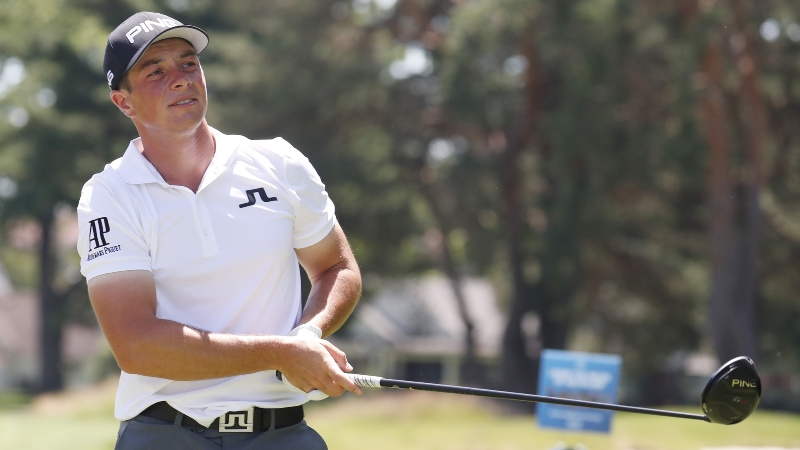 Matchup Man
One player who should beat comparable players.
Viktor Hovland
In his short time as a pro, Hovland has shown a propensity for not just making cuts and posting strong final-round scores, but also smashing head-to-head matchups.
He owns four results of 16th-or-better in five starts, all of which have been buoyed by late Sunday surges.
I'm on record as saying I'll still take Hovland long-term over fellow young pros Matthew Wolff and Collin Morikawa. Each of those two has already won, so if good things come in threes, perhaps this could be Hovland's turn to shine.
The Big Fade
One top player to avoid at this tournament.
Jordan Spieth (+1800)
I wrestled a bit with this one, because Spieth has been saying all the right things, but I just don't think his game is ready to be where it needs to in order to bet him at 18-1.
In last week's opening round, he shot 70, but made two triple-bogeys; in the final round, he shot 68, but made two doubles and two bogeys.
"I feel really good about the progression that's being made," he said after Sunday's round. "I feel like I expected, you know, to have a little bit of roller coaster as I make this progress, but I'm on the right track. It feels really good, I'm excited about next week."
Like I said, he's saying all of the right things and showing some positivity toward his game, which makes me bullish on him long-term. But with those big numbers lurking, I'm not quite ready to go all-in on Spieth right now.
Off Tour
My favorite non-PGA Tour play of the week.
Shanshan Feng to win Women's British Open (16-1)
Every four years, like clockwork, a surprise sneaks up to win the Women's British. Unfortunately for bettors, that was last year.
Georgia Hall, a promising young talent, though hardly the favorite, won that edition of the event on the heels of wins from I.K. Kim, Ariya Jutanugarn and Inbee Park. The year before that, Mo Martin won after being preceded by Stacy Lewis, Jiyai Shin and Yani Tseng.
I'm going back to one of the faves for this week, though I'm bypassing Jin Young Ko (+900), Jutanugarn (+1000), Hyo Joo Kim (+1200) and Park (+1600) for Feng, who owns a strong combination of recent form and event history.
Feng finished co-runner-up at last week's Evian Championship, fresh off winning the Thornberry Creek LPGA Classic in her previous start. In her past five Women's British starts, she owns three finishes of seventh or better, including each of the last two years.
At 17th on the Rolex Ranking, but only T-4 in the books this week, it would appear there isn't much value in betting Feng to win, but it's tough to ignore that form/history combo which could result in her second major title this week.
How would you rate this article?