Sobel's PGA TOUR Picks & Betting Preview: Bet Will Zalatoris, Justin Suh, and Doc Redman at 2020 Bermuda Championship at Port Royal
Credit:
Doc Redman is 45/1 to win the Houston Open. Credit: Sam Greenwood/Getty Images.
The 2020 Bermuda Championship begins Thursday at Port Royal GC.
The field may not be very stacked, but there is still plenty of betting value throughout.
Check out Jason Sobel's breakdown of the tournament, complete with betting picks for nearly every category below.
With just two weeks looming before the first-ever November Masters, this week's Bermuda Championship is simply supposed to be part of the calm before the storm.
As it turns out, though, that calmness is purely metaphorical, as the Atlantic breezes are forecasted to be howling throughout the tournament.
According to Southampton weather reports, it'll start benignly enough, with gusts only to a mere 13 mph during Thursday's opening round. Then come the next three days, with increasingly windy conditions and gusts to 31 mph for the second round, a steady 24 mph for the third and back up to right around 31 mph for Sunday's final round.
Full disclosure: I'm writing this preview on Monday morning and forecasts can change, so check your favorite Bermuda weather listings before the tourney starts. More full disclosure: This week's tee times have not been announced at the time I'm writing, but there's one word which has my radar up – "increasingly" windy conditions for the second round, which suggests those in the late-Thursday/early-Friday wave could hold an advantage this week, at least when it comes to reaching the weekend.
After a pair of no-cut, elite-field events, we're back to a very fall schedule-looking tournament this week, with the likes of Danny Willett, Henrik Stenson and defending champion Brendon Todd serving as the headliners.
There are also plenty of promising young players, from consistent door-knocker Doc Redman to TOUR player-in-waiting Will Zalatoris – and it's this crop which might offer the greatest potential for this week, not just over the long-term.
They'll be playing at Port Royal GC, a par-71 that will play just north of 6,800 yards, meaning those forecasted winds could be the only defense against a track which will ordinarily yield plenty of red figures, as Todd won with a 24-under 260 total last year.
I'll be looking strongly at results from the recent Sanderson Farms Championship and, more heavily, the Corales Puntacana Resort & Club Championship, which should be varying measures of predictive for this week's event.
Let's get straight to the picks, as regular readers of my previews won't be surprised where we're starting.
Outright Winner
One player to win the tournament.
Doc Redman (+3000)
I've picked the Good Doctor to win a couple of times over the last few months, only to watch him come intriguingly close. The truth is, those near-misses were almost enough to keep him out of this category for this one, but instead I'll keep pushing all my chips into the middle of the table.
Redman has been regularly posting near-elite ball-striking numbers – and iron play in blustery winds should be a key to success this week.
[Bet Doc Redman at DraftKings and get a $1,000 sign-up bonus.]
Other OADers
Potential selections for one-and-done options.
Denny McCarthy (+3500)
Perhaps McCarthy's biggest contribution to the game of golf so far has been serving as the antithesis to the ol' "drive for show, putt for dough" crowd, as his middling record while leading the PGA TOUR in putting the past two seasons only confirms all of the advanced analytics regarding long game being more valuable than short game.
That doesn't mean he's a one-trick pony who keeps trotting in circles, though. McCarthy's ball-striking has improved and he's especially deadly on Bermuda greens – which, oh by the way, are the type of greens they have in Bermuda, in case you were wondering.
Scott Stallings (+4500)
While it might seem like every few years Stallings pops up with a win, in reality it's been a half-dozen years since his third and most recent victory at Torrey Pines. He tends to be an all-or-nothing type of player, with three finishes of sixth-or-better in his last 10 starts, but nothing else inside the top-35.
That's alright for OAD plays, though, and he's a veteran with experience in the hunt, unlike many of the young up-and-comers in this field. Don't be afraid to sprinkle a little on him outright this week, too.
Top-Five
One player to finish top-five.
Will Zalatoris (+275)
We've been over this before: Without context, it might sound crazy to list a Korn Ferry regular for a finish this high – especially at this price! – but Zalatoris is no regular Korn Ferry regular.
In fact, it'll be a surprise if he doesn't claim the three FedEx Cup points needed to maintain a full PGA TOUR membership this week. With three finishes of eighth-or-better in four starts so far this season, perhaps a top-10 play might be the more safe one, but with extra motivation against a weaker field, I'll take the Z-man for a top-five.
[Bet Will Zalatoris at DraftKings and get a $1,000 sign-up bonus.]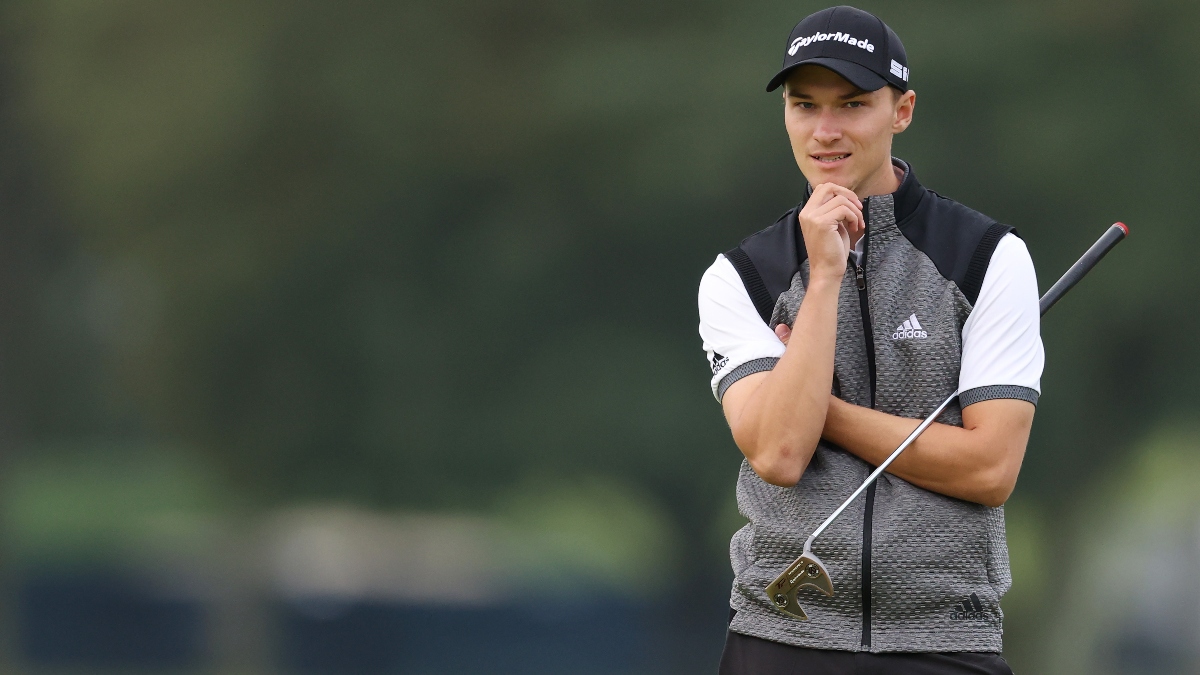 Top-10
One player to finish top-10.
Rasmus Hojgaard (+450)
Perhaps the most intriguing name in this field from an untapped potential standpoint, it'll be fun to see what the young Hojgaard brings to this one, as he hasn't ventured far from his home European Tour very frequently.
He is, however, undoubtedly talented, already ranking above the likes of Jordan Spieth, Rafa Cabrera Bello, Thomas Pieters and Brandt Snedeker in the OWGR. This serves as an opportunity to show off for a different demographic.
[Bet Rasmus Hojgaard at DraftKings and get a $1,000 sign-up bonus.]
Top-20
One player to finish top-20.
Justin Suh (+150)
OK, so he's not going to catch up immediately with Collin Morikawa, Viktor Hovland and Matthew Wolff – the three players with whom he came out of college and started playing PGA TOUR events last summer – but Suh has been proving lately that he shouldn't be completely left out of that group, either. He's finished 8th-14th-21st in his last three starts.
Playing him as a top-20 is conservative, but he should also factor well in DFS lineups and perhaps even top-10 props.
[Bet Justin Suh at DraftKings and get a $1,000 sign-up bonus.]
Top-30
One player to finish top-30.
Jonathan Byrd
Top-40
One player to finish top-40.
Rhein Gibson 
I'm grouping these two together, as I came to these conclusions based on the same hypothesis – that results from Puntacana will travel to Bermuda. Both Byrd and Gibson were top-30 at that one last month, so there should be some value on each here, as well.
DFS Free Bingo Square
A safe plug-and-play option for DFS.
Patrick Rodgers
OK, so maybe picking a guy here who's coming off back-to-back MCs doesn't sound too "safe," but there's reason to believe he'll turn it around here, as (those recent MCs notwithstanding) Rodgers has become a consistent-if-not-spectacular sort of player.
I'm still waiting for him to live up to his true potential, as he's certainly talented enough to break through with a first career victory, but there's a chance we might continue seeing him as a more reliable weekly regular than a guy who starts piling up Ws.
DFS 'Dog
A lower-priced option for DFS.
Adam Schenk
In a weaker field with plenty of unknown commodities available, we should use what we know – and that's this: Schenk is a good bet to make the cut. Dating back to July, he's made 10 in a row, which makes him a sneaky strong DFS option due to a high floor and, potentially, a high ceiling, as well.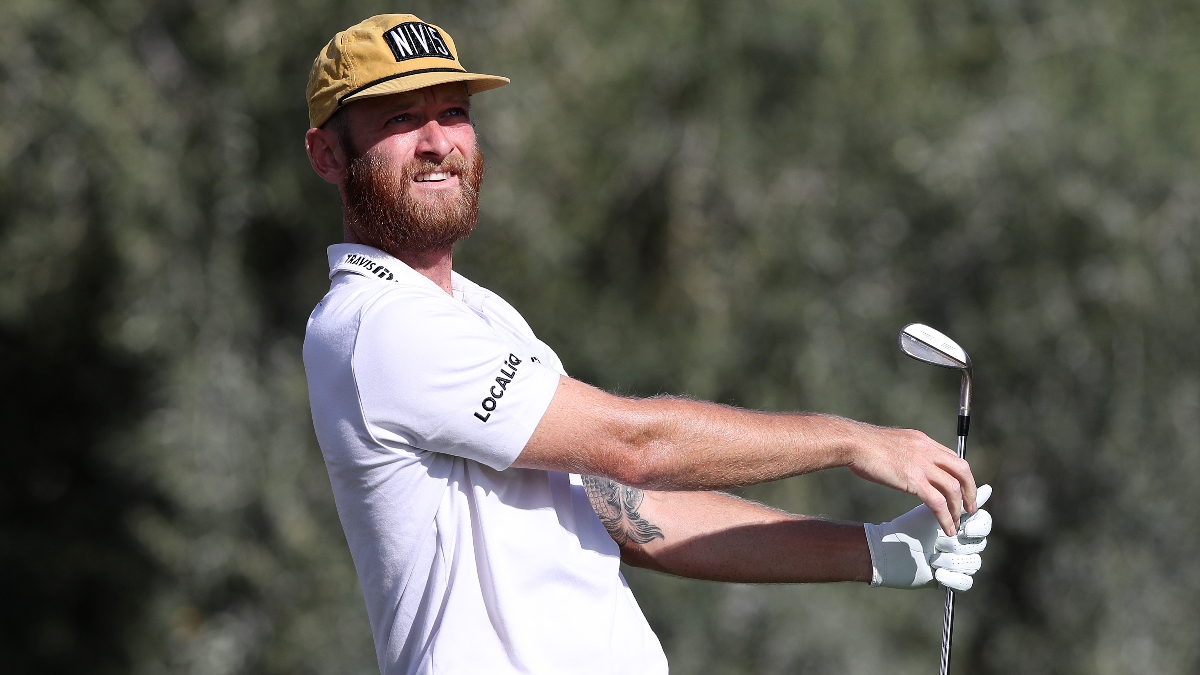 First-Round Leader
One player to post the low score Thursday.
Tyler McCumber (+6600)
With finishes of second and sixth in two of his last three starts – and at the two events which I believe correlate nicely to Port Royal – McCumber should be a good bet to play well again this week.
I don't mind him for top-10/20 props and as a DFS play, but I'm listing for FRL based on the fact that he posted three scores of 66 or better in the eight rounds at those two events, proving he can go low when there's some comfort level.
[Bet Tyler McCumber at DraftKings and get a $1,000 sign-up bonus.]
Matchup Man
A player I'm targeting in matchups this week.
Kristoffer Ventura
Truth be told, I love these weaker fields for matchup bets way more than the elite fields. Think about it: If you're playing a H2H between, say, Justin Thomas and Jon Rahm, there's such an excellent chance that either (or both) of them will play really well that it sometimes becomes little more than a coin flip.
When playing H2Hs using less accomplished players, though, we can often prey on the vulnerabilities and weaknesses of one player. My advice is to give this week's matchups a strong look all the way through, but Ventura is the type who should hold plenty of value against players who might have some of those weaknesses.
The Big Fade
One top player to avoid at this tournament.
Brendon Todd (+1400)
Here's what we've learned about the defending champion: He's incredibly streaky. Last year, he went from golf purgatory to winning this event and the Mayakoba Golf Classic in a two-week span, then nearly adding a third in his next start. This past summer, he similarly got hot again, showing up on some big-boy leaderboards before often fading in the final round.
In his past two starts, though, Todd has finished 47th and 52nd, suggesting he's not in full-streak mode. He might be a popular play based on his proclivity for keeping it in the fairway and those forecasted winds, but I'll only ride Todd when he has some momentum – and it doesn't appear he does right now.
Off Tour
My favorite non-PGA Tour play of the week.
Matthias Schwab at the Cyprus Open (+2800)
Officially, the name of the event is the Aphrodite Hills Cyprus Open, which makes it sounds like the, uh, most "romantic" professional golf tournament around. Well, I'll keep that theme going and romanticize about the possibilities for Schwab, an up-and-comer who played his college golf at Vanderbilt.
I've often warned that we shouldn't get sucked in by players' personal social media posts, during which they usually tell us how close they are to playing great golf and rarely lament that, well, maybe they won't. So, we've always gotta take these things with a few grains of salt, yet I couldn't help but get a little excited when Schwab tweeted after the final round of the Italian Open on Sunday and used a fire emoji to describe his long game.
To me, that says more than a generic, "I'm going to keep grinding and I think I can win soon!" type of tweet. I'll bank on him keeping it going at Aphrodite Hills.
[Bet Matthias Schwab at DraftKings and get a $1,000 sign-up bonus.]
How would you rate this article?