2020 Charles Schwab Betting Picks & Previews: Watch These Sleepers at Colonial
Credit:
David Rosenblum/Icon Sportswire via Getty Images. Pictured: Kevin Kisner
Jason Sobel breaks down his betting card and picks for the 2020 Charles Schwab Challenge at Colonial Country Club.
He's backing a few ball strikers, and avoiding Dustin Johnson in every way.
Get his picks for the PGA Tour's return below.
In a world immersed with pragmatic analytics, it's probably paradoxical to open this preview column with an unquantifiable fact, but here goes nothing: There hasn't been a more anticipated non-major championship PGA TOUR event in many years than this week's Charles Schwab Challenge.
It will have been 91 days since the opening round of The Players Championship was held on March 12, followed by an immediate suspension of the schedule for COVID-19 concerns, until the impending first round at Colonial CC, a hiatus so lengthy it doesn't even occur during the supposed offseason.
If absence indeed makes the heart grow fonder, then expect to feel plenty of love for professional golf in the very near future, one of the few major sports organizations to return to competition already.
---
SPECIAL PROMOS FOR GOLF'S RETURN! Bet $1, Win $50 if Rory makes just ONE birdie … Win $50 if ANY PLAYER makes a birdie on Colonial's first hole … and more!
---
For those who are only casual fans, the potential to watch something – anything – might very well lead to a newfound golf-watching addiction; for those who were already diehard fans, settle in, because you could be on the verge of finding the perfect groove in those couch cushions.
And yes, for those who have zipped through these first four paragraphs seeking acknowledgment of what we already understand, there's this: The opportunity to bet a full-field golf tournament again feels like a dozen Christmas mornings all rolled into one glorious amalgamation of outrights and props and matchups and so much more.
Our collective excitement should be offset only by our consternation.
Unless we overvalue those players who have competed in hit-and-giggle and other assorted non-PGA TOUR events, there is no basis of "current form" from which to choose.
We're flying blind when it comes to knowing who is ready to attack the leaderboard and who is simply easing back into the second half of the season. Those who were cruising three months ago might've since lost their mojo; those who were struggling might've dug up some secrets in the dirt.
Then there's the matter of such a stacked field. Usually armed with a solid B-list of entrants, this week's edition at Colonial will include each of the top-five players in the world and a bevy of talent just behind them.
That makes for appointment viewing, but similarly offers greater anxiety when trying to prognosticate. To wit: Rory McIlroy should play solid golf, because, well, that's just what he does, but with zero prior history at this course, there's no way to know whether he'll instantly love it or need some time to become accustomed. The same goes for others with little or no history here.
And last but certainly not least is the simple fact that Colonial's relatively friendly distance of just 7,209 yards with pinched fairways and small greens tends to be more democratic in its leaderboard spots than other venues.
Not only do short, accurate players have a better chance to contend here than at most other events, the longer players are afforded the opportunity to dial it back and use lesser clubs off the tees, essentially rendering them more accurate, as well.
[Perry's Colonial Betting Card: Why Rickie Fowler Is Worth a Wager]
In the past decade, the likes of Zach Johnson, David Toms and Kevin Na have won this event without owning overpowering games, yet so has Adam Scott, with Tony Finau and Brooks Koepka posting runner-up results in each of the last two years.
No current form to rely upon. A different entry list than usual. More players with an ability to win or contend.
This is golf's version of returning for the second semester of the school year to start Underwater Basket Weaving 101 by actually diving in and having to weave a basket under water. It's a lot more difficult than it sounds.
Of course, we shouldn't let any of this dissuade us from the original point here: A real-live golf tournament will be contested this week and we can wager on it, which should have us counting down the seconds until the opening round finally begins on Thursday morning.
It won't be easy, but let's look through picks in all of this column's usual categories, starting with a past champion who could repeat this week.
Note: Odds as of Monday afternoon.
Outright Winner
One player to win the tournament.
Kevin Kisner (+9000, $10 bet would win $900)
As outlined above, there's nothing easy about making a selection this week. Some of the bigger names in the field have relatively little experience at this course, while some of the lesser-knowns feel like even bigger longshots after the layoff. And so, I'm sticking with what we know and picking the 2017 winner here.
Even though he's finished MC-52nd the past two years, Kisner was in the top-10 each of the previous three, proving this is a place where he can find success.
Perhaps my favorite stat in making this pick is that Kiz owns a 66.25 final-round scoring average in four attempts, which shows he improves as he becomes more comfortable during the week. Just as important as any of this, though, is a major intangible in a week when intangibles are a more vital variable than usual.
If you lined up every player in the field at the starting point like thoroughbreds in the gates, Kisner would be the unruly one stomping his feet and bucking his jockey, ready to get out there and run the race.
I love that combination of his mentality and history here – and the relatively big number next to his name doesn't hurt, either.
Other OADers
Potential selections for one-and-done options.
Ryan Palmer (+7000)
Joining us on The Action Network Podcast this week, I asked Palmer to sell himself to potential bettors on why they should play him this week. There's an obvious connection here – he's a member at Colonial and finished T-6 here a year ago, his fourth top-six result at this event since 2012.
But he offered three other reasons, too: 1) He's in form, having posted a 64 in his usual game last Friday, despite a bogey on the last; 2) He's more accustomed than most others to playing Colonial in its natural state, with no bleachers or corporate tents lining the fairways, so it should feel more comfortable; and 3) No fans means no ticket requests from friends and neighbors, no extra responsibilities that so often come with playing in a hometown event.
I was already on Palmer anyway, but even more so for all of those reasons.
Collin Morikawa (+5000)
Palmer wasn't the only one doing his best salesmanship job on the pod this week. My co-host Peter Jennings is an unapologetic Morikawa fan, but especially during this week's return. And it makes sense: I do believe that consistency will play a major factor after such a lengthy layoff.
I really like Webb Simpson, who's maintained a high level of consistency over the past few years (more on him later), but Morikawa is a guy who's never missed the cut as a professional and has finished 26th or better in six of seven starts so far this year. If you're looking for a safe OAD play who should at least offer so solid ROI, this is a pick that makes all sorts of sense.
Top-Five
One player to finish top-five.
Bryson DeChambeau (+550 for top-five)
Prior to the suspension of the schedule three months ago, I'd been riding BDC, who owned – OK, still owns – a streak of three consecutive top-fives in his last three starts.
In the days leading up to this week's tourney, I think we're all going to accuse ourselves of overthinking specific selections and maybe that's the case here, but I love how close he was previously and believe that his propensity to work as hard as any of his peers should have him as prepared as any of them for this event.
His record here isn't anything special – only two sub-par rounds out of 10 – but he's a more mature player than he was even just a year ago. This price is lower than I would've liked, but I still think Bryson is on the verge of some special things this year.
Top-10
One player to finish top-10.
Joel Dahmen (+800 for top-10)
Here's the current top-10 list in strokes gained tee-to-green: Tyrrell Hatton, Rory McIlroy, Hideki Matsuyama, Boo Weekley, Justin Thomas, Patrick Cantlay, Tony Finau, Collin Morikawa, Xander Schauffele and Bryson DeChambeau.
Other than Hatton's number being a bit inflated and Weekley (who's always been a terrific ball-striker) showing up in limited opportunities, that's pretty much a who's who of some of the game's sweetest swingers.
Well, sitting at No. 11 on this list is Dahmen, who's put together a sneaky combination of driving and iron skills. His balky putting will be diminished a bit this week and we know he's been putting in the work, having posted a 58 at one of his home clubs and contending at the Scottsdale Open during the downtime.
With a pair of top-fives in his last two starts, don't be surprised if he picks up right where he left off.
Top-20
One player to finish top-20.
Tyler Duncan (+1000 for top-20)
There's a ton of value in this position, with players such as Jim Furyk, Cameron Smith, Chez Reavie, Rafa Cabrera-Bello, Emiliano Grillo, Dylan Frittelli and Jhonattan Vegas all guys whom I like at 5/1 odds or higher, which feels like a very juicy number.
But I'll go all the way down to Duncan at 10/1, who recently won a big-money game at TPC Sawgrass, which was set up by Fred Funk and also included the likes of Billy Horschel, Russell Knox and Lanto Griffin.
With no finishes better than T-64 since his win last year, he's clearly a hit-or-miss option, but there should be some correlation between Sea Island, where that victory occurred, and Colonial. I have no problem playing any of those aforementioned names at their current prices, too, but if you're looking for more bang for your buck in a top-20 selection, Duncan could provide some nice returns.
DFS Free Bingo Square
A safe plug-and-play option for DFS.
Webb Simpson (DK $9,800; FD $11,400)
As the fifth-priciest player on DK and seventh on FD, here's hoping Simpson is more often bypassed for some of those bigger names who aren't much more expensive.
Perhaps because others hit it further off the tee or are more camera-friendly, Simpson doesn't get nearly the credit he's deserved over the past few years. Prior to finishing T-61 in his most recent start, here were his last 10 results: 1st-3rd-10th-2nd-7th-20th-24th-18th-2nd-2nd.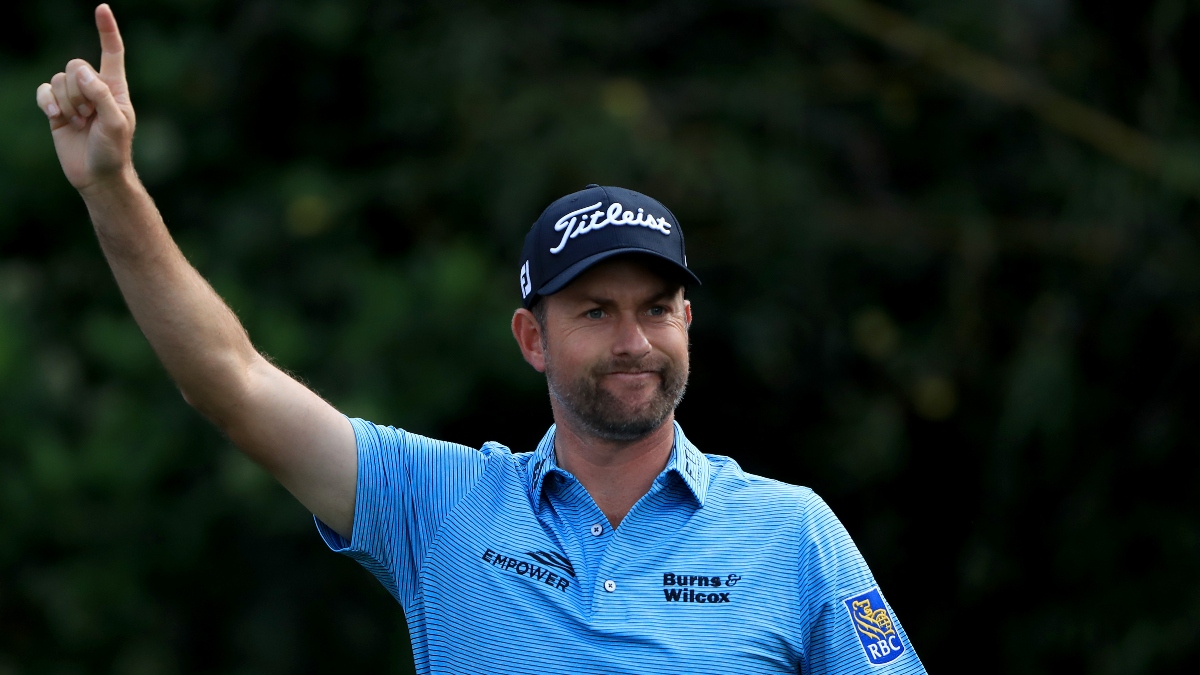 DFS 'Dog
A lower-priced option for DFS.
Jordan Spieth (DK $8,000; FD $10,000)
It doesn't feel like Spieth has even been around long enough to be in second place on any tournament's all-time money list, but there he is for this one, right behind Zach Johnson.
It also doesn't feel like Spieth has played well enough, at least recently, to garner such placement, but the reality is that no matter his form, he tends to show up big for this one. Even though his career was born at the other DFW-based event, the Byron Nelson, Spieth has always privately acknowledged that Colonial suits his game much better.
In seven career starts here, he's never missed a cut and owns six results of T-14 or better. That includes a win in 2016, sandwiched by two runners-up, but it's his share of eighth place at last year's event which gives me the most hope for this one.
Fresh off a T-3 at the previous week's PGA Championship – which was held at Bethpage Black, a divergent contrast to Colonial – he proved this one is right in his comfort zone.
I'm still taking baby steps when it comes to Spieth, who's really only shown up in every third event he's played dating back to late last year, but I'm bullish long-term and I'm cautiously bullish this week, as a relative home game on a track he's always enjoyed should offer some optimism for a player who might greatly benefit from three months off to fix whatever was ailing him.
As for this category, well, he's less a lower-priced option than simply a contrarian one; in fact, he might be priced too high for his recent track record, but that might equate to him being a solid DFS play.
First-Round Leader
One player to post the low score Thursday.
Byeong Hun An (+7000 for FRL)
In 13 starts this season, An has opened with a score of 68 or better on a half-dozen occasions. That number alone should have us optimistic that he can post a low one this Thursday, but it's not the only reason I like him here.
Colonial's smaller greens should leave his main weakness – putting – less exposed than at other venues, meaning more of a reliance on ball-striking, which is his strong suit.
Matchup Man
One player who should beat comparable players.
Abraham Ancer
Here's another example of a player who shouldn't be judged based on past history at this event. Ancer has finished 58th-52nd in his only two previous starts here, but he's a much better player now than he was then. This is a guy who's ready to win – soon.
I like him as a top-10/20 play and in DFS, as well, but considering his value as the 29th-ranked player in the world (often matched up against players with much bigger numbers next to their names), he might be most valuable in head-to-heads.
The Big Fade
One top player to avoid at this tournament.
Dustin Johnson (+3000)
This is a big number for DJ, considering he's a mere +1600 to win the Masters five months from now. As such, there might be some temptation to including him on your card, but I just don't see much reason to buy the value. Johnson didn't look great in the televised TaylorMade skins game a few weeks ago and likely won't be overly motivated to race into a hot start after the layoff.
Throw in the fact that he's only played Colonial twice (T-74 in 2008; T-14 in 2014) and there's no real strong reason why we should leap at the chance to back him, even with this inflated number.
How would you rate this article?