Sobel's Genesis Invitational Betting Odds and Predictions: How To Bet Tiger Woods, Xander Schauffele and More
Credit:
Brian Rothmuller/Icon Sportswire via Getty Images. Pictured: Tiger Woods
Rory McIlroy (+750), Jon Rahm (+1000) and Justin Thomas (+1000) are the favorites at the 2020 Genesis Invitational at Riviera Country Club.
Tiger Woods's outright odds sit at +1600. Is it time to buy Tiger? Or is the number too short?
Jason Sobel details his betting strategy for the 2020 Genesis Invitational.
Elevated by a field filled with single-named superstars, this week's Genesis Invitational offers plenty of potential paradisal scenarios for Sunday's conclusion. Brooks, Rory, JT, Rahm, DJ, Bubba, Xander, Phil, Jordan, Rose, Jason, Tony, Sergio, Cantlay, Reed and Bryson will each compete at Riviera, all but guaranteeing a star-studded leaderboard.
One of these potential scenarios, though, reigns over the rest.
It's the scenario that includes tournament host Tiger Woods.
Woods has famously never won his hometown event, site of his first career PGA Tour start as a 16-year-old. In a career crammed with historic moments and broken records, it remains one of the lone holes in his lengthy resume, one exacerbated when he took over hosting duties a few years ago.
Like every sporting event in Los Angeles over the past few weeks, this one will take on special meaning this week.
On Jan. 26, a helicopter carrying Lakers legend Kobe Bryant, his daughter Gianna and seven other people crashed and killed everyone on board.
Woods didn't hear about the fatalities until after his final round at Torrey Pines that day. He'd heard the "Do it for Mamba!" cries from the gallery, but didn't understand the significance. When he was asked on live television about Bryant's death just minutes after hearing the news, he seemed shellshocked – and rightly so. It must be utterly unthinkable to speak eloquently about a friend's death in such immediacy.
---
Looking to bet the Genesis Invitational? Check out FanDuel, where Action Network users get a risk-free bet up to $500.
---
We should expect Woods to appear more eloquent this week, with a few weeks to gather his thoughts from the perspective of being both a lifelong Lakers fan and having a personal relationship with Bryant.
He will undoubtedly hear more of those "Do it for Mamba!" chants from the L.A. crowds, only this time he'll understand the motivation behind them. As if he wasn't already galvanized to win this event for the first time, he will inherit more inspiration from the connection.
All of which leads to the final scenario: Tiger in contention heading to the final round. Memories of Kobe still permeating throughout Riviera, just as they have at every Los Angeles-based sporting event in the last few weeks.
The host shows up Sunday morning wearing a black sweater in the chilly air. He warms up like this, hits a handful of putts, gives a pre-round interview with the broadcast team. When he steps to the elevated first tee, though, Woods peels off the top layer to reveal not his usual Sunday red shirt, but a purple version instead. It needs no explanation, the act an obvious homage to Bryant.
The tournament doesn't end there, but it might as well have.
Woods eagles the par-5 opening hole, then continues to pepper Riviera with pounded drives and laser-like irons shots. By the time it's almost over, the man in purple has run away with his first tournament title. On the final hole, he rolls in a putt from 24 feet – Kobe's final jersey number. He posts a course-record final-round 60 – Kobe's point total in his final NBA game.
It all adds up to his PGA Tour record-breaking 83rd career victory – and there would be no better setting for that history.
When he finishes, he concludes the victory with more eloquent words about Bryant, what he meant and how he gave him inspiration throughout the week.
Sure, this ideal scenario might be too idealistic. It reeks of implausibility, at least some of the inherent details, but it's hardly impossible.
The point is: It remains a mystery that in 13 previous starts at this tournament, Woods has never won. This week seems as good a time as any – he's hitting the ball well and should be motivated to finally claim this one. Even if the Kobe connections are too romantic, even if he won't don a purple shirt or post a Sunday 60, there's no reason we shouldn't believe Tiger can't – or won't – win this golf tournament.
In a field filled with superstars, the tourney host remains the biggest of them all.
Personally, I can't wait to get out to Riv this week, where I'll be dispatching nuggets from the range, the interview room and anywhere else I can find an edge. I love everything about this tourney but the traffic, though I'll even take that if we can get a bumper-to-bumper leaderboard.
Keep an eye out throughout the week for more coverage, but until then, here are my Genesis picks.
Outright Winner
One player to win the tournament.
Tiger Woods (+1600)
It's time. Scratch that – it's past time. Other than the four major championships, there's often not a whole lot of motivation for Woods at regular-season events, other than to just continue racking up Ws on his ledger. This one, though, is different. The fact that he's never won this tourney has to eat at him.
Most players refer to their hometown event as a personal "fifth major" and while Tiger has stopped short of that, it might only be to hide his internal disappointment from continually coming up short. I mean, Bubba Watson has won here three times. Phil has won twice. Hell, even James Hahn and John Merrick have won in the past decade.
It's time for Tiger to change that – and doing so with a purple shirt instead of his Sunday red would be the ultimate scenario.
Other OADers
Potential selections for one-and-done options.
Dustin Johnson (+1400) and Patrick Cantlay (+2000)
I mention these guys not just to cover as many bases as possible (though it does, because I like each of these guys this week), but as a reminder of one of my favorite strategic plays for OAD pools.
Most entrants will save the likes of DJ and Cantlay for the biggest events – maybe a major; if not, then a WGC or The Players or a playoff event. My idea, though, is to use elite players whenever/wherever you like 'em.
Not only is there a chance for a big payday, it's an opportunity to differentiate yourself from the masses who will likely save these players for those bigger tourneys.
Matt Fitzpatrick (+7000)
Here's another strategic OAD play: I often like to use top-tier dual-tour players at WGC events, just because we know (or at least think) they'll tee it up there. With Fitz dipping his toe into both the PGA and European waters, his schedule might be less predictable than others as we creep toward the summer months. Case in point: He's never before played at Riviera, but fresh off a solid week at Pebble, the course should fit him and we know he's there.
For a guy you'll want to use in pools, but might not have a perfect option, this could be the place.
Collin Morikawa (+3300)
The strategy for this one? That's easy: Morikawa is really good. OK, so maybe the strategy extends a little beyond that. The PGA Tour sophomore is obviously a player you'll want to lock in for OAD pools, but without much prior history, it's tough to nail down his potential schedule. So instead of planning ahead, it could be smart to take him this week.
He seemed a little burned out a few weeks ago, with three finishes between 21st and 25th, but following a week off, we should expect him to be playing on a full tank once again this week.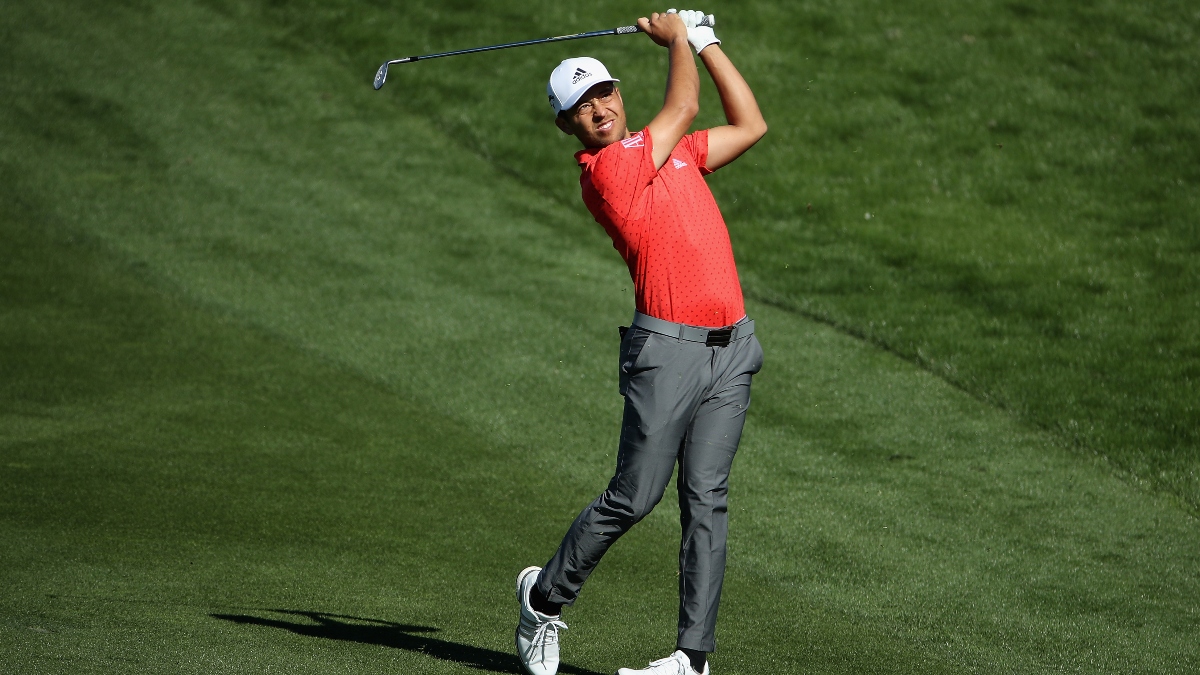 Top-Five
One player to finish top-five.
Xander Schauffele (+550)
Three weeks ago, I liked Schauffele to turn around his previous Torrey Pines misfortune, but he instead posted a fourth career MC at his hometown event. That only makes me want to back him in future events even more – and this seems like a good spot for it, as he's posted results of T-9 and T-15 in his only two starts here.
He's a fine pick for outrights or DFS or anything else, but I'll stick with him as a top-five bet here.
Top-10
One player to finish top-10.
Abraham Ancer (+650)
What, you think this is too much of a reach in such a star-studded field? Here's some breaking news for you: In his last six worldwide starts, Ancer owns four finishes of eighth-or-better, including a T-4 at a WGC and a T-6 in a loaded Saudi Arabia field.
It's a smart move to back Ancer now, because it's only a matter of time until the markets react appropriately to his torrid play. His breakthrough PGA Tour win is coming very, very soon.
Top-20
One player to finish top-20.
Dylan Frittelli (+750)
There will be plenty of talk this week – as there is every year – about Jordan Spieth's return to Riviera, where in 2012 he dusted Justin Thomas in the team competition to help Texas to a national title over Alabama.
Without as much fanfare, Frittelli will also return, having holed a 30-foot birdie putt on the final hole that year to clinch it for the Longhorns. He finished a solid T-28 in his Genesis debut last year – a pair of 68 bookending a pair of 72s – and returning now as a PGA Tour champion, we should expect even bigger things this time around.
DFS Free Bingo Square
A safe plug-and-play option for DFS.
Bubba Watson
Consider it one of golf's least secretive player secrets: When Bubba is in comfortable surroundings, he plays his best golf. Those surroundings include Augusta National, TPC River Highlands and (for some reason) TPC Scottsdale, places where he's had varying degrees of success.
It also, of course, includes Riviera, where he's won three times, including each of the last three even-numbered years. If you're into trends and patterns, that would suggest another victory for Watson this week, which is certainly a possibility. At the very least, I'd bank on him as a DFS anchor.
DFS 'Dog
A lower-priced option for DFS.
Joel Dahmen 
With so many studs on the board this week, it'll be imperative to find a few lower-priced players who will at least make the weekend, if not challenge for a spot on the board themselves.
I like Dahmen for this role because he traditionally plays well on his native West Coast and he doesn't miss many cuts, having cashed in 11 of his last 13 starts.
First-Round Leader
One player to post the low score Thursday.
Joaquin Niemann (+6500)
The youngster enjoys playing tree-lined, old-style golf courses, which means Riv should be right up his alley. He was T-44 here last year, but he's matured as a player since then. Niemann also apparently likes playing on Thursdays. In nine opening rounds so far this season, he's only had one stinker – a 76 at Mayakoba.
The next-highest scores are a pair of 71s. Other than that? A half-dozen sub-70 totals, including a couple of 65s. I like him to start off with a low one this week, too.
Matchup Man
One player who should beat comparable players.
Keegan Bradley
For whatever reason, Bradley hasn't been receiving his due respect amongst bookmakers this year. He owns top-25 finishes in four of his last six starts, but remains consistently undervalued – and that includes DFS, as well. Bradley owns a T-2 and a T-4 in nine career starts at Riv, so he should hold value against most similarly priced players.
The Big Fade
One top player to avoid at this tournament.
Justin Rose (+3700)
In 10 career starts at Riviera, from 2004 through 2016, he posted just a single top-10 finish and a whole bunch of mediocre results. Then in 2017, he shot 65-68 on the weekend to post a T-4, easily his best finish at this tournament. Curiously, however, he proceeded to celebrate by skipping the following two editions of the event.
He's back this year and while it's certainly possible that a player of his magnitude can build on that result of three years ago, it's more likely there's a reason why he decided to scratch this one from his schedule. Fresh off a missed cut as the defending champion at Torrey Pines, I don't necessarily hate Rose for this one, but I don't like him nearly as much as any of his fellow top-10 peers in attendance.
Off Tour
My favorite non-PGA Tour play of the week.
Hannah Green (+3300) to win the ISPS Handa Women's Australian Open 
Brandon Harkins (TBD) to win the LECOM Suncoast Classic 
With no European Tour event scheduled for this week, let's take a shot on players at the LPGA and Korn Ferry tourneys, though neither is exactly a long shot.
Hannah Green started strong last week in her native Australia, only to fade to a T-11 finish by Sunday afternoon. She'll remain in her homeland this week, as well, competing in the national open, where she finished 10th-3rd-7th-20th the past four years. She tends to be all or nothing, winning her first major last year and one other LPGA event, but never finishing better than 10th in her other starts. Here's banking on more all than nothing this week.
You've gotta go low at the Lecom – like, really low. Last year's winner was Mark Hubbard, who posted rounds of 65-66-64-67 to finish at 26-under for the week. Perhaps just as noteworthy is that Hubbard is a guy who has shown some chops on the big tour; same goes for Maverick McNealy, who was solo second, plus Chris Baker, Chase Seiffert and Tyler McCumber, all inside last year's top-15.
That should tell us a birdie machine with the skills to compete on the higher level could again find himself on top – and that also describes Harkins, who's played solid golf at times on the PGA Tour in the past, already has a runner-up finish to his name this year and ranks fourth on the KFT with 4.50 birdies per round this season.
How would you rate this article?