Sobel's Genesis Invitational Betting Notebook: Schauffele Liability Building Up in Vegas
Credit:
Photo by Brian Rothmuller/Icon Sportswire via Getty Images. Pictured: Keegan Bradley
LOS ANGELES — You can learn a lot on a PGA Tour driving range – sometimes by talking to people, other times by just watching.
Of course, it's how you use that learned information which can really make all the difference.
Case in point: Four years ago, I was cruising the range right here at Riviera Country Club, just before the start of what was then called the Northern Trust Open. After watching a dozen or two players launch shot after shot into the midday sky, one of them caught my attention.
This isn't a common occurrence. I've been doing this long enough and witnessed so many world-class swings from up close that I'm pretty jaded when it comes to watching. Not that I'm not impressed; rather, it's the opposite – I'm so impressed by everyone that only the best happen to stand out.
Anyway, the guy who caught my eye that afternoon was Bernd Wiesberger.
---
Looking to bet the 2020 Genesis Invitational? Check out FanDuel, where Action Network users get a risk-free bet up to $500.
---
He wasn't a new face by any means, having already claimed a couple of top-25 results at major championships. Because he didn't play most of his golf in the U.S., though, I hadn't seen him in person very much. What I saw was a clinic that included right-to-left shots and left-to-right shots, towering drives and blistered stingers.
Once he'd finished, and once I'd finished watching him, I concluded that he was a strong darkhorse candidate to win that week.
Instead, he shot 71-75 to miss the cut by four strokes.
I was wrong about him in the short-term, sure, but it turns out I was right about him in the long-term.
Wiesberger has since won four more times around the world, including three titles last year, and is currently 22nd in the world ranking.
On Tuesday, I spent more time on the range at Riv, gleaning more info from both speaking with people and watching. Some of the following info will be useful this week, some of it we should stash away for another day.
In my tournament preview this week, I wrote about the romantic scenario of tourney host Tiger Woods wearing a purple shirt on Sunday and winning this event – finally – in the memory of Kobe Bryant.
What I failed to write is that Tiger is hardly the only player impacted by the Lakers legend's recent death.
Plenty of other competitors in this week's field were, obviously, Kobe fans, as well. That includes new world No. 1 Rory McIlroy, who will have these terrific headcovers in the bag this week:
Schauffele Liability Building Up
I spoke with Jeff Sherman, the VP of risk management for SuperBook USA, and while the early markets are already showing the most total tickets on Tiger – nothing new there – the book's biggest bet as of Tuesday afternoon has come in on a fellow 20-1 favorite.
One bettor has placed $1,000 on Xander Schauffele to win this week's tournament.
In two previous starts here, Schauffele has finished T-9 and T-15.
---
Scott Shaking off the Rust
Adam Scott is just like us.
OK, maybe not just like us. But I mean, kinda.
On the heels of winning the Australian PGA two months ago, Scott will make his first competitive start of 2020 this week. When I facetiously remarked that his swing looked "decent," he replied, "Hey, it's easy on the range."
By the way, here's what Scott's "decent" move is looking like: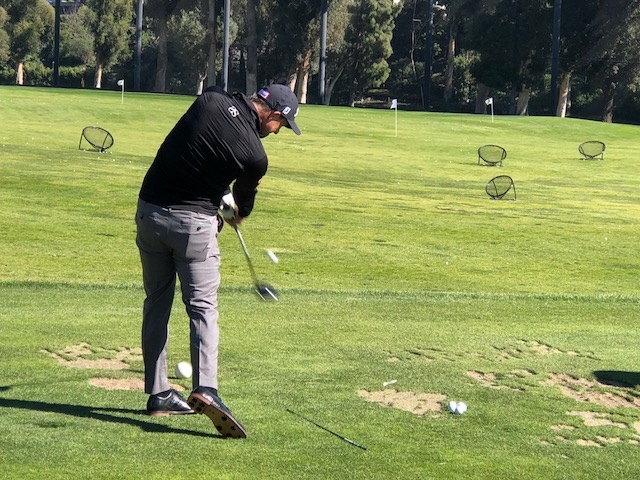 Longshot Bradley Comfortable at Riviera
I talked with Keegan Bradley for a little while as he was ripping draws with his driver into the back netting of the range.
I'd been tipped off that he likes this course, a fact we could've already gleaned based on his runner-up finish in a playoff back in 2012 and T-4 three years later.
Turns out, that was an understatement.
"This is my favorite course in the world," he told me. "I love everything about it."
Something to keep in mind if you're looking for a 100-1 outright who knows how to win against strong fields.
---
Ancer Still Looks Dialed In
I also watched Abraham Ancer hit balls for a few minutes.
He's one of my favorite plays this week, based on four top-eight finishes in his last six worldwide starts, but honestly nothing about his swing wows me.
As I was about to walk away, though, he turned to his right and took aim for a nearby chipping green about 40 yards away.
The first wedge shot spun a few feet short of the hole. The second one went in.
And that right there is why we like Ancer to continue playing so well.
Two weeks ago, my friend Sean Martin from the PGA Tour tweeted this in regard to Russell Knox:
The need for speed: two-time TOUR winner Russell Knox has been working with former Long Drive champ @JustinJamesGolf for about a month to pick up distance. Knox has picked up 10+ mph of ball speed since he started working with James.

— Sean Martin (@PGATOURSMartin) January 30, 2020

I can confirm that he's still seeking more distance off the tee.
Knox seemed very concerned with his numbers as he was ripping drivers. Trying to gain distance has led to the unfortunate demise of many other careers, but maybe Knox will be the outlier.
So far this year, he's finished 37th-or-better in four starts and missed just his first cut last week.
---
The Most Limber Man on Tour
I'm not the first to make this observation, but Joaquin Niemann has to be the most flexible player around.
Here's a photo I took of him on the range Tuesday: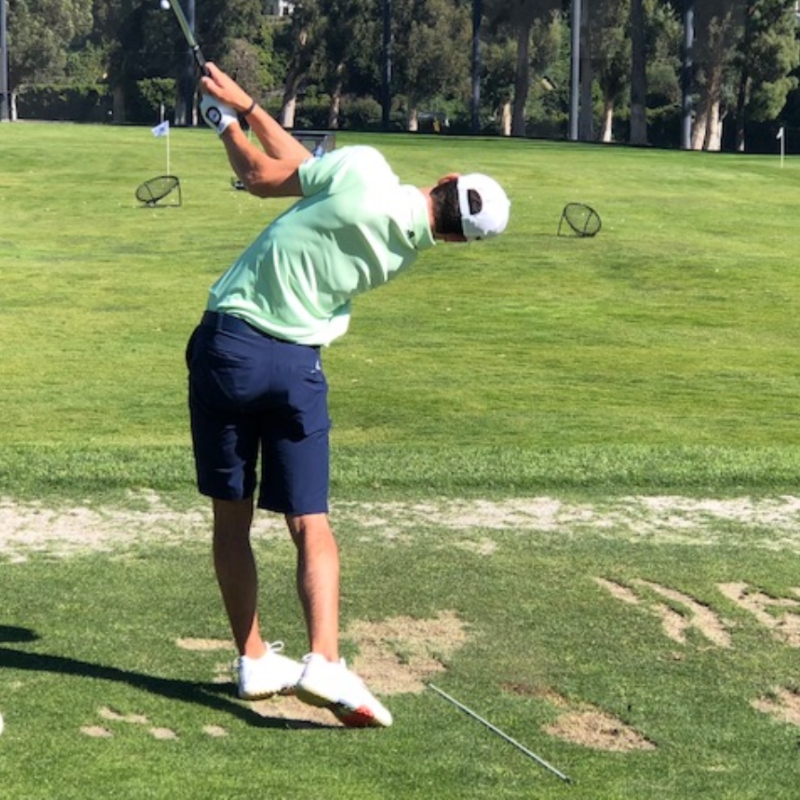 It hurts my back just to think about swinging like that.
It works for him, though. In fact, I like Niemann to start strong this week and potentially finish strong, too.
How would you rate this article?