2020 Mayakoba Golf Classic Odds & Picks: Murphy's Best Bets for Round 3 at El Camaleon
Credit:
Cliff Hawkins/Getty Images. Pictured: Joel Dahmen.
Rain delayed the start of Round 2 by an hour at the Mayakoba Golf Classic, but they were able to get through most of the round, only leaving a few groups still on the course when when the sun went down.
The cut appears to be pretty well set at 1 under, and the leader is in the clubhouse, so we still have plenty to work with going into Moving Day.
Emiliano Grillo built off of a strong Thursday with a 63 in Round 2 to take a four-shot lead into the weekend over Tony Finau and Tom Hoge.
First-round leader Russell Knox shot a 69 and is alone in fourth place, five shots back at 8 under par for the tournament. Two of the big stories of the tournament are youngsters Andy Ogletree and Akshay Bhatia, who both enter the weekend inside of the top 10.
The weather this weekend looks shaky with a lot of rain in the forecast on a course that is already soft, and have them playing lift, clean, and place. I hope they can get it all in most importantly, but I also think it will highlight the necessity for hitting fairways, then it becomes a bit of target practice into the soft greens.
I will continue to focus on the players hitting the most fairways and dialing into the greens throughout the rest of the weekend. As it stands going into Saturday, Grillo has a clear advantage over everyone else, but there are still 24 players within four shots of the top three. I think that is really the target for the chasers, and if Grillo falters, it brings a good chunk of the field back into play.
Best Bets
I honestly just don't like much at the top of the leaderboard, as Finau is the main guy at the very top that has the ability to chase down Grillo.
I just can't buy in at only +500 when he's making an abnormally high amount of putts, hitting only 53% of his fairways and 61% of the greens. Finau looks like a good fade on Saturday, and I will be targeting against him when matchups are posted.
My play near the top is going to be Joel Dahmen, who is simply fun to root for and playing some good golf this week (despite ditching the bucket hat). Dahmen is +2200 on DraftKings and in a tie for fifth, six shots behind Grillo, which makes for some decent value.
He is a player that can really run hot when he's playing well and can go low at any time, which makes him an attractive play coming from behind to chase his first TOUR victory. Dahmen has certainly played well through two rounds, ranking 11th in greens hit in regulation, including an impressive 16 greens hit Friday.
I'll take a bite in the hopes he can score well on Saturday and maybe work his way to the last tee time for the final round on Sunday, for the entertaining on course commentary if not a victory.
My next play is going to revert back to my typical buy and sell article, and I am going to put the buy in on Viktor Hovland. I simply can't suggest him as a bet at only +1600, but he is the player I would build around in DFS this weekend and look to target in other markets.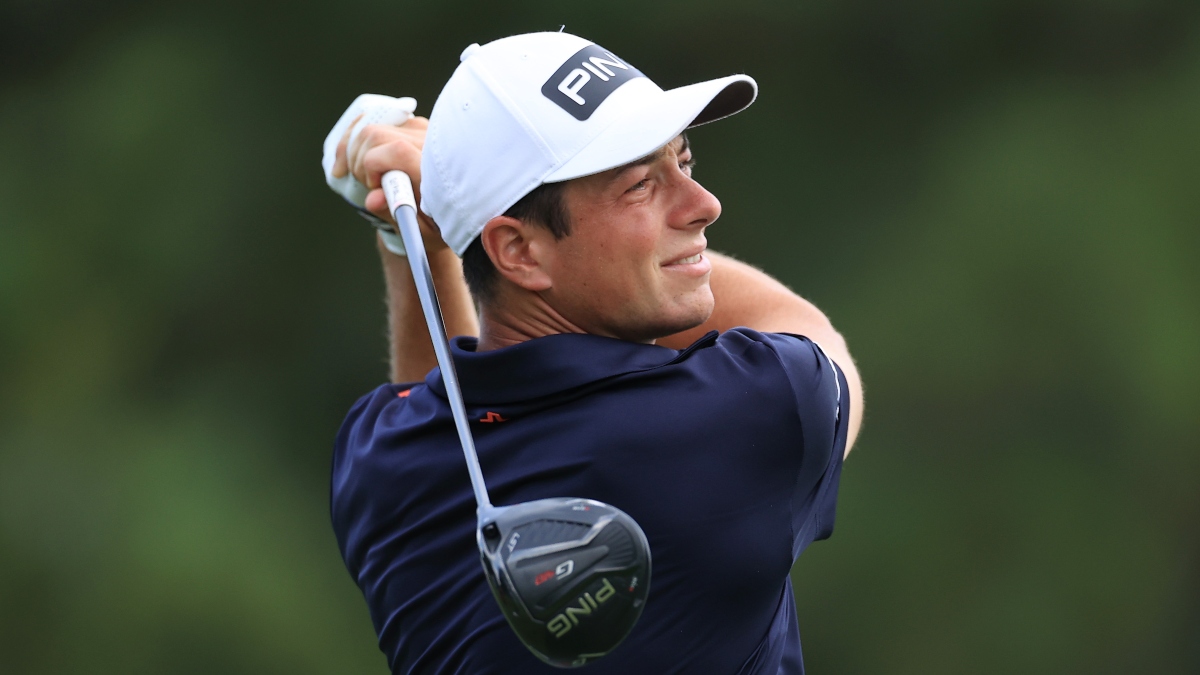 He had a shaky back-nine 38 on Friday, which dropped him from really being in contention heading into the third round. I am going to look past that and focus on the body of work, which has him fourth in fairways hit and tied for first in greens. He's also made nine birdies and one eagle, which are the key stats for Showdown and Weekend DFS.
I know Hovland is looking around him and seeing guys like Collin Morikawa and Matthew Wolff contending in majors and wanting to put his name alongside them with another TOUR victory. It could certainly still happen this week, but the odds are too short for me right now, so I will try to get shares of him elsewhere.
If you're looking for longer odds, Lucas Glover fits the bill after a bogey-free 65 on Friday. He climbed his way to 6 under on the tournament, in a tie for ninth alongside Hovland. Despite that great round, the books aren't giving him the same respect at +7000 to win.
Similar to Dahmen, Glover is a bit streaky, and after he hit 17 of 18 greens in regulation in Round 2, I am happy to jump on board. He's a former major winner and someone that knows how to get it done when his game is right. The odds simply don't match for a player of his ability showing strong form heading into Round 3.
How would you rate this article?