Sobel's AT&T Pebble Beach Pro-Am Betting Predictions & Picks: Should You Buy Jordan Spieth at This Course?
Credit:
Brian Rothmuller/Icon Sportswire via Getty Images. Pictured: Jordan Spieth
Jordan Spieth has historically performed pretty well at the AT&T Pebble Beach Pro-Am, securing a win and two other top-7 finishes to far in his career.
His betting odds are longer than they've been in recent memory, given his poor current form, but is now the time to pick Spieth?
Jason Sobel digs deep into the field and picks out his favorite bet to win, top-10 and top-20, along with some matchup bets and DFS plays that you should be looking to target.
There are plenty of ways to describe the precipitous decline of Jordan Spieth's game, from hardcore analytics to a quick perusal of his results table. Each of these paths immediately points to the same conclusion: He was really good and, right now, he isn't.
It happens. Golf is a cyclical game, the ebbs and flows and ups and downs are all part of its intrinsic mystifying nature. When we speak about the historically greatest figures at their peaks – think Tiger Woods, circa early-2000s – it's not just their dominance that is so impressive, it's the longevity of that dominance.
Any PGA Tour player with full status can play one great tournament. Most can string together two in a row. The more proficient players can keep that streak going, but only the best of the best continue without a single downturn from those results.
We collectively believed that Spieth was one of the best of the best – and it's true, he was – but over the past few years, he's succumbed to the career mortality of so many before him.
---
Check out FanDuel, where Action Network users get a risk-free bet up to $500.
---
If we could only employ one statistic to exemplify this decline, it might not be strokes gained with his approach shots or putting average or any other tangible on-course number. Instead, let's take a look at his pre-tournament odds for the past half-dozen editions of the AT&T Pebble Beach Pro-Am, plus that price for this week's event, all courtesy of GolfOdds.com.
I mention all of this not to pile on Spieth or try to "figure him out," but because a month ago, prior to the start of this year's schedule, I had Pebble earmarked as a tournament where he could find some rejuvenation and rekindle some momentum.
Maybe it's those strong previous results. Maybe it's a comparably weaker field. Maybe it's playing three different courses and not having to dwell on the previous day's poor shots. Maybe it's an overall comfort level, everything from having AT&T as a sponsor to enjoying the low-key vibe of the festivities.
Or maybe it's none of the above.
I've officially transitioned from "this could be the week that gets Spieth going" to "fade, fade, fade, fade, fade" back to "the light at the end of the tunnel might start here."
Following a missed cut at last week's Waste Management Phoenix Open, Spieth spoke about the outward frustration he's endured with his game lately.
"I just really wanted it; I wanted to play the weekend," he said. "I knew once I started hitting those tee balls down the fairway to start the round today, I knew I was going to give myself plenty of opportunities. I couldn't do the easy part for me, which is the putting. That's what was so frustrating. It hasn't been like that. It's been putting saving me and today it was kind of a little bit of the opposite. So any emotion was just kind of a want or a will. It's not like overall frustration. I've got, I've had plenty of that. I'm done with that, I'm on the rebound now."
Not to play amateur psychologist, but Spieth sounded like he was trying to convince himself of that last part as much as anyone else. Can't blame him, it's one of the oldest tricks in the book. No struggling golfer ever admits, "Something is very wrong, because whatever I do, I just can't get that damned ball into that stupid little hole in the ground right now." Instead, they say things like, "I'm done with that, I'm on the rebound now."
That said, he wasn't wrong. For a guy whose putter has bailed him out for years, picking up 2.49 strokes on the field from tee-to-green that round at least provides some solace that all the parts are there. Now he just has to put them together at the same time, a quandary which has haunted so many golfers before him.
Long-term, I'm still cautiously optimistic about Spieth. I've witnessed him play too much brilliant golf at too many big-time events to believe he'll spend the rest of his career as a middling, ordinary golfer. As I've continually stated about him over the past year or two, I probably wouldn't be gobbling up shares of his stock right now, but I also wouldn't be selling 'em off at an all-time low.
Short-term, though, I've gone from thinking this is a perfect week to jump on Spieth with deflated odds to thinking I wouldn't touch him with a 10-foot ball retriever to now at least considering him for low-stakes payoffs — say, a top-10 wager and stuck in the middle of a few DFS lineups.
Sure, there's a chance that he could use this week as a much-needed springboard toward the major championships. And yes, we could back him now with a chance of returning next week with an I-told-you-so missive, but the signs aren't pointing in that direction.
I wish, for his sake and ours, that they were – and I still think that, at some point, they will be. He's too talented to not figure it all out, but right now, he's also probably too anxious to figure it out immediately.
Let's get to the players I'm not fading this week, starting with one of Spieth's fellow Class of '11 buddies who is dissimilarly trending in the right direction.
Outright Winner
One player to win the tournament.
Daniel Berger (+4000)
I talked up Berger in last week's preview and a somewhat slow start was the only thing that kept him from seriously contending, as a 66-67 weekend was enough to claim a share of ninth place.
Currently still playing off a major medical exemption from last year's injuries, Berger is the type who can step on the gas pedal when he feels like he needs to make up for lost time. He's also the kind of player who turns trends into wins, proven in his previous two PGA Tour victories.
Prior to winning the 2016 FedEx St. Jude Classic, he'd finished top-20 in five of his previous six starts; before claiming that same event the next year, he wasn't quite as hot, but did have a fifth-place result not long before.
After gaining more than a stroke on the field in both tee-to-green and on the greens last week, we should expect him primed and ready for this one, too.
Other OADers
Potential selections for one-and-done options.
Adam Hadwin (+5500)
If we're looking for some early-year trends and commonalities amongst winners, then we can't overlook the Royal Melbourne effect. So far this year, four out of five PGA Tour winners played in the recent Presidents Cup. Whether they're still feeling the aftereffect of being in form or riding momentum from that event or simply really talented players and that's why they made it there in the first place, it's tough to ignore the pattern.
This week, Hadwin is the lone International team member who competed in that event. Fresh off his first start since then, he opened with a few strong rounds, then understandably ran out of gas on the weekend. I'd expect more in his second start here at Pebble, where he finished T-18 a year ago.
Patrick Cantlay (+1100)/Matt Kuchar (+2200)
Meanwhile, there are only three players from the U.S. Presidents Cup team who are playing this week. I'll highlight Dustin Johnson's list of accolades in a little bit, while Cantlay and Kuchar each deserve consideration as relatively chalky picks.
I swear this isn't some form of journalistic trolling, but I love how Cantlay's, uh, non-rapid pace of play fits this slog of a pro-am event so well. Rounds will be north of five hours and those with the most patience should be rewarded. Kuchar owns an up-and-down record at this event that's admittedly been more down than up, with just one top-10 in 13 career starts.
What strikes me as more important, though, is the fact that he keeps returning, which means there's something he likes about this event, even if it's not his results.
Top-Five
One player to finish top-five.
Cameron Champ (+1100)
Last year, mired in an amalgam of MCs and other poor results, Champ still managed a T-28 at Pebble, which might suggest that, like Johnson, his length could be a major advantage on these courses. As I mentioned in last week's preview, I wanted to pick Champ in Phoenix, but there was just one little problem: He decided not to play there. No problem, though, as he should be rested up for another big week.
After winning the Safeway Open last fall, he MC'd the next week, then posted finishes of 23rd-33rd-8th-27th-14th-21st-16th in his following seven starts. He is gradually becoming the legitimate force that many predicted directly after his first PGA Tour win and it shouldn't be a surprise when he pops up on the leaderboard again this week.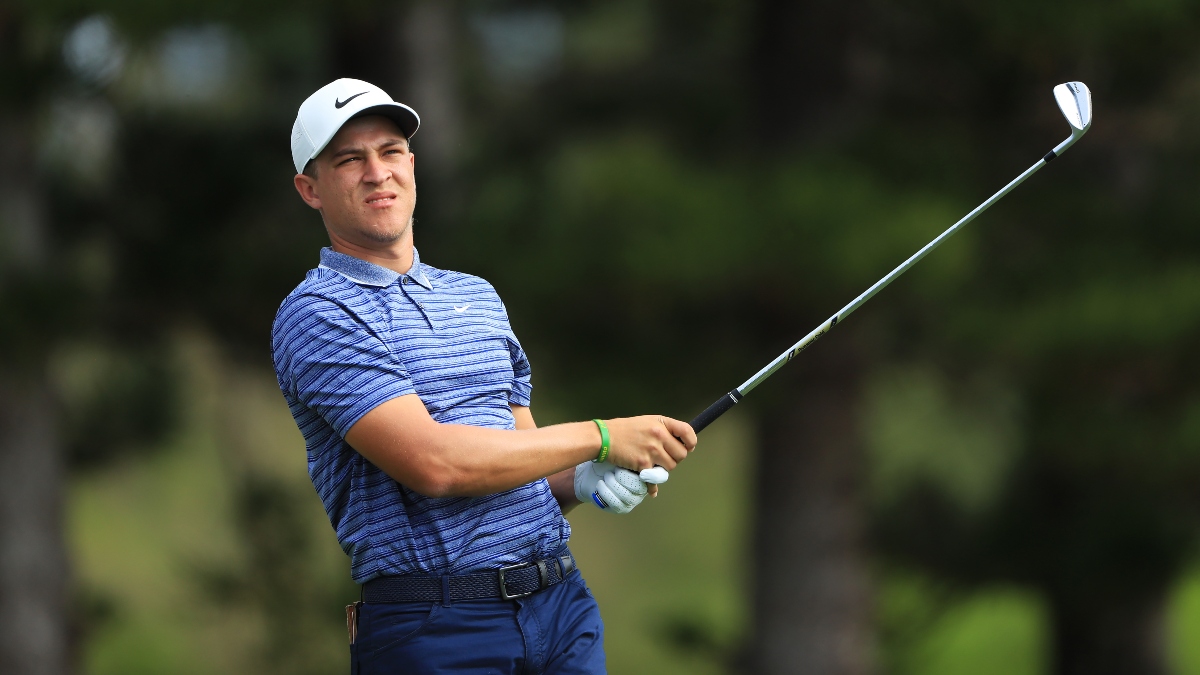 Top-10
One player to finish top-10.
Maverick McNealy (+1100)
I suppose it's capricious to suggest that a player with exactly zero career top-10 results in 27 total PGA Tour starts will finish that high on the leaderboard this week, but a wager on McNealy hardly feels like a dart toss.
He was T-15 in his last start at Torrey Pines two weeks ago and the Stanford grad should obviously feel comfortable in NorCal surroundings, where he was all-everything as a collegiate star.
Top-20
One player to finish top-20.
Patrick Rodgers (+500)
Yep, I'm sticking with the Stanford theme here. Two years ago, Rodgers was T-8 at this event and he's been finding some form again recently, cashing top-20 bets with T-9 and T-16 results in the past two weeks.
As always, I like him in a few categories – as a potential long-shot outright winner and for DFS lineups, but top-20 feels like a fairly safe bet right now.
DFS Free Bingo Square
A safe plug-and-play option for DFS.
Dustin Johnson (DK $11,600; FD $12,400)
Imagine if anytime you need some extra pocket-change, you simply hopped in a jet to the Monterey Peninsula, played four rounds of golf on some of the coolest tracks around, then took the money like it was your personal ATM. Such is life for DJ, who has two wins at this tourney, two other runners-up and eight total top-10s in a dozen career starts.
He's as safe as safe comes here, especially after seemingly turning his game around with another second-place finish this past weekend in Saudi Arabia. If there's one potential negative here, it's that in his first time traveling straight from Saudi to Pebble last year, he parlayed a win into just a T-45 the next week.
DFS 'Dog
A lower-priced option for DFS.
Tyler McCumber (DK $6,600; FD $7,600)
I was tempted to put Euro Tour regular Kurt Kitayama or West Coast specialist J.J. Spaun in this space – I like each of 'em this week – but McCumber might be a safer option to fill out the bottom of a lineup this week. He's made the cut in seven of 10 starts in his rookie season and while he hasn't finished inside the top-20 yet, he's slowly moving in the right direction.
McCumber has struggled with his putting this year – he ranks a dreadful 212th in strokes gained on the greens – but he drives it very well, which should be a secret to at least giving himself opportunities.
First-Round Leader
One player to post the low score Thursday.
Cameron Tringale 
Note: Since the Pebble Beach Pro-Am is played on three separate courses, some sportsbooks won't post first-round leader odds.
Much like at The AmEx and Farmers Insurance Open, there's a definitive strategy to picking FRLs at this tournament. In last year's opening round, Spyglass Hill yielded a scoring average of 72.000 and Pebble Beach was 71.404, while Monterey Peninsula CC was a mere 68.904.
Each of the two first-round leaders (Brian Gay and Scott Langley) and two players who were one stroke back (Phil Mickelson and Matt Every) played MPCC, so I wouldn't veer from that venue. I'm writing this before tee times have been released, so Tringale (who owns a first-round scoring average of 68.44 in nine starts this season) is merely a suggestion until we know who's playing where on Thursday.
Matchup Man
One player who should beat comparable players.
Harry Higgs
The tweet(s) of the week during the WMPO might've belonged to J.T. Poston, who seemed in awe of playing partner Higgs, first posting this:
Today @harryhiggs1991 Drove the green on 17, put his driver between his legs and rode it like a horse off the tee box and then proceeded to hoop the 80 footer for eagle!! Legendary #harryforpresident

— J.T. Poston (@JT_ThePostman) February 1, 2020
And then following with this:
Although Higgs might not be riding any ponies this week while paired with pro-am partner Jay Monahan – yup, THAT Jay Monahan, the PGA Tour commissioner – he should be locked in and prepared to show off with his best stuff. I like him against most other players at a similar price.
The Big Fade
One top player to avoid at this tournament.
Jason Day (+1800)
I devoted nearly 800 words in the introduction of this piece to the rationale behind fading (or at least not completely backing) Spieth this week, so I'll use this section to instead make a similar suggestion about Day. (True story: A few years ago at Pebble, I asked Day why he decided to play this event. His answer: "Well, I play here every year…" Ever want to hide your head in a greenside bunker? Yeah, me too.)
It's not that I hate him this week – far from it, really – but I don't see his potential matching up with either his odds or his past record at this event. Coming off a T-16 in his last start, his second-best result since last year's Masters, Day still doesn't sound completely optimistic about his own game. With top-five finishes in each of the last three editions of this tournament, expectations might be higher than he's able to surpass this week.
Off Tour
My favorite non-PGA Tour play of the week.
Ashley Chesters at the ISPS Handa Vic Open (+6000)
This week's Vic Open is one of the cooler tourneys on the annual worldwide schedule, with men and women competing simultaneously in events which offer equal pay. For handicapping purposes, I'll stick with the men here, playing in a European Tour co-sanctioned event.
Brad Kennedy, Haotong Li and Lucas Herbert are the tri-favorites this week, which – like they say about quarterbacks in football – if you've got three of 'em, you've got none of 'em.
I'll look further down the list instead, going with Chesters, who was T-12 here last year and has posted some decent results lately.
And if you're into signs, at least there's this: At an admittedly difficult tourney to predict, David Law won from the 372nd position on the world ranking – and yes, that's exactly where Chesters sits right now.
How would you rate this article?